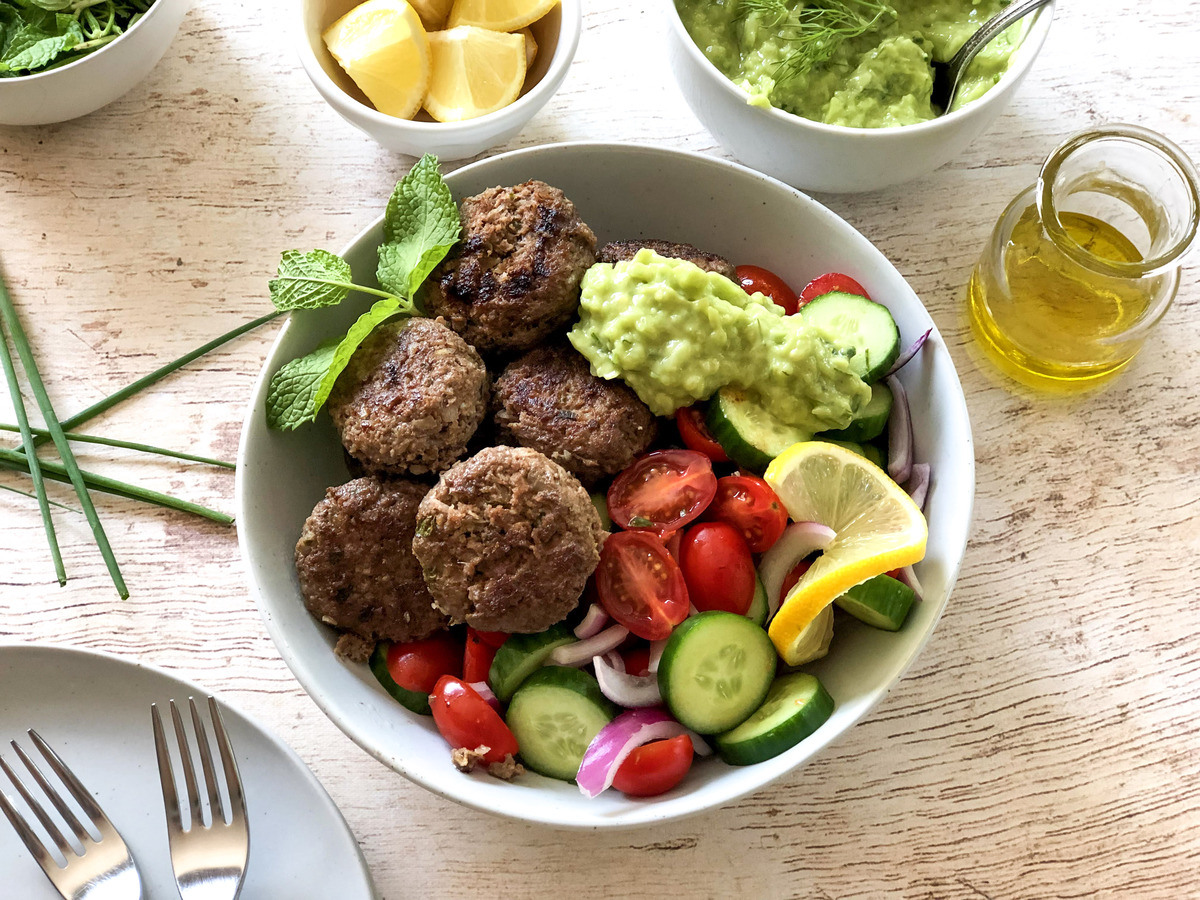 Greek Lamb Keftedes with Paleo Tzatziki
Serve spicy lamb meatballs with an avocado dipping sauce for a Paleo twist on Greek keftedes!
Keftedes are Greek-style seasoned meatballs typically served with tzatziki, a thick yogurt sauce made with garlic, olive oil, lemon, and dill. Since dairy is off the table on The Paleo Diet®, we used avocado instead of yogurt to achieve a thick, dippable sauce that might even be tastier than the original!
This recipe might seem like it has a long list of ingredients, but most of them are spices that you probably already have in your cabinet. To make it even easier to bring this recipe together, we use a food processor so you don't have to spend time chopping or grating your ingredients.
Start by processing an onion until finely minced. Your food processor will work best if you chop the onion into rough pieces of equal size first. Add in freshly grated ginger (you can use dried ginger instead if you want), warm spices like coriander and allspice, and ground meat. We used traditional lamb in this recipe, but you can use pork or beef instead if you wish. Pulse until just combined, or use your hands to combine the mixture well. Roll into meatballs, and set aside.
Next, make the Paleo tzatziki sauce. Clean your food processor well, then add the cucumbers and pulse until finely minced. Add a ripe avocado, a bit of olive oil, and season with garlic, lemon juice, dill, chives, and black pepper. Pulse until thick and well combine. Taste and adjust for seasoning, if necessary.
We cooked our meatballs in batches on the stovetop, but you can also use your broiler if you want to cook them all at once. Depending on how large your keftedes are, it might take a total of 8-12 minutes for them to cook all the way through. When ready, serve your seasoned meatballs with Paleo tzatziki sauce on the side. Enjoy as an appetizer, or pair them with a cucumber and tomato salad for a full Greek-style meal.
Tip: If you have leftover tzatziki sauce, store it in a Ziplock plastic bag with all the air squeezed out to prevent discoloration. Store in the fridge for one day.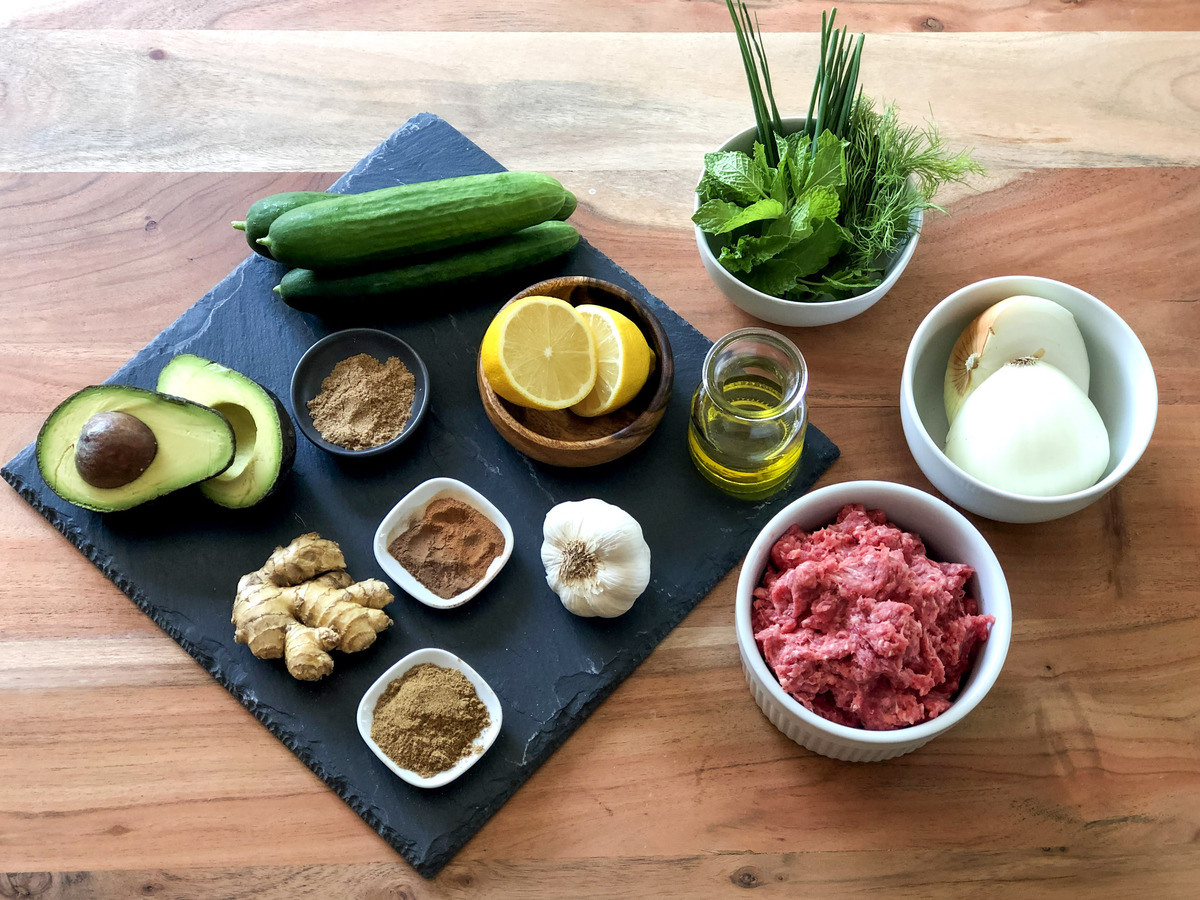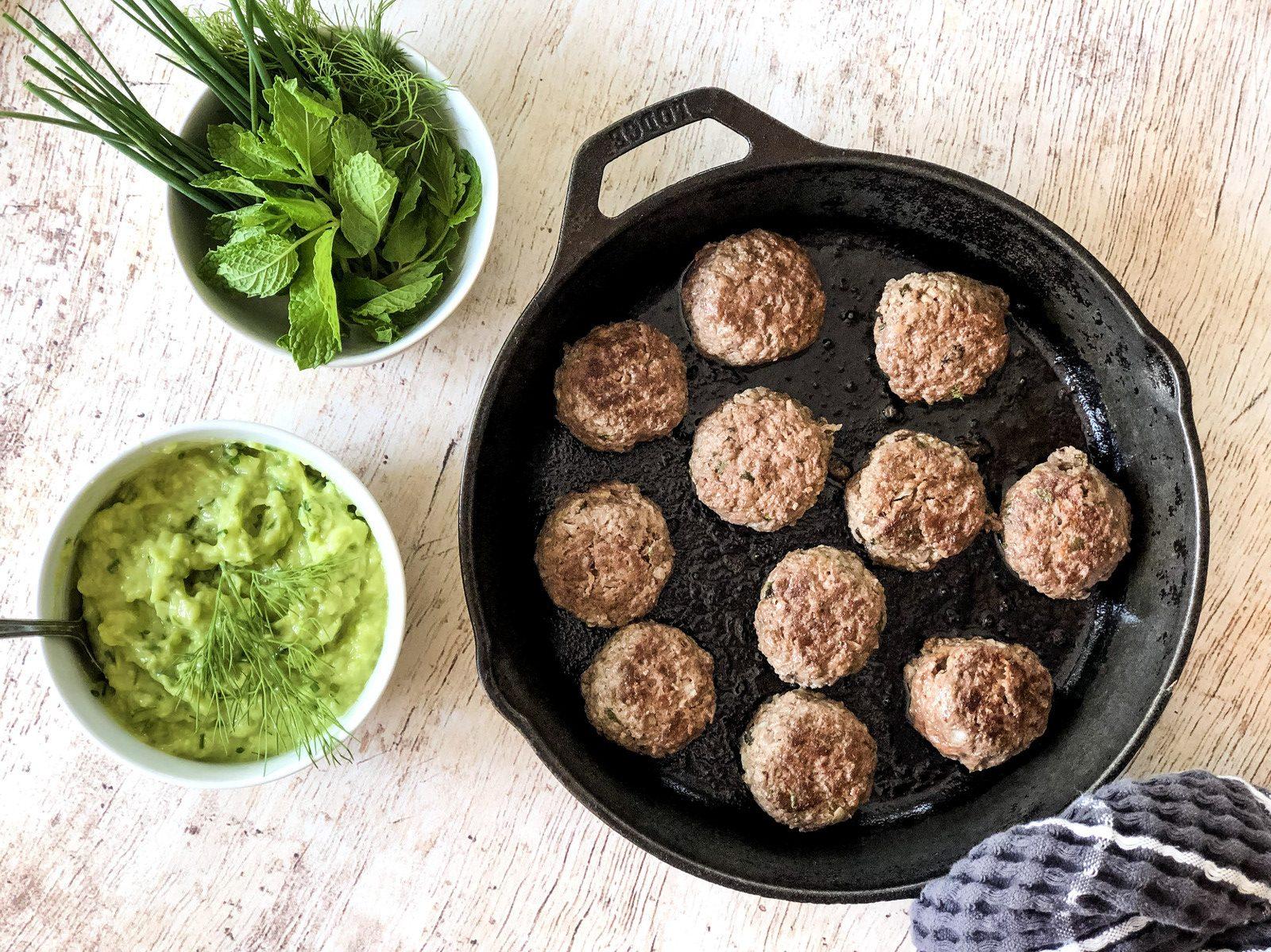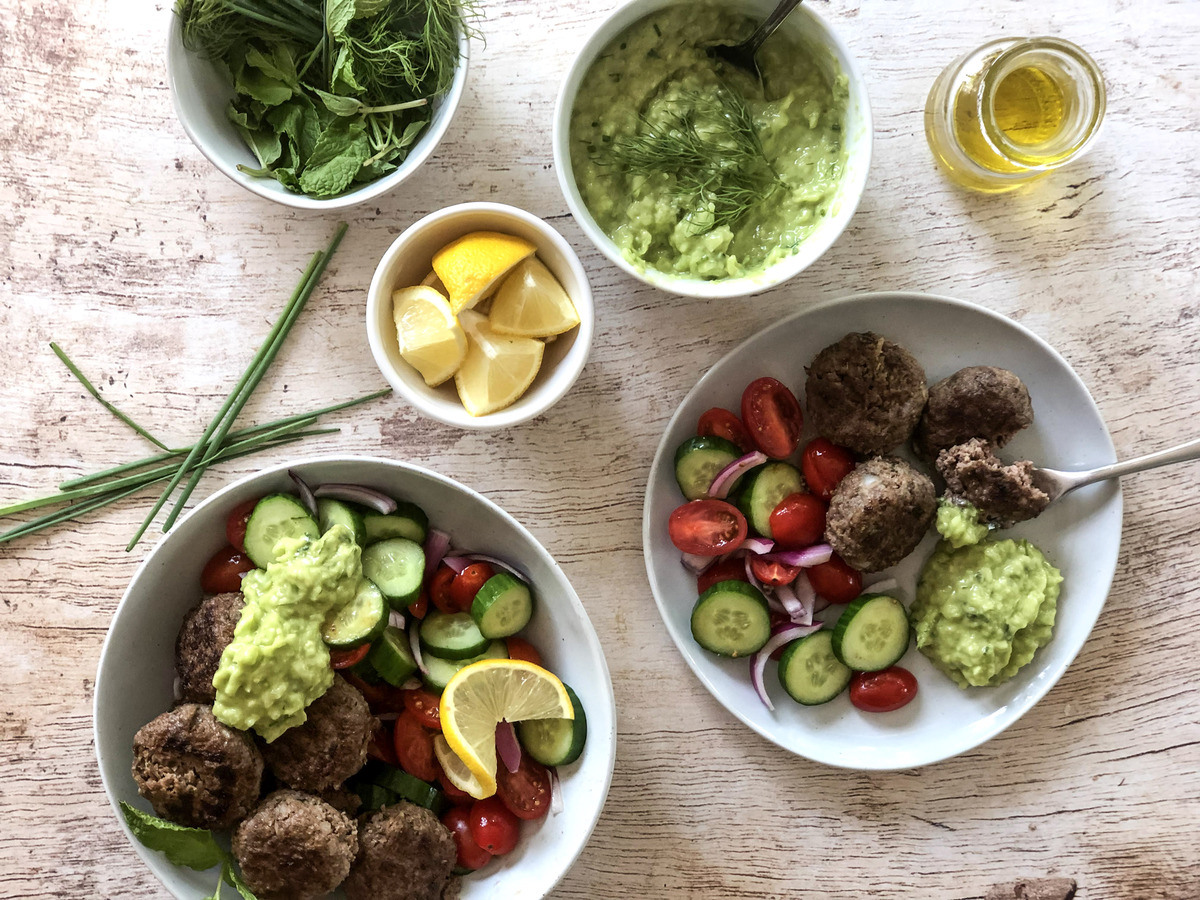 For hundreds of pure Paleo recipes be sure to check out  The Real Paleo Diet Cookbook  and  The Real Paleo Diet Fast and Easy.
Details
Prep Time:

20 minutes

Cook Time:

10 minutes

Total Time:

30 minutes
Ingredients
1 onion, roughly chopped

2 inches fresh ginger, grated

3 tbsp olive oil, divided

3 garlic cloves, divided

1 bundle fresh mint

2 tsp cumin

2 tsp coriander

1/2 tsp cinnamon

1/2 tsp allspice

Black pepper, to taste

1 lb ground lamb

3 small cucumbers

1 avocado

2 tbsp lemon juice

2 tbsp fresh dill

2 tbsp chives
Directions
Put the onion in a food processor and pulse for 30 seconds, or until finely chopped.

Add the ginger, 1 tablespoon of the olive oil, 2 garlic cloves, mint, cumin, coriander, cinnamon, allspice, black pepper, and lamb. Pulse until just combined. Form into about 11 meatballs.

To make the Paleo Tzatziki, rinse and wash the food processor well. Then add the cucumbers and pulse until finely chopped. Add the avocado, the remaining 2 tablespoons of olive oil, the remaining 1 clove of garlic, the lemon juice, dill, chives, and more black pepper to taste. Puree until you achieve a thick, creamy texture.

Heat a bit of olive oil in a skillet until hot. Add the meatballs in batches and cook for about 3-5 minutes per side. Alternatively, you can broil them in the oven for about 10 minutes, turning once.

Serve your Greek Keftedes hot with a side of the Paleo Tzatziki sauce for dipping.