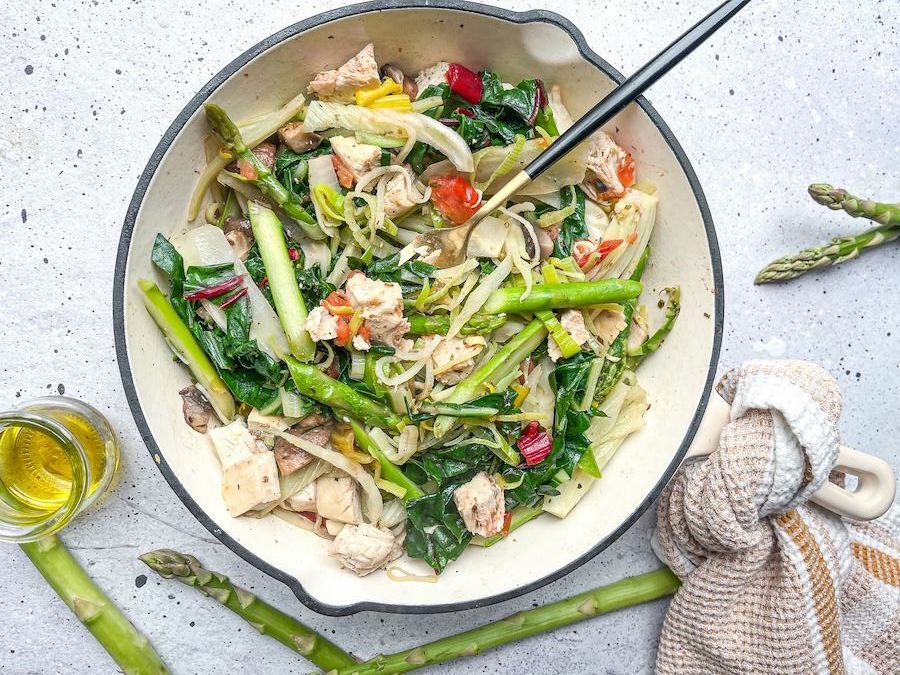 Looking for a new protein-rich dish to fuel you up for the day? This one-pan French Poulet Skillet comes together easily and brings the classic flavors of French cuisine right to your table.
Our version of poulet simmers chicken, herbs, and vegetables in the same skillet for a nutritious breakfast or lunch. The protein in the chicken keeps you feeling full and satisfied, while fiber from leeks and asparagus promotes good digestion throughout the day. Enjoy this hearty meal with family or cook ahead of time to have meal prep for the week.
Don't have herbes de Provence in your spice drawer? Make your own homemade blend by mixing 3 tablespoons dried oregano, 2 tablespoons each of dried savory and thyme, and 1 tablespoon each of dried rosemary, basil, and fennel seeds. For more homemade spice blends, check out The Seven Spice Blends the Cordains Can't Live Without.
This recipe is super easy to pull together! Just prep your dried mushrooms and asparagus, then throw everything into a skillet and let it simmer for about 10 minutes. Top it off with basil and mint, and enjoy!
Tip:
If you can't find dried mushrooms, replace with 1 cup chopped quarterly fresh mushrooms.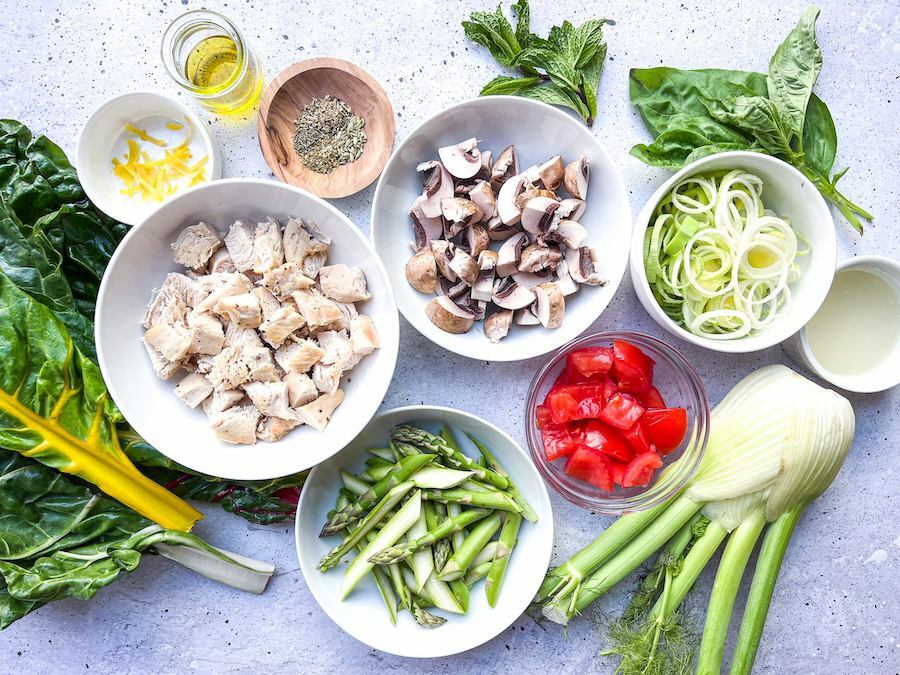 Details
Prep Time:

40 minutes

Cook Time:

10 minutes

Total Time:

50 minutes
Ingredients
1/2 oz package of dried chanterelle mushrooms

8 oz fresh asparagus

2 tbsp olive oil

1 medium fennel blub, cored and thinly sliced

2/3 cups leek, sliced (white and light green parts only)

1 tbsp herbes de Provence

3 cups breasts, cooked and diced

1 cups tomatoes, seeded and chopped

1/4 cups chicken bone broth or no-salt-added chicken broth

1/4 cups dry white wine

2 tsp lemon peel, shredded

4 cups red or rainbow Swiss chard leaves

1/4 cups fresh basil, chopped

2 tbsp fresh mint
Directions
Rehydrate dried mushrooms according to package directions; drain. Rinse and drain again; set aside.

Meanwhile, snap off and discard woody bases from asparagus. If desired, scrape off scales. Bias-slice asparagus into 2-inch pieces. In a large saucepan cook asparagus in boiling water for 3 minutes or until crisp-tender; drain. Immediately plunge into ice water to stop cooking; set aside.

In an extra-large skillet heat oil over medium heat. Add fennel, leek, and herbes de Provence; cook for 5 minutes or just until fennel begins to brown, stirring occasionally.

Add the rehydrated mushrooms, asparagus, chicken, tomatoes, chicken bone broth, wine, and lemon peel. Bring to a simmer. Cover and reduce heat to low. Simmer for 5 minutes or just until fennel and asparagus are tender and tomatoes are juicy, then remove from heat.

Stir in Swiss chard and let stand for 2 minutes or until wilted. Sprinkle with basil and mint and enjoy!