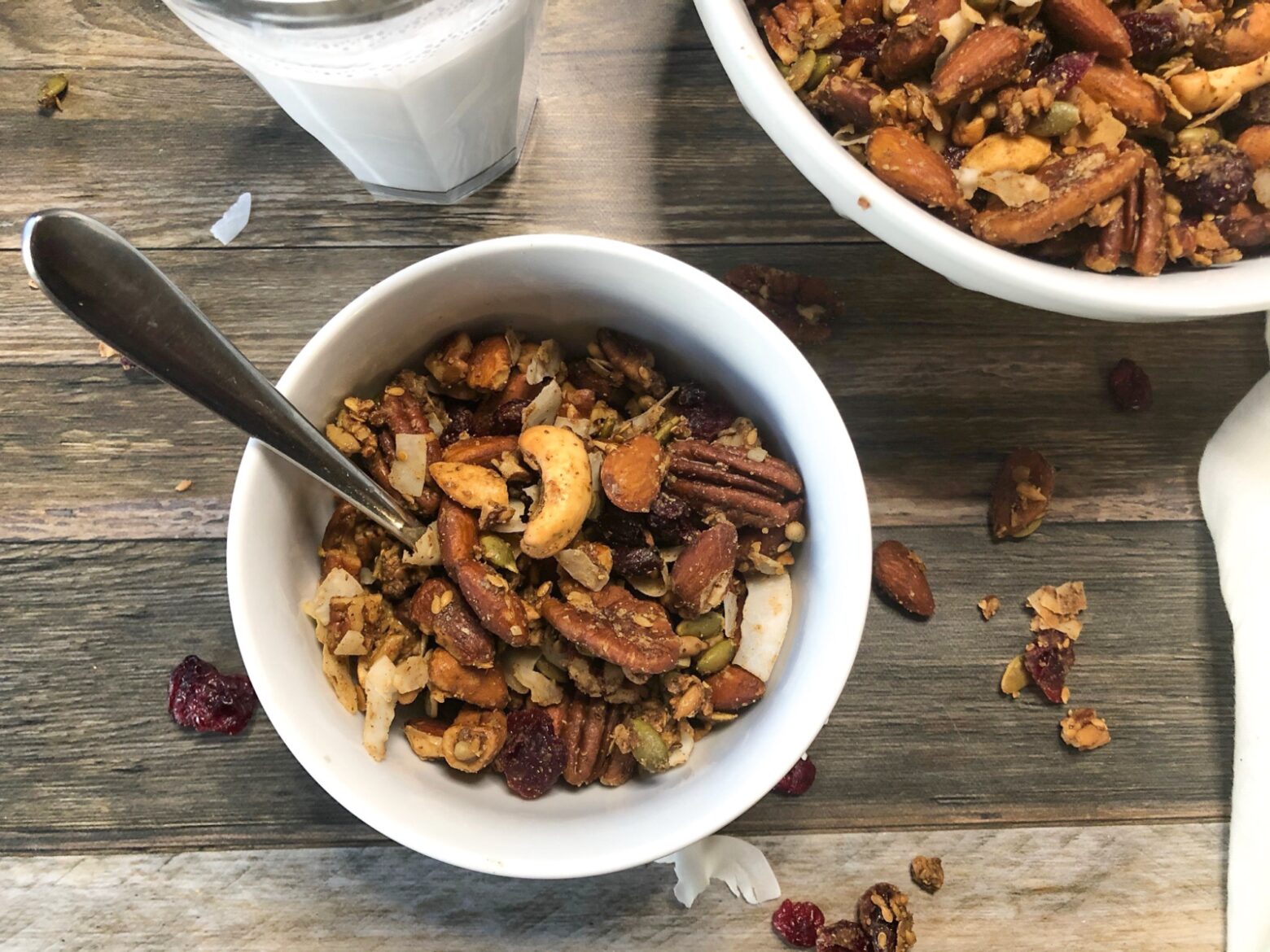 Easy Paleo Granola with Almonds & Coconut
You don't need oats to make a tasty granola! This easy homemade recipe gently roasts a mix of nuts and seeds in an almond butter glaze for a gluten-free breakfast or snack.
Most store-bought granolas are made with lots of added sugar. We'll help keep the glycemic load down with this homemade granola, which is naturally sweetened with vanilla, cinnamon, unsweetened coconut, and cranberries.
Even though the sweetness all comes from natural sources, it's important to balance sugar with protein. This helps stabilize your blood sugar levels, and will help cut down on insulin shock. To give this granola plenty of protein, we used a mix of raw and unsalted pecans, almonds, cashews, sunflower seeds, pumpkin seeds, and flax. Plus, we use a protein-packed almond butter glaze to hold it all together.
Start by roughly chopping the nuts, or buy them pre-sliced to help cut back on prep time. Combine with the seeds in a bowl and toss together. Next, warm coconut oil, almond butter and vanilla until just melted, and pour over the nuts and seeds. Spread evenly over a prepared baking pan and roast for 20-25 minutes, stirring once about halfway through.
Off the heat, pour in the cranberries and coconut flakes. Press the granola together, then let cool. The granola will form clusters as it hardens.
Serve with dairy-free milk or yogurt and apple slices. Store leftovers in an airtight container for up to 1 month.
Love waking up to apples and cinnamon for breakfast? Then you're going to want to try this sweet potato breakfast bowl next.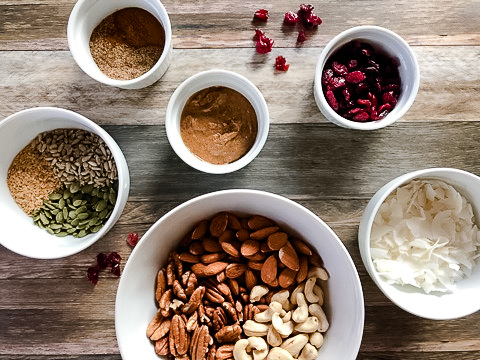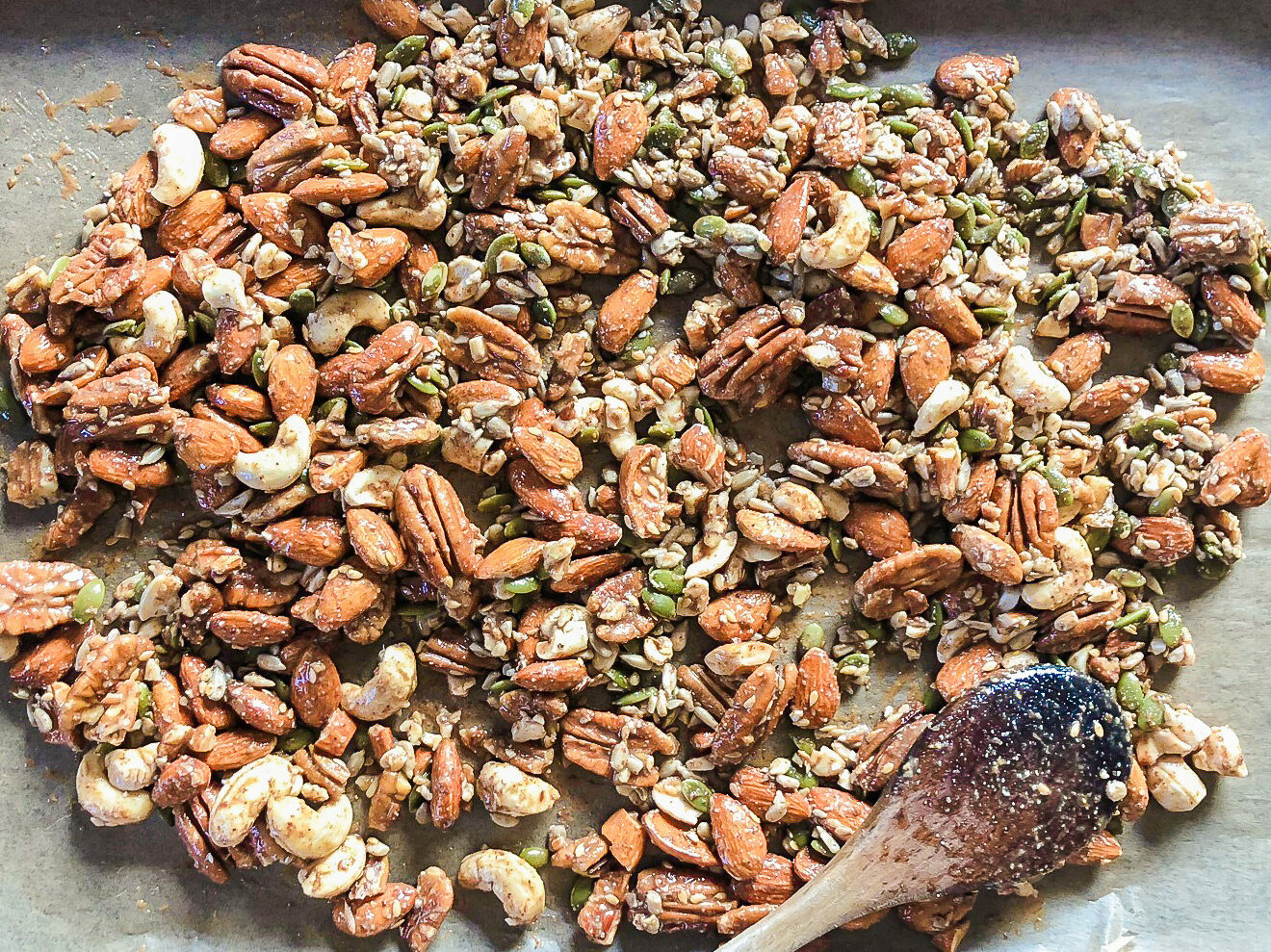 For hundreds of pure Paleo recipes be sure to check out The Real Paleo Diet Cookbook and The Real Paleo Diet Fast and Easy.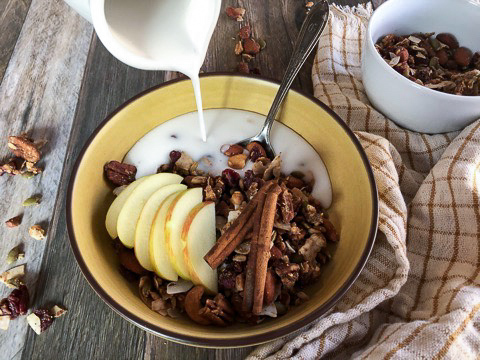 Details
Prep Time:

10 minutes

Cook Time:

30 minutes

Total Time:

40 minutes
Ingredients
1 cups raw, unsalted pecans, roughly chopped

1 cups raw, unsalted almonds, roughly chopped

3/4 cups raw, unsalted cashews, roughly chopped

1/2 cups sunflower seeds

1/2 cups raw, unsalted pumpkin seeds

2 tbsp flax seeds

2 tsp ground cinnamon

Pinch of nutmeg

3 tbsp coconut oil, melted

2 tbsp almond butter

1 tsp vanilla extract

1 cups dried unsweetened cranberries

1 cups unsweetened coconut flakes

Dairy-free milk, for serving

Apple slices, for serving
Directions
Preheat the oven to 325°F. Lightly grease a baking sheet, or line with parchment paper.

Combine the nuts, seeds, cinnamon, and nutmeg into a mixing bowl.

In a small saucepan, warm the coconut oil, almond butter, and vanilla over low heat until melted, about 4 minutes. Pour over the nut mixture, stirring well to fully combine.

Spread the nut mixture evenly onto the prepared baking sheet. Bake for 20-25 minutes, flipping and stirring about halfway.

Once golden brown and fragrant, remove from the oven. Mix in the cranberries and coconut flakes, then let stand for about 20 minutes or until hardened. Serve in a bowl with dairy-free milk, garnished with apple slices.