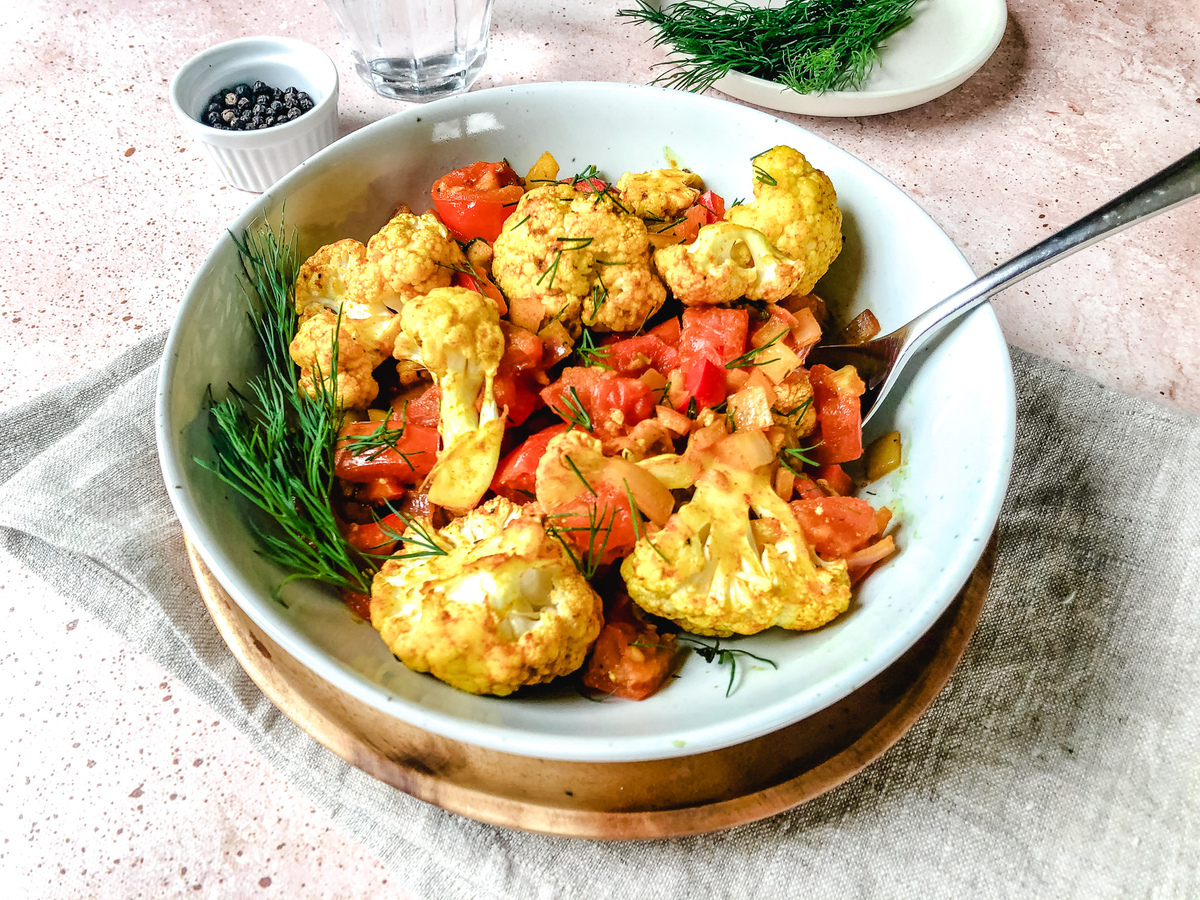 Dill Curry Roasted Cauliflower
Did you know that roasting is the best way to cook cauliflower? Dry heat from the oven removes moisture from food, concentrating their flavors. And since cauliflower is about 92 percent water, roasting leads to amazingly moist and tender florets!
Since we love roasted veggies so much, we added bell peppers, onions, and tomatoes to the mix to keep this side dish interesting. You can add other veggies if you wish, but this mix is ideal for keeping the cauliflower at center stage.
Start by prepping your veggies. Here's a tip for non-crumbly cauliflower florets: Cut a head of cauliflower in half, but don't cut into the curd. Then, use your fingers to break them into bite-size pieces.
In a small mixing bowl, whisk together melted coconut oil with garlic, curry powder, and black pepper. This is a dynamite combination of sweet and spicy, and when these flavors combine, you won't even miss the added salt. (We promise!)
Roast your cauliflower mix at 350°F for about 20 minutes, or until the veggies are tender and lightly browned. Serve as a side dish alongside your favorite main course, and enjoy it while it's hot!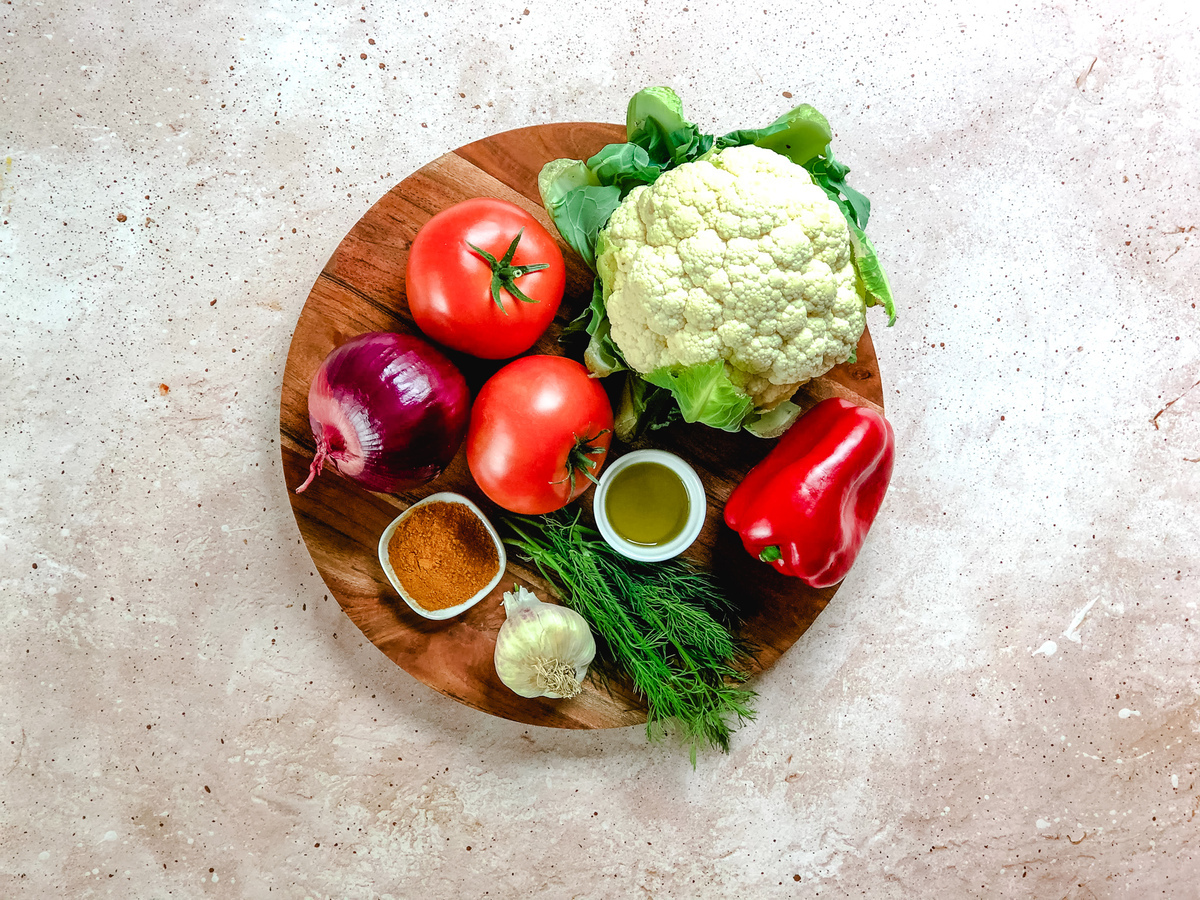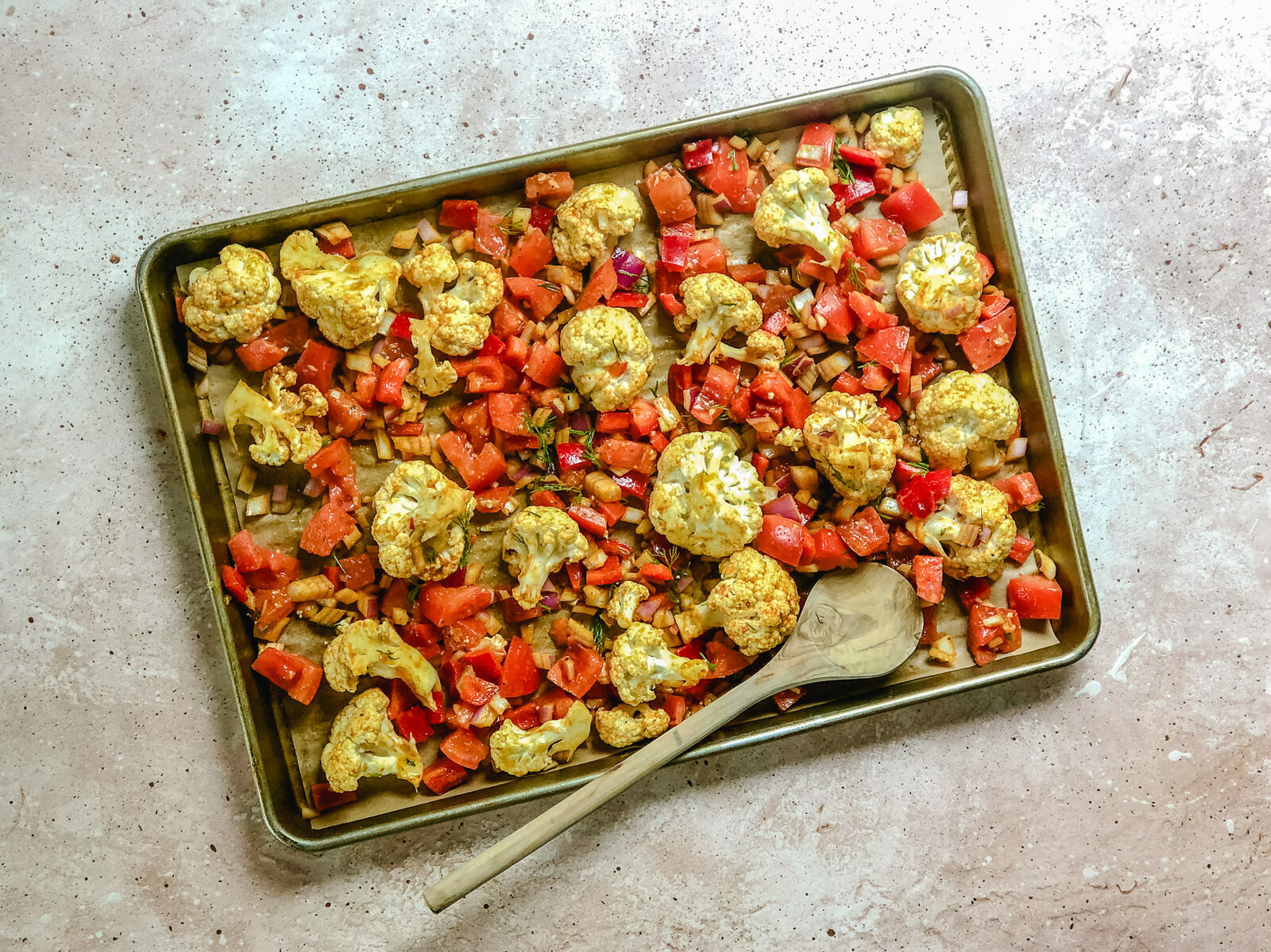 For hundreds of pure Paleo recipes be sure to check out  The Real Paleo Diet Cookbook  and  The Real Paleo Diet Fast and Easy.
Details
Prep Time:

10 minutes

Cook Time:

20 minutes

Total Time:

30 minutes
Ingredients
1 small head of cauliflower, chopped

1 onion, finely chopped

1 red bell pepper, chopped

2 medium tomatoes, chopped

1 tbsp coconut oil, melted

2 cloves garlic, pressed

1 tbsp curry powder

Freshly ground black pepper

1-2 tbsp fresh dill, chopped

Olive oil for drizzling
Directions
Preheat the oven to 350°F.

Put the cauliflower, onion, garlic, bell pepper and tomatoes in a mixing bowl.

In a small bowl, whisk together the coconut oil, garlic, curry powder and black pepper. Pour over the vegetables and toss well to combine.

Transfer to a baking sheet and roast for about 20 minutes, or until the vegetables are tender and lightly browned.

Remove from the oven, drizzle with olive oil, and toss with the fresh dill. Serve hot