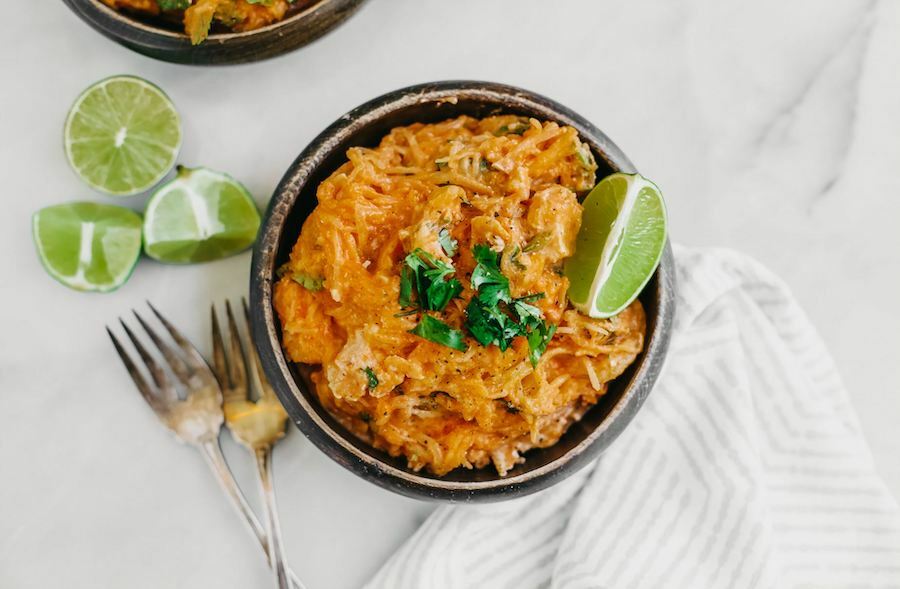 Coconut Curry Spaghetti Squash
This tasty spaghetti squash "noodle" bowl is filled with shredded chicken and tossed with a homemade curry paste to make a Thai-style meal!
Craving a bowl of comforting spicy noodles? Try this recipe that uses nutrient-dense spaghetti squash as a replacement for pasta. Spaghetti squash contains fiber, antioxidants, and an array of vitamins and minerals. Plus, it easily shreds into noodle-like strands, which makes it an obvious replacement for noodles.
To save time when making these curry noodles, consider roasting the spaghetti squash ahead of time. You can also use leftover slices of chicken instead of boiling and shredding on the day of cooking.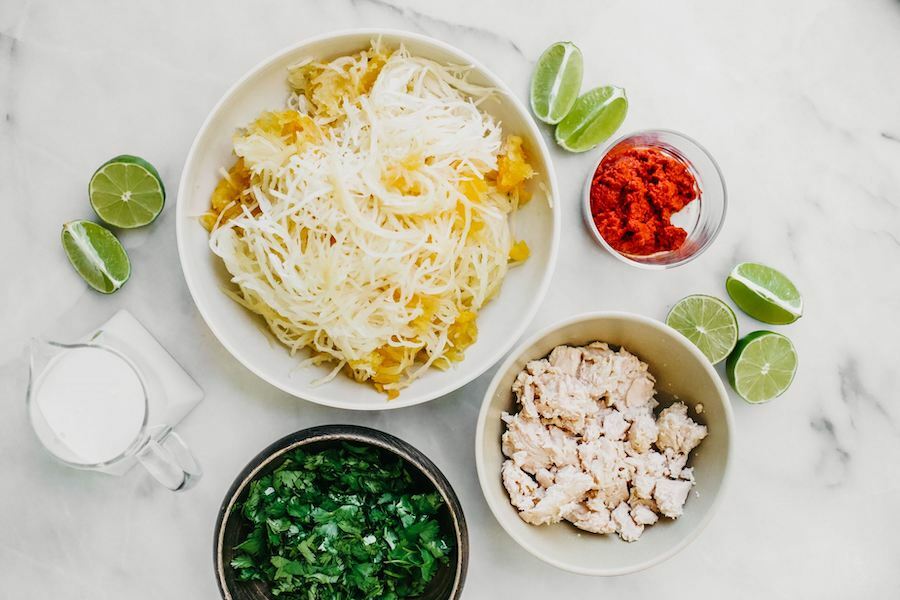 Since most store-bought red curry pastes contain added salt, we created our own curry paste recipe. While you could use a store-bought red curry paste in a pinch, keep in mind that even if the ingredients on the label look healthy, the added salt content probably bumps this recipe into PaleoFLEX™ territory.
Our curry paste is made with a zesty combination of peppers, spices, lemon juice, onions, cilantro, and lemongrass. Simply add all ingredients to the blender, and combine until smooth. Keep in mind that you might yield a little more curry paste than you'd like to use in this recipe. We recommend sticking to about one cup, but you can adjust based on your taste. If you have leftover curry paste, you can store it in an airtight container in the fridge for a few days.
To bring these curry noodles together, simply toss the spaghetti squash with the shredded chicken and curry paste. You can do this in a large mixing bowl, or set it over low heat to make sure everything is evenly warmed through. You'll be adding a can of coconut milk at this point, so unless the other ingredients are piping hot, you'll want to set it on the stovetop to warm everything through.
Top your coconut curry spaghetti squash noodles with freshly chopped cilantro, and serve with lime wedges.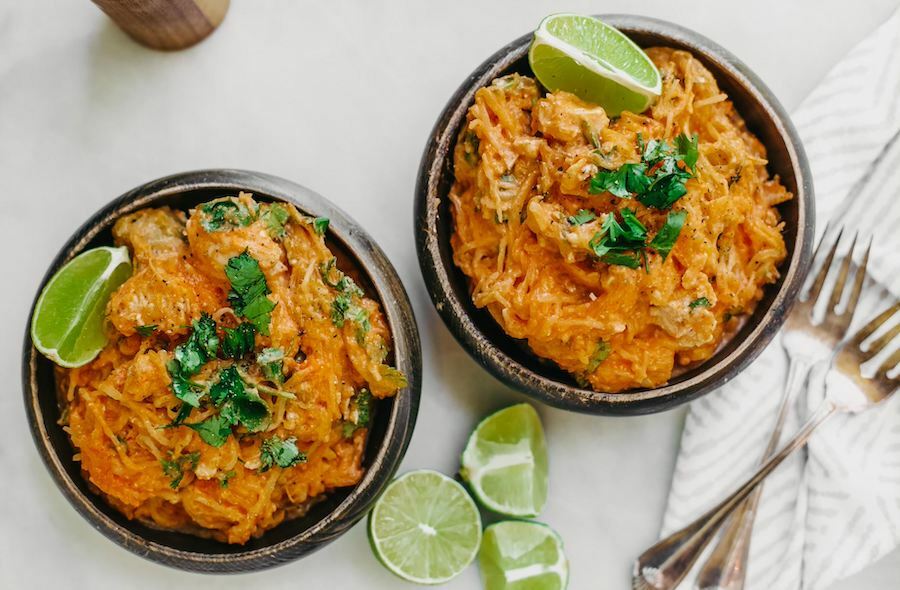 For hundreds of pure Paleo recipes be sure to check out The Real Paleo Diet Cookbook and Real Paleo Fast and Easy.
Details
Prep Time:

15 minutes

Cook Time:

35 minutes

Total Time:

50 minutes
Ingredients
1 spaghetti squash

2 chicken breasts

1 red bell pepper, chopped

3 red chilies, de-seeded and chopped

1 tsp cumin

1/2 tsp cardamom powder

1/2 lime, zested and juiced

1 1/2 tbsp lemon juice

4 green onions

1 tbsp shallot, chopped

2 garlic cloves

1 tbsp fresh ginger

1 1/2 tbsp olive oil

1 stalk lemongrass

1/2 tbsp turmeric

1/2 bunch of cilantro, stems only

15 oz full fat coconut milk

black pepper, to serve

1 cups cilantro leaves, chopped, to serve

lime wedges, to serve
Directions
Preheat the oven to 450°F. Slice the spaghetti squash in half lengthwise, and use a spoon to remove and discard the seeds. Set face-up on a baking tray, and brush lightly with olive oil. Bake for 25 minutes, then use a fork to scrape out the noodles. Set aside.

Meanwhile, make the shredded chicken: Bring a large pot of water to a boil and add the chicken breasts. Simmer for 15-30 minutes, or until completely cooked through. Remove the chicken from the water and shred between two forks.

While the squash is roasting and chicken is simmering, prepare the curry paste by adding all the ingredients from the red bell pepper to the cilantro stems in a food processor. Combine until smooth.

Add the cooked spaghetti squash, shredded chicken, and about a cup (or to taste) of the curry paste to a large skillet over medium-low heat. Add the coconut milk and toss well to combine and heat through.

Serve, topped with black pepper, freshly chopped cilantro, and lime wedges. Enjoy!