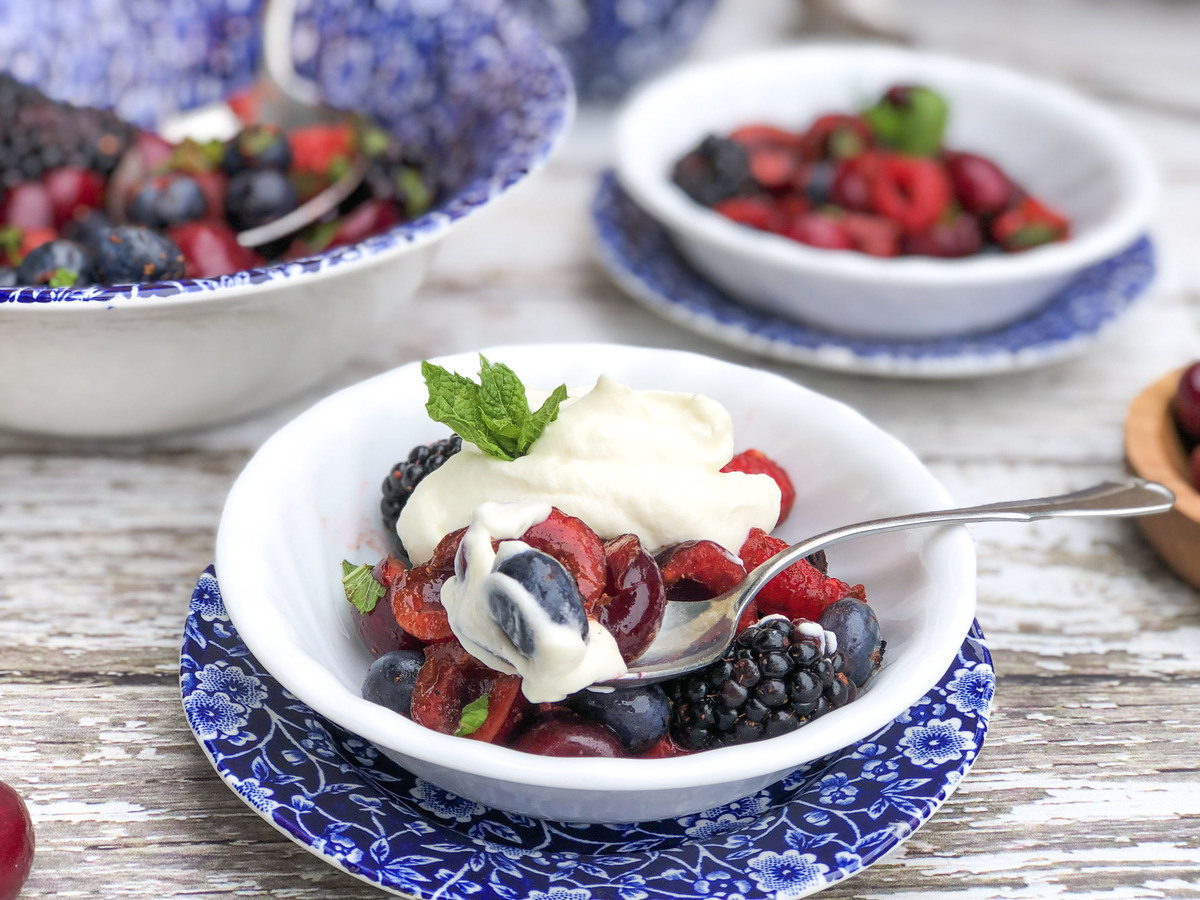 Toss berries in a simple vanilla-cinnamon dressing and top with coconut whipped cream for a summery delight!
Berry lovers, rejoice! This Cherry Berry Medley is a refreshing dessert that makes for a satisfying ending to any Paleo meal. Since this recipe is so simple, we suggest getting fresh, in-season berries from the farmer's market to really let the flavors of ripe fruit shine through.
We used pitted cherries, red raspberries, blackberries, and blueberries for a nice color contrast, but you could also add golden raspberries, chopped strawberries, or even huckleberries if you live in the Pacific Northwest! Add your choice of berries to a bowl and top with a splash of vanilla, a sprinkle of cinnamon and clove, and some freshly chopped mint. This combination of flavors works really well with fresh berries.
Put the berries in the fridge to chill for at least 30 minutes, allowing the flavors to set in. Meanwhile, grab a can of full-fat coconut milk or coconut cream, preferably one that has been stored in the fridge. If you're using coconut milk, drain the coconut water and save for other uses, like a soup or smoothie. Place the cream in a chilled bowl and use a Kitchen Aid to beat with a whisk attachment until fluffy. Keep in mind that it won't quite whip up like real dairy cream, but you can get it pretty close! You could also do this with a hand whisk, but it will be much more work. Add a touch of vanilla and continue to whisk until thick.
When you're ready to serve up your Cherry Berry Medley, top your berries with the whipped cream and add a garnish of mint. Grab a spoon and dig in!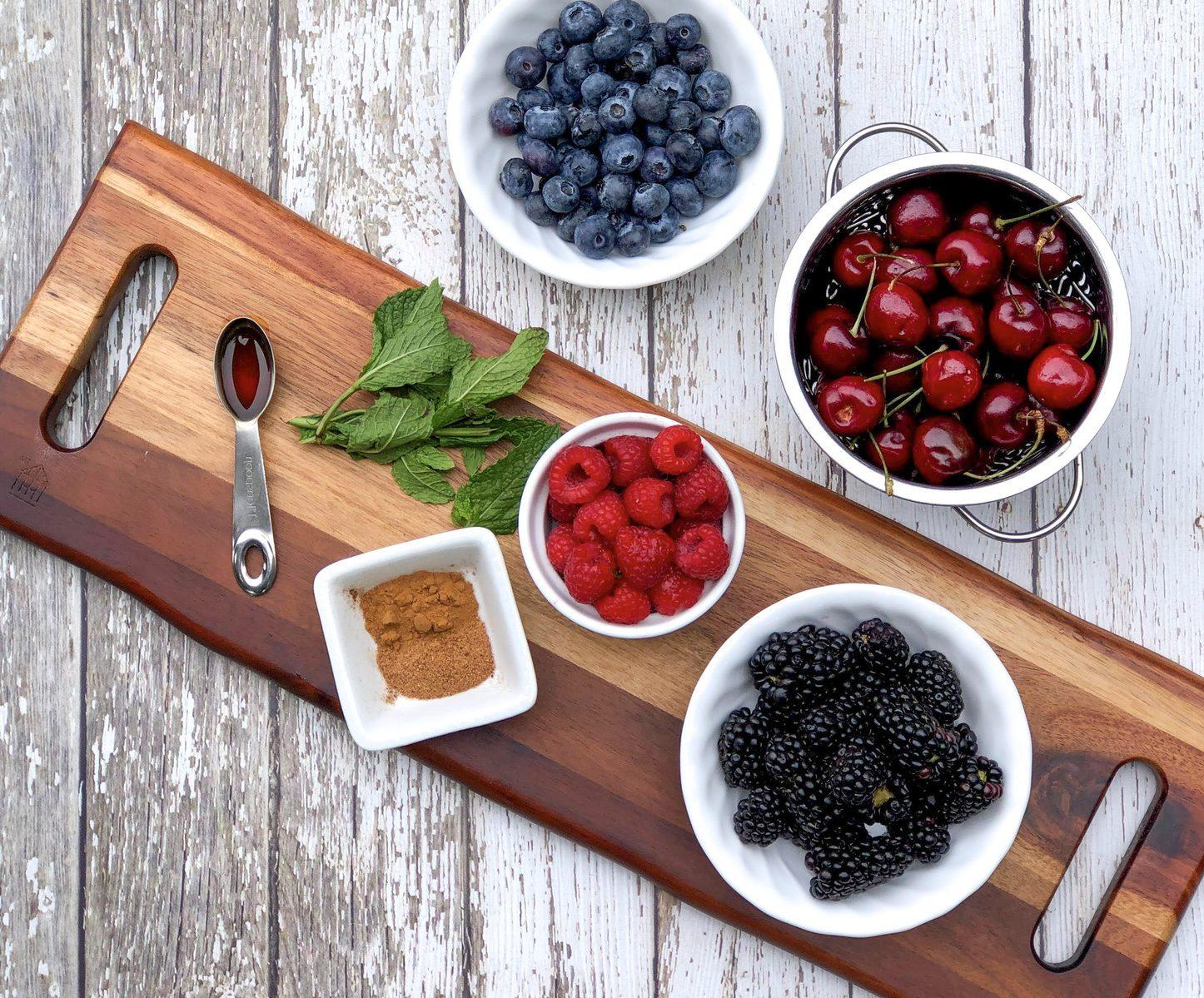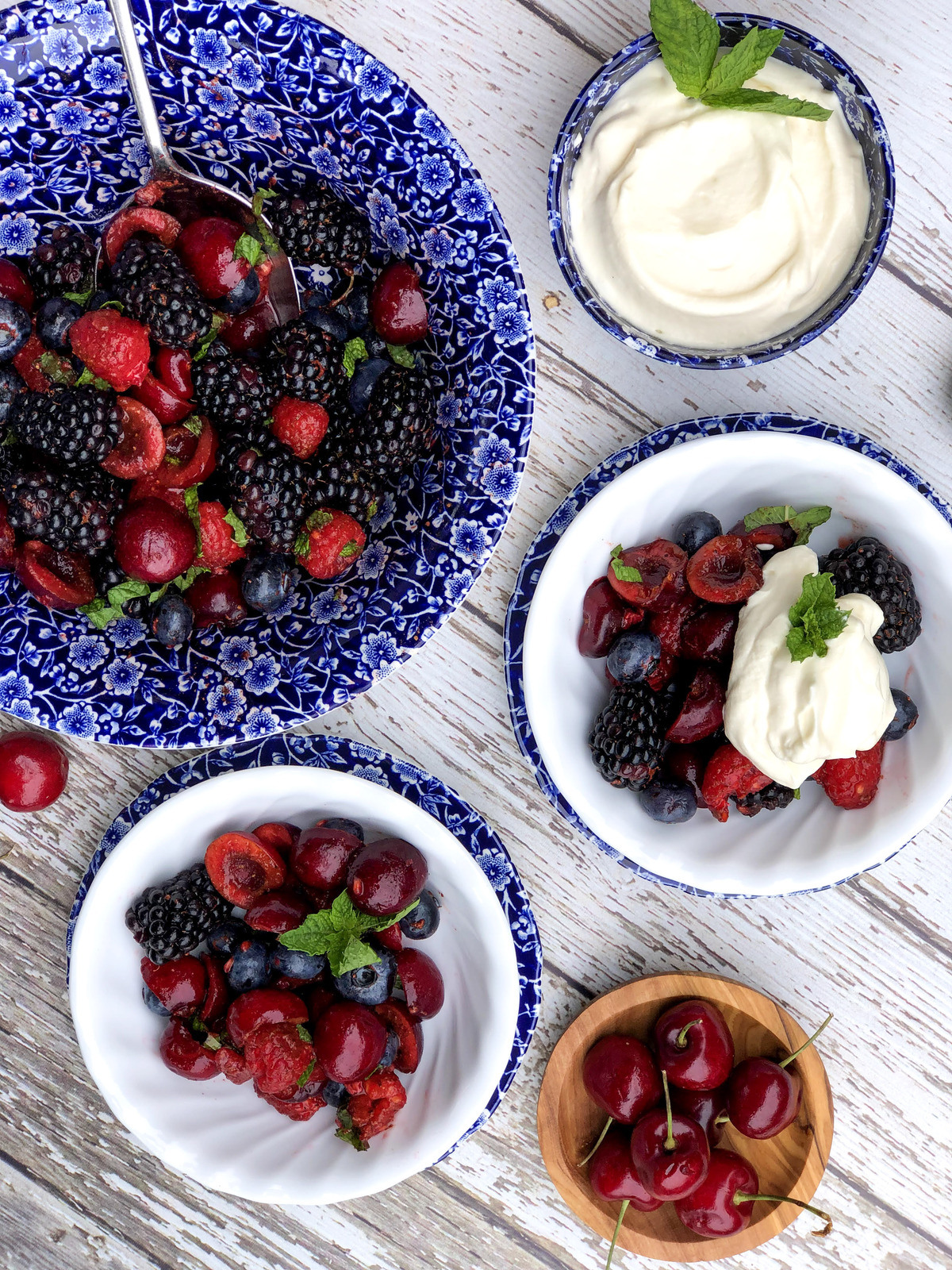 For hundreds of pure Paleo recipes be sure to check out  The Real Paleo Diet Cookbook  and  The Real Paleo Diet Fast and Easy.
Details
Prep Time:

40 minutes

Total Time:

40 minutes
Ingredients
1/2 cups cherries, pitted and chopped

1/2 cups blueberries

1/2 cups raspberries

1/2 cups blackberries

2 tsp vanilla extract, divided

1/2 tsp clove powder

1/2 tsp cinnamon

1 tbsp chopped fresh mint leaves, plus more for garnish

1 can full-fat coconut milk, chilled and drained
Directions
Combine cherries and berries in a medium bowl.

Add 1 teaspoon of the vanilla, the clove powder, cinnamon, and chopped mint, and gently toss. Chill 30 minutes.

To make the coconut whipped cream, place the cold coconut cream into a chilled Kitchen Aid bowl. Use the whisk attachment to beat the cream until fluffy. Add the remaining teaspoon of vanilla, and mix until creamy.

To serve, divide the berries between four bowls and top evenly with the whipped coconut cream. Garnish with fresh mint and enjoy.