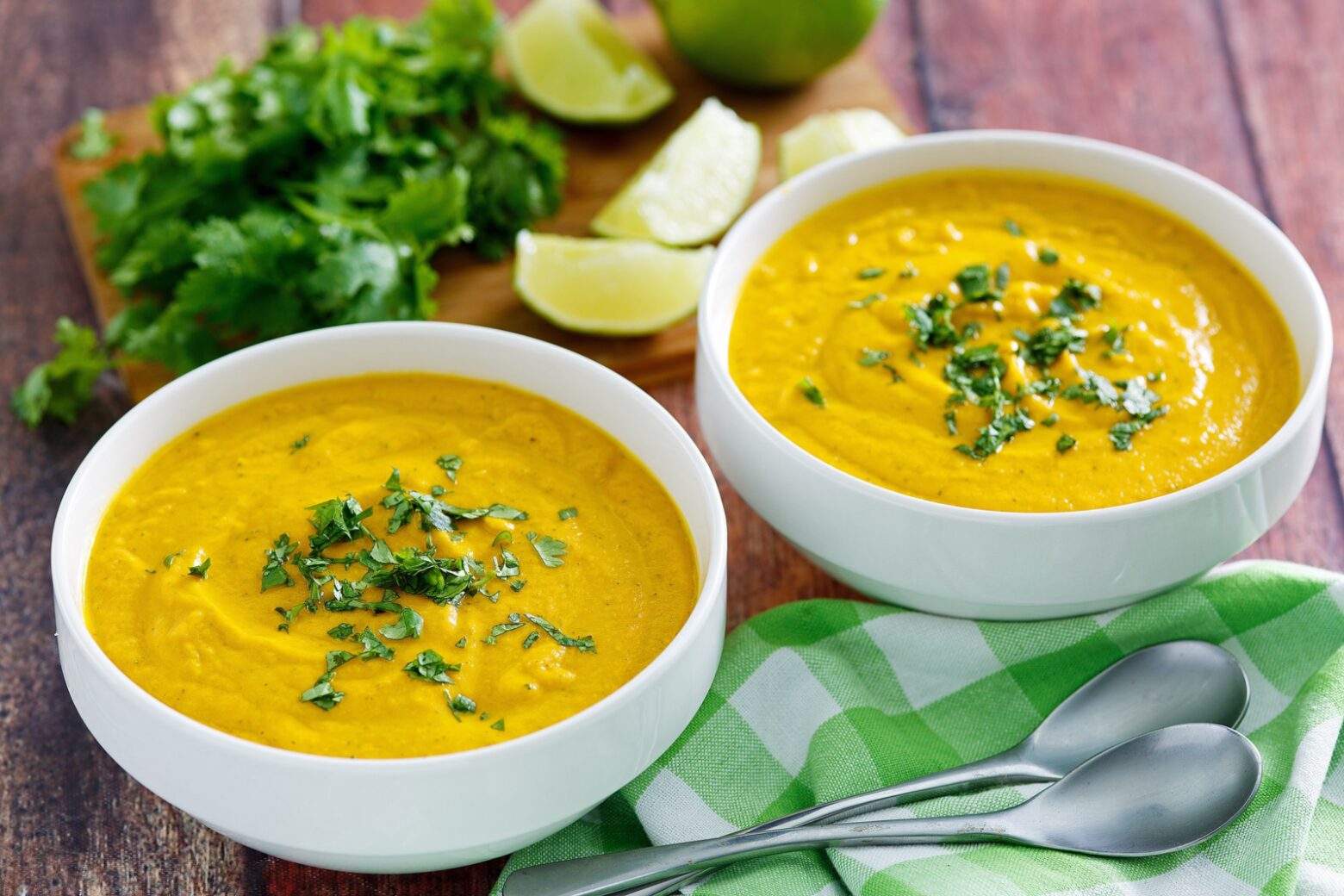 Carrot Coconut Lemongrass Soup
Ladle up this fragrant carrot lemongrass soup for a filling, hydrating meal. Serve it cold if it's not soup weather quite yet!
Our readers often ask what they should eat before a good workout. Our rule of thumb? Pre-exercise meals should be higher in complex carbs, lower in fiber, not too filling, and hydrating. A recent review shows that eating a high simple-carbohydrate meal before exercise hurts performance. This soup has a higher nutrient density and will help you stay hydrated during a workout is important for obvious reasons. There's another silver lining: taking in enough liquids prevents protein breakdown during training, which can enhance performance and recovery. (1)
This carrot lemongrass soup ticks all the boxes for a light meal that will fuel your bike ride or run.
First, it's full of carrots, which are a great veggie to eat before workouts. They're starchy, relatively high-carb, and contain a good amount of water. Next, we blend the soup, which disrupts the fiber in the carrots. This process makes it faster and easier to digest.
To increase hydration further, we use coconut milk, a whole zucchini, and some water to make sure all the veggies are well-simmered before blending.
When it's time to blend your soup, it's best if you let the vegetables cool down a bit first. While most high-speed blenders can handle hot liquids, others cannot. If you have an immersion blender, this is a great way to avoid the messy process of transferring hot liquids to a blender. Just make sure you cook the veggies in a stainless-steel pot (or one that doesn't have a coating that can scratch).
You don't have to be an athlete to enjoy this light and refreshing soup. We recommend serving it with some wild-caught salmon for a complete meal that everyone will rave about!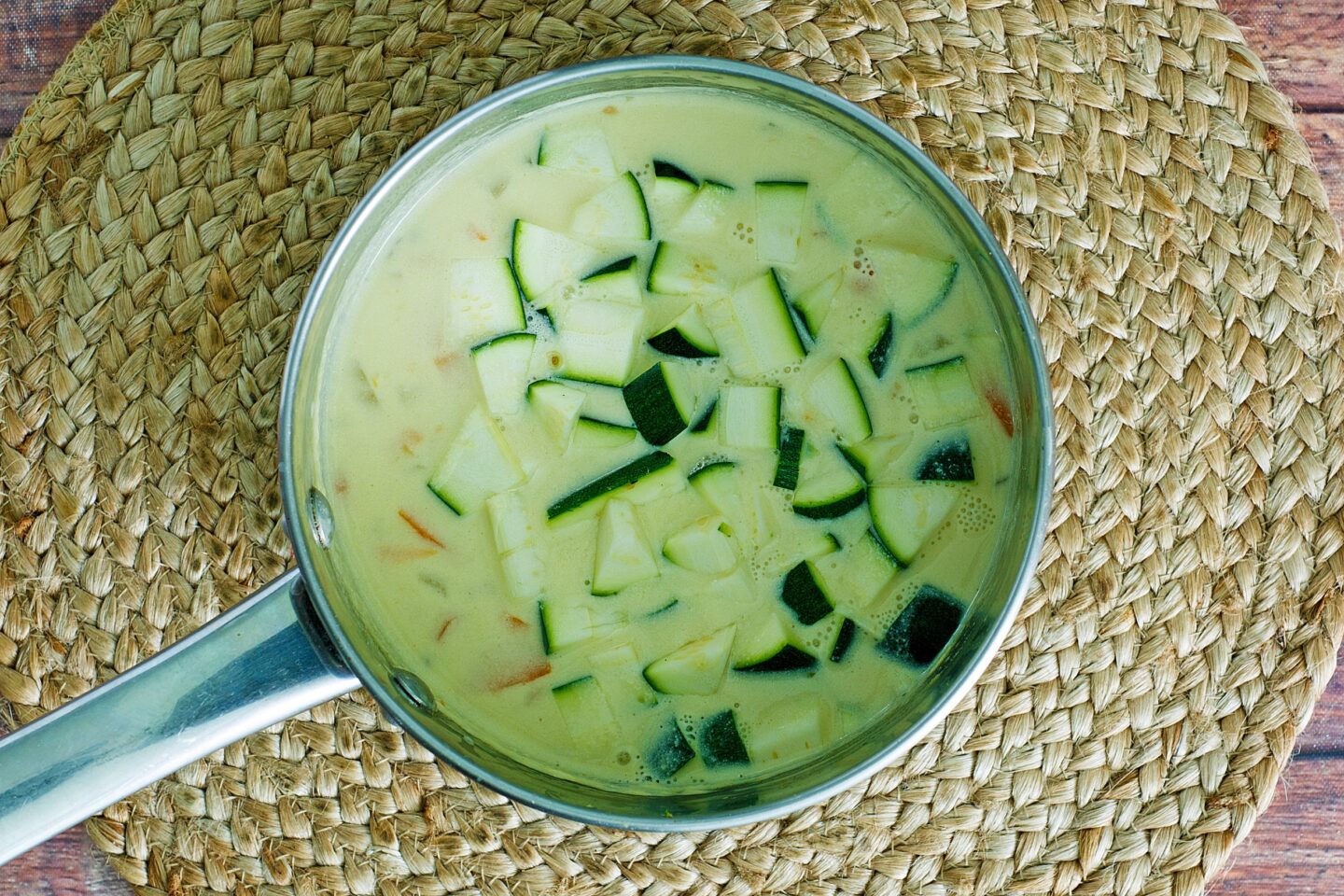 For hundreds of pure Paleo recipes be sure to check out  The Real Paleo Diet Cookbook  and  The Real Paleo Diet Fast and Easy.
References
1. Cordain, L. & Friel, J. (2012). The Paleo Diet for Athletes: The Ancient Nutritional Formula for Peak Athletic Performance. Rodale Books; revised edition.
Details
Prep Time:

15 minutes

Cook Time:

35 minutes

Total Time:

50 minutes
Ingredients
3 large carrots, roughly chopped

1 onion, roughly chopped

2 cloves garlic, pressed

1/2 inch piece of ginger, finely chopped

3 stalks lemongrass, outer trim removed, finely chopped

1 1/2 cups coconut milk

3 kaffir lime leaves or juice from 1/2 a lime

1 large zucchini, roughly chopped

Fresh cilantro, for garnish
Directions
Put the carrots, onion, garlic, ginger, lemongrass, coconut milk, and Kaffir lime leaves in a pot. If using lime juice instead of Kaffir leaves, don't add now. Add enough water to cover, bring to boiling, reduce heat, cover, and simmer for about 20 minutes.

Add the zucchini and more water if necessary; the liquid should be just covering the vegetables. (We add the zucchini last because the carrots need more cooking time and we don't want to overcook the zucchini.) Continue simmering for another 15 minutes.

When the vegetables are tender, remove from the heat and let cool. Add the lime juice (if using) and transfer to a blender or use an immersion blender. Pulse to a creamy consistency.

Serve hot or chilled, garnished with freshly chopped cilantro.