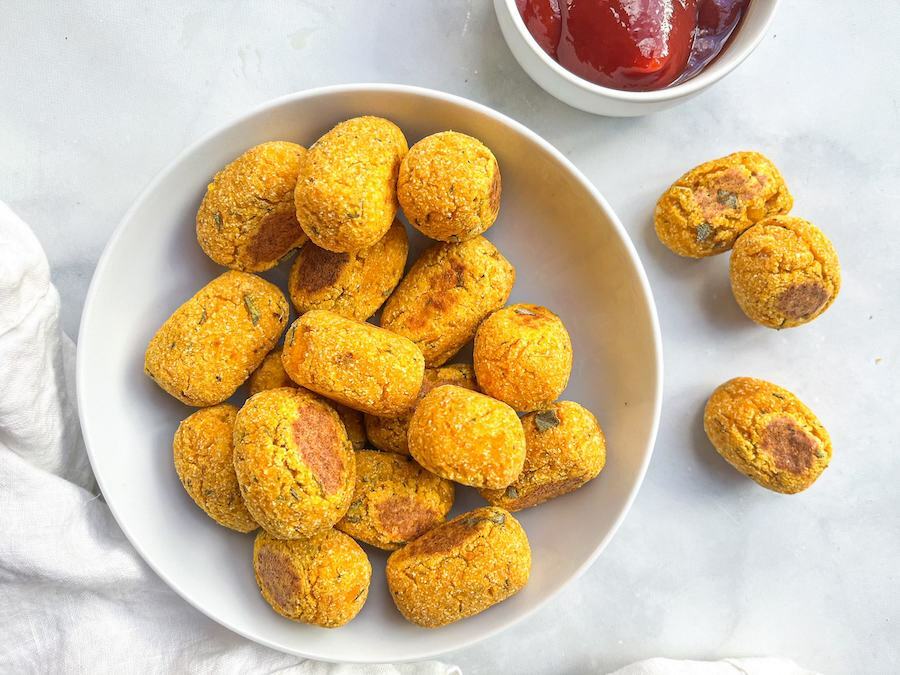 Love crispy tots, but wish they were healthier? Luckily, all you need are a handful of ingredients and just over half an hour to make your own healthy tater tots!
Your whole family (and especially the kids!) will love these healthy tater tots dunked in Paleo ketchup. We nixed the blood sugar spiking white potatoes in this recipe for butternut squash puree, which is rich in vitamin A, potassium, fiber, and other key nutrients. Plus, butternut squash adds more naturally sweet flavor to the tots, which adds a nice flavor element you'd otherwise miss.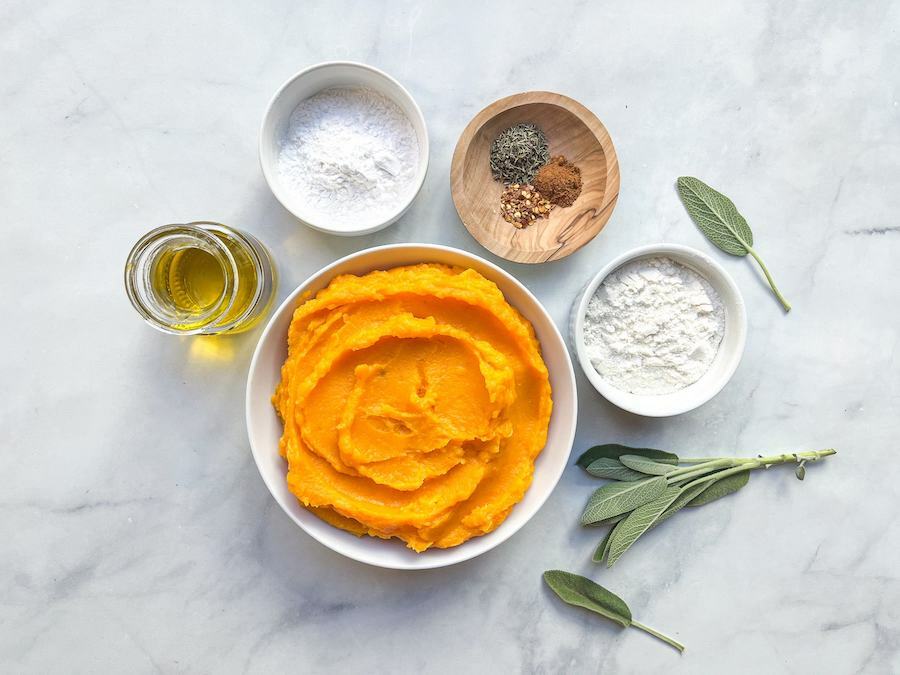 If you have fresh butternut squash already roasted on hand, use a food processor to mash it into a puree. If not, you can simply use canned butternut squash to save time. Tip: Sweet potatoes also stand in for the butternut squash nicely!
Mix the butternut squash puree with olive oil, arrowroot and coconut flours, and both fresh and dried herbs. We used a combination of fresh sage, dried thyme, red pepper flakes, black pepper, cinnamon, and nutmeg for a warm spice combination that works great with butternut squash. You can also swap in or add garlic powder, paprika, cumin, and/or cayenne pepper. If your short on time, feel free to use salt-free spice blends.
Once the mixture is fully combined, use a spoon to scoop out about two tablespoons at a time. Use your hands to form them into one-inch tots, and line them on a parchment-lined baking sheet greased with olive oil.
Bake until crispy and golden brown, then serve your healthy tater tots with Paleo ketchup or your favorite dipping sauce. Dunk and enjoy!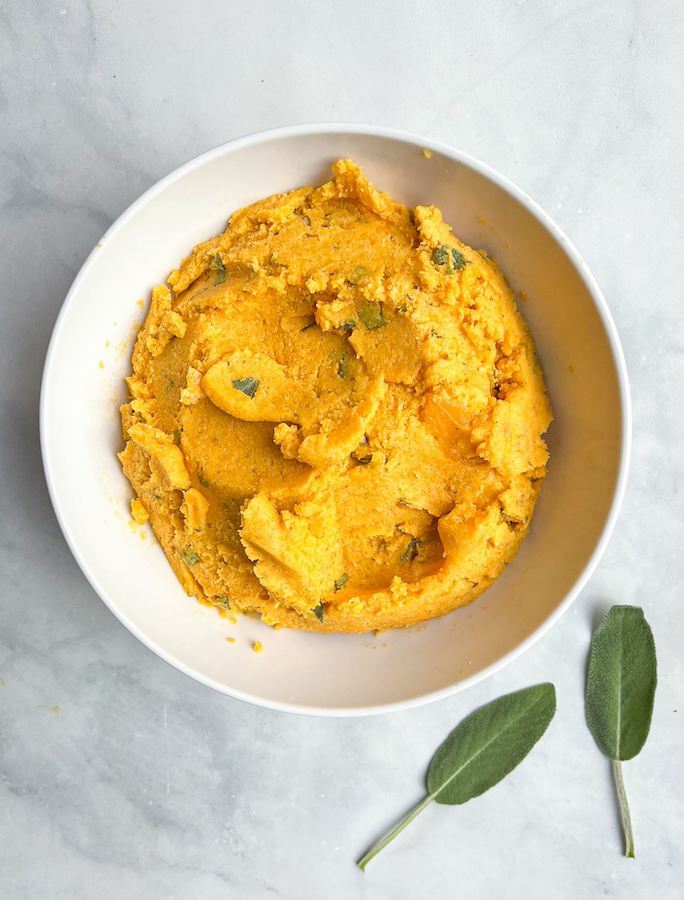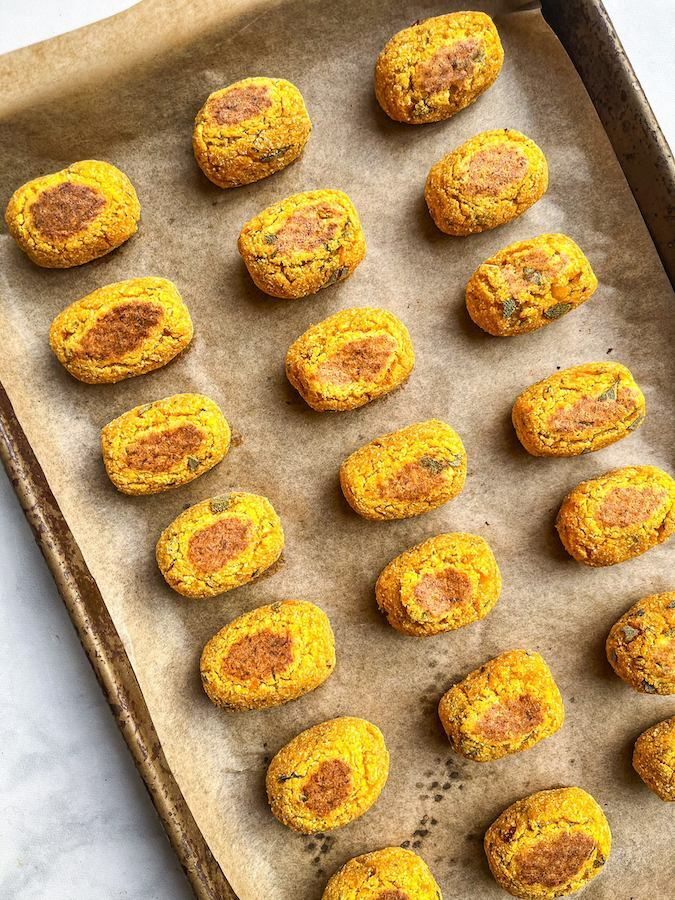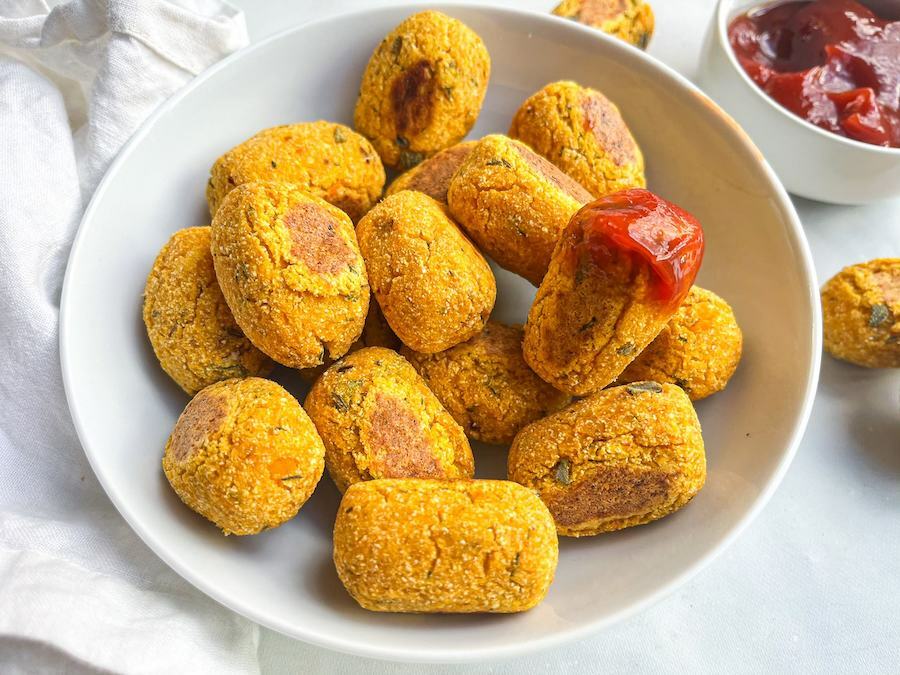 Details
Prep Time:

10 minutes

Cook Time:

25 minutes

Total Time:

35 minutes
Ingredients
2 1/2 cups butternut squash puree

4 tbsp olive oil, divided

3 tbsp arrowroot flour

1/3 cups coconut flour

1 tbsp fresh sage, minced

1 tsp dried thyme

1/2 tsp red pepper flakes

1/2 tsp black pepper

1/2 tsp cinnamon

1/8 tsp nutmeg
Directions
Preheat the oven to 400°F.

In a large bowl, stir the butternut squash with 2 tablespoons of the olive oil and all remaining ingredients. Stir until combined.

Use a spoon to evenly scoop out the mixture and mold into a tot shape about 1 inch thick. Place the tots onto a parchment paper lined baking sheet then brush with the remaining olive oil.

Bake the tots for 25 minutes, or until it's a golden brown and crispy. Serve warm with your favorite Paleo dipping sauce!