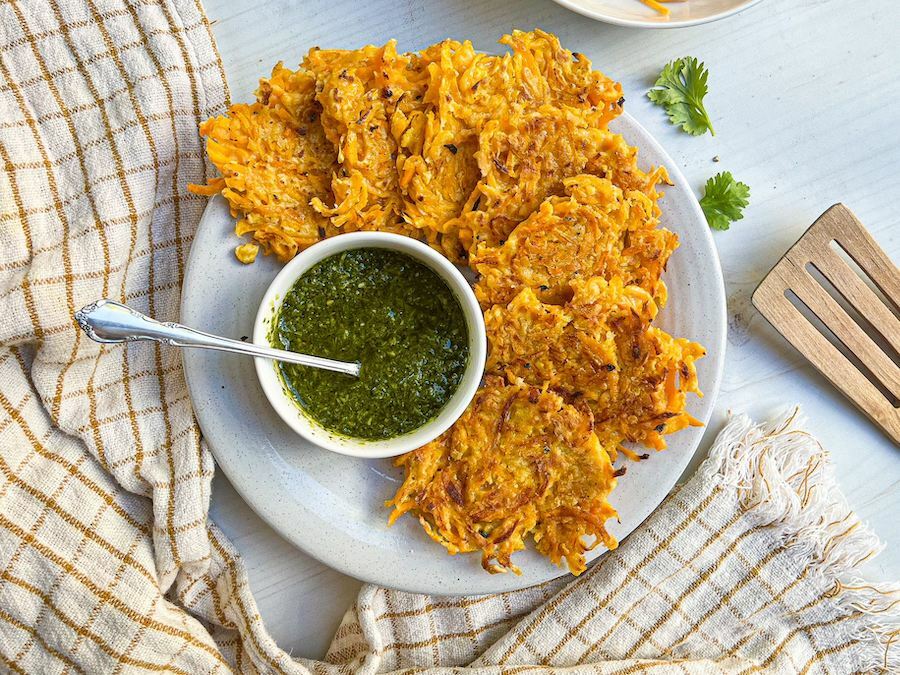 Butternut Squash Latkes with Cilantro Sauce
If you're craving a crispy plate of latkes in the morning, but don't want all the potatoes and grease, try these low-carb, veggie-packed butternut squash latkes instead! These kid-friendly latkes are easy to make, and much healthier than the traditional kind.
Butternut squash stands in for white potatoes in these tasty fried pancakes. You'll get a naturally sweet, autumnal flavor that beats plain potatoes. Plus, butternut squash is lower in calories and higher in important minerals like potassium, calcium, and magnesium.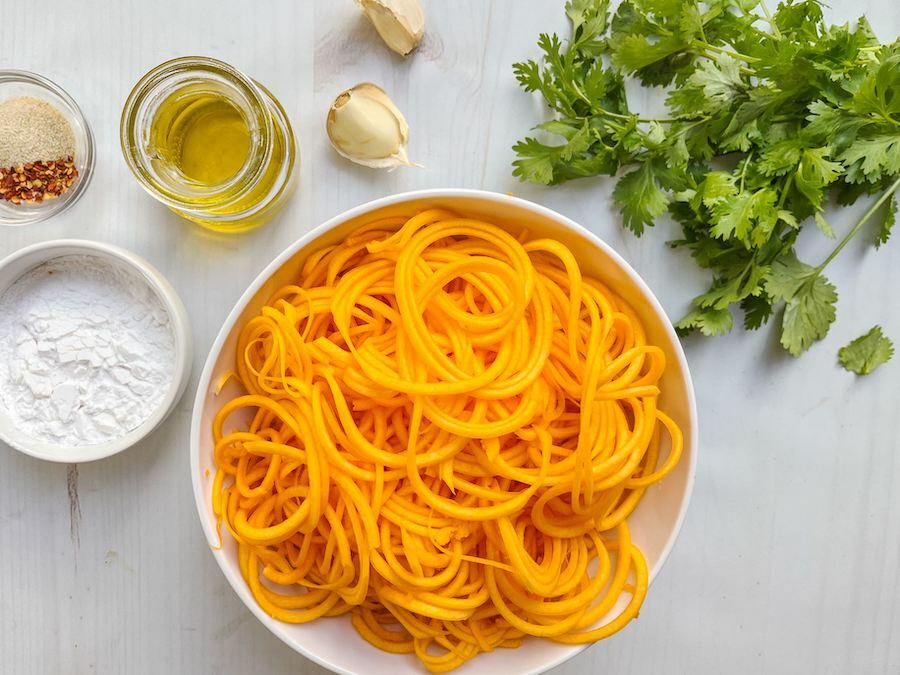 To make these healthy latkes, start by spiralizing six cups of butternut squash. If you don't have a spiralizer, you can buy it already spiralized at the store, or use a box grater and use shredded butternut squash instead! It would work just as well.
Mix the butternut squash with arrowroot flour and eggs, then season with onion powder, red pepper, and black pepper. You can also use garlic powder, dill, or any other combo of herbs and spices you prefer. Mix well – you may want to use your hands to help evenly distribute the egg.
Next, scoop the mixture out evenly and fry in a hot cast iron pan greased with olive oil. Cook for about three minutes per side to cook your latkes all the way through. You may want to flip it again at the end to ensure both sides are hot when serving time comes!
While the latkes are frying, make a quick cilantro sauce with by combining fresh cilantro in a food processor with olive oil, lime juice, and garlic.
Serve your butternut squash latkes hot, with the cilantro sauce drizzled over the top or served on the side for dipping. Enjoy!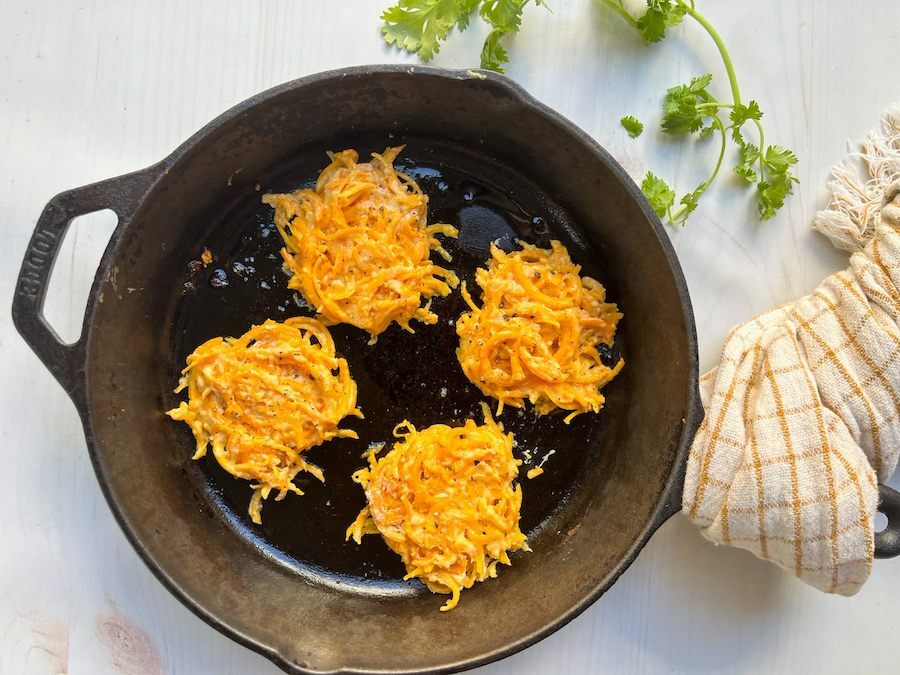 Tip: You can replace the butternut squash in this recipe with zucchini, beets, or a combination of all three for different plays on flavor and texture!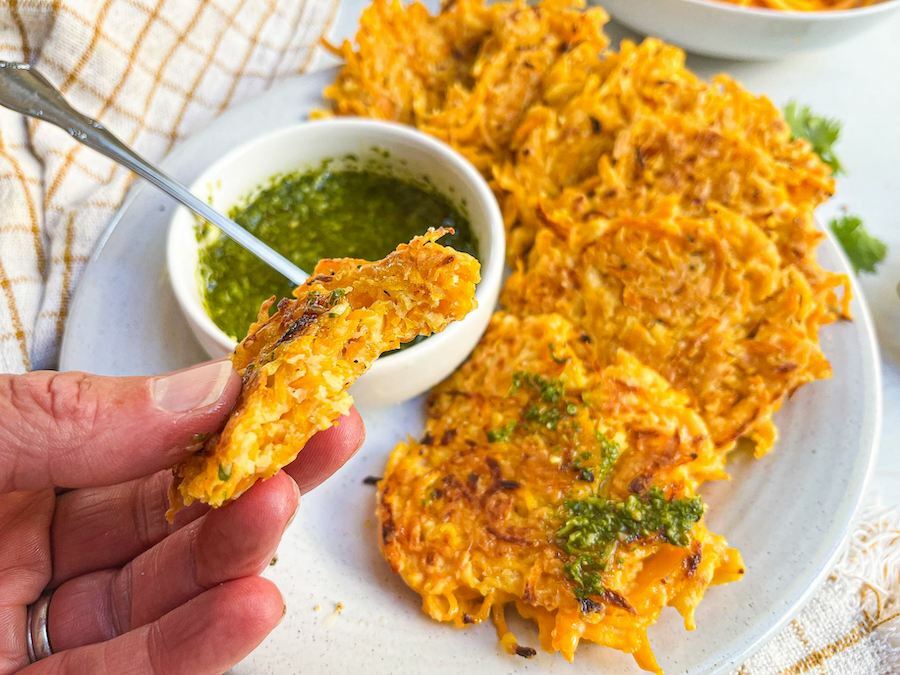 Details
Prep Time:

10 minutes

Cook Time:

15 minutes

Total Time:

25 minutes
Ingredients
6 cups butternut squash, spiralized

1/2 cups arrowroot flour

2 eggs, beaten

1 tsp onion powder

1/2 tsp red pepper flakes

1/2 tsp black pepper

1/3 cups olive oil, plus more for greasing the pan

1 cups cilantro

1 lime, juiced

1 garlic clove
Directions
In a large bowl, stir the butternut squash, arrowroot flour, eggs, onion powder, red pepper, and black pepper. Use your hands to combine well.

Coat the bottom of a cast iron pan or non-stick skillet with olive oil, and set over medium-high heat. When the pan is hot, scoop 3 tablespoons of the mixture at a time into the pan, pressing down lightly to form patties. Keep the patties about 2 inches apart. You may need to work in batches.

Cook the latkes about 3-4 minutes per side, or until hot and golden brown. Transfer the latkes to a plate.

To make the sauce, combine the olive oil, cilantro, lime juice, and garlic in a blender or food processor until smooth. Drizzle on top of the latkes and enjoy while it's warm!