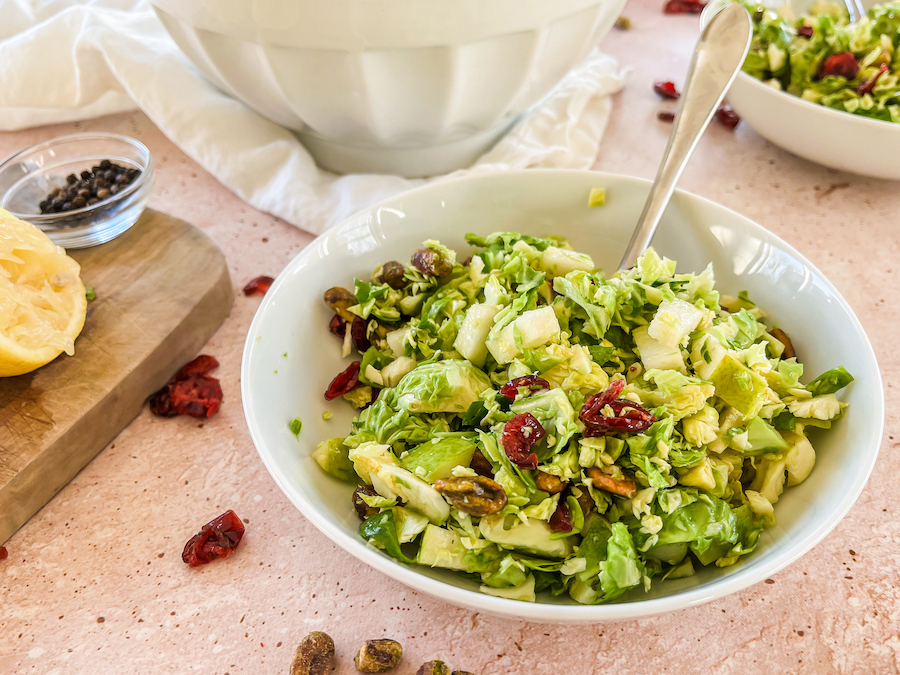 Brussels Sprouts Slaw with Cranberries & Pistachios
Extra-crunchy and packed full of antioxidants, this Brussels sprouts salad is the upgraded coleslaw you've craving!
It's lemony and tangy, with pockets of sweetness from cranberries and pears and hints of nuttiness from roasted pistachios. If you've ever struggled to work your way through a dense cruciferous salad, this recipe is about to become your next go-to.
Start with about a pound of Brussels sprouts – you'll want six cups of them shredded. You can shred them yourself with a sharp knife or food processor, or buy them pre-shredded for even faster prep. Some cruciferous mixes also contain kale, broccoli and cabbage – feel free to use these instead of or in addition to Brussels sprouts!
To make the salad, simply mix up your Brussels sprouts with roasted pistachios, unsweetened dried cranberries, and chopped pears. You can also substitute apples for pears if you prefer – the idea is just to get some crisp sweetness. If you don't have pistachios, other nuts like pecans, walnuts or sliced almonds would work nicely.
Next, whisk up a simple citrus dressing of olive oil, apple cider vinegar, fresh lemon juice and black pepper. Pour it over the salad and toss well. Season with more black pepper to taste, and enjoy!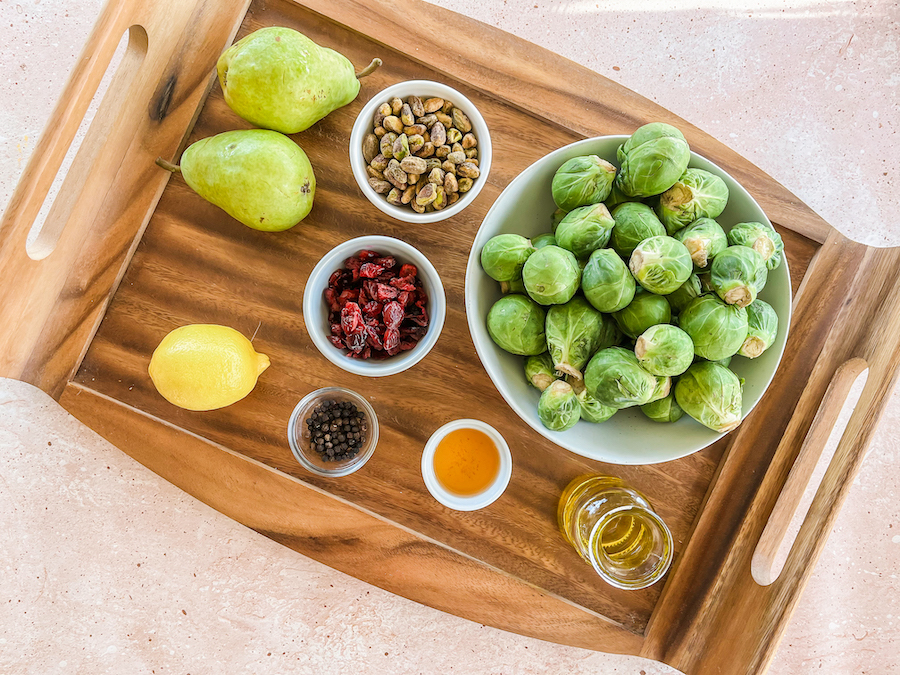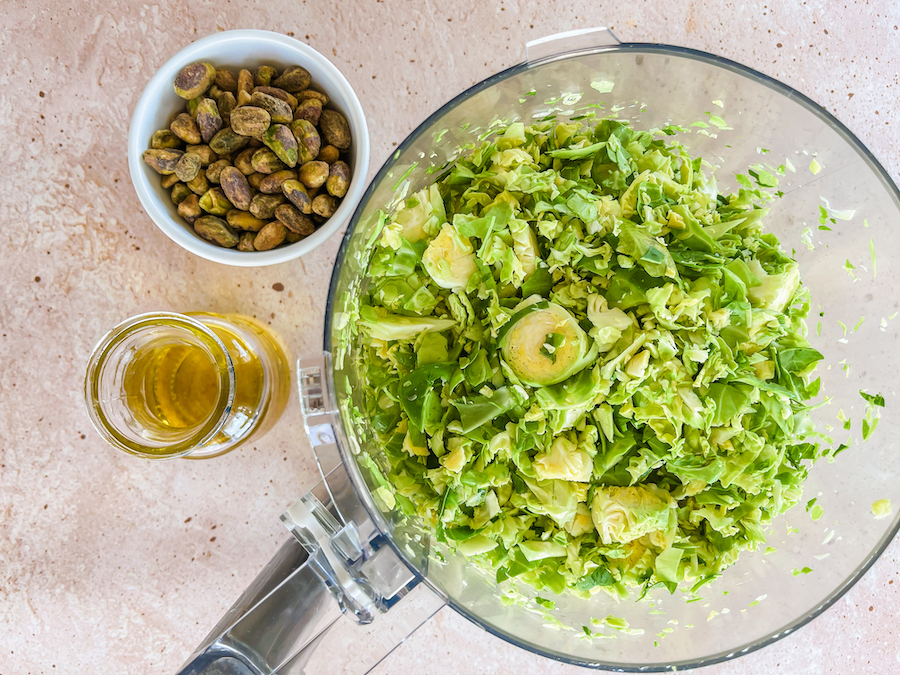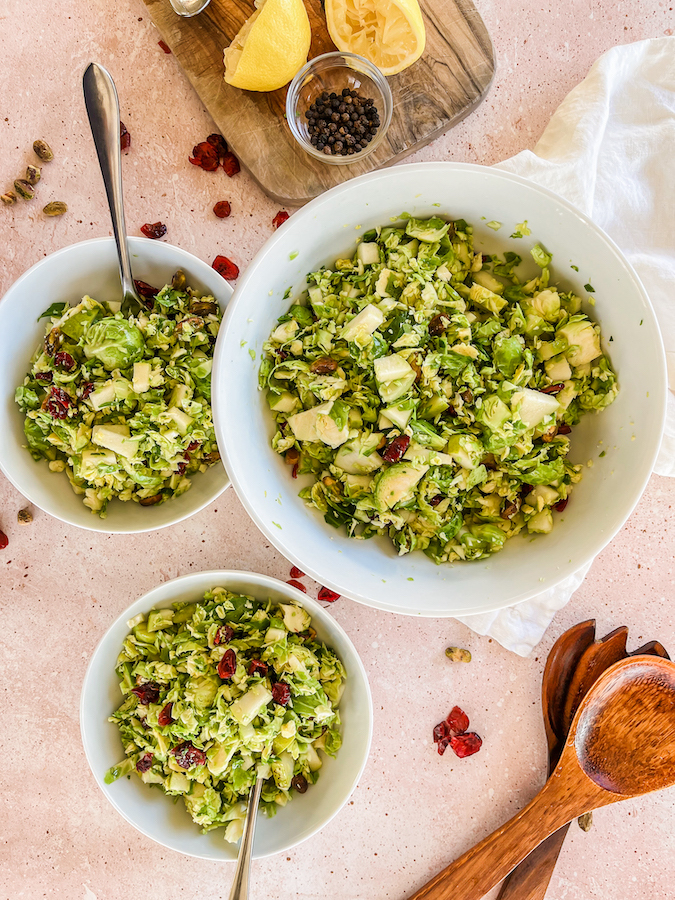 For hundreds of pure Paleo recipes be sure to check out The Real Paleo Diet Cookbook and The Real Paleo Diet Fast and Easy.
Details
Prep Time:

10 minutes

Cook Time:

10 minutes

Total Time:

20 minutes
Ingredients
1 lb Brussels sprouts (about 6 cups shredded)

1/2 cups roasted pistachios, unsalted

1/2 cups dried cranberries, unsweetened

2 pears, chopped

1/4 cups extra virgin olive oil

3 tbsp apple cider vinegar

1 lemon

Black pepper, to taste
Directions
To prep the Brussels sprouts, wash them well, then slice off the ends and remove stray leaves. Slice the Brussels sprouts thinly, or pulse a few times in a food processor.

Add the sprouts to a large bowl and add the pistachios, cranberries, and pears. Toss well.

In a small bowl, whisk the olive oil, apple cider vinegar, lemon juice and black pepper until combined. Pour the dressing over the top of the salad, and toss again.

Season with more black pepper and serve.