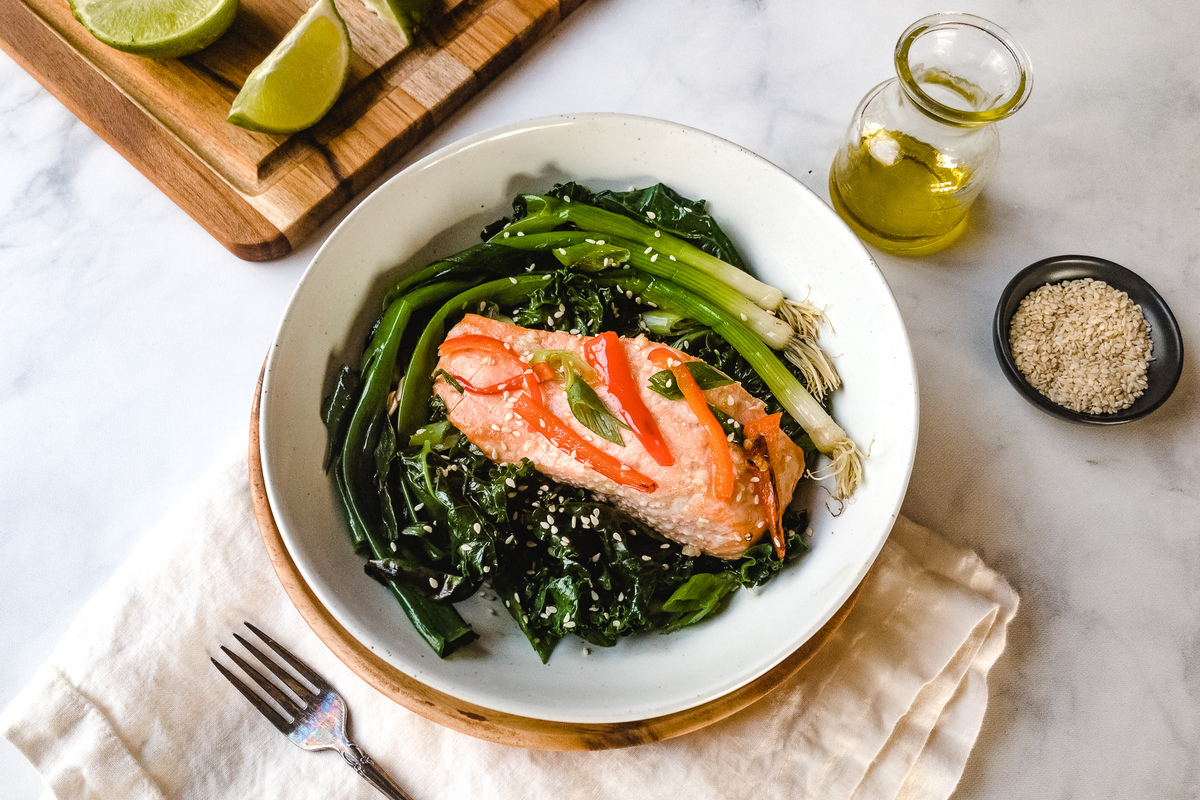 Broiled Salmon with Scallions & Sesame
Broil marinated salmon fillets until charred for a tasty, healthy dinner that's ready in a snap.
This super easy dinner requires only a few minutes of hands-on time. Wild salmon soaks in a simple marinade, then crisps up under the broiler for a healthy meal packed with omega-3s.
Start by whisking together a simple marinade of garlic, lime juice, olive oil, and sesame seeds. Add half the marinade to a bag with the salmon, and reserve the rest of the marinade. Now is a great time to clean up the kitchen while you wait for the fish to soak up those amazing flavors!
When you're ready to get cooking, toss a bunch of scallions with olive oil and set it under the broiler. Once lightly charred, add the salmon and continue to broil until the top is hot and crispy, but not totally done, about six minutes. Spoon a bit more marinade over the top and scatter thin chile pepper slices over the top.
Continue to broil until the peppers are hot and the salmon is cooked through. Check doneness with a fork—if it flakes easily, it's ready!
Serve your broiled salmon over a bed of sauteed greens, topped with more sesame seeds.
Can't get enough salmon? Try it grilled with dill, enjoy it glazed with mustard, or grind it up and enjoy them formed into salmon burgers with Paleo mayo!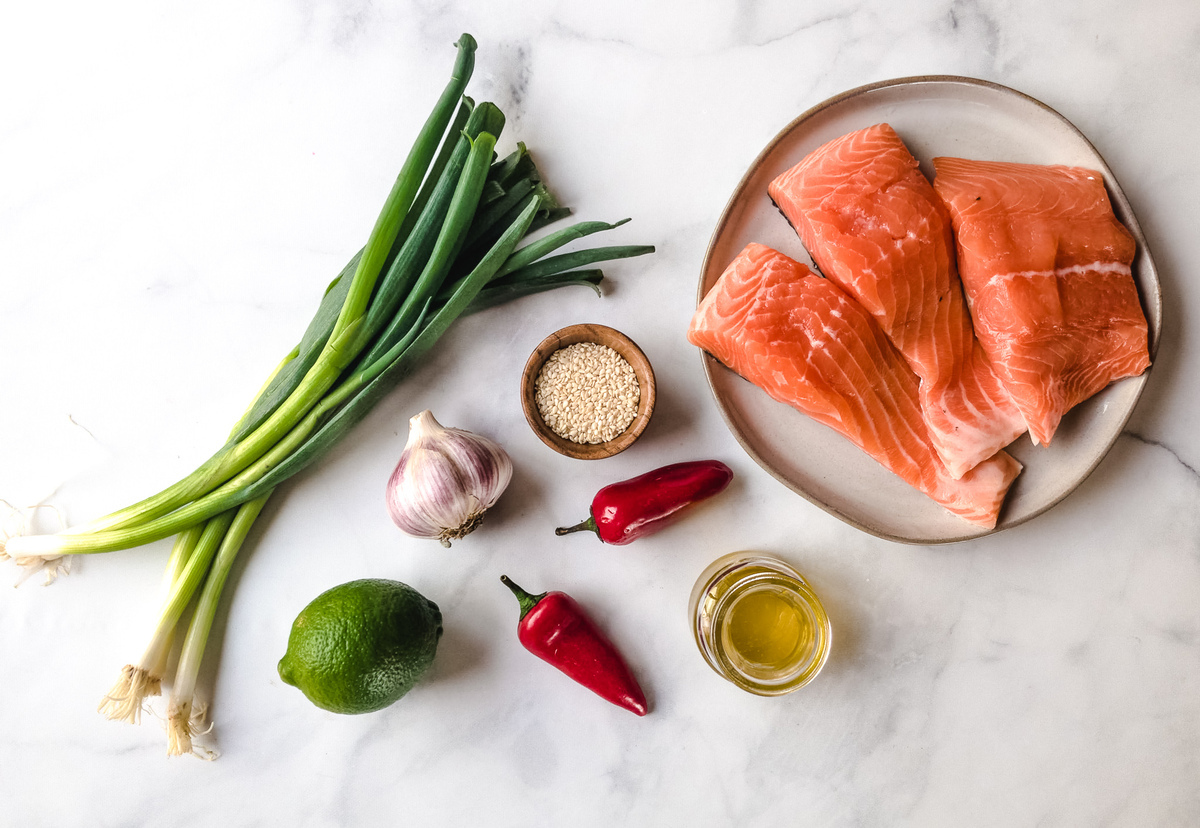 For hundreds of pure Paleo recipes be sure to check out The Real Paleo Diet Cookbook  and  The Real Paleo Diet Fast and Easy.
Details
Prep Time:

30 minutes

Cook Time:

15 minutes

Total Time:

45 minutes
Ingredients
2 garlic cloves, thinly sliced

3 tbsp fresh lime juice

2 tbsp olive oil, divided

1 tsp sesame seeds, divided, plus more for serving

3 8-ounce skin-on center-cut wild caught salmon fillets

1 bunch scallions

1 Fresno chile, thinly sliced
Directions
Whisk garlic, lime juice, 1 Tbsp. oil, and ½ tsp. sesame seeds in a small bowl.

Place salmon fillets in a plastic bag and add half of marinade. Seal bag and let salmon sit 30 minutes. Set the remaining marinade aside.

Preheat the oven broiler. Toss the scallions with remaining 1 Tbsp. oil on a sheet pan and broil until lightly charred; about 3 minutes.

Remove salmon from marinade and set on top of scallions. Spoon some reserved marinade over top and broil until salmon is charred around edges; about 6 minutes (watch closely to keep it from burning.)

Spoon more marinade over the fish and top with chile slices. Broil until salmon is charred and medium-rare at thickest part; about 2 minutes. Sprinkle with more sesame seeds, and serve!