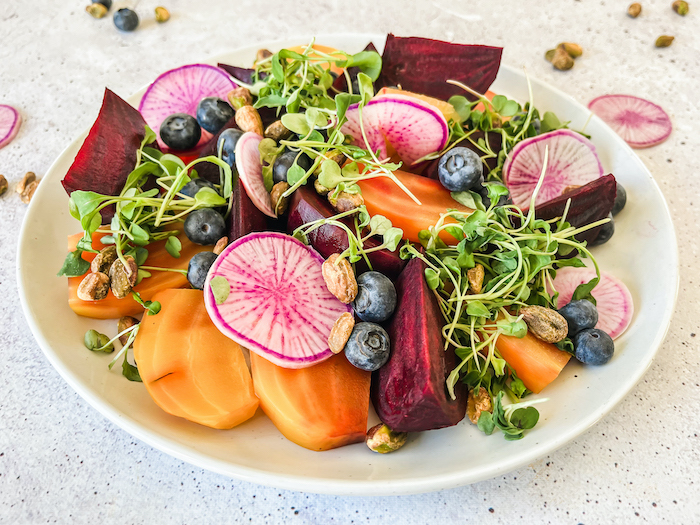 Blueberry and Roasted Beet Salad
This show-stopping beet salad is also a nutritional powerhouse! It's filled with antioxidants that support your brain and digestive health.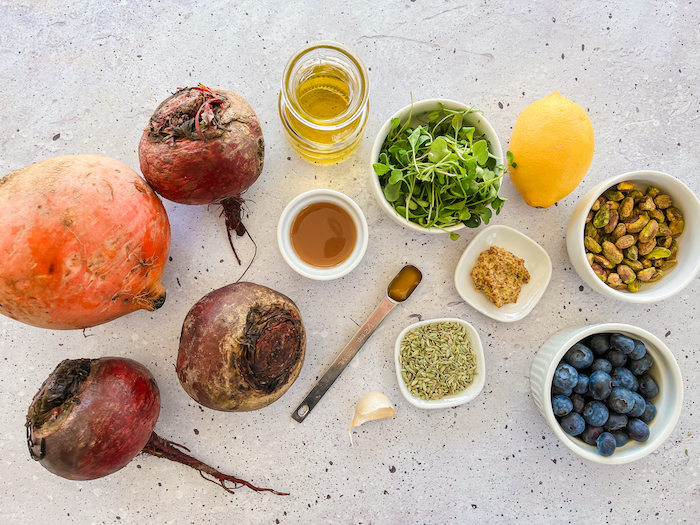 Beets are naturally sweet, and add a vibrant pop of color. For this recipe, we used a mix of golden and red beets, but you can use just one kind if you prefer. Both varieties are a good source of fiber, and can help lower blood pressure and reduce inflammation.
Since beets take time to roast whole, we peeled and quartered them first to get them done in about 30 minutes. Give them a head start by covering them with foil for the first 10 minutes of roasting, then uncover and add sliced onions. Roast for another 20 minutes, or until the beets are tender. Tip: You can also slice them a bit smaller to reduce the cooking time even further – just keep a close eye on them!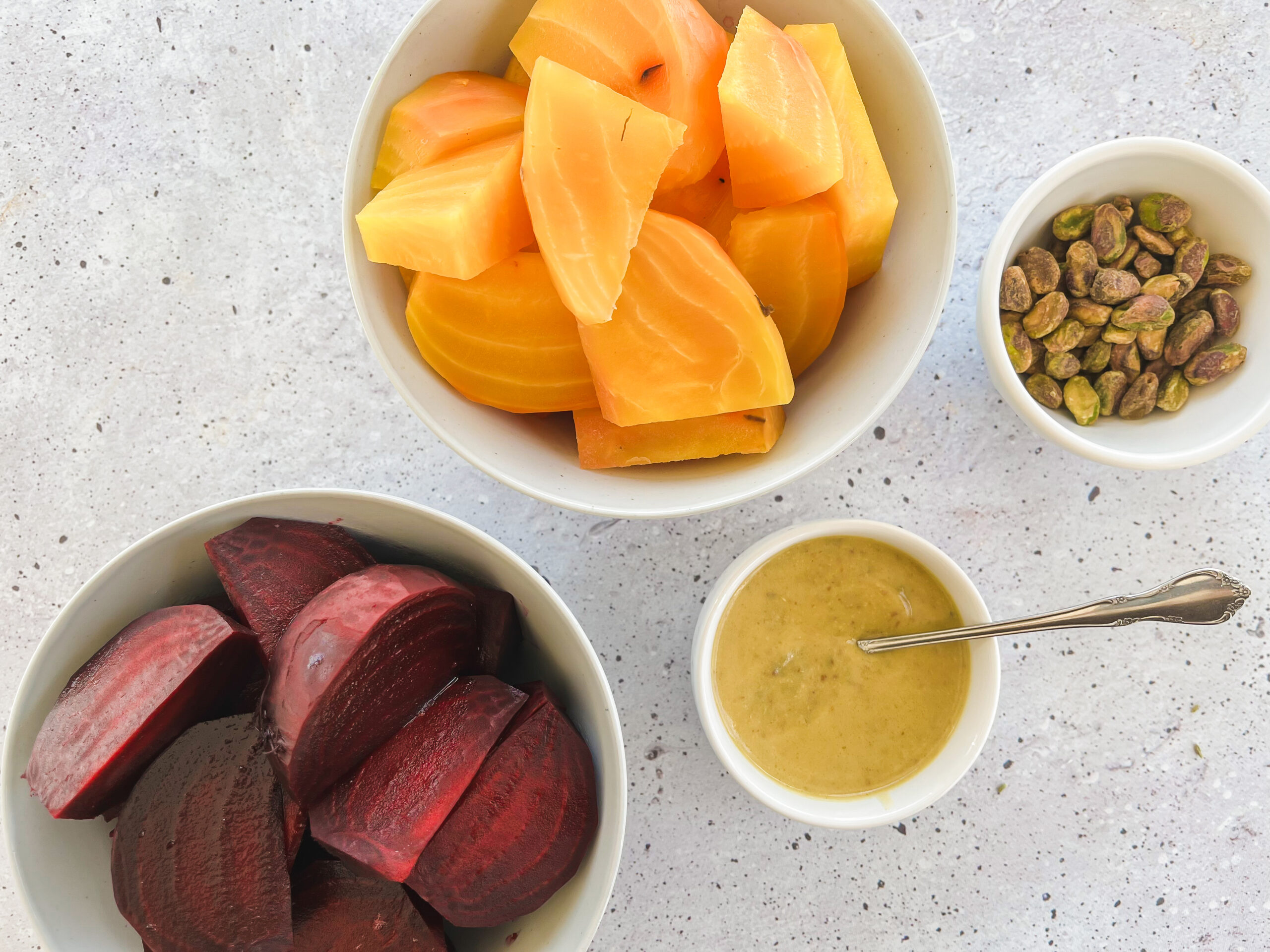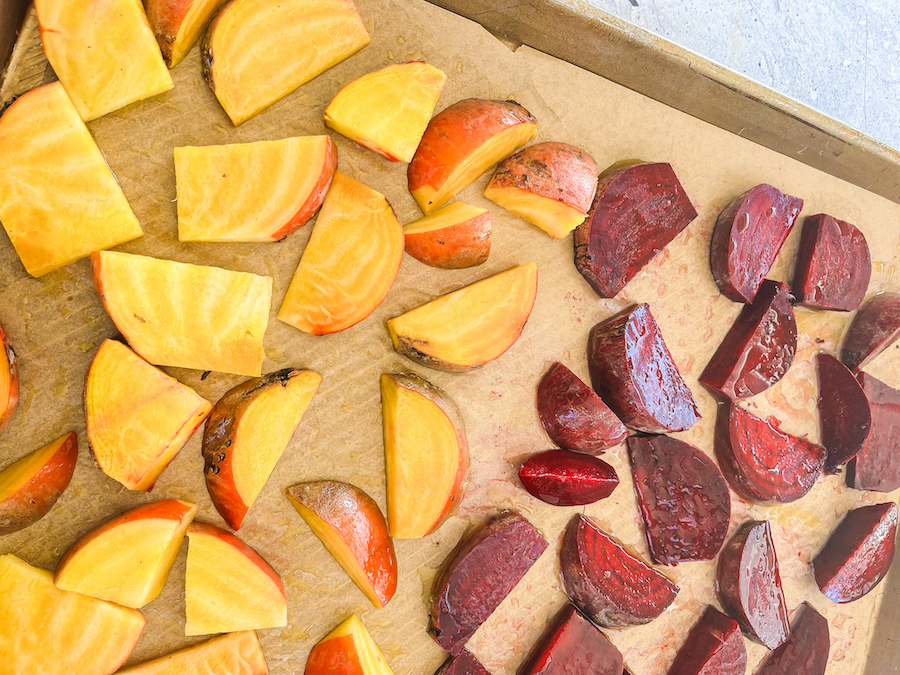 Meanwhile, make the zesty dressing: start by toasting fennel seeds on a dry skillet until fragrant, then transfer to a spice grinder and process until ground. You can also add directly to a food processor instead, but it might not get as fine! Next, add apple cider vinegar, lemon juice, mustard, garlic, and honey to a food processor along with the toasted fennel, and combine until smooth.
To assemble the salad, slice the beets into bite-sized cubes (or leave them in larger wedges) and toss with the dressing until coated. Add to a bowl and adorn your beet salad with fresh blueberries, raw pistachios, radish slices, and microgreens. Serve and enjoy!
Tips:
If you want to make this salad a main dish, add cooked salmon, chicken, or another protein to the mix.
Want more greens? You can serve the salad over baby spinach or kale, or mix the greens with the beets when you add the dressing!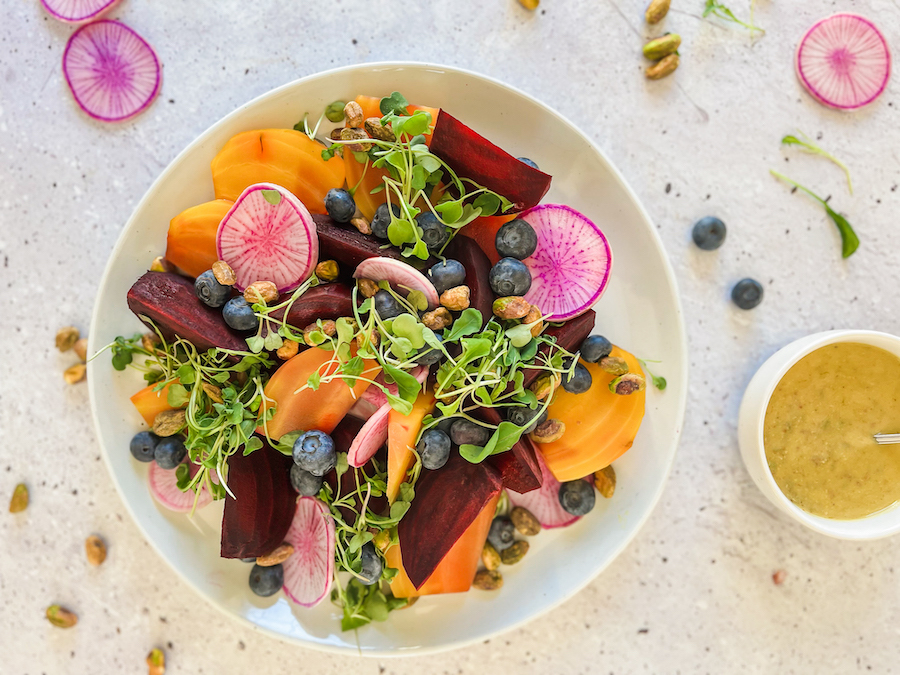 For hundreds of pure Paleo recipes, check out The Real Paleo Diet Cookbook and Real Paleo Fast and Easy!

Details
Prep Time:

25 minutes

Cook Time:

30 minutes

Total Time:

55 minutes
Ingredients
3 lb beets, peeled and quartered

4 tbsp olive oil, divided

1/2 onion, thinly sliced

2 tbsp fennel seeds

2 tbsp apple cider vinegar

1 1/2 tsp lemon juice

1 1/2 tsp whole-grain mustard

1 tsp garlic clove

1/2 tsp raw honey

1/2 cups blueberries

1/4 cups pistachios, raw and unsalted

Thinly sliced radishes, for garnish

Microgreens, for garnish

Freshly ground black pepper, to taste
Directions
Preheat the oven to 425°F.

Set the beet quarters in a baking pan and toss with 1 tablespoon of the olive oil. Cover with foil and roast for 10 minutes.

Remove the foil and add the onions. Continue to roast, uncovered, for another 20 minutes or until the beets are tender.

Meanwhile, make the dressing: First, toast the fennel seeds in a dry skillet until fragrant, then grind them in a spice grinder. Add the fennel seeds to a food processor and add the apple cider vinegar, lemon juice, mustard, garlic, honey and remaining 3 tablespoons of olive oil. Blend until very smooth.

To serve, slice the beets into wedges, and place in a large bowl. Add the dressing and toss to combine. Once the beets are coated, add the blueberries, pistachios, and garnish with the radish slices and microgreens. Grind some fresh pepper on top, and enjoy!