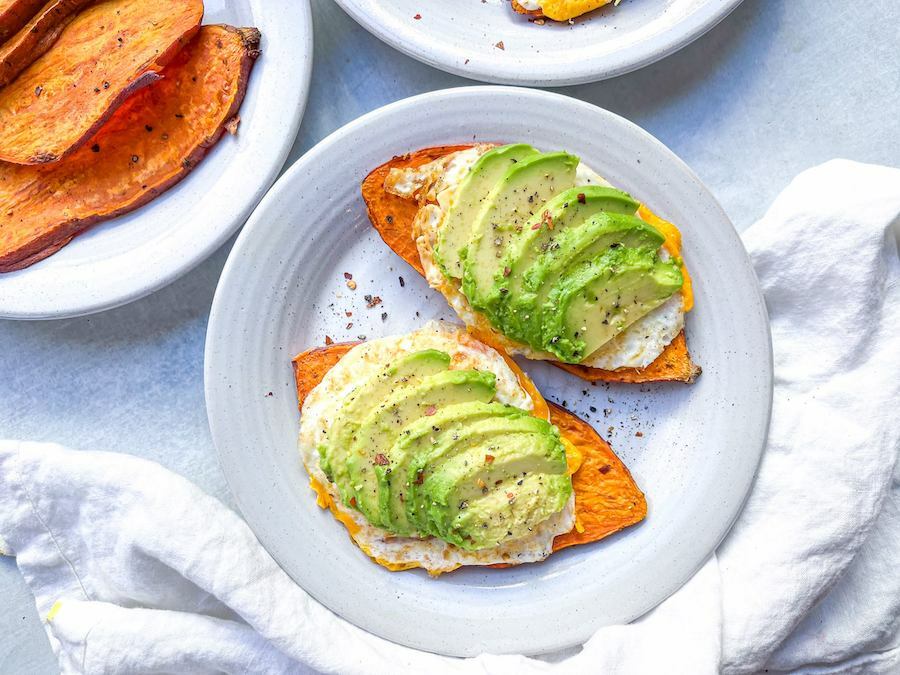 Avocado Sweet Potato Toast

Get your fix for avocado toast without the gluten, with our Sweet Potato Toast. It's easy to make, nutrient-dense, and there are various options to shake up your toast toppings. This will fast become your new favorite breakfast, snack, or lunch go-to!
There are just a few easy steps to prep the "toast"—you'll be done before you know it. Preheat your oven to 425 degrees F. While it's heating, slice the potatoes lengthwise into even slices using a knife or mandoline. Then place them onto a parchment lined baking sheet. Bake for 20-25 minutes or until slightly toasted. If your slices are thicker, they may need a bit more time.
While the potatoes are baking, fry some eggs to your preference. When the sweet potatoes are ready, place the fried egg on top, followed by the sliced avocado. Sprinkle them with some red pepper flakes and black pepper. Serve right away and enjoy your toast!
Want to be different? You can customize with various toppings, while keeping the sweet potato "toast" as the base. For example, skip the egg and avocado and instead spread creamy almond or cashew butter on top, add banana slices, and then sprinkle with pumpkin seeds or crushed almonds.
For a savory option, spread mashed avocado, then garnish with red onions, diced tomatoes, and some black pepper—or add sliced hard-boiled eggs!
Tips:
As leftovers, reheat them in a toaster oven or oven at 350 degrees F for 5 minutes until warm and crisp.
Try to find large round, smooth sweet potatoes. Curvy or thin-shaped potatoes can be challenging to slice and don't leave much room for the toppings.
Autoimmune Protocol (AIP) omissions and substitutions are listed in the recipe ingredients.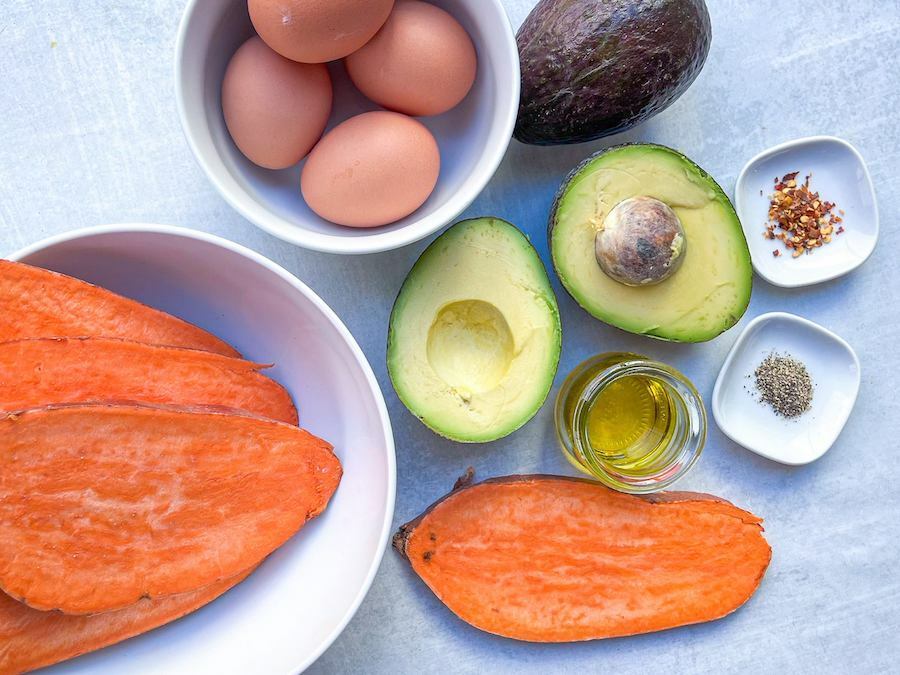 Love our recipes? Make going Paleo even easier and download our 7-Day and 28-Day digital meal plans!
Details
Recipe by: Jess Case
Serves:

2

Meal:

Breakfast
Prep Time:

10 minutes

Cook Time:

30 minutes

Total Time:

40 minutes
Ingredients
1 large sweet potato, sliced in half

1 tbsp olive oil plus 1 tsp

4 large eggs

1 avocado, mashed or sliced

1/4 tsp black pepper (AIP - omit)

1/4 tsp chili flakes (AIP - substitute with fresh chives)
Directions
Preheat the oven to 425 degrees F. Line a baking sheet with parchment paper. Wash the potatoes thoroughly before cutting them into long slices (lengthwise). Try to keep the slices uniform in width so they cook evenly.

Lightly brush potatoes with 1 tsp olive oil and bake for 20-25 minutes or until they're tender and soft. Flip halfway through.

While potatoes are cooking, start frying the eggs. Heat 1 TBSP of olive oil in a skillet over medium-high heat. Crack the eggs onto the skillet and immediately reduce the heat to low. Then cook uncovered until whites are fully set and yolks are thickened to your liking, about 5 minutes.

To assemble the sweet potato toast, place a fried egg on top, then add sliced or mashed avocados. Sprinkle it with red pepper flakes and black pepper. Serve right away and enjoy!