Zero Waste Seem Impossible? Try These 8 Achievable Low Waste Tips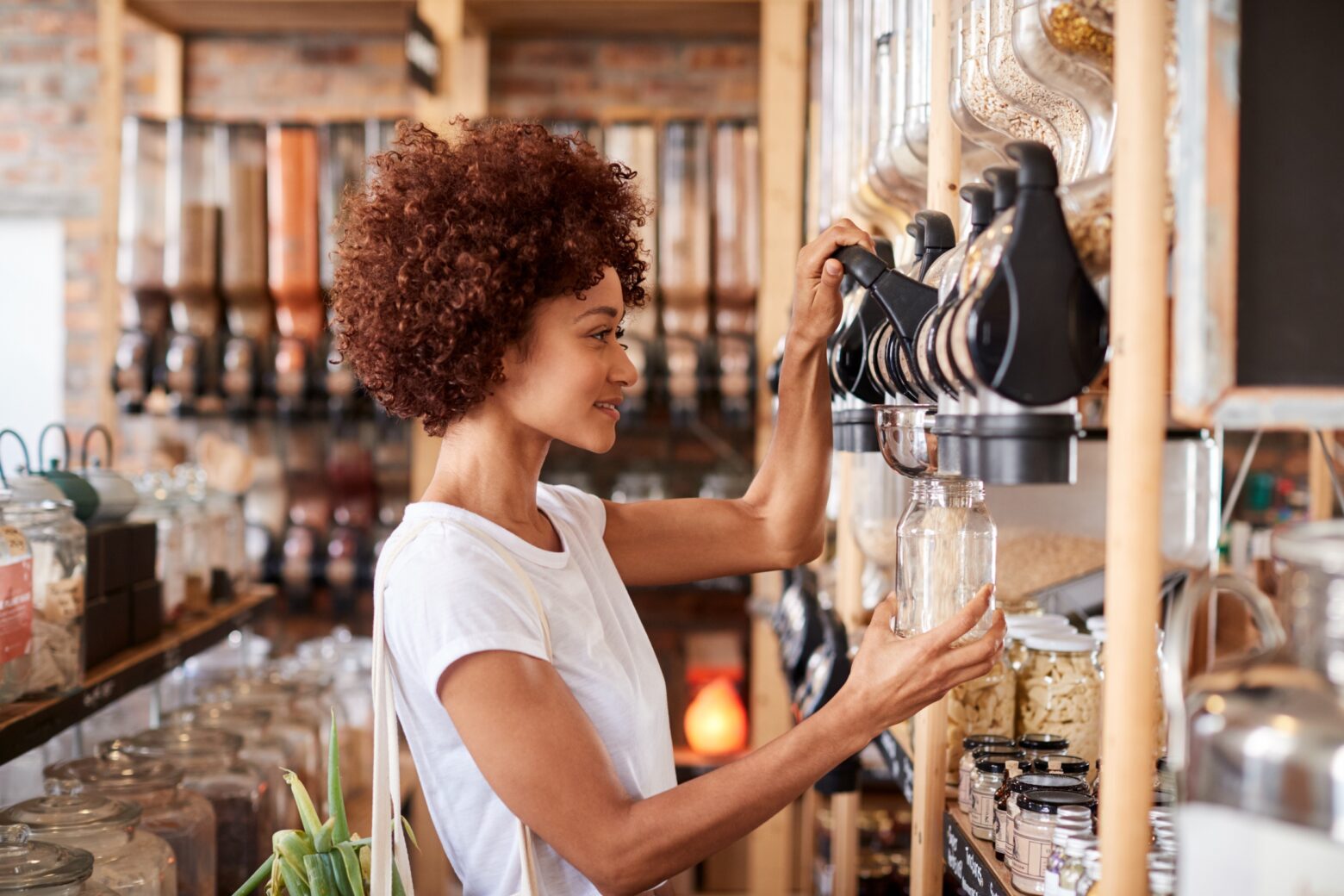 Have you heard of going "zero waste"? Perhaps you've marveled at people who can fit a year's worth of their trash in one pint-sized jar, or who make their own deodorant and toothpaste.
A zero-waste lifestyle focuses on reducing as much trash as humanly possible, purging the home of all unnecessary packaging, unsustainable products, and plastic belongings. In turn, people who live zero-waste lifestyles reduce their environmental footprint, reuse whatever they can, and compost the rest.
It's not just about eliminating waste, though. Zero waste also allows people to cut out the deleterious effects of consumerism, focusing instead on richer experiences. It's a mindset shift for a more minimal, health-focused life.
Why Go Zero Waste?
For starters, the environmental influence is undeniable. According to a study published in Science Advances, an estimated 6,300 million metric tons (Mt) of plastic waste has been generated as of 2015.
How much of that plastic waste has been recycled? Only 9 percent.
An estimated 79 percent was accumulated in landfills or the natural environment.[1] So, even if you're trying to do your part by carefully recycling, most of it is still going to waste.
Here's the thing: Going zero waste is a massive lifestyle commitment, and it's not something done overnight. If you're interested in reducing your environmental footprint, we've compiled some tips to help you minimize your waste at home.
8 Tips to Go Zero or Low Waste at Home
You can pick a few of these to work on at a time (some are quite doable!), and work at it as you go. Nobody is perfect, but we can all take steps to better our impact on the earth.
1. Gather reusable essentials.
To cut down on waste, you'll need some reusable essentials like a water bottle, grocery totes, cloth bags, glass jars, and bottles. You can also start using old tee shirts for cleaning your home instead of paper towels and using reusable food containers for leftovers.
Remember though: Buy only what you need and repurpose what you already have. For example, wash pasta sauce jars and reuse them for bulk bin grocery shopping, or as drinking glasses, rather than buying large sets of glass jars. The point of zero waste is to reduce consumerism, not encourage a different form of it. You likely have most of what you need already on hand.
2. Start with simple swaps.
If you're looking to go zero waste or to minimize your waste in any way, nobody expects you to go from zero to 60 overnight. There are some small steps you can take immediately to reduce your waste. At restaurants, refuse disposable straws, or bring your own reusable straw. Bring your own reusable bags to the grocery store. Donate your gently used clothing to keep it from ending up in landfills. Simply becoming mindful of how you can live less wastefully will prime you for success.
3. Cut out processed foods.
If you're on The Paleo Diet®, you already know to avoid processed foods. Aside from the obvious health benefits, nixing packaged foods can be good for the environment, too. Whole foods like fruits, vegetables, meats, seafood, nuts, and seeds can all be purchased without packaging, so long as you shop at a grocery store with a bulk bin and good meat and produce departments. You can bring your own containers and bags to shop and cut out extra packaging in the process.
It's true that even produce items like apples and bell peppers come with small stickers on them. To avoid these tiny bits of packaging, try buying produce at a farmers market instead.
4. Upgrade your personal care products.
Consider ways you can cut out packaging in the store—beyond food. Purchase a high-quality safety razor that will last you forever instead of disposable razors. Find a bulk section with refillable shampoo and conditioner or use shampoo bars and bar soaps. If you need menstrual products, purchase a menstrual cup or period underwear instead of monthly tampons.
You can also think about opportunities to DIY your personal care products! For example, you can make your own natural makeup using things like cocoa powder as bronzer, or charcoal for eyeliner. There are tons of recipes online for homemade deodorant, toothpaste, lip balm, and even bath bombs.
5. Try Bea Johnson's 5R Method.
Dubbed "the mother of the zero-waste lifestyle movement," Bea Johnson is the author of Zero Waste Home: The Ultimate Guide to Simplifying Your Life by Reducing Your Waste. In her book, Johnson details her "5R Method: Refuse, Reduce, Reuse, Recycle, Rot." It means:
Refuse what you do not need
Reduce what you do need
Reuse what you consume
Recycle what you cannot
Refuse, Reduce or Reuse, and Rot (compost) the rest.
A few examples: Refuse wasteful free pencils and pens in an office setting and use refillable pens and mechanical pencils instead. Reduce your wardrobe to keep your closet waste minimal. Reuse single-sided printed paper to take notes. Recycle everything that you can waste-wise, and compost what you can, too.
6. Find inventive ways to use food scraps.
If we're honest, many of us throw out the hearty stalk of broccoli after we've chopped off all the florets, or trash carrot tops when we're chopping carrots for a stew. So many of these food scraps can be used in their own delicious way—those broccoli stalks can be steamed and pureed into a yummy sauce, while carrot tops make excellent pesto. You can even freeze all your veggie scraps until you have enough to make a broth!
Get creative and think twice before mindlessly tossing more food into the trash. If the food is too old or you can't come up with a solution, opt for composting whenever possible.
7. Borrow your books, games, and toys before buying them.
One great tip for minimizing waste? Go for secondhand whenever you can. This means borrowing books at the library and starting exchanges with friends for things like board games and toys for the kids. The less you have to buy new, the smaller footprint you generate.
This is reciprocal, by the way: When you're done reading a book, donate it to your local library for someone else to enjoy. Donate toys and games your kids have grown out of to younger friends who can give them new life. You just might generate an awesome sense of community in the process.
8. Adopt a minimalist, secondhand wardrobe.
You might want to think twice before shopping for new clothes, too. Most new clothes are made from synthetic fabrics like polyester, which is made from petroleum. Manufacturing these types of clothes requires large amounts of crude oil, which releases emissions that can cause or worsen respiratory disease.[2]
Think you can just switch to more natural-based clothes, like cotton? Sadly, cotton accounts for a whopping one-fourth of all the pesticides used in the United States.[2]
One small way you can help? Stop buying fast fashion and opt for secondhand as much as possible. More importantly, reduce your wardrobe to a reasonable, minimal size and donate what you do not use.
The Bottom Line
Going zero waste is a major commitment, and you don't have to take it all on at once. Picking even one thing from this list to focus on will reduce your waste and help leave the earth a better place.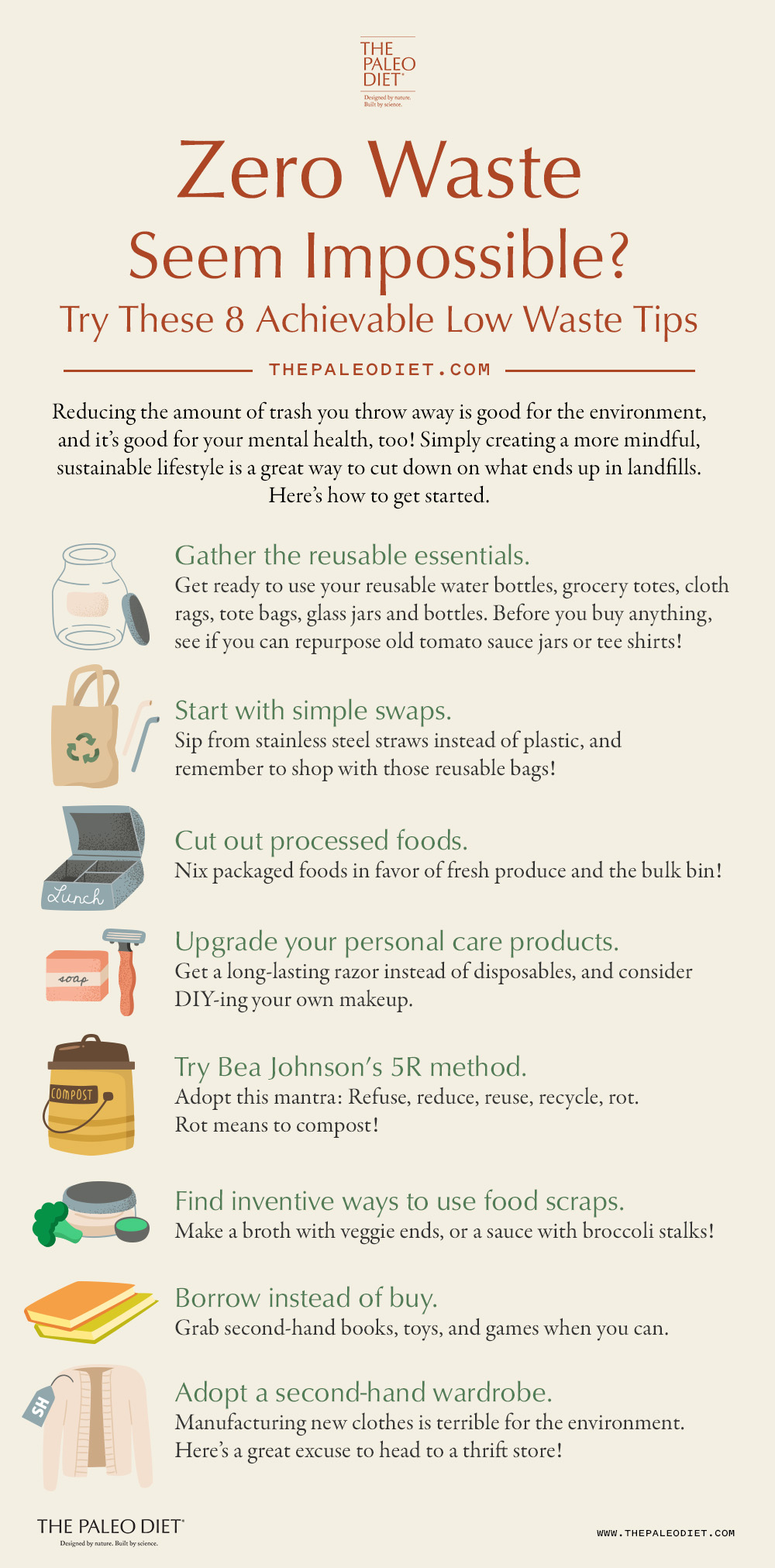 References:
[1] Geyer R, Jambeck JR, Law KL. Production, use, and fate of all plastics ever made [Internet]. Science Advances. American Association for the Advancement of Science; 2017 [cited 2021Jul8]. Available from: https://advances.sciencemag.org/content/3/7/e1700782.full
[2] Waste Couture: Environmental Impact of the Clothing Industry [Internet]. National Institute of Environmental Health Sciences. U.S. Department of Health and Human Services; [cited 2021Jul8]. Available from: https://ehp.niehs.nih.gov/doi/full/10.1289/ehp.115-a449
Courtney Hamilton
Courtney Hamilton is a writer and editor with over nine years of experience.
More About The Author
Balancing Modern Fast Living