The Importance of Topical Vitamin C for Skin Health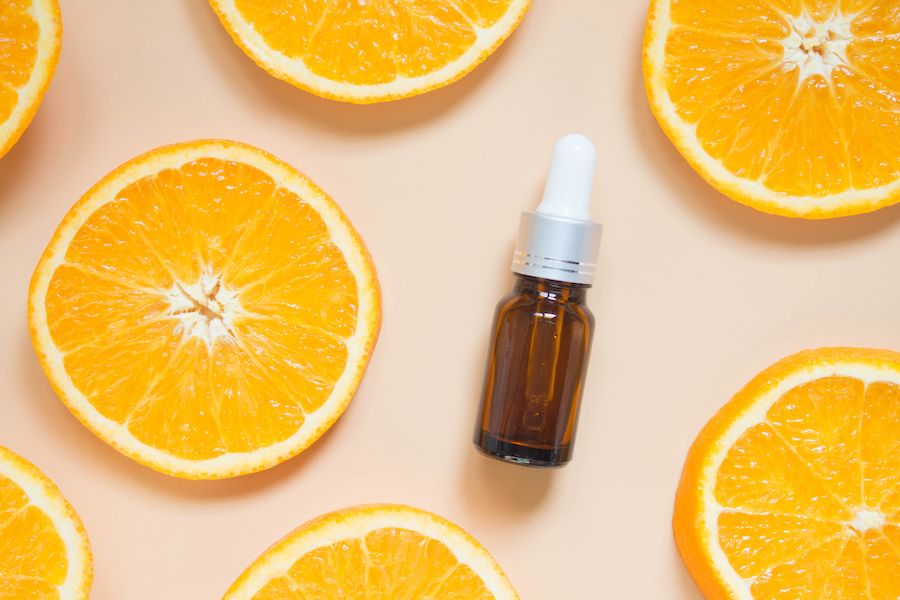 As we move toward summer with the days getting longer, our potential sun exposure increases, which can be both beneficial and harmful. The main benefit to our health and well-being is the all-important production of vitamin D, and the main harm is too much exposure leading to sunburn and damage to our skin.
In recent years, the topical application of vitamin C has gained traction for its numerous skin benefits. Brands have begun to include it in facial serums and estheticians claim it can increase protection from UV rays when used in conjunction with sunscreen. Even the Cleveland Clinic recently had a dermatologist weigh in on the benefits that purportedly include protection from free radical damage, anti-aging effects, enhancing sunscreen protection, reducing hyperpigmentation, and reducing dark under-eye circles.
It almost sounds too good to be true, but can this extremely important vitamin have this many benefits on the health of your skin by applying it topically? And why would you need to apply it directly to the skin when a healthy diet can provide you all the vitamin C you would need?
Topical vs. ingested vitamin C
While there appears to be a consensus in the literature that vitamin C (also known as L-ascorbic acid) is found in high concentrations within human skin [1,2,3] and supports important functions, such as stimulating collagen synthesis and assisting in antioxidant protection against UV-induced photodamage (sun damage), these same researchers do not agree on the most effective way to increase those levels.
Two research groups stipulate that even with high doses of oral supplementation, very little will be biologically available and active in the skin [1,2], yet a third group counters this position, stating, "Very little is known about vitamin C accumulation in the skin and there are no studies that have investigated the relationship between skin vitamin C content and nutrient intake or plasma supply." Further, "Two human studies have shown an increase in skin vitamin C content following supplementation with vitamin C." [3]
Very surprisingly, further inquiry into the references used by the two research groups that state oral supplementationwould provide a limited increase in vitamin C within the skin revealed absolutely no mention about skin vitamin C levels. [4,5] And to argue that skin vitamin C concentrations are indeed high, but that ingestion of vitamin C would not be able to generate those levels, would suggest that the high concentrations are a consequence of topical application. It is also at odds with a study back in 1998 that demonstrated oral consumption of 2 g of vitamin C combined with 1000 IU of vitamin E reduced the reaction to sunburn after just eight days of treatment. [6]
Consequently, until further research is conducted on the benefits of dietary and/or supplemental ingestion of vitamin C on skin health, that method of delivery to the skin cannot be ruled as insufficient.
Benefits of topical vitamin C
Because of the very large body of research on this subject, below is just a selection of studies highlighting the varied benefits of topical vitamin C:
A recent systematic review of seven publications (139 subjects in total) revealed that skin treated with topical vitamin C appeared smoother and less wrinkled. It was also shown to significantly lighten the treated skin, however, long-term use may be needed to achieve these noticeable changes. [7]
A clinical trial examined the effect of vitamin C on dark circles of the lower eyelid (DCLE) and demonstrated that it may improve DCLE by thickening the eyelid dermis and concealing dark coloration due to congested blood. [8]
A study on 35 patients using a full-face iontophoresis mask and a proprietary vitamin C (ascorbyl glucoside) preparation demonstrated an average 73% improvement in abnormal pigmentation. [9]
Many studies have also examined the benefits of topical vitamin C in combination with other ingredients:
A novel vitamin C, vitamin E, and green tea polyphenol (CE-GTP) combination serum was tested on photoaged facial skin of 31 healthy females (average age, 57.9) over a 12-week period, applying the serum twice daily. Statistically significant improvements were found in all parameters examined. Findings included a reduction in facial wrinkles and fine lines around the eye area, as well as enhanced skin smoothness and radiance. Skin density was also shown to have increased at week 12. [10]
Fifty female subjects, aged 30-65 years, used a topical serum containing vitamin C, vitamin E, and European raspberry (Rubus idaeus) leaf cell culture extract for two months. Significant improvements were shown in skin color, elasticity, radiance, smoothness, scaliness, and wrinkles. [11]
Topical application twice daily for 28 days of Peptide-C ampules (PC) containing peptides, 10% vitamin C, hyaluronic acid, and Vichy volcanic mineralizing water was examined in 1,360 women (mean age, 48.5) with signs of facial skin aging. Significant improvements were seen in wrinkles, skin hydration, skin quality, skin radiance, skin aging signs, complexion, and skin pores. [12]
Twelve healthy female subjects applied a topical antioxidant complex containing vitamin C, vitamin E, and ferulic acid for four consecutive days. The antioxidant complex provided significant protection against solar-simulated ultraviolet irradiation-induced photodamage. [13]
Should you use topical vitamin C serums?
It has been postulated that the "knowledge of high skin vitamin C concentrations and its important functions is often used as a rationale for the addition of vitamin C to topical applications, but the efficacy of such treatment, as opposed to optimizing dietary vitamin C intake, is poorly understood." [3]
However, given the efficacy and safety of these topical treatments, it certainly appears that people can freely use vitamin C products without concern of causing any damage or wasting their money. Conscious Paleo followers can even make their own vitamin C serum for a fraction of the cost over the counter. But whether it would be better to invest the time and money into improving one's diet and, in turn, examining supplementation where needed, is still largely up for debate.
References
1. Manela-Azulay M, Bagatin E. Cosmeceuticals vitamins. Clin Dermatol. 2009 Sep-Oct;27(5):469-74. doi: 10.1016/j.clindermatol.2009.05.010. PMID: 19695478. https://pubmed.ncbi.nlm.nih.gov/19695478/
2. Al-Niaimi F, Chiang NYZ. Topical Vitamin C and the Skin: Mechanisms of Action and Clinical Applications. J Clin Aesthet Dermatol. 2017 Jul;10(7):14-17. Epub 2017 Jul 1. PMID: 29104718; PMCID: PMC5605218. https://www.ncbi.nlm.nih.gov/pmc/articles/PMC5605218/
3. Pullar JM, Carr AC, Vissers MCM. The Roles of Vitamin C in Skin Health. Nutrients. 2017 Aug 12;9(8):866. doi: 10.3390/nu9080866. PMID: 28805671; PMCID: PMC5579659. https://pubmed.ncbi.nlm.nih.gov/28805671/
4. Levine M, Wang Y, Padayatty SJ, Morrow J. A new recommended dietary allowance of vitamin C for healthy young women. Proc Natl Acad Sci U S A. 2001 Aug 14;98(17):9842-6. doi: 10.1073/pnas.171318198. PMID: 11504949; PMCID: PMC55540. https://pubmed.ncbi.nlm.nih.gov/11504949/
5. Zetterström R. Nobel Prize 1937 to Albert von Szent-Györgyi: identification of vitamin C as the anti-scorbutic factor. Acta Paediatr. 2009 May;98(5):915-9. doi: 10.1111/j.1651-2227.2009.01239.x. Epub 2009 Feb 23. PMID: 19239412.
6. Eberlein-König B, Placzek M, Przybilla B. Protective effect against sunburn of combined systemic ascorbic acid (vitamin C) and d-alpha-tocopherol (vitamin E). J Am Acad Dermatol. 1998 Jan;38(1):45-8. doi: 10.1016/s0190-9622(98)70537-7. PMID: 9448204. https://pubmed.ncbi.nlm.nih.gov/9448204/
7. Correia G, Magina S. Efficacy of topical vitamin C in melasma and photoaging: A systematic review. J Cosmet Dermatol. 2023 May 2. doi: 10.1111/jocd.15748. Epub ahead of print. PMID: 37128827. https://pubmed.ncbi.nlm.nih.gov/37128827/
8. Ohshima H, Mizukoshi K, Oyobikawa M, Matsumoto K, Takiwaki H, Kanto H, Itoh M. Effects of vitamin C on dark circles of the lower eyelids: quantitative evaluation using image analysis and echogram. Skin Res Technol. 2009 May;15(2):214-7. doi: 10.1111/j.1600-0846.2009.00356.x. PMID: 19626722. https://pubmed.ncbi.nlm.nih.gov/19626722/
9. Taylor MB, Yanaki JS, Draper DO, Shurtz JC, Coglianese M. Successful short-term and long-term treatment of melasma and postinflammatory hyperpigmentation using vitamin C with a full-face iontophoresis mask and a mandelic/malic acid skin care regimen. J Drugs Dermatol. 2013 Jan;12(1):45-50. PMID: 23377327. https://pubmed.ncbi.nlm.nih.gov/23377327/
10. Jagdeo J, Kurtti A, Hernandez S, Akers N, Peterson S. Novel Vitamin C and E and Green Tea Polyphenols Combination Serum Improves Photoaged Facial Skin. J Drugs Dermatol. 2021 Sep 1;20(9):996-1003. doi: 10.36849/jdd.5818. PMID: 34491027. https://pubmed.ncbi.nlm.nih.gov/34491027/
11. Rattanawiwatpong P, Wanitphakdeedecha R, Bumrungpert A, Maiprasert M. Anti-aging and brightening effects of a topical treatment containing vitamin C, vitamin E, and raspberry leaf cell culture extract: A split-face, randomized controlled trial. J Cosmet Dermatol. 2020 Mar;19(3):671-676. doi: 10.1111/jocd.13305. Epub 2020 Jan 24. PMID: 31975502; PMCID: PMC7027822. https://pubmed.ncbi.nlm.nih.gov/31975502/
12. Akulinina I, Stefanaki I, Pavlíčková E, Maiolino M, Hajduk S, Sápy M, Mertin B, Rijo H, Tekeli Ö, Valois A, Delva C, Kerob D. Topical formulation containing peptides and vitamin C in ampoules improves skin aging signs: Results of a large, international, observational study. J Cosmet Dermatol. 2022 Sep;21(9):3910-3916. doi: 10.1111/jocd.14733. Epub 2022 Jan 22. PMID: 35064615; PMCID: PMC9786622. https://pubmed.ncbi.nlm.nih.gov/35064615/
13. Wu Y, Zheng X, Xu XG, Li YH, Wang B, Gao XH, Chen HD, Yatskayer M, Oresajo C. Protective effects of a topical antioxidant complex containing vitamins C and E and ferulic acid against ultraviolet irradiation-induced photodamage in Chinese women. J Drugs Dermatol. 2013 Apr;12(4):464-8. PMID: 23652896. https://pubmed.ncbi.nlm.nih.gov/23652896/
Mark J. Smith, Ph.D.
One of the original members of the Paleo movement, Mark J. Smith, Ph.D., has spent nearly 30 years advocating for the benefits of Paleo nutrition.
More About The Author