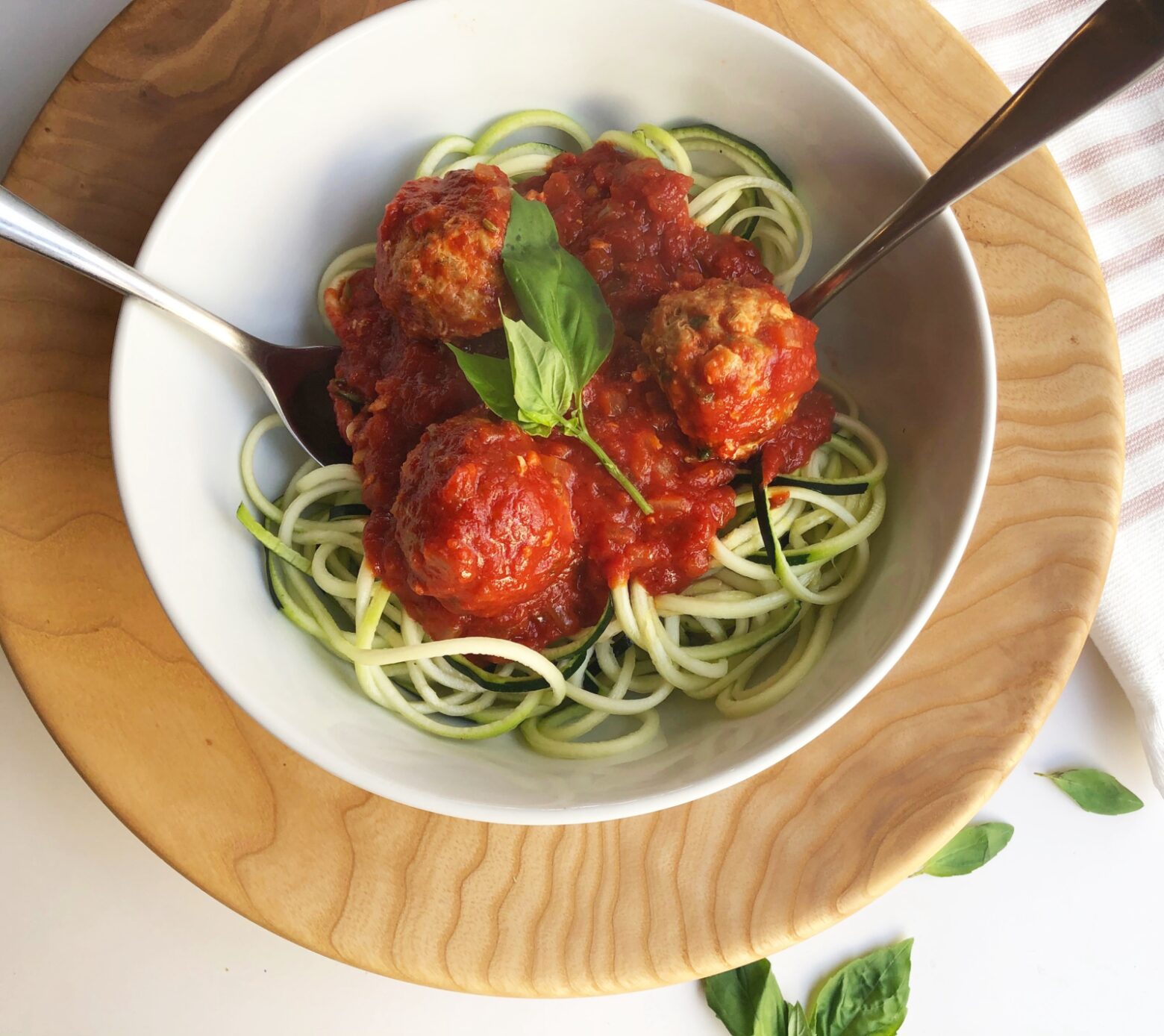 Zoodles with Turkey Meatballs
Craving spaghetti and meatballs? Make a few healthy swaps and dig into these zucchini noodles topped with turkey meatballs and marinara.
There's something special about homemade, slow-simmered marinara sauce that you just can't get from a store-bought jar. To speed things along, we use many of the same ingredients in the turkey meatballs as the sauce, so you can prep, divide, and get cooking!
Start by making the meatballs. Mix ground turkey with garlic, onion, red pepper, fennel seeds, oregano, and fresh parsley, and roll them into balls. Alternatively, you can use beef, chicken, or any other ground meat you prefer.
While your meatballs are baking, start the marinara sauce: simmer a combination of crushed and diced tomatoes with the same seasonings as the meatballs. Be sure to let it bubble on low for at least 20 minutes to thicken the sauce. The longer the better!
The best part: You don't have to cook the zucchini noodles. After spiralizing them, add to a large bowl and season with olive oil and black pepper. Then, toss with the hot marinara sauce to cook them instantly. Top with the meatballs, garnish with fresh basil, and enjoy!
Tips:
Prep the sauce a few days in advance to get this meal on the table quicker.
You can add roasted veggies or sautéed greens to the sauce if you like.
Autoimmune Protocol (AIP) omissions and substitutions are listed in the recipe ingredients.
If you're in the mood for more Paleo-friendly Italian food, try this lemon chicken with artichoke hearts, or this butternut squash risotto.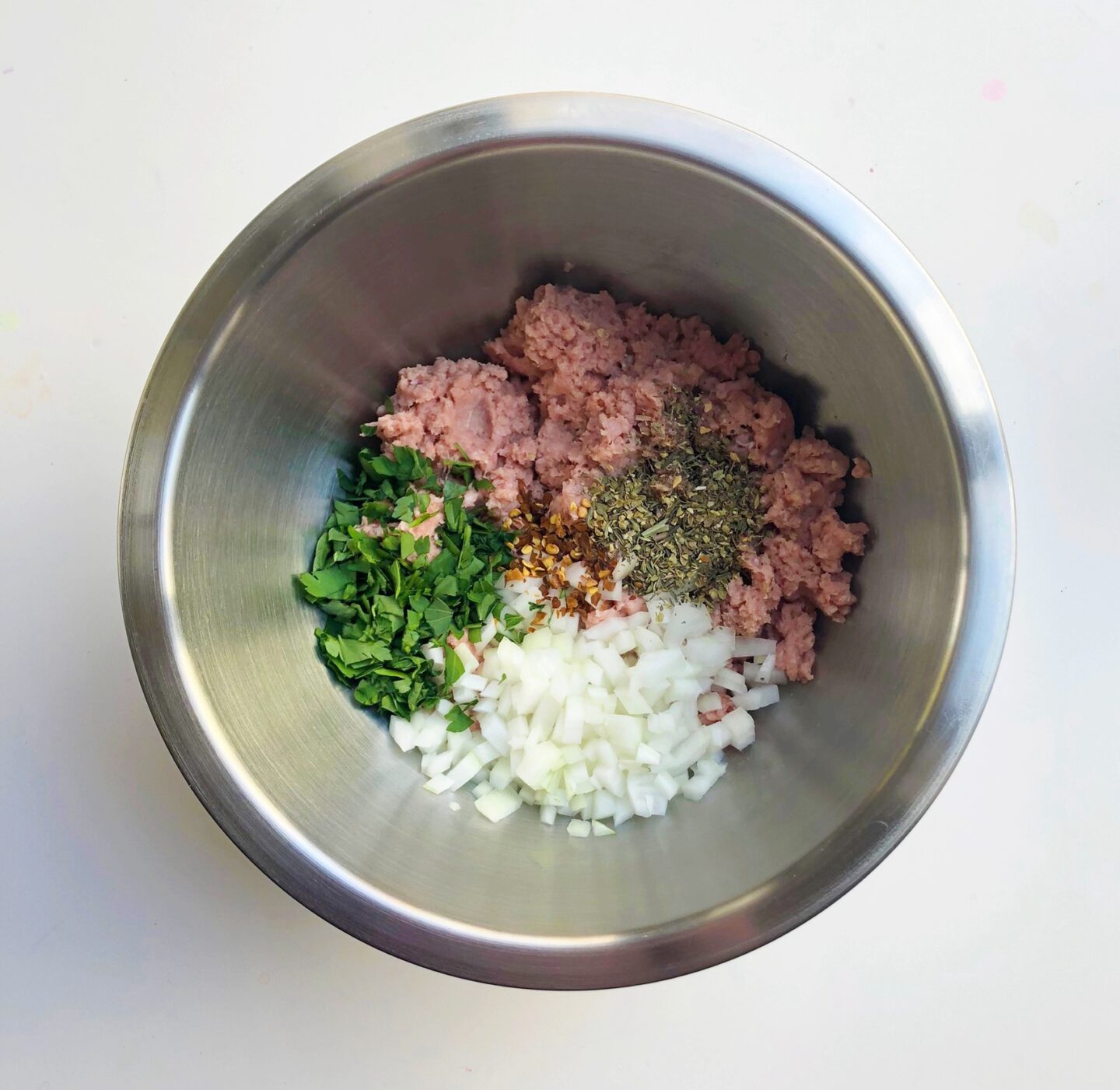 For hundreds of pure Paleo recipes be sure to check out The Real Paleo Diet Cookbook  and  The Real Paleo Diet Fast and Easy.
Details
Prep Time:

15 minutes

Cook Time:

45 minutes

Total Time:

1 hour
Ingredients
1 lb ground turkey

1 egg (AIP - discard the egg white and use two egg yolks)

4 garlic cloves, minced, divided

1 yellow onion, chopped, divided

1 tsp dried red pepper, divided (AIP - substitute with dried green onion)

2 tsp fennel seeds, divided (AIP - substitute with dill)

1 tsp oregano, divided

1/4 cups chopped parsley

4 tbsp olive oil, divided

14 oz unsalted canned crushed tomatoes (AIP - crushed pumpkin)

14 oz unsalted canned diced tomatoes (AIP - substitute with any diced squash)

2 large zucchini or 4 small zucchini, spiralized

1 tsp black pepper (AIP - substitute with ground ginger)

1/4 cups chopped fresh basil, for serving
Directions
Preheat the oven to 375°F. Line a baking sheet with aluminum foil or parchment paper.

In a large bowl, mix the turkey, egg, 1 garlic clove, 1/2 of the chopped onion, 1/2 teaspoon of the red pepper, 1 teaspoon of the fennel seeds, 1/2 teaspoon of the oregano, and parsley.

Use a heaping tablespoon to measure out your meatballs. Roll out each one and place on the prepared pan. Bake for 25 minutes, until golden and tender.

To make the marinara sauce, warm 2 tablespoons of the olive oil in a pan over medium heat. Add the remaining chopped onion and cook for five minutes.

Add the remaining garlic, red pepper, oregano, fennel seeds, and the crushed and diced tomatoes to the pan. Bring to a boil, then cook on low for 20-30 minutes

Place the zoodles in a large mixing bowl. Toss with the remaining two tablespoons of olive oil and season with black pepper, then pour the hot marinara sauce over the top. The hot sauce will cook the noodles almost instantly.

Serve your zoodles topped with turkey meatballs. Garnish with fresh basil and serve!