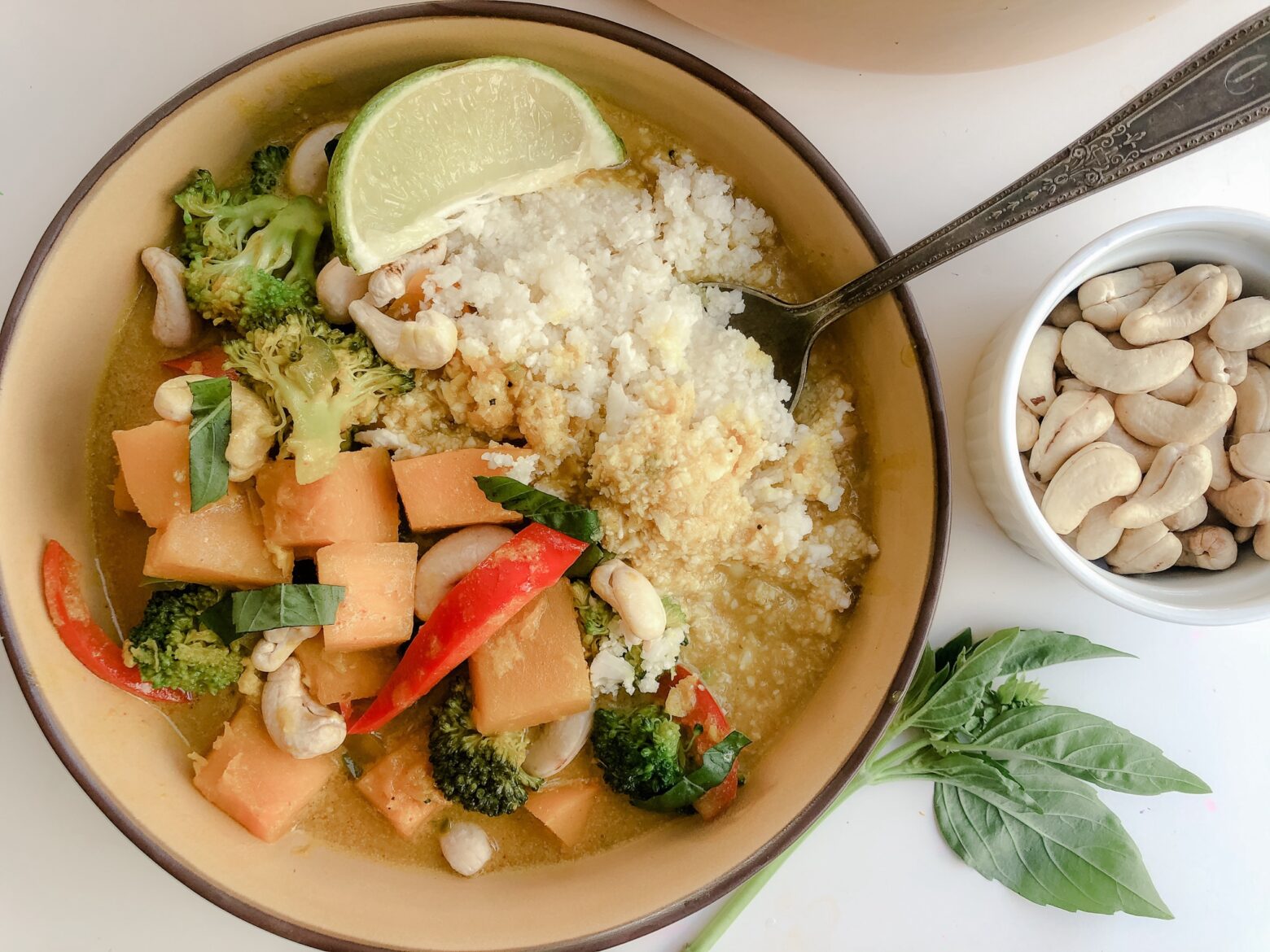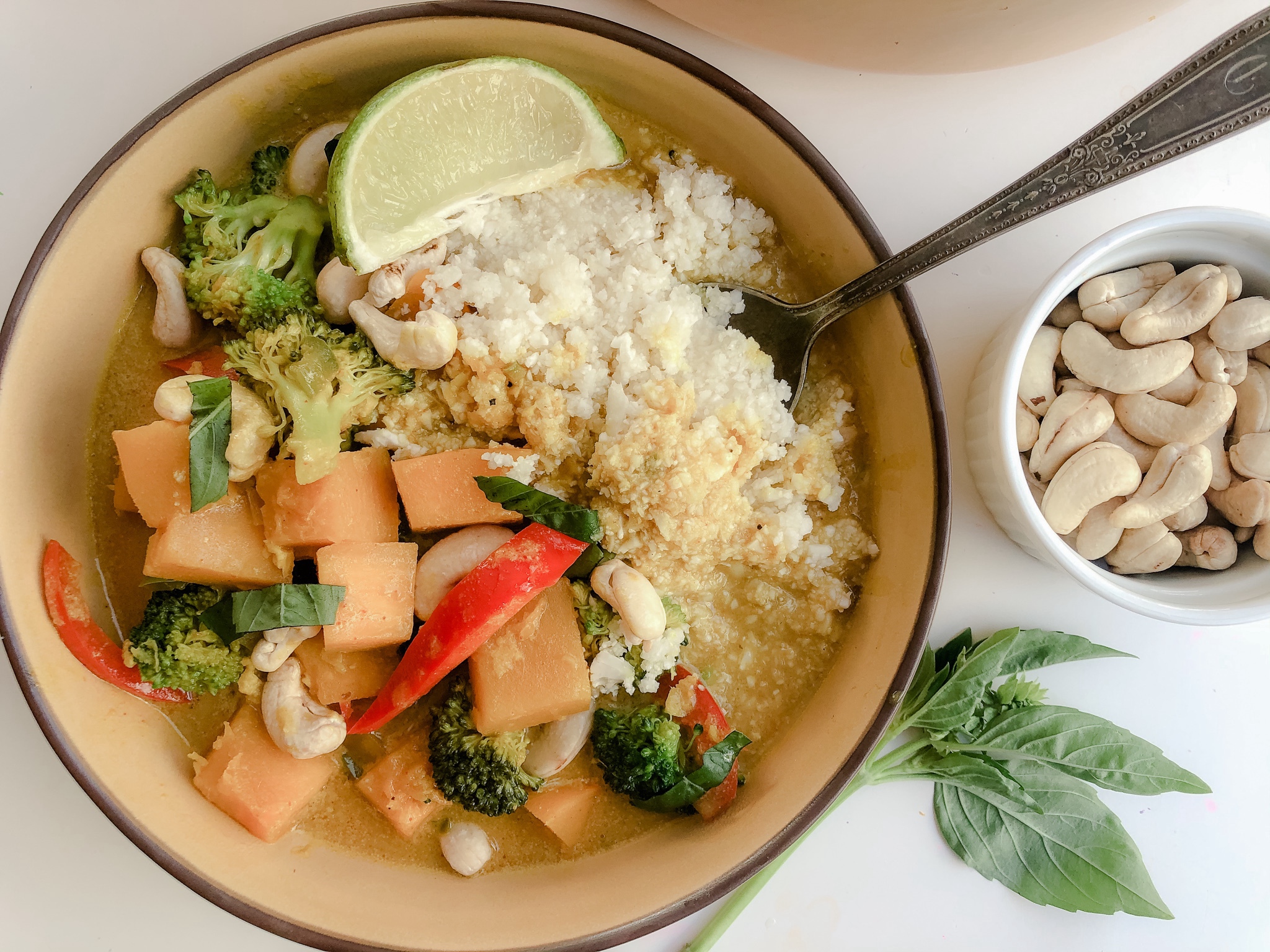 Vegan Pumpkin Curry with Cashew Nuts
It's easy to go meat-free for a night when you have this savory bowl of pumpkin and cashew curry waiting for you!
Hearty pumpkin and broccoli are simmered in creamy coconut milk curry. The subtle heat and warm aromas will have you drooling before you even sit down to eat.
Plus, you can build this curry entirely in one pot (if you don't count the cauliflower rice). Start by sauteing shallots, ginger, garlic, jalapeño, and bell peppers in coconut oil until soft, then add cubed pumpkin and two cans of coconut milk, and let simmer on the stove for all the flavors to marry.
While curry is simmering, prep the cauliflower rice. Wash a head of cauliflower, cut it into florets, then pulse in the food processor until they are the size of grains of rice. Sauté the cauliflower rice in a large skillet over medium heat in a tablespoon of coconut oil. Cover and allow to steam for 6-8 minutes, then season with black pepper and set aside.
Alternatively, you can use pre-made fresh or frozen cauliflower rice and skip this process.
Five minutes before the curry is done, add lime juice, cashew nuts, and broccoli. Let it simmer until the broccoli is crisp-tender, then serve over cauliflower rice garnished with Thai basil, lime wedges, and more roasted cashews.
Tips:
You can add shredded chicken if you want to add a protein.
Don't have pumpkin? Substitute with butternut squash.
If you can't find Thai basil, regular basil will work!
Leftovers will keep in the refrigerator up to three days, or in the freezer for one month.
Can't get enough curry? Try this vegetable coconut curry with mushrooms, or a bowl of hearty Thai curry zoodle bowls with shrimp.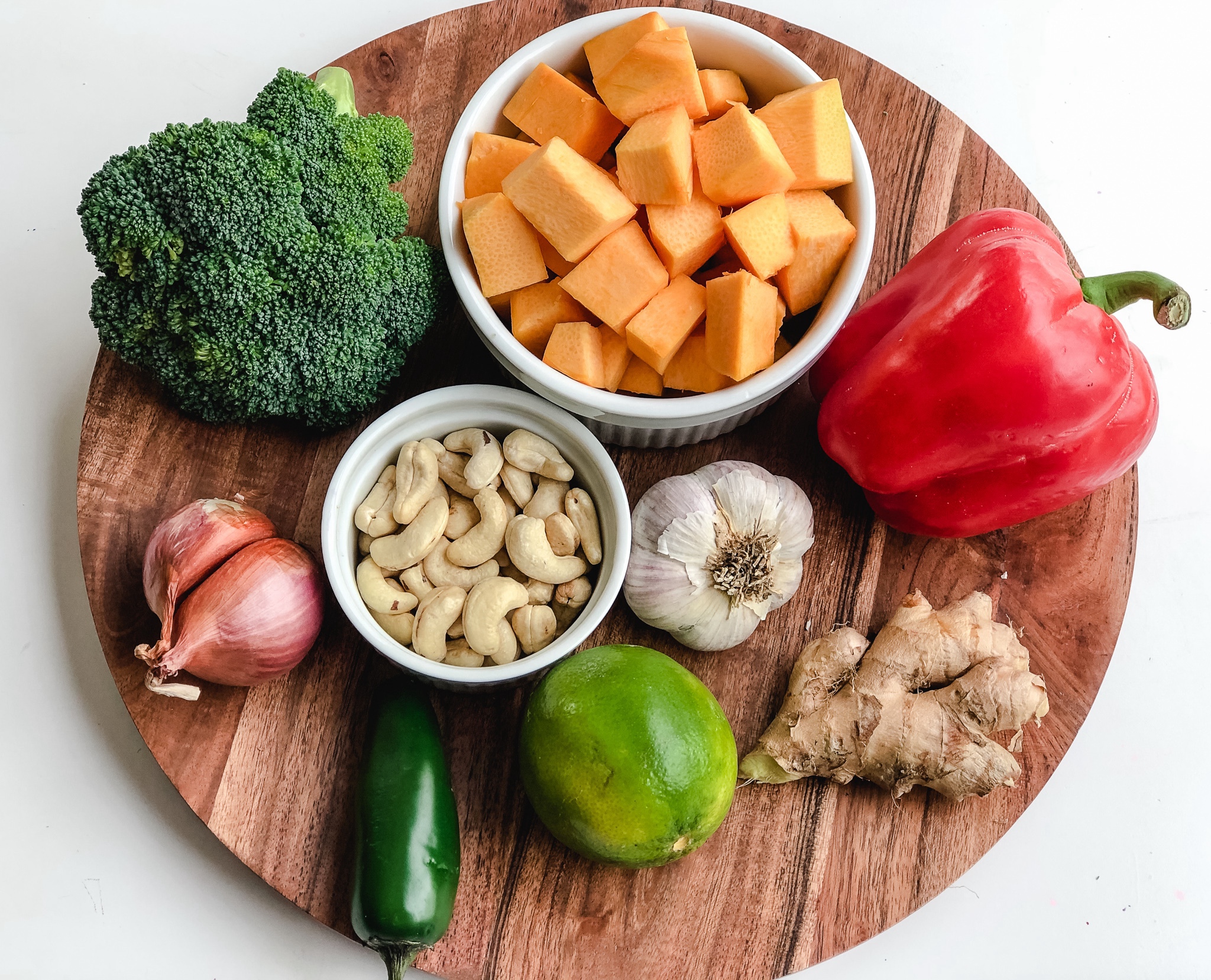 For hundreds of pure Paleo recipes be sure to check out The Real Paleo Diet Cookbook and The Real Paleo Diet Fast and Easy.

Details
Prep Time:

20 minutes

Cook Time:

40 minutes

Total Time:

1 hour
Ingredients
2 tbsp coconut oil

2 shallots, minced

2 tbsp fresh ginger, minced or grated

2 garlic cloves, pressed or minced

1 jalapeño, seeded and minced

1 red bell pepper, thinly sliced

3 tbsp curry powder (or unsalted red curry paste)

1 tsp ground turmeric

1/2 tsp black pepper

3 cups peeled and cubed pumpkin

2 14-ounce cans coconut milk

1 cups chopped broccoli

1 cups unsalted, roasted cashews, plus more servings

1 lime, sliced into quarters

Fresh Thai basil, for serving

Cauliflower rice, for serving
Directions
Heat the coconut oil in a large pot over medium heat. Add shallots, ginger, garlic and jalapeño. Sauté for five minutes, stirring occasionally, until softened.

Add bell pepper, curry powder turmeric, and black pepper. Stir and cook for two minutes, then add the cubed pumpkin. Stir and cook for two more minutes.

Pour in the coconut milk and bring to a low boil. Reduce the heat to low and cover, simmering for 15 minutes. Stir occasionally.

Add the broccoli. Cover and let it simmer for 4-5 minutes more over medium-low heat.

Off the heat, squeeze in two of the lime wedges. Serve over cauliflower rice garnished with Thai basil, the remaining lime slices, and more cashew nuts. Serve hot!