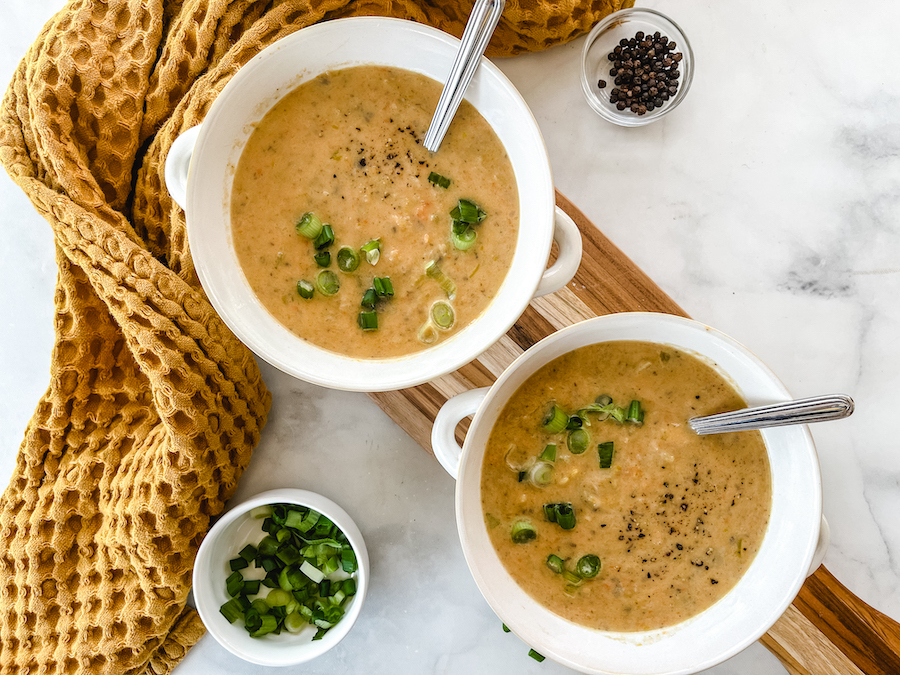 Vegan-Friendly Sweet Potato Leek Soup
Craving a nutrient-rich bowl of soup on a weeknight? This easy, vegan-friendly recipe comes together in just 20 minutes!
Fragrant leeks are the star of this soup. Like garlic and onions, leeks belong to the allium family and lend a distinct, mildly sweet flavor to the broth. Mushrooms and sweet potatoes add more earthy taste to the soup, along with lots of vitamins, minerals, fiber and antioxidants!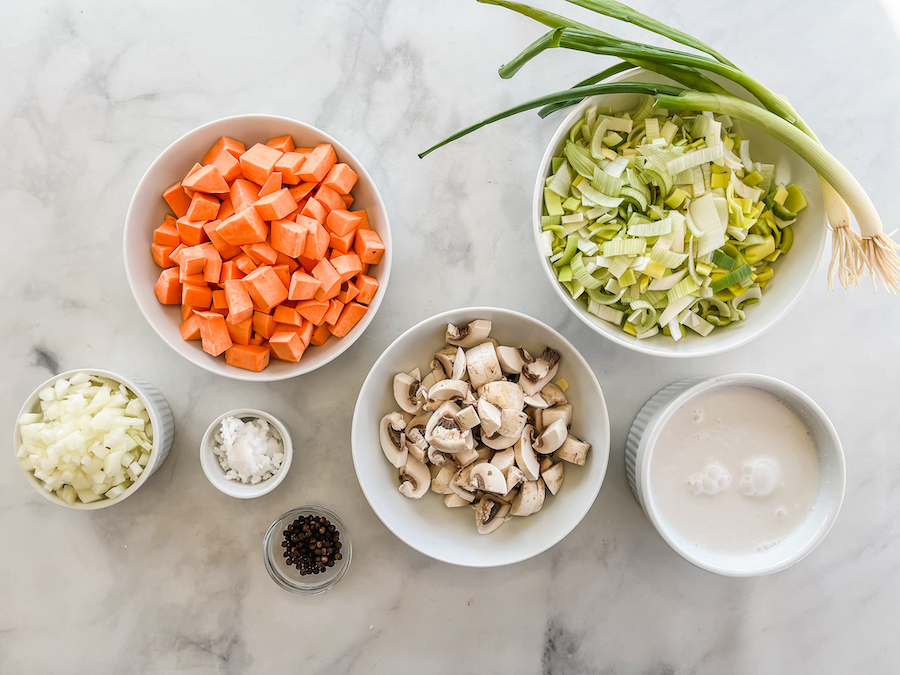 The broth is a tasty combination of homemade concentrated veggie stock and creamy coconut milk. You can also use water in place of veggie stock if you don't have any on hand. Just be sure to be aware that most store-bought varieties of broth, even the low-sodium kind, are higher in salt than we recommend adding.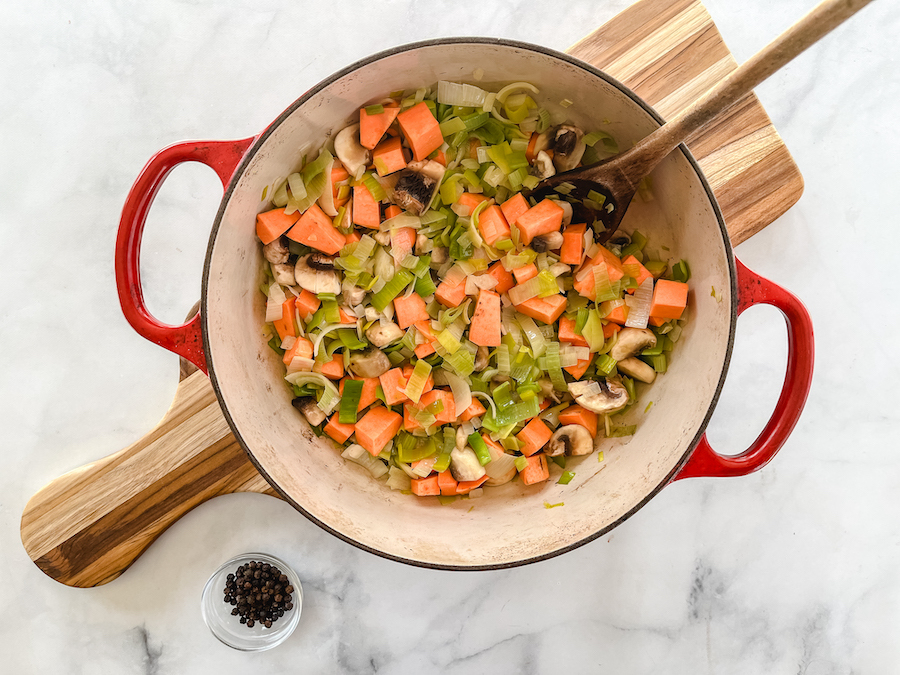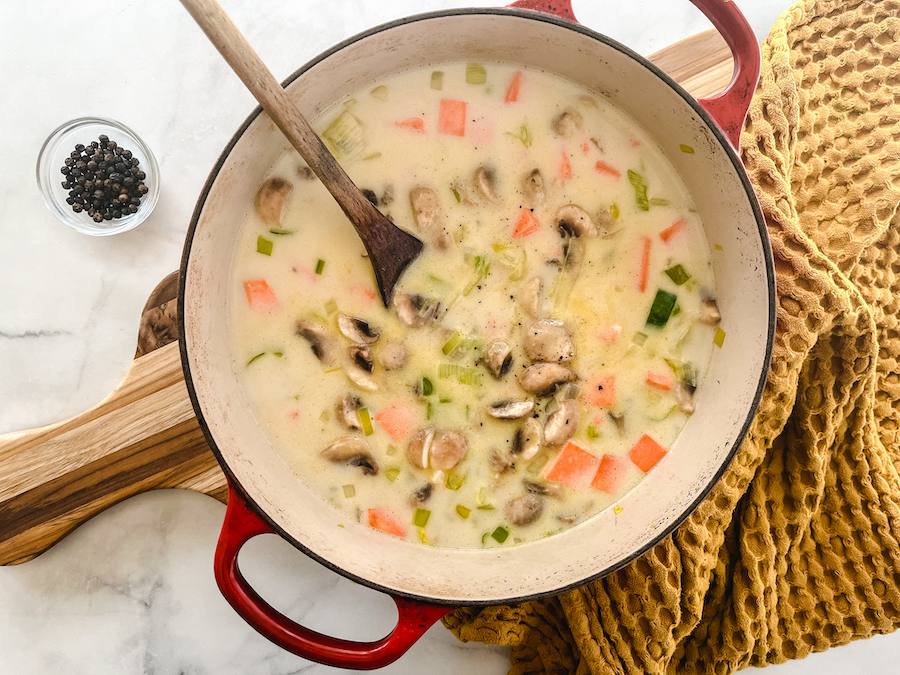 Once the soup has simmered long enough so the veggies are tender, use an immersion blender to blend the soup until chunky or smooth – or somewhere in between! Just keep in mind that you should only use an immersion blender in a stainless steel pot. If you're using anything with a non-stick coating, transfer the soup to a standing blender or food processor to blend it up. You can also leave it completely chunky if you prefer!
Serve your veggie leek soup garnished with chopped green onions, or parsley if you prefer.
Save any leftovers in an airtight container in the refrigerator for four days, or up to three months in the freezer.
Tip: Want to add some protein, or more fiber? Shredded chicken and/or cauliflower rice would work nicely in this soup!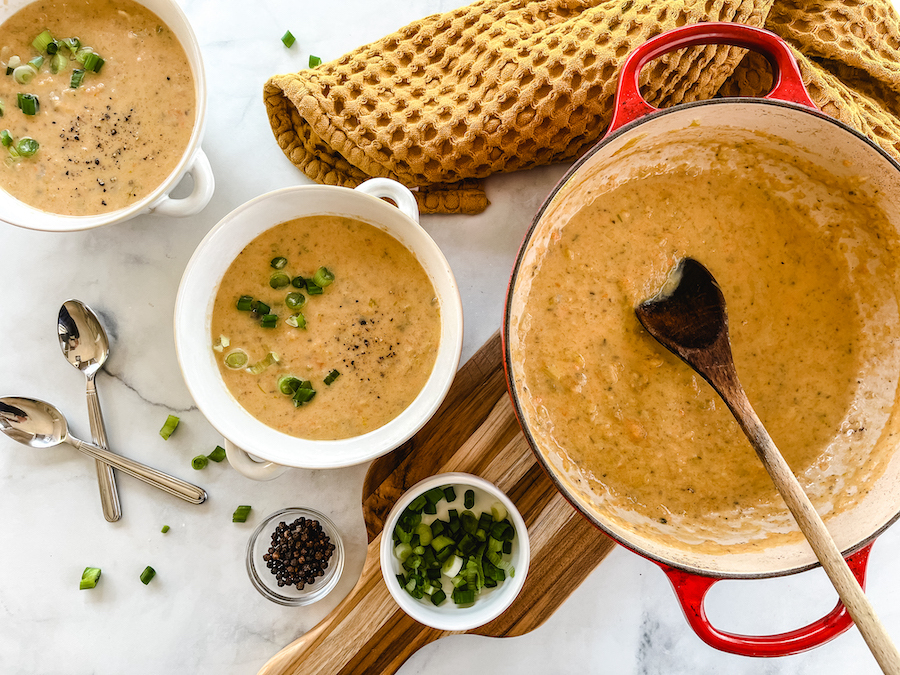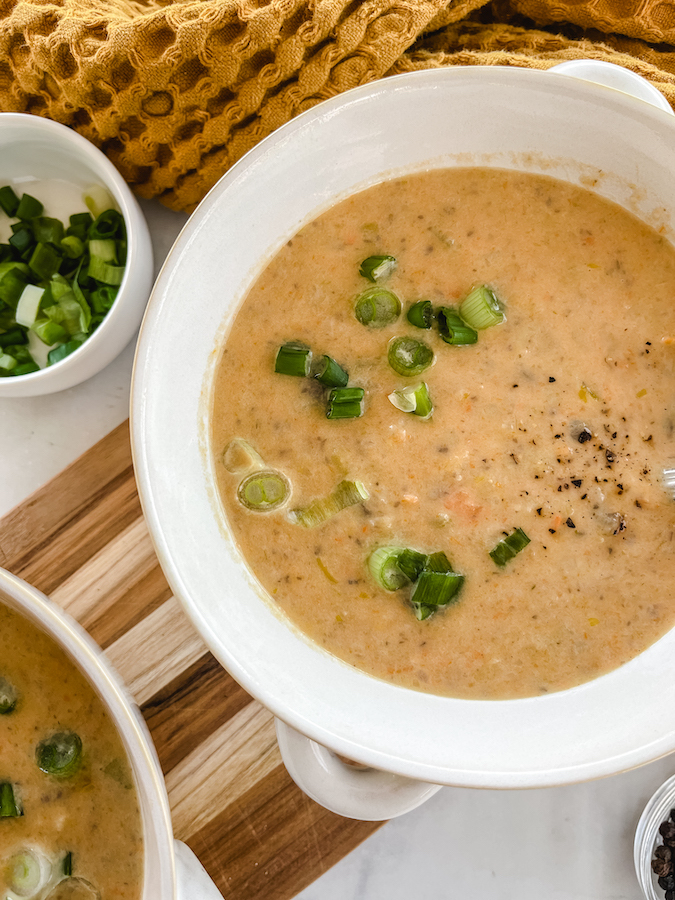 For hundreds of pure Paleo recipes be sure to check out The Real Paleo Diet Cookbook and Real Paleo Diet Fast and Easy.
Details
Prep Time:

5 minutes

Cook Time:

15 minutes

Total Time:

20 minutes
Ingredients
2 tbsp coconut oil

2 leeks, chopped thinly

1/2 cups yellow onion, diced

1 cups mushrooms, chopped

1 sweet potato, peeled and diced

1 can 14 oz coconut milk

2 cups vegetable broth, homemade or sodium-free

1/4 tsp black pepper

2 tbsp fresh green onions, finely chopped
Directions
Warm the coconut oil in a large stainless steel pot set over medium heat. Add the chopped leeks and onions and cook until translucent, about 5 minutes.

Mix in the mushrooms and sauté a few minutes more, until soft. Add a splash of water if the veggies seem dry.

Next, add the diced sweet potatoes, coconut milk, broth, and black pepper. Increase the heat and bring to a boil, then reduce to low and simmer for 10 minutes.

Once the sweet potatoes are soft, use an immersion blender to blend the soup until smooth or chunky -- however you prefer.

Ladle the soup into bowls and garnish with green onions. Enjoy!