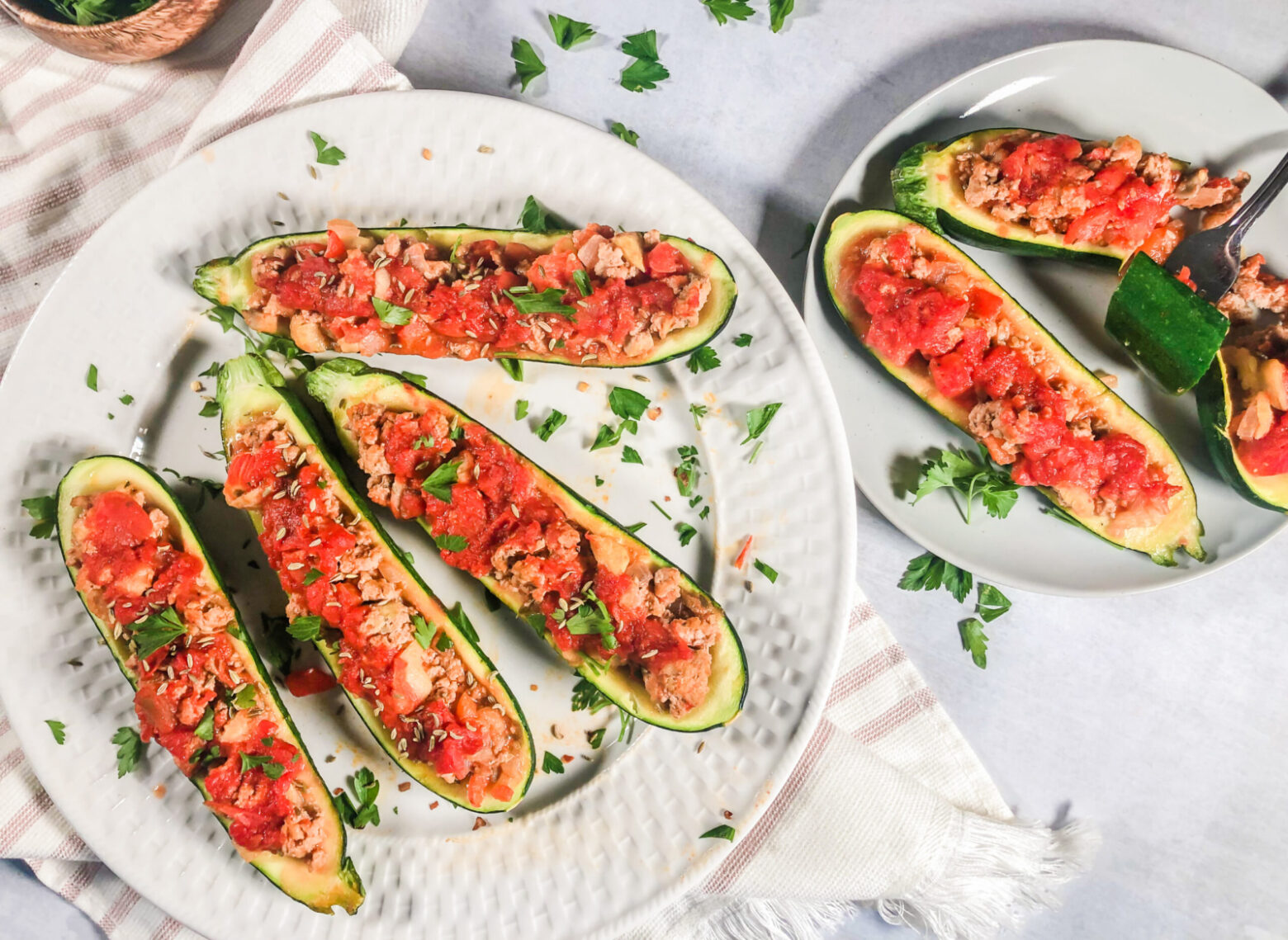 Turkey-Stuffed Zucchini Boats
These zucchini boats might look fussy, but they're actually really easy to pull together. Just simmer up a quick sauce, pour them into zucchini halves, and bake!
Start by slicing a few medium-sized zucchini in half lengthwise, and use a spoon to scrape out the insides, creating "boats." Set aside the insides of the zucchini, and brush the halves with olive oil.
Next, start browning the ground meat in a skillet. We used turkey, but you could use ground chicken or beef if you prefer. Add the insides of the zucchini, along with chopped onion, bell peppers, and mushrooms. Season with Italian herbs and spices, and stir in tomatoes and coconut milk. Carefully pour the sauce inside the prepared zucchini boats, and bake in a preheated 400°F oven for 20-25 minutes.
Serve your zucchini boats as an appetizer, or make it a meal and enjoy with cauliflower rice and a side salad. Dig in and enjoy!
Tip: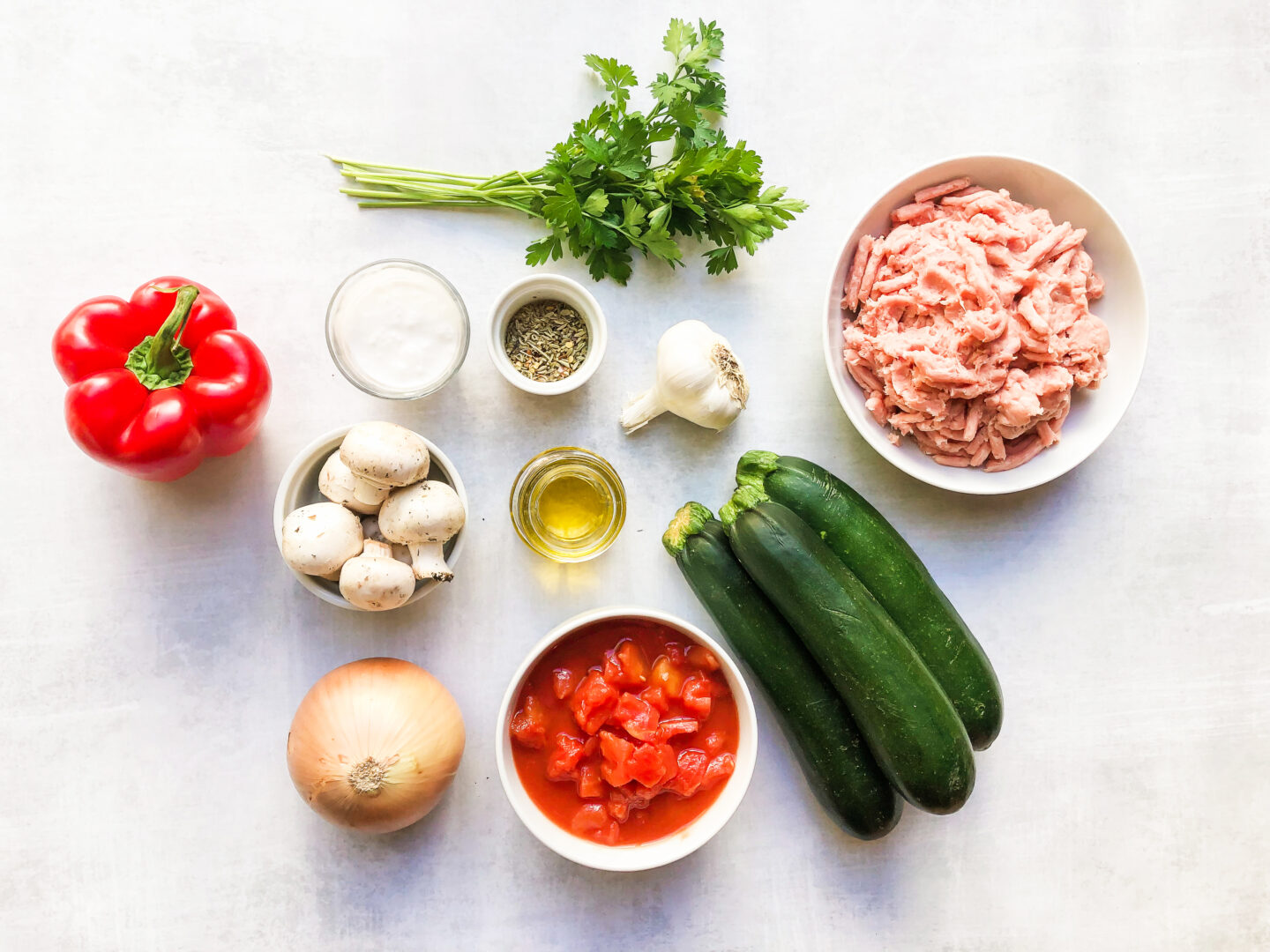 For hundreds of pure Paleo recipes be sure to check out The Real Paleo Diet Cookbook  and  The Real Paleo Diet Fast and Easy.
Details
Prep Time:

10 minutes

Cook Time:

35 minutes

Total Time:

45 minutes
Ingredients
4 zucchini

2 tbsp olive oil

1 lb ground turkey

1/2 yellow onion, chopped

1 red bell pepper, chopped (AIP - substitute with green onion)

1/2 cups mushrooms, chopped

1 tbsp Italian seasoning

1 tsp fennel seeds (AIP - substitute with dill)

1/2 tsp red pepper flakes (AIP - omit)

1/2 tsp black pepper (AIP - substitute with ground ginger)

1 cups unsalted diced tomatoes (AIP - substitute with any diced squash)

1 cups unsalted tomato sauce (AIP - substitute with pumpkin purée)

1/4 cups full-fat canned coconut milk

1/4 cups fresh parsley, for serving
Directions
Preheat the oven to 400°F. Slice the zucchini in half lengthwise and use a spoon to scoop out the flesh. Chop the zucchini that was scooped out and set aside. Brush the zucchini boats with olive oil and set on a baking tray.

Heat the olive oil in a skillet over medium heat. Add the ground turkey and cook for 2 minutes. Add the reserved zucchini, onions, red pepper, mushrooms, and spices. Cook, stirring frequently, until browned, about 8 minutes.

Stir in the diced tomatoes, tomato sauce, and coconut milk. Remove from the heat and scoop the turkey mixture into the zucchini boats. Bake for 20-25 minutes, or until the zucchini is tender. Garnish with fresh parsley and serve!