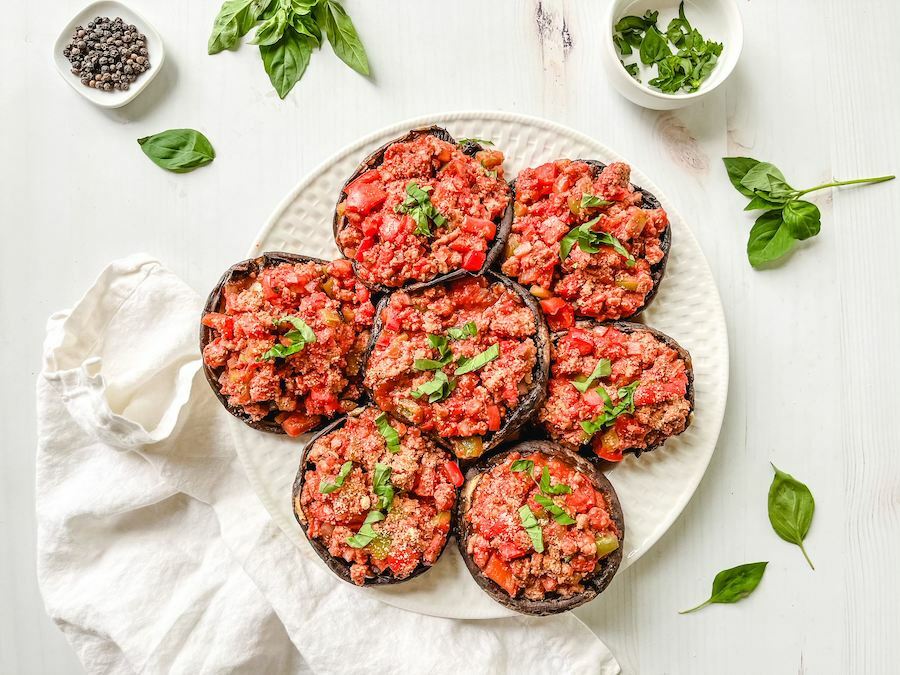 Turkey-Stuffed Portabella Mushrooms
Need a comforting, satisfying dinner? These healthy portabella mushrooms are stuffed with a savory slow-simmered turkey mixture, then baked until hot. Finish it under the broiler to crisp up the top and get it extra bubbly!
Stuffed mushrooms are a great way to transform ground turkey into a gourmet meal! Simply remove the gills and stems from the mushrooms, then drizzle with a bit of olive oil. Prepare the filling on the stovetop, then all you need to do is stuff and bake!
We used portabellas for entree-sized stuffed mushrooms, but you can also use smaller button mushrooms if you prefer to serve them as bite-sized appetizers. Either way, mushrooms are a great source of B-vitamins, potassium, fiber, and vitamin D. They're also very filling, so you'll feel satisfied after just one or two.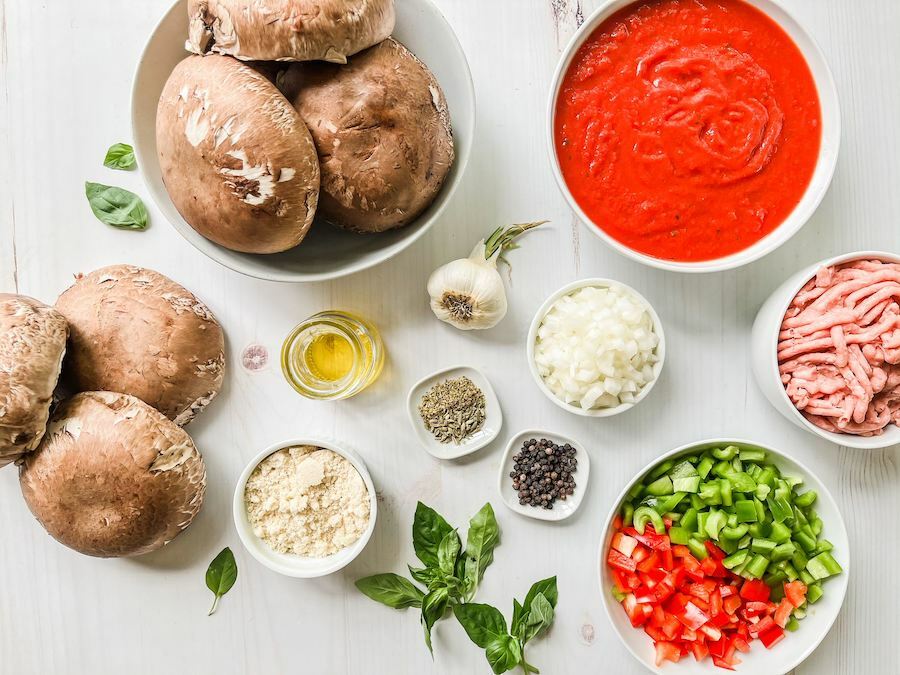 Start by rinsing the mushrooms well, then remove the stems and gills. Be sure to leave enough space around the edges of the mushroom to hold the turkey! Set on a baking sheet, drizzle with olive oil, and set aside while you get started on the filling.
To make the filling, begin by browning the turkey in a skillet, then remove and set aside. Next, add the chopped onions and bell peppers, and sauté until they're soft and starting to turn golden. Add garlic and oregano and cook until fragrant, then add the turkey back to the pan and pour in the crushed tomatoes. Simmer on low for at least 20 minutes to allow the flavors to marry.
Evenly stuff the mushroom caps with the turkey filling, then sprinkle with almond flour as a replacement for breadcrumbs. You can also skip this step if you prefer. Bake at 375° for 15 minutes, then finish under the broiler for one to two minutes to crisp up the top. Serve hot and enjoy.
Tip: This meal pairs great alongside a crisp cucumber tomato salad!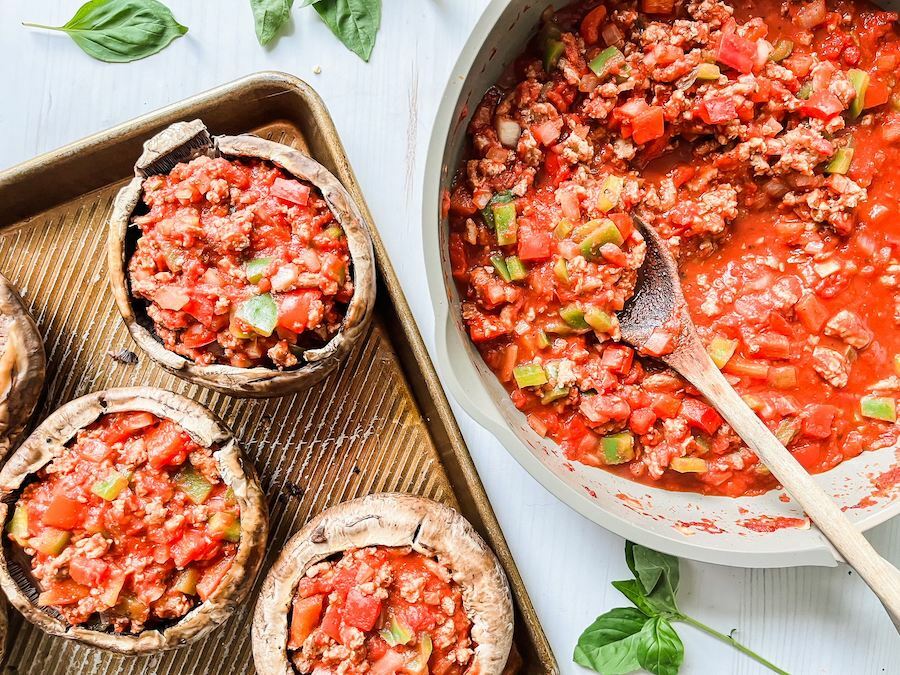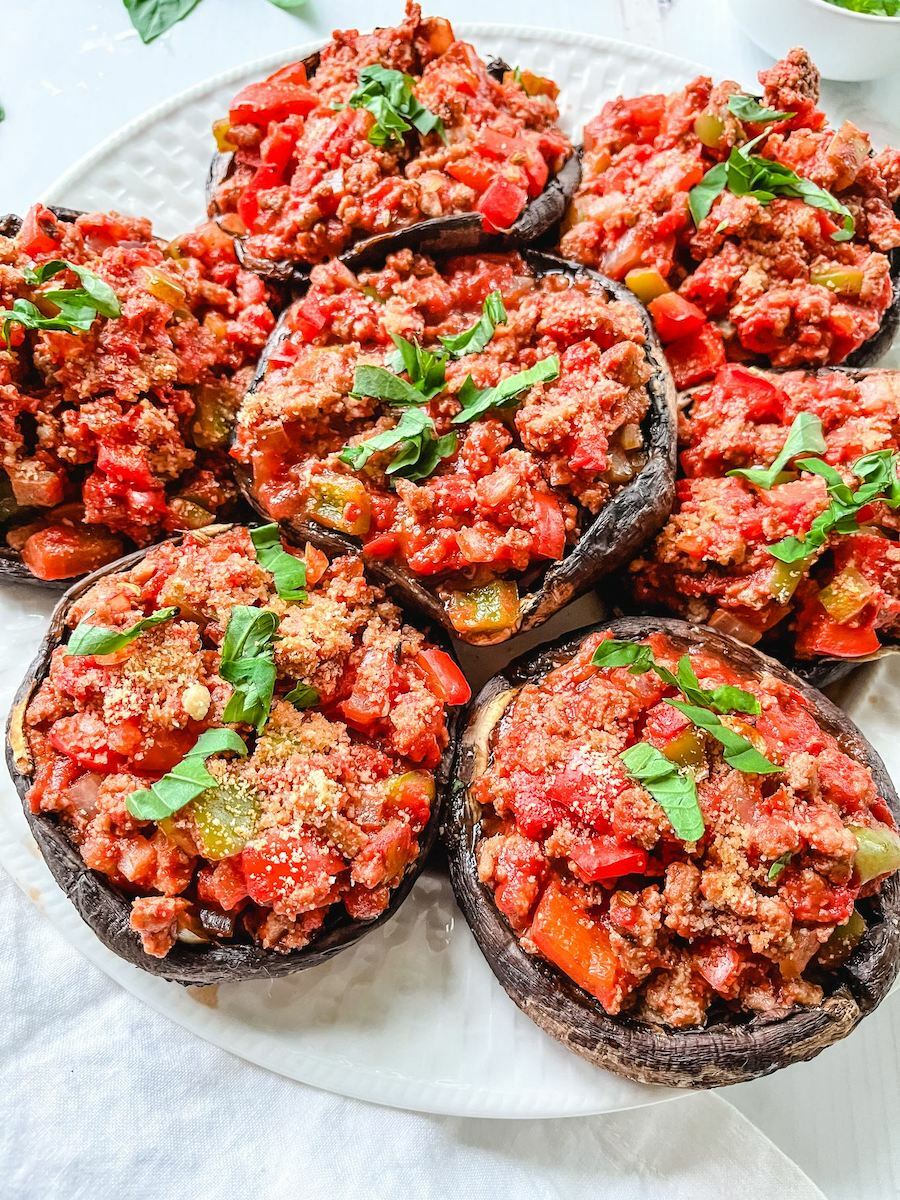 For hundreds of pure Paleo recipes be sure to check out The Real Paleo Diet Cookbook and Real Paleo Fast and Easy.
Details
Prep Time:

10 minutes

Cook Time:

50 minutes

Total Time:

1 hour
Ingredients
8 large portobello mushrooms, stems and gills removed

2 tbsp extra virgin olive oil, divided

black pepper, to taste

1 lb ground turkey

1 onion, diced

1 red bell pepper, diced

1 green bell pepper, diced

4 garlic cloves, minced

1 tsp dried oregano

28 oz canned crushed tomatoes, salt free

1/4 cups almond flour

8 freshly chopped basil, for garnish
Directions
Preheat oven to 375°F.

Arrange the mushrooms on a baking sheet. Brush evenly with 1 tablespoon of the olive oil and season with black pepper. Set aside.

In a large skillet over medium heat, brown the turkey. Remove from the pan and set aside.

Add the remaining tablespoon olive oil to the pan and stir in the onions and peppers. Sprinkle with more black pepper and sauté until soft. Add the garlic and oregano and sauté for 30 seconds.

Add the turkey back to the pan and stir in the crushed tomatoes. Simmer for 20 minutes.

Spoon the mixture into the mushroom caps and sprinkle evenly with the almond flour. Bake for 15 minutes, or until mushrooms are tender. Finish under the broiler for 1-2 minutes to crisp up the top. Garnish with fresh basil.