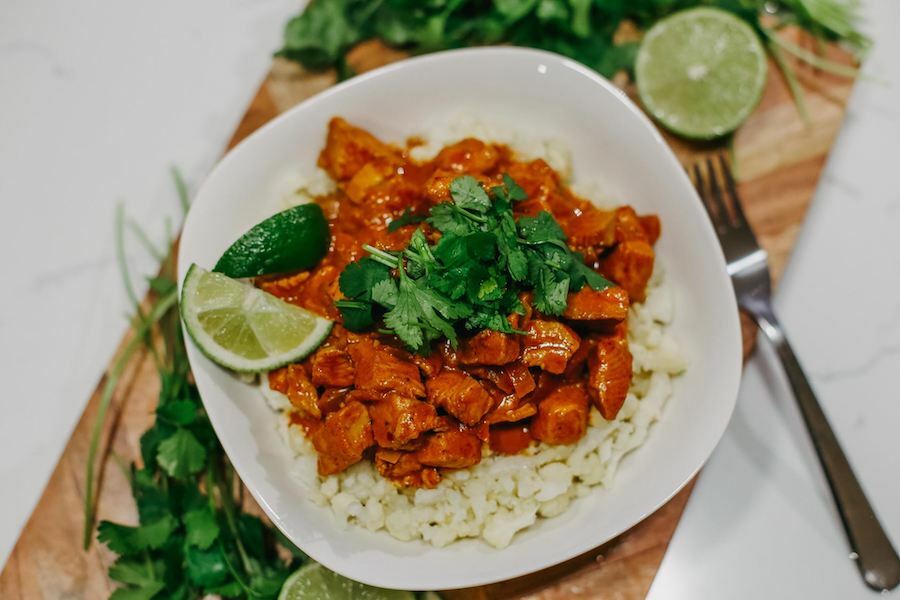 No need to pick up the phone and order your favorite curry take-out dish when you can make a great-tasting curry-inspired dish at home in just about 30 minutes! It's the perfect recipe if you are a beginner in the kitchen or making curry for the first time.
This curry sauce recipe is mild, so if you like to spice things up, add a pinch of ground cayenne or red pepper flakes to the sauce.
Cauliflower is packed with nutrients like vitamin C and B6. It also has a good amount of folate, protein, and fiber. Combined with protein-packed chicken and lactose-free coconut milk, this dish is a highly nutritious and complete meal.
To make this all-in-one curried chicken dish, start by adding olive oil to the pan and cook the onions until they start to caramelize. Introduce the savory spices, garlic, and ginger, and stir to combine.
Add the lime juice along with the tomato paste to the skillet, then the coconut milk, and mix everything together to form a thick paste. Transfer the cubed chicken to the skillet and let it simmer until it's ready. Serve this over warm riced cauliflower and garnish with fresh cilantro, parsley, and lime wedges. Dig in and enjoy this homemade Thai dish!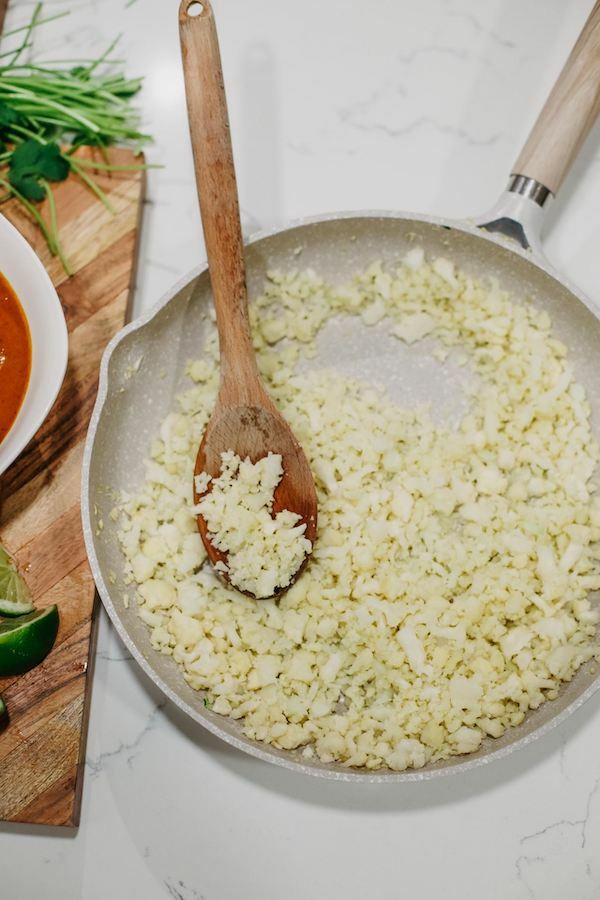 Tips:
Don't have garam masala? Make your own! Use ¼ teaspoon each of ground cumin, cinnamon, coriander, and fennel for a similar flavor profile.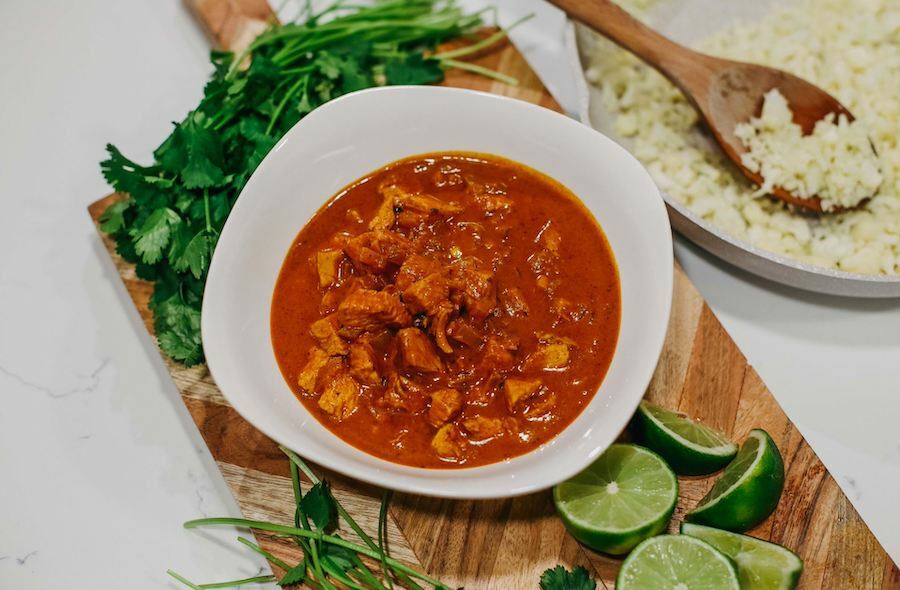 Love our recipes? Make going Paleo even easier and download our 7-Day and 28-Day digital meal plans!
Ingredients
2 tbsp olive oil

1/2 red onion, diced

2 tsp Garam Marsala

2 tsp ground paprika

1/2 tbsp ground cumin

1/4 tbsp ground turmeric

1/2 tsp ground black pepper

1 tbsp minced ginger

1 tbsp minced garlic

2 limes, juiced

4 oz tomato paste

15 oz full fat coconut milk

1 skinless chicken breast, chopped

1 head of cauliflower, riced

1/2 cups chopped cilantro

1/2 cups chopped parsley

lime wedges for garnish
Directions
To prepare the sauce, bring it to medium heat in a medium skillet; add 1 tbsp of olive oil. Add the red onions and let them caramelize for 3-5 minutes. Stir in the spices, minced garlic, and ginger, then mix until it's fully incorporated. Add the lime juice and the tomato paste, then pour in the coconut milk and stir well.

Place the cubed chicken into the skillet and cook for another 20 minutes. When the chicken is fully cooked on medium-high heat, let it simmer, stirring occasionally with the sauce.

To prepare the cauliflower, bring a frying pan to medium heat, add 1 tbsp olive oil, and add riced cauliflower. Stir occasionally until it's tender, about 5 minutes.

Assemble the bowls by serving chicken over a bed of cauliflower rice and garnish with wedges of lime, chopped cilantro, and parsley. Serve immediately and enjoy!