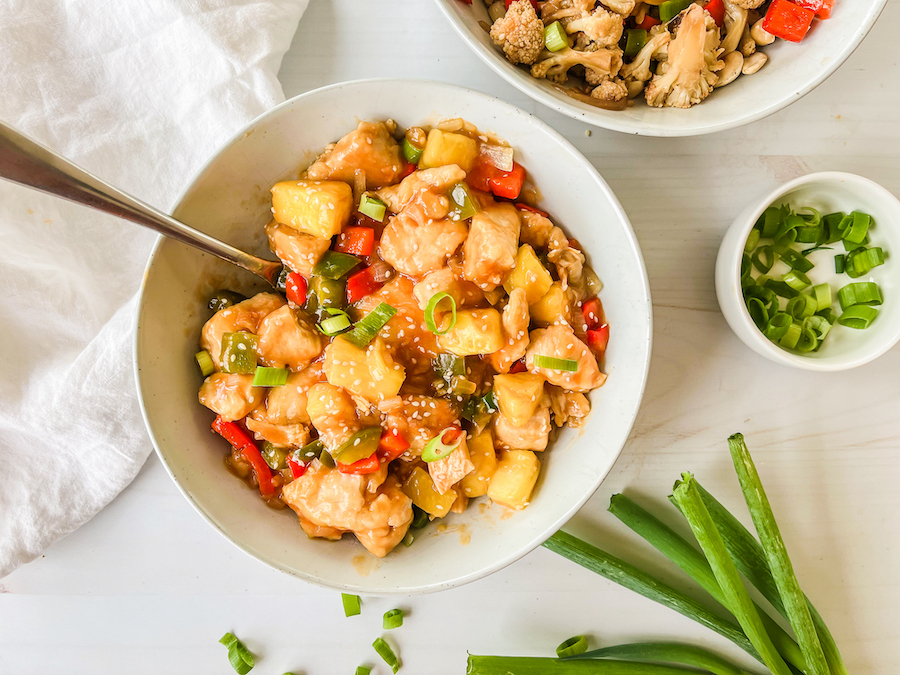 Crispy battered chicken and fresh pineapple cubes are drenched in a tangy sauce for an easy take on a takeout classic!
Craving Chinese food? Skip the delivery and use those 30 minutes of waiting to whip up this homemade sweet and sour chicken at home instead. This recipe skips the MSG, added salt, and sugar. It only uses only a small amount of natural sweeteners and vinegar to achieve the same sweet-sour flavor you're craving.
Most sweet and sour sauces are made with unhealthy ingredients like brown sugar, store-bought ketchup, rice vinegar, and soy sauce — and sometimes that's all! This Paleo-approved sauce is made with flavorful ingredients like fresh pineapple juice, sugar-free ketchup (preferably homemade!), tomato paste, ginger, garlic, and honey. Be sure to blend up fresh pineapple for the juice to keep the sugar down and to keep things 100% Paleo! You're slicing up two cups of pineapple for the stir fry here, so you may as well make use of the whole pineapple!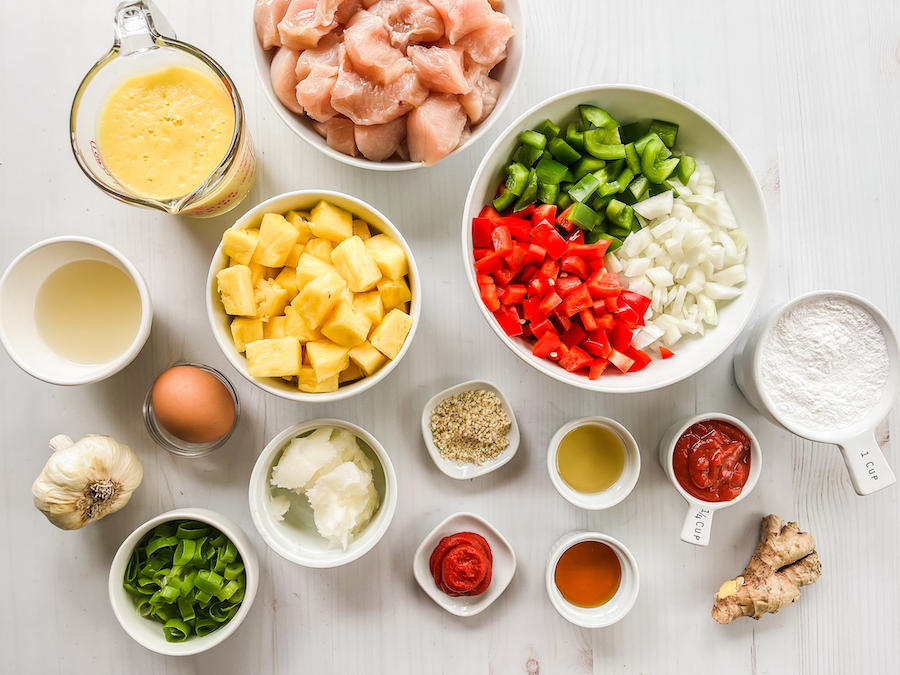 To make the sauce, simply whisk all the ingredients together, or add to the blender after you've made the pineapple juice to make things even easier. Once your sauce is well integrated, pour it into a saucepan and set it over medium-low heat. Don't let it boil! You want it to slowly warm so you get a nice thick consistency.
Meanwhile, prep the chicken. To get crispy-crunchy bites without deep frying in unhealthy oils, we battered the chicken pieces in egg and arrowroot starch, then pan fry it in coconut oil. Be sure to do this in batches so the chicken doesn't overcrowd in the pan, which prevents the crisp sear we're after! Set the cooked chicken aside to add back to the pan later.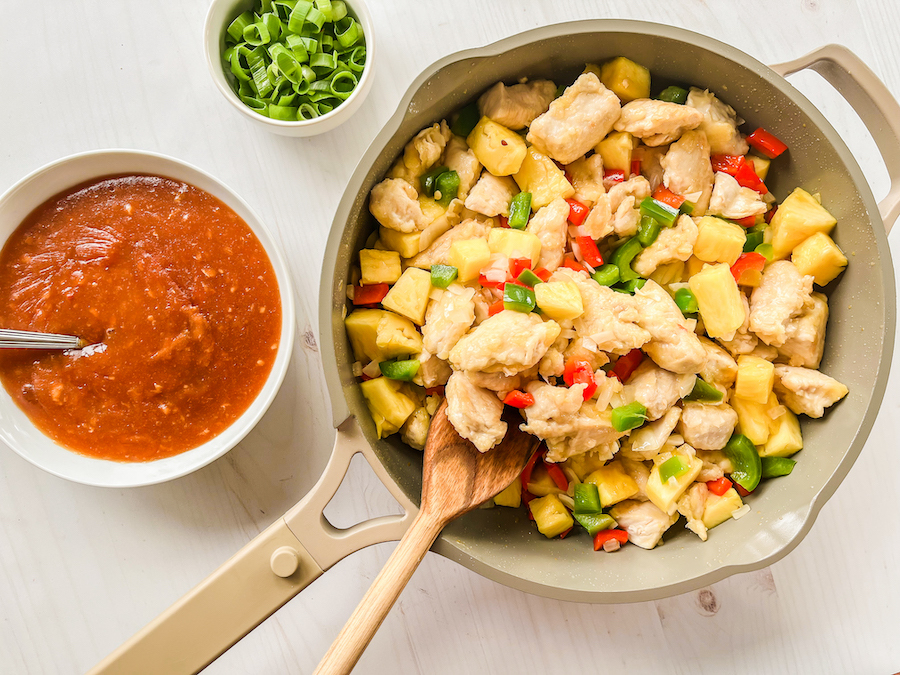 Next, use the same pan to soften chopped peppers and onions, then add the fresh pineapple chunks and chicken to the pan and drizzle with the sauce. Mix well, then top with sesame seeds and green onions. Serve right away!
Tip: Set your sweet and sour chicken over cauliflower rice to help soak up the sauce. This recipe also tastes great alongside crisp broccoli!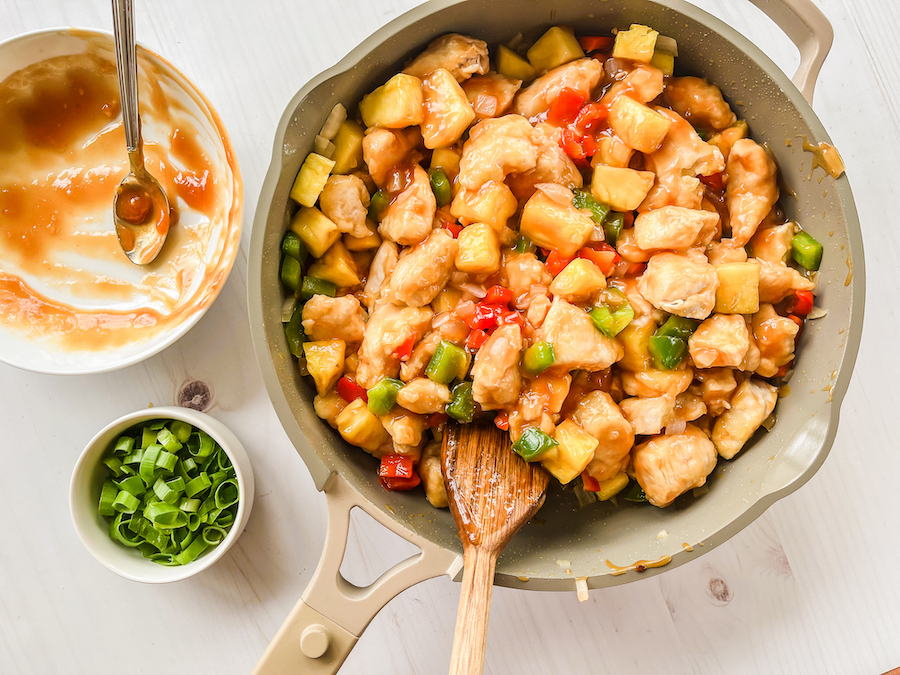 For hundreds of pure Paleo recipes be sure to check out The Real Paleo Diet Cookbook and Real Paleo Fast and Easy.
Details
Prep Time:

15 minutes

Cook Time:

15 minutes

Total Time:

30 minutes
Ingredients
1 egg, beaten

1 1/2 chicken thighs or breasts, cut into 1-inch cubes

1 cups arrowroot starch

2 tbsp arrowroot starch

1 cups pineapple juice

1/4 cups Paleo ketchup

1 tbsp tomato paste

2 tbsp apple cider vinegar

1 1/2 tsp ginger, minced

2 tbsp garlic, minced

1/2 cups chicken broth

1 tbsp raw honey

4 tbsp coconut oil, divided

1/2 yellow onion, chopped

1 red pepper, chopped

1 green pepper, chopped

2 cups fresh pineapple, cubed

1 tbsp sesame seeds

1/4 green onions, chopped
Directions
Place the chicken in a deep Tupperware container or a resealable plastic storage bag. Pour in the beaten egg, close the container, and shake until the chicken is fully coated. Add the cup of arrowroot starch and shake well again. Set aside.

To make the sauce, whisk the pineapple juice, ketchup, tomato paste, apple cider vinegar, ginger, garlic, chicken broth, honey, and 2 tablespoons of the arrowroot starch in a small saucepan. Whisk thoroughly, then set over medium-low heat for about 5-8 minutes. Set aside.

Meanwhile, heat two tablespoons of the coconut oil in a large skillet or wok over medium heat. Add half of the chicken to the hot pan and cook for 5-6 minutes, stirring frequently, or until golden brown and cooked through. Transfer the chicken to a plate. Add another tablespoon of the coconut oil and repeat with the remaining chicken.

Heat the last tablespoon of coconut oil in the empty pan, then add the chopped onions and peppers. Cook for 5 minutes or until softened. Add the fresh pineapple and cooked chicken, then pour the warm sauce all over the top and mix well.

Sprinkle with sesame seeds and green onions, and serve right away.