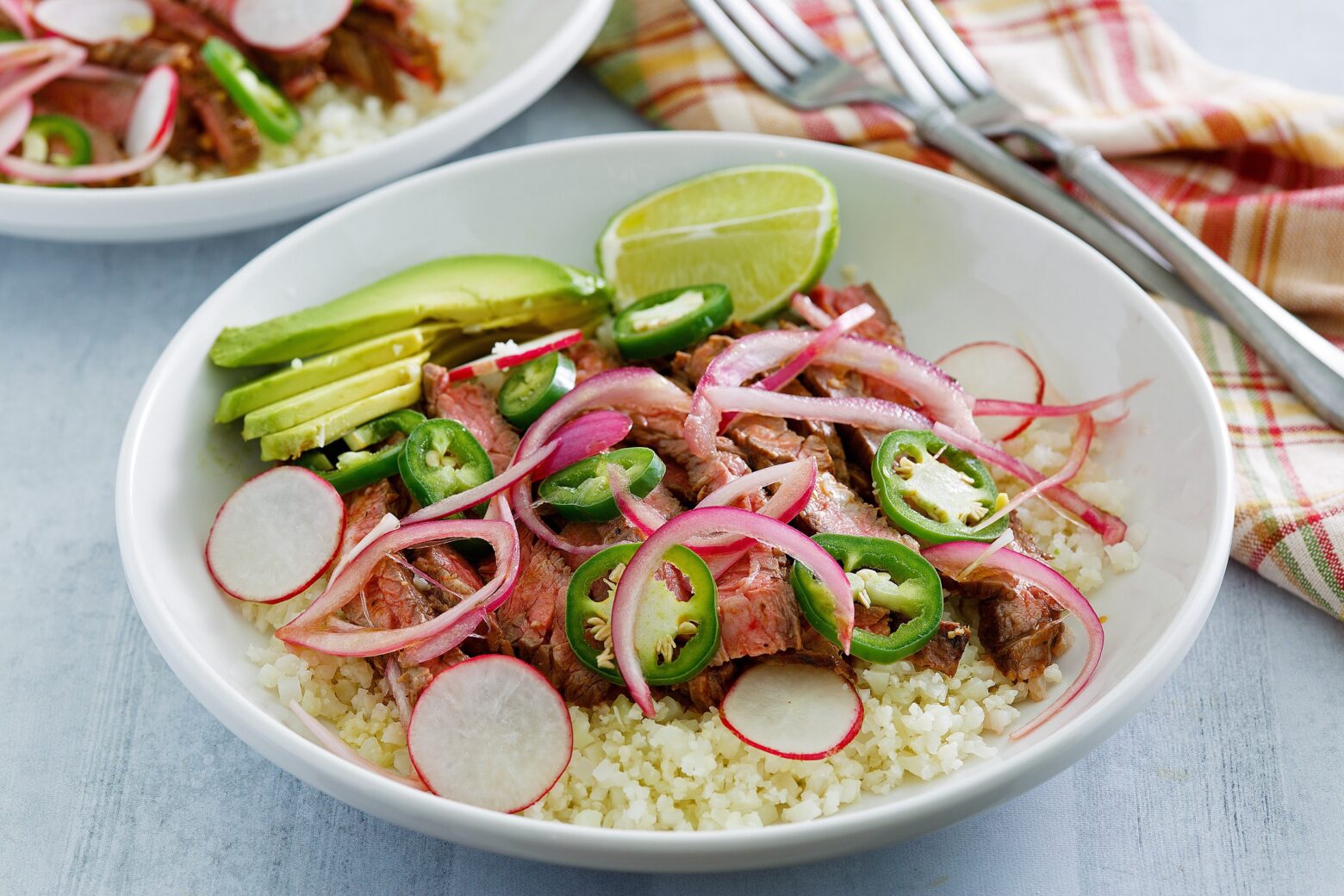 Marinated Skirt Steak Taco Bowl
Spice up your Taco Tuesdays with this Mexican-inspired bowl of marinated steak, pickled red onions, avocado, and other tasty toppings over cauliflower rice.
This healthy meal is a Paleo-friendly copycat of your favorite taco shop's burrito bowl. We swap in cauliflower rice for white rice, skip the cheese and sour cream in favor of avocado and cilantro, and add in quick and easy pickled red onions for a zesty meal you'll want to make repeatedly.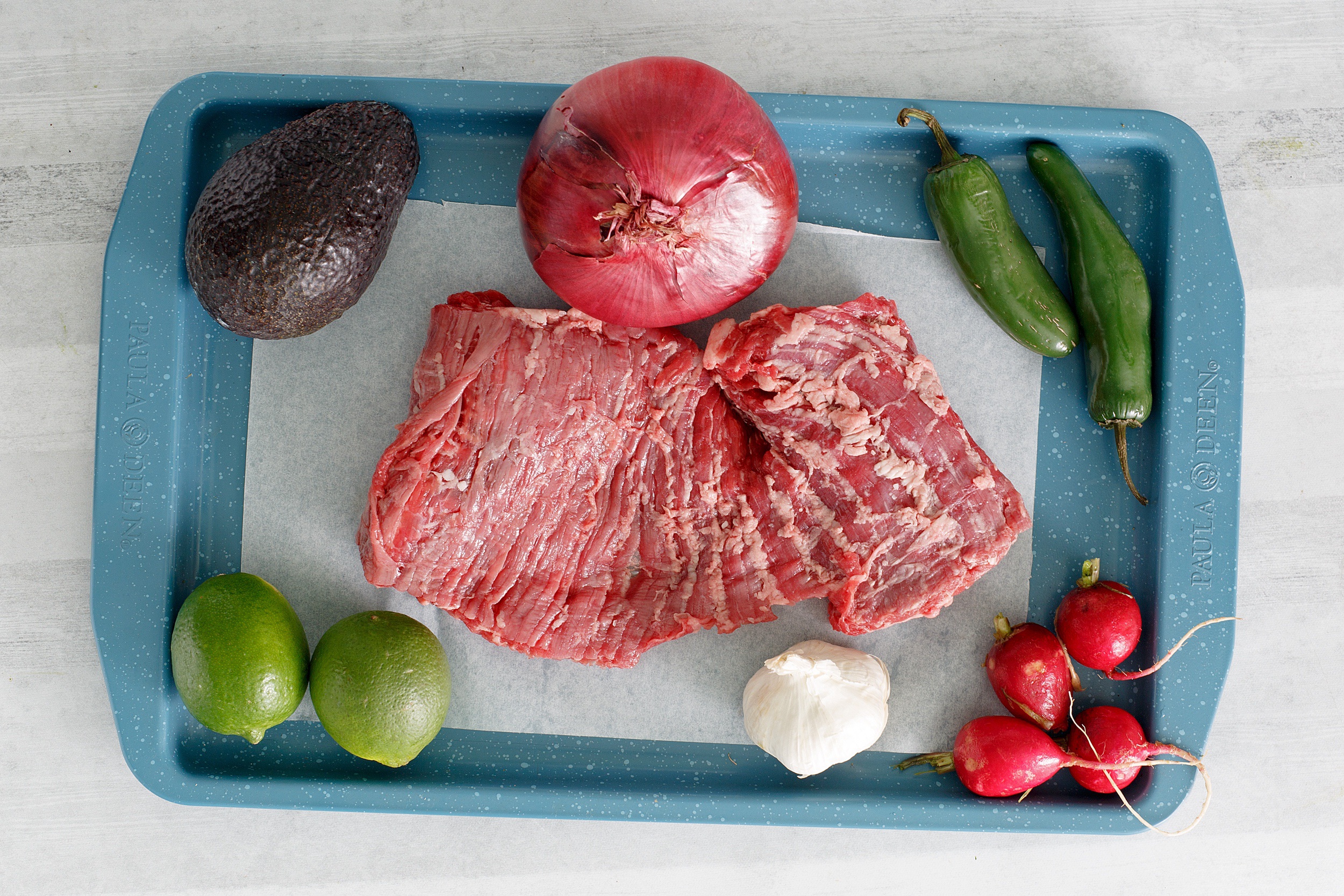 Start by marinating the steak in an easy marinade of avocado oil, garlic, lime juice, red wine vinegar, chili powder and black pepper. The longer you marinate the steak, the better. We recommend setting it in the fridge overnight, but if you're in a pinch, 1-4 hours will do nicely.
It's a good idea to get the steak out of the fridge to get the chill off before cooking. While your steak finishes its marination at room temperature, make the pickled red onions by diluting red wine vinegar with equal parts water. Thinly slice about half a red onion, then submerge in the liquid for a quick and easy pickled recipe.
When you're ready to cook your steak, be sure the pan is nice and hot. We recommend cooking each side about three minutes each, depending on thickness and how you like your steak cooked. We love a nice medium rare, but you can cook it a minute or two longer on each side if you like it a little more well-done.
To help cut back on prep time, consider buying a bag of frozen cauliflower rice and cooking it right before you're ready to serve. Otherwise, you can grab a box cutter and rice your own cauliflower, then sauté for about five minutes. If you want step-by-step instructions, try this recipe.
To assemble your bowls, start with a base of cauliflower rice and top with thinly sliced steak and pickled red onions. We also added thinly sliced radishes, jalapeño, cilantro, avocado and lime wedges—but these are all optional! Feel free to customize your steak taco bowl to whatever you have on hand.
For hundreds of pure Paleo recipes be sure to check out  The Real Paleo Diet Cookbook  and  The Real Paleo Diet Fast and Easy.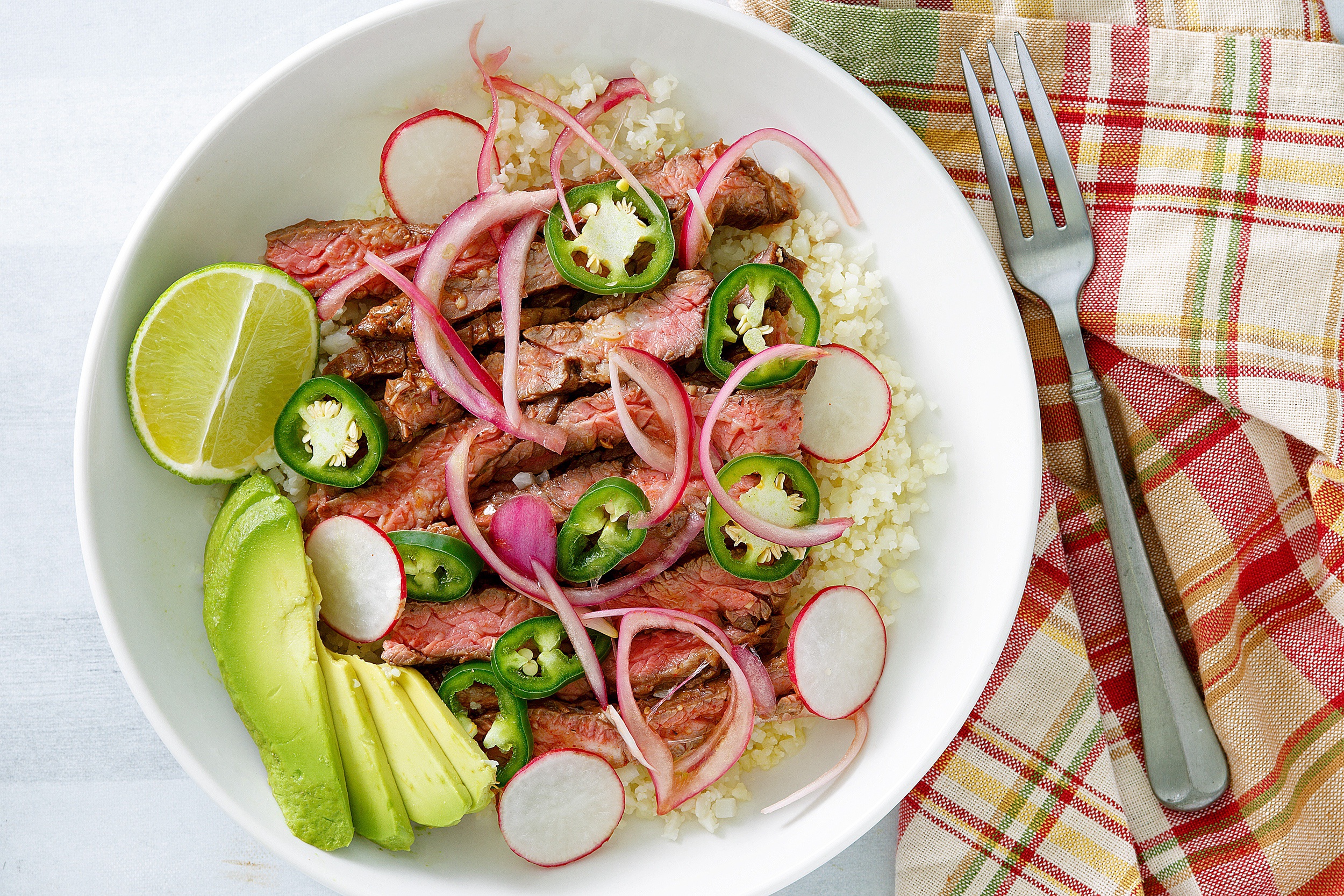 Details
Prep Time:

15 minutes

Cook Time:

10 minutes

Total Time:

25 minutes
Ingredients
3 tbsp avocado oil, divided

3 cloves of garlic, grated or pressed

1 lime, juiced

1/4 cups + 1 tbsp red wine vinegar, divided

2 tsp chili powder

1/4 tsp black pepper

1 lb flank or skirt steak

1/4 oz water

1/2 small red onion, thinly sliced

4 cups cooked cauliflower rice

1/2 cups radishes, thinly sliced

1 jalapeño, thinly sliced

1 avocado, sliced

Cilantro, for serving

1 lime, cut into wedges
Directions
Start by making the marinade: In a shallow dish or bowl, whisk together 1 tablespoon of avocado oil with the garlic, lime juice, 1 tablespoon of the red wine vinegar, chili powder and black pepper. Coat the steak evenly in the marinade and refrigerate for 1-4 hours.

While steak is marinating, prep the pickled onions: In a small bowl, mix ¼ cup of the red wine vinegar and water together. Add sliced red onions, making sure they're mostly submerged, and set aside.

When you're ready to cook the steak, heat the remaining 2 tablespoons avocado oil in a large cast iron skillet over medium heat. Shake off any excess marinade from the steak , then add to the hot pan and cook for 3-4 minutes each side. Remove from the heat and let the steaks rest for about 5 minutes before thinly slicing against the grain.

To serve, place cauliflower rice in four bowls, then top with the steak. Garnish with the pickled red onion, sliced radishes, jalapeño, avocado, cilantro, and lime wedges on the side.