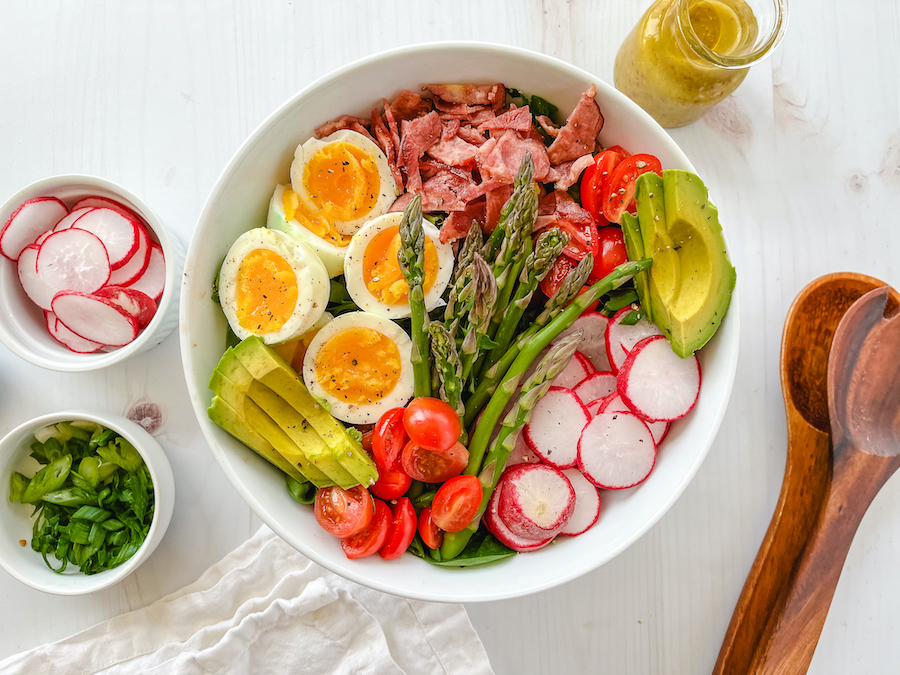 Spring Cobb Salad with Honey Mustard Dressing
Fresh spring veggies mix with eggs and pork belly for a Paleo spin on a classic salad.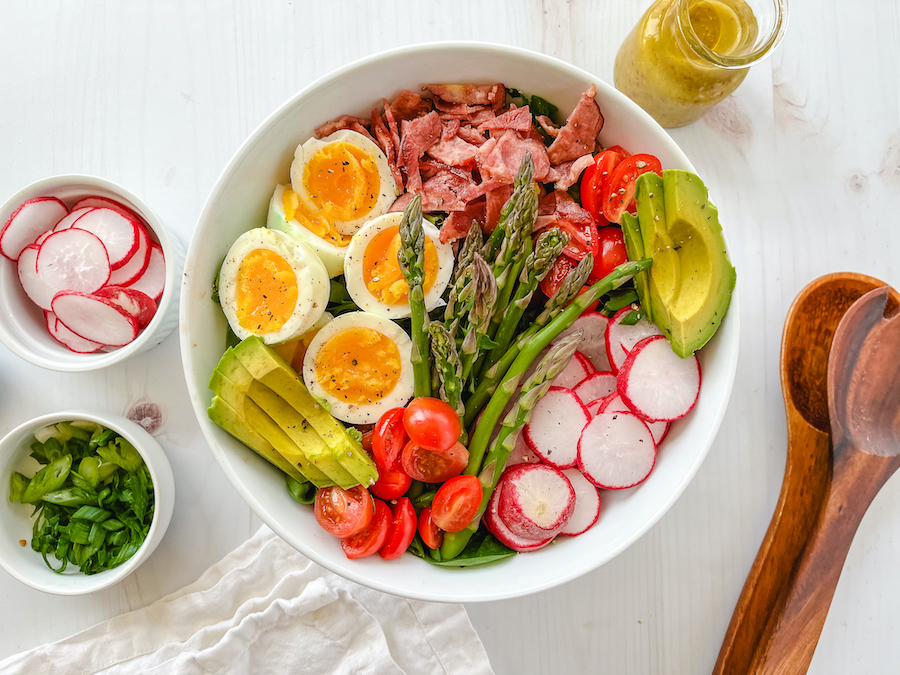 Need a way to use up all your farmers market finds? This vibrant and versatile Cobb salad showcases the best of the season.
Traditional Cobb salads are characterized by creamy avocados, hard-boiled eggs, tangy tomatoes, crispy bacon, and bleu cheese. In our Paleo-approved version, we kept all the main elements of the salad and added more seasonal veggies, like mixed greens, radishes, and asparagus.
We also swapped the bacon for uncured pork belly, and used a tangy honey mustard vinaigrette that's tastier and lighter than a heavy ranch or dairy-based dressing. While you can add cooked chicken to the mix if you want to, we kept ours vegetarian-friendly to focus on those ripe spring veggies.
We recommend hard-boiling your eggs ahead of time to keep this recipe quick and easy. To hard boil eggs: place them in a single layer in a large saucepan and cover with cold water by one inch. Bring to a boil over high heat, then remove from heat, cover, and let stand for 10-15 minutes. Remove to an ice bath to halt the cooking. If you want to be sure your eggs are done to your liking, slice into one after 10 minutes and see if you should continue cooking the rest. Let them cool entirely before trying to peel them.
Our simple dressing is made with olive oil, honey, lemon juice, garlic, black pepper, and Paleo-friendly Dijon mustard. Whisk all ingredients together in a small bowl, or instead, add to a Mason jar with a tight-fitting lid and shake it well.
To assemble the salad, start with a base of mixed greens, like baby spinach, arugula, watercress and/or baby kale. Top with oven-baked pork belly crumbles, lightly sauteed asparagus, halved cherry tomatoes, sliced radishes, sliced boiled eggs, avocado, and scallions. Drizzle with the honey mustard dressing, and enjoy!
Tip: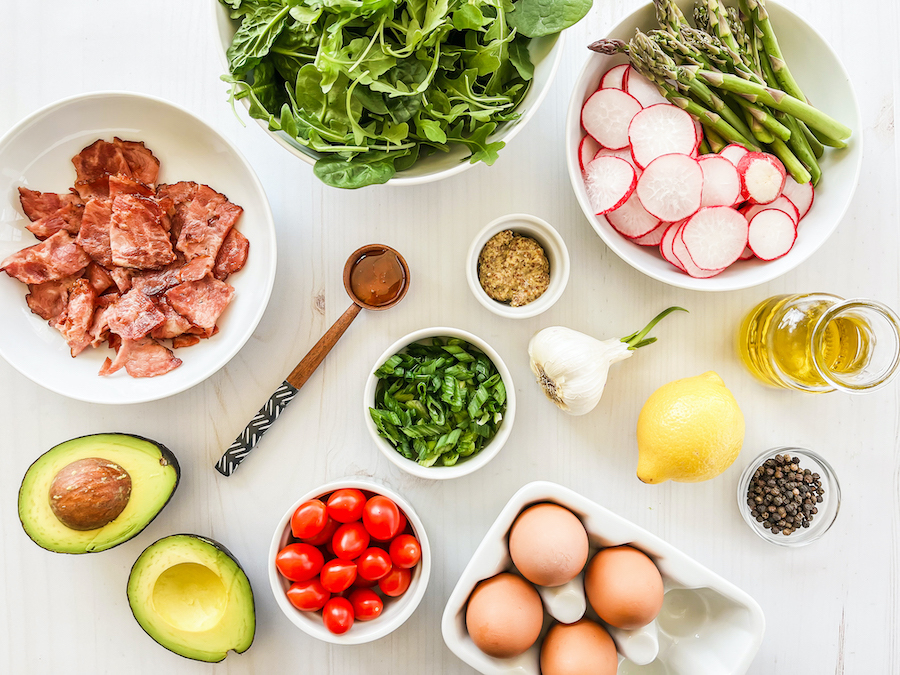 For hundreds of pure Paleo recipes be sure to check out The Real Paleo Diet Cookbook and The Real Paleo Diet Fast and Easy.

Details
Serves:

6

Prep Time:

15 minutes

Cook Time:

15 minutes

Total Time:

30 minutes
Print this Recipe
Ingredients
6 slices pork belly

1 lb asparagus

2 tsp + ⅓ cup olive oil

1/2 tsp raw honey

2 tbsp lemon juice

1 clove garlic, minced

1/4 tsp black pepper (AIP - omit)

2 tbsp Paleo Dijon mustard (AIP - substitute with Paleo mayo)

6 cups mixed greens

1/2 cups cherry tomatoes, halved (AIP - substitute with carrots or zucchini)

1/2 cups radishes, thinly sliced

4 hard-boiled eggs, sliced

1 avocado, sliced

1/4 cups green onions, sliced thinly
Directions
Preheat the oven to 400°F. Arrange the pork bellies in a single layer on a baking sheet lined with parchment paper and bake for 15-20 minutes, or until it's brown and crispy. Drain on paper towels before crumbling or chopping.

Meanwhile, preheat a skillet over medium-low heat with 2 tsp of olive oil. Add the asparagus and sauté, stirring frequently, for 2-3 minutes, or until bright green and crisp-tender.

To make the dressing, whisk the remaining ⅓ cup of olive oil with the honey, lemon juice, garlic, black pepper and Dijon mustard.

To assemble the salad, set the mixed greens in a large bowl, then top with the crumbled pork bellies, cooked asparagus, cherry tomatoes, sliced radishes, sliced eggs, avocado, and green onions. Pour the dressing over the top and serve.