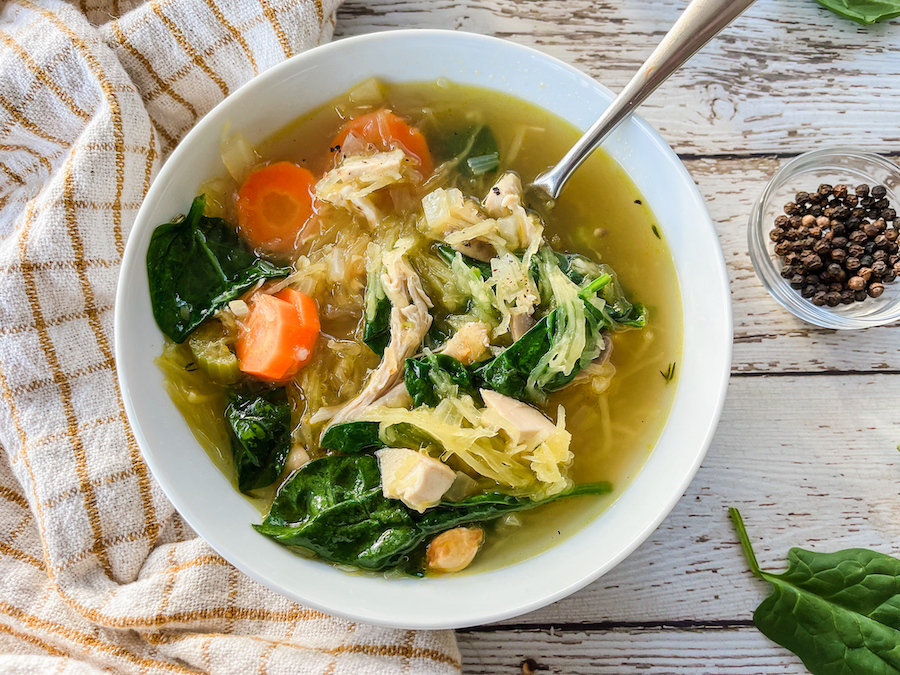 Spaghetti Squash Soup with Chicken
Craving a warm bowl of chicken noodle soup? Try this Paleo version that uses fiber-rich spaghetti squash instead of pasta!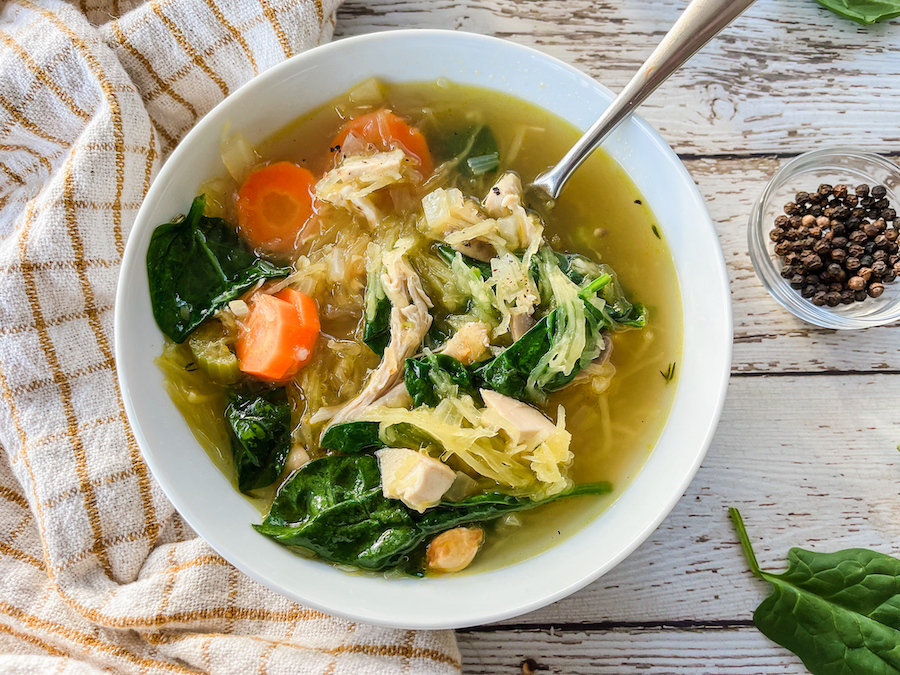 Craving a warm bowl of chicken noodle soup? Try this Paleo version that uses fiber-rich spaghetti squash instead of pasta for a hearty and filling meal.
Chicken noodle soup is good for the soul, and this recipe is here to prove it! We use a nutrient-dense homemade veggie broth, a mix of healthy veggies like spinach and mushrooms, and protein-rich chicken for a soup that's as nutritious as it is tasty!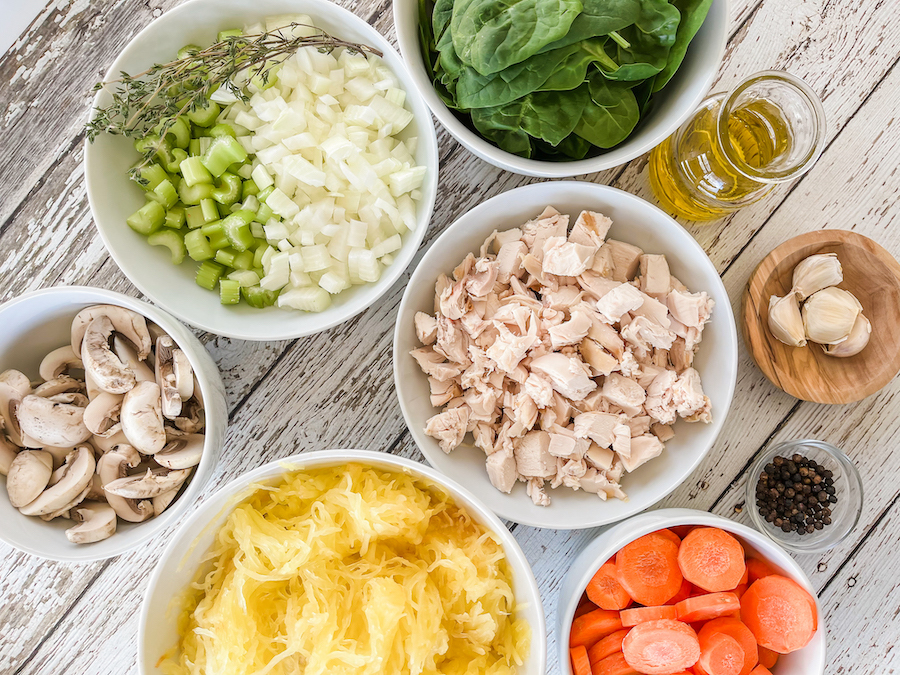 To help this recipe come together quicker, prepping ingredients a day or two ahead of time is key. This recipe uses leftover chicken that's already been cooked, but you can cube it and sauté it separately if you don't have any on hand. You can always add slices of raw chicken to the pot when it starts to boil, but it's much tastier to get a crust on the outside by cooking it by itself instead. It's worth the extra effort!
It's also easier to use already-cooked spaghetti squash to help minimize prep time. If you don't have time to do it ahead of time, you can get the squash roasting while you start the soup, so you won't lose too much time!
Start by slicing the spaghetti squash in half, rubbing with olive oil, and getting it into the oven. Meanwhile, sauté a mirepoix mix of veggies. Once soft, add sliced mushrooms (any variety you like!) and herbs and spices. We used fresh thyme here, but you could also use ½ teaspoon of dried thyme instead. You can also experiment with other herbs and spices. Fennel seeds, oregano, or rosemary would work nicely here.
Next, add your broth and bring to a boil. If you don't have homemade veggie broth on hand, you can use low sodium chicken or veggie broth from the store in a pinch. Bring to a boil, then reduce to low, cover slightly, and simmer for 10 minutes. Add the cooked chicken, simmer a bit more, then add the cooked spaghetti squash and baby spinach. Continue to cook another minute or so, or until the spinach is just wilted. Season with black pepper to taste, and ladle up your bowls!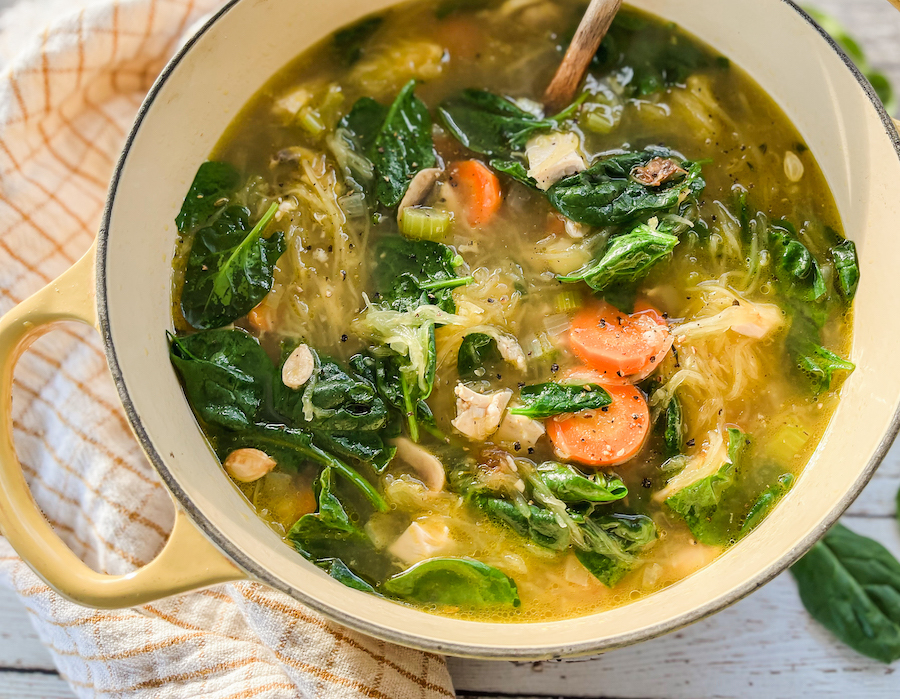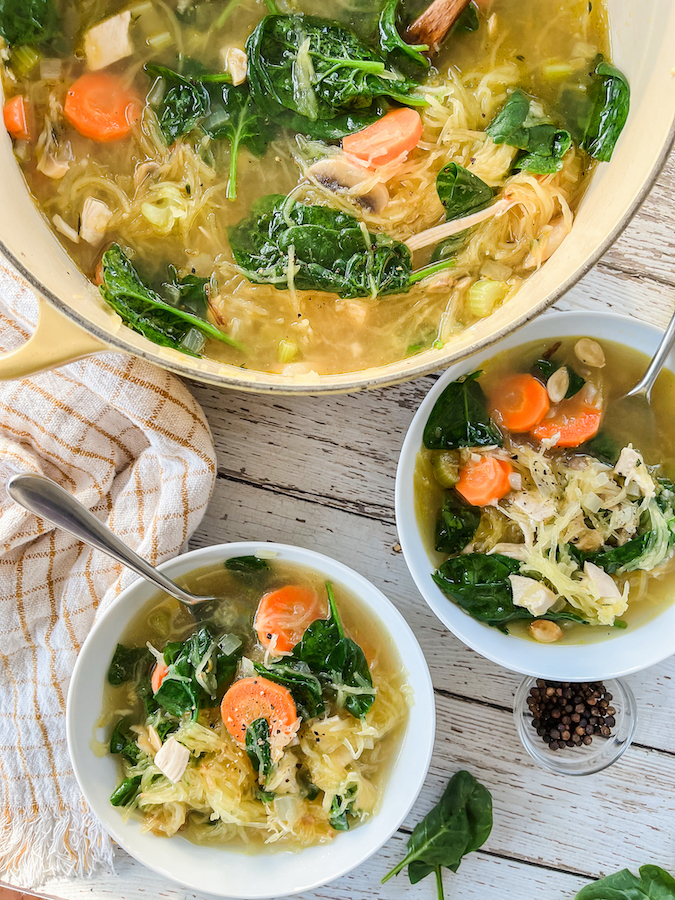 For hundreds of pure Paleo recipes be sure to check out The Real Paleo Diet Cookbook  and Real Paleo Diet Fast and Easy.
Details
Serves:

8

Prep Time:

15 minutes

Cook Time:

50 minutes

Total Time:

1 hour 5 minutes
Print this Recipe
Ingredients
1 spaghetti squash

3 tbsp olive oil, divided

1 small yellow onion, diced

1 cups carrots, chopped

1 cups celery, chopped

3 garlic cloves, pressed or minced

1 cups mushrooms, sliced

1 tsp fresh thyme

Pinch of red pepper flakes

8 cups homemade vegetable stock, salt-free

4 cups cooked chicken, cubed or shredded

2 cups baby spinach

Black pepper, to taste
Directions
Preheat the oven to 400°F. Slice the spaghetti squash into half lengthwise and scoop the seeds out. Rub with 1 tablespoon of the olive oil and place the squash cut side down on a baking sheet. Roast for 40-50 minutes, or until tender.

Meanwhile, warm the remaining 2 tablespoons of olive oil in a large pot over medium heat. Add the chopped onions, carrots, celery and garlic. Cook until soft, about 5 minutes. Add the mushrooms, thyme and red pepper flakes, stir, and cook for another 5 minutes.

Pour in the broth and bring to a boil, then reduce heat to medium-low and cover the pot with the lid slightly ajar. Let the soup simmer for 10 minutes.

Add the chicken and simmer for another 10 minutes or so. When the squash is done, use a fork to scrape out the strands. Add the squash to the pot along with the baby spinach. Let it cook for a minute to wilt the spinach. Taste and season with pepper or more red pepper flakes as needed.