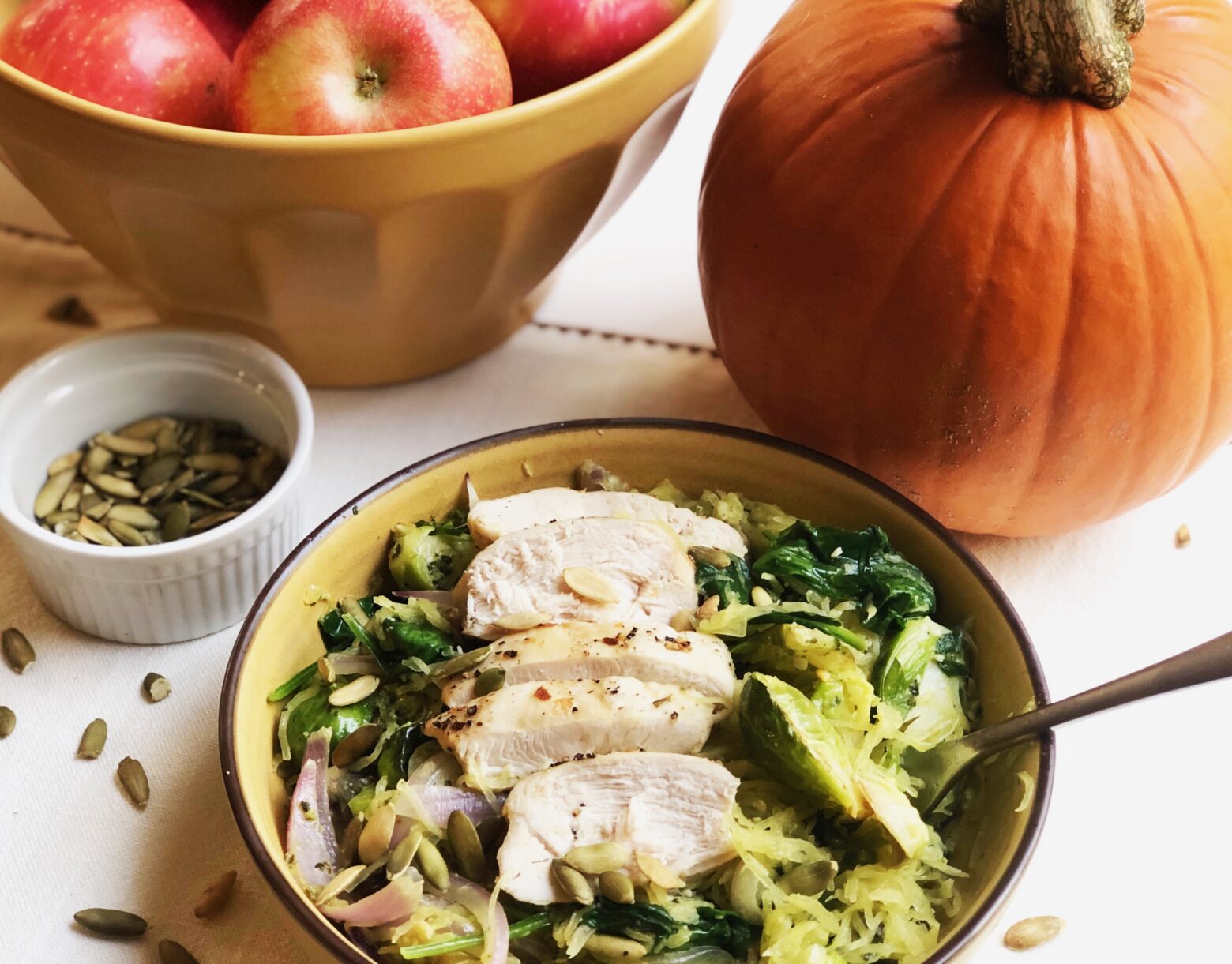 Spaghetti Squash Bowl with Chicken & Fall Veggies
Celebrate fall with this hearty spaghetti squash dish! It's topped with Brussels sprouts, mushrooms, spinach, and crunchy pumpkin seeds for a tasty and nutritious meal.
If you're missing pasta on the Paleo diet, this dinner is sure to satisfy. Spaghetti squash is the ultimate nutrient-dense replacement for noodles, as it's full of fiber and vitamins and low in calories.
Start by getting the spaghetti squash roasted. Depending on its size, it could take 40 minutes to an hour to cook it all the way through. If time is a factor, choose a squash on the smaller side—closer to one pound rather than two.
Once you get the squash halved, seeded, and roasting in the oven, prep the Brussels sprouts by slicing them, then tossing them in olive oil and black pepper. Add them to another roasting sheet and cook alongside the squash to save time.
We recommend making this dish when you already have cooked chicken waiting in the fridge. If you're starting from scratch, though, add whole chicken breasts to the oven. Simply cover with olive oil and black pepper and add to a separate pan—most chicken breasts will be done in 30 minutes. You could also halve the breasts and add them to the pan with the Brussels sprouts to get both done in about 20 minutes.
Once everything is roasting, make the pesto sauce by blending basil, garlic, pine nuts, olive oil and lemon juice in a blender or food processor. You can also add a bit of crushed red pepper if you like your pesto a bit spicy. Set aside.
To bring everything together, get a skillet nice and hot and add some garlic, red onion slices, and whatever variety of mushrooms you like. Add the cooked squash noodles, the cooked Brussels sprouts, slices of cooked chicken, and spinach. Add half the pesto sauce and mix well to combine. Heat until the spinach has just wilted.
Serve your veggie bowl topped with crunchy pumpkin seeds and a drizzle of the remaining pesto sauce.
Tip: This recipe is very versatile! You can skip the chicken to make it vegan-friendly, swap the Brussels sprouts for cauliflower, or add kale instead of spinach.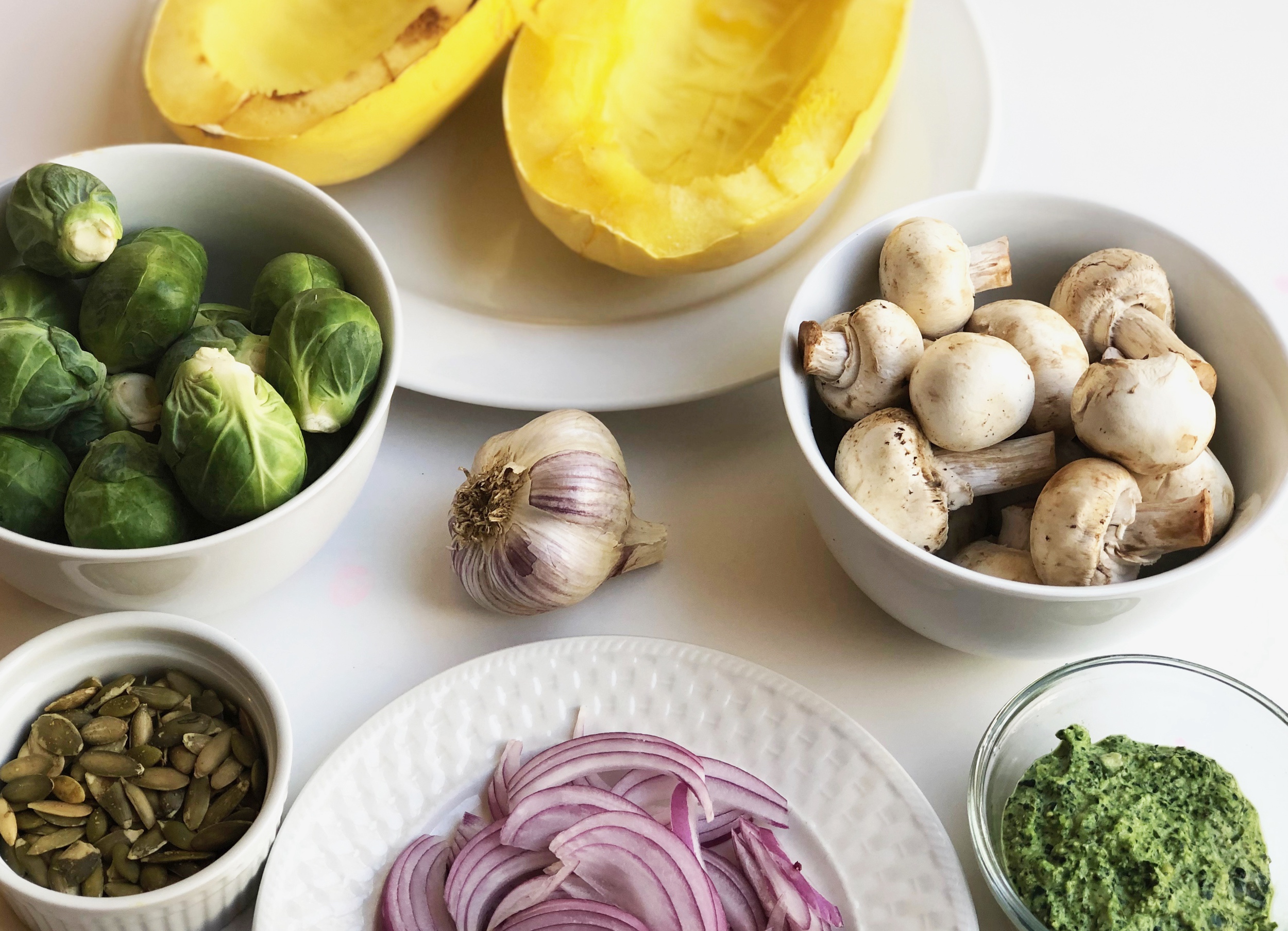 For hundreds of pure Paleo recipes be sure to check out  The Real Paleo Diet Cookbook  and  The Real Paleo Diet Fast and Easy.
Details
Prep Time:

15 minutes

Cook Time:

1 hour 20 minutes

Total Time:

1 hour 35 minutes
Ingredients
1 spaghetti squash

4 tbsp and .25 c olive oil, divided

2 tsp black pepper, divided

2 cups Brussels sprouts, sliced

2 cups basil leaves

3 garlic cloves, minced, divided

1/4 cups pine nuts or walnuts

Juice of 1/2 lemon

1/2 red onion, thinly sliced

2 cups mushrooms, sliced in half

1 tsp crushed red pepper

1 lb precooked chicken, sliced

2 cups baby spinach

Pumpkin seeds for garnish
Directions
Preheat the oven to 400°F. Cut the spaghetti squash in half, remove the seeds, and rub the flesh with 1 tablespoon of olive oil and 1 teaspoon of black pepper.

Place the squash cut side down on a baking tray. Bake for about 1 hour, depending on the size of squash. When the squash is ready, the strands will easily pull away from the inside of the squash. Let it cool for about 15 minutes before scraping the "noodles" into a bowl.

Toss the Brussels sprouts with another tablespoon of olive oil and a teaspoon of black pepper. Generously grease a baking sheet and add the Brussels sprouts in an even layer. Roast for 20 minutes.

Next, make the pesto sauce: Add the basil, one garlic clove, pine nuts, ¼ cup of olive oil, and lemon juice to a blender or food processor and mix until combined.

Add the remaining 2 tablespoons of olive oil to a skillet and set over medium heat. Add the remaining two minced garlic cloves and cook for 1 minute, then add the red onions and cook for 2 minutes. Pour in the mushrooms and cook for 2-3 minutes.

Add the cooked squash to the pan and let it cook for 5 minutes, adding more olive oil as needed. Add the cooked Brussels sprouts, precooked chicken and spinach, then pour in in 1/2 of the pesto sauce. Mix it and let it cook for another 2 minutes, making sure not to overcook the spinach. 

Serve hot garnished with pumpkin seeds and a drizzle of the remaining pesto sauce.