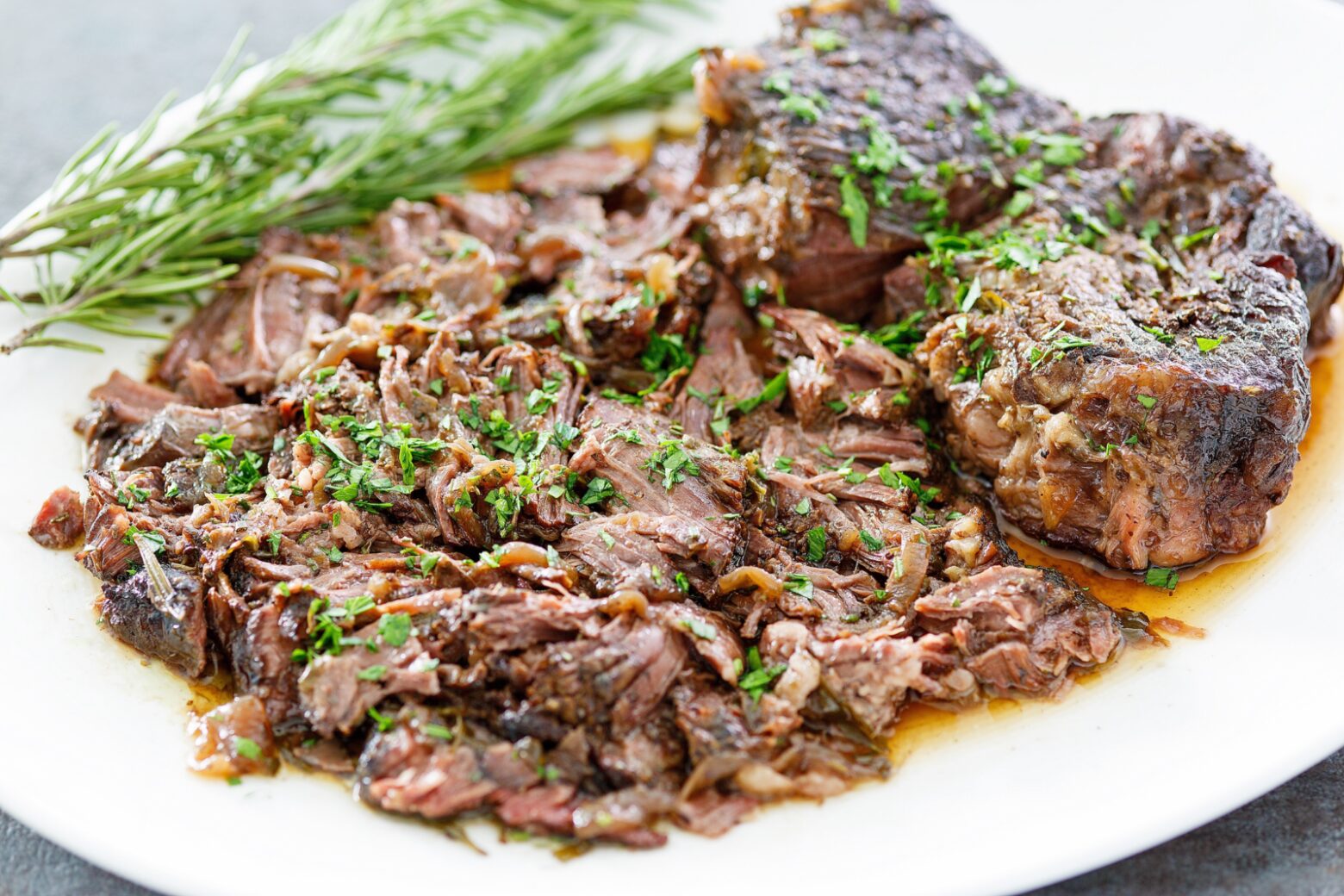 Slow Cooker Beef Roast with Red Wine
Tender beef roasted in red wine is the ultimate comfort food. Here's how to make it in a slow cooker with just a few minutes of prep!
While you can dump everything in the crockpot and crank it up, that doesn't always produce the best result. This recipe adds just a few simple steps to ensure a superior final dish.
First, be sure to brown the meat before adding it to the slow cooker. Thoroughly coat the roast in olive oil, then season with freshly cracked black pepper, and finally sear evenly on all sides. This helps add flavor and dimension to the roast, while sealing in the juices. Add the roast to the crockpot and set aside.
Next, brown the onions and garlic in the same pan on the stovetop to get a nice caramelization started before topping it over the roast.
Finally, prepare the cooking liquids: mix beef bone broth with red wine and season with either fresh or dried rosemary, basil, oregano, and bay leaves. The alcohol in the wine will cook out, and infuse your beef with a fragrant, rich flavor that can't be replicated. Just be sure to use sulfite-free wine for the best health benefits (a list of safe wine producers can be found here.)
Set your crockpot to low and let it cook for at least 5-6 hours, or until the beef can be easily shredded with a fork.
Serve immediately as a main dish with your favorite veggie side, like this roasted cauliflower. Store leftovers in the fridge for up to one week and use to enjoy on salads, in Paleo-friendly tacos or sandwiches, or alongside eggs in a savory breakfast hash.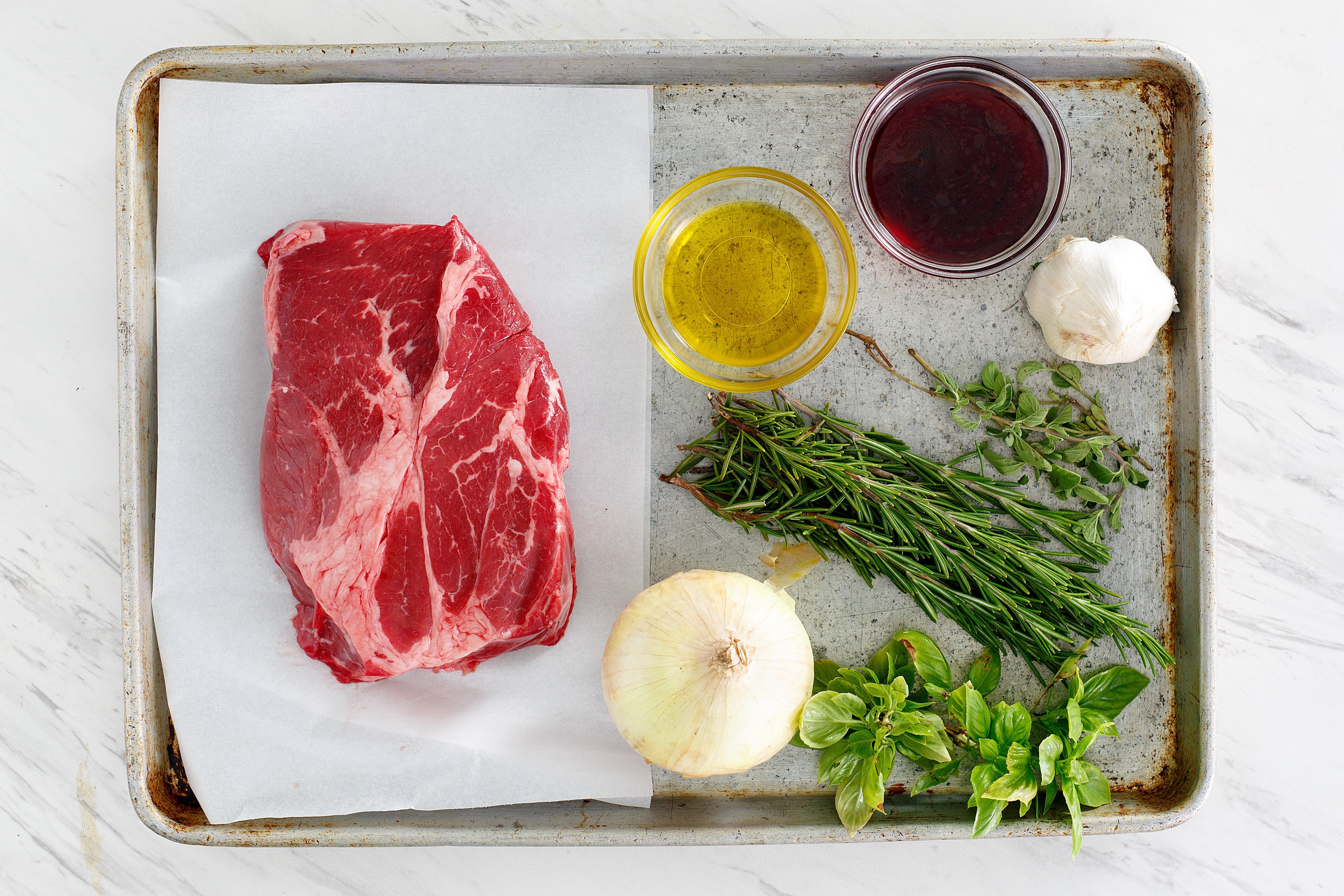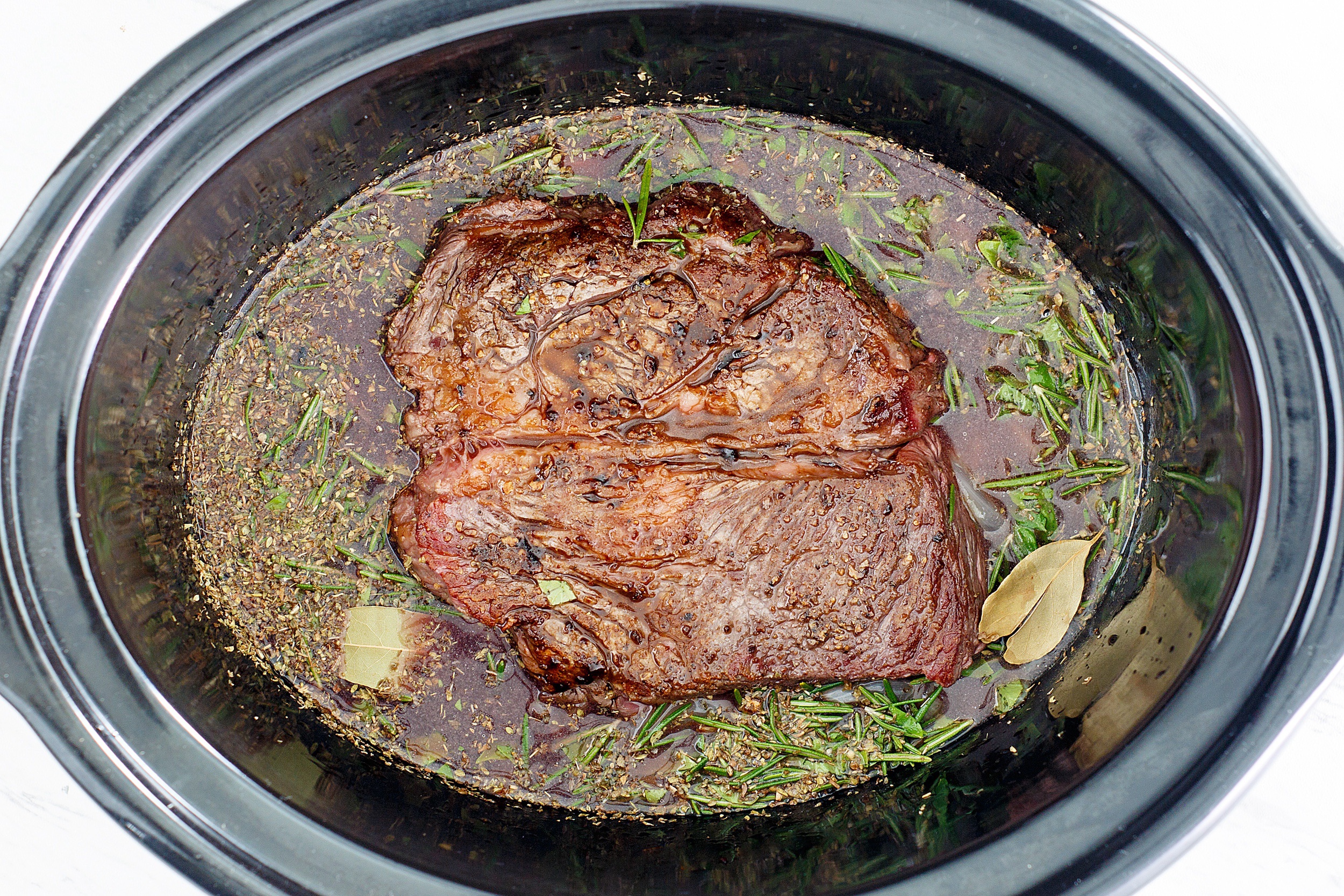 For hundreds of pure Paleo recipes be sure to check out  The Real Paleo Diet Cookbook  and  The Real Paleo Diet Fast and Easy.
Details
Prep Time:

15 minutes

Cook Time:

6 hours

Total Time:

6 hours 15 minutes
Ingredients
3 lb beef round roast

2 tbsp plus 1/4 c extra virgin olive oil

1 tbsp black pepper

1 large yellow onion, thinly sliced

3 cloves fresh garlic, minced

1 cups beef bone broth

1 cups sulfite-free red wine

2 tbsp fresh rosemary leaves

2 tbsp fresh basil leaves, minced

1 tbsp fresh or dried oregano leaves

3 whole bay leaves

Fresh parsley, for garnish
Directions
Lightly rub the roast with 1 tablespoon of the olive oil and sprinkle with black pepper.

Heat a shallow pan over medium heat. Add the roast and cook, turning every 1-2 minutes until evenly browned. Set the beef in a slow cooker.

Add another tablespoon of olive oil to the pan. Add the onions and garlic and cook until onions are slightly softened. Add onions and garlic to the slow cooker.

In quart sized measuring cup, combine ¼ cup olive oil, bone broth, and wine, stirring thoroughly. Mix in rosemary, basil, and oregano, then add bay leaves. Pour the mixture over the roast.

Slow cook on low heat for 5-6 hours. Remove roast to a cutting board and shred with two forks. Return to the slow cooker to toss in the juices to keep it moist. Garnish with freshly chopped parsley.