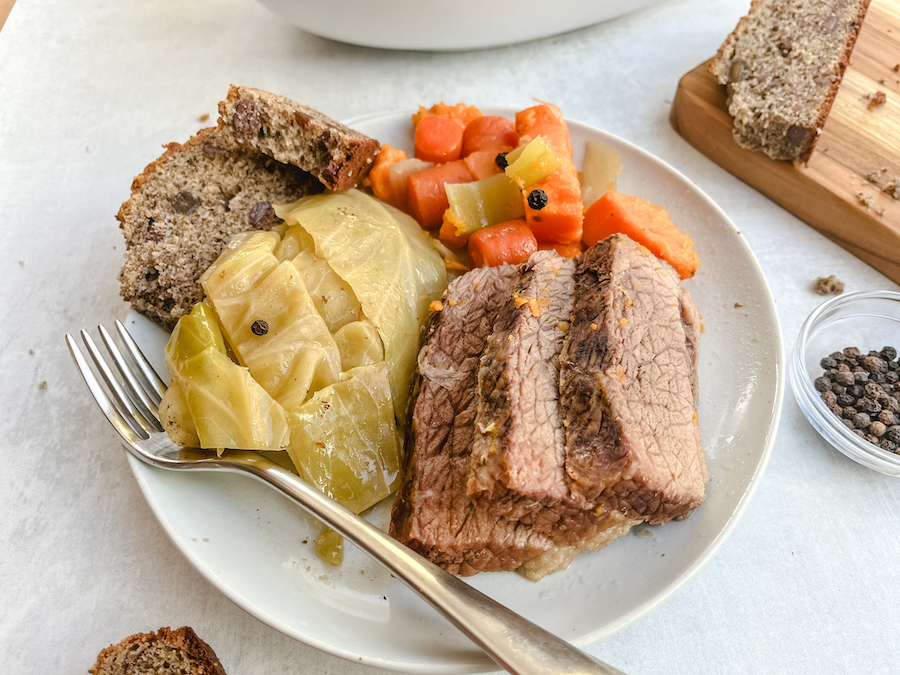 Slow Cooker Beef Brisket
Beef brisket cooks low and slow in bone broth for an ultra-tender and nutritious dinner.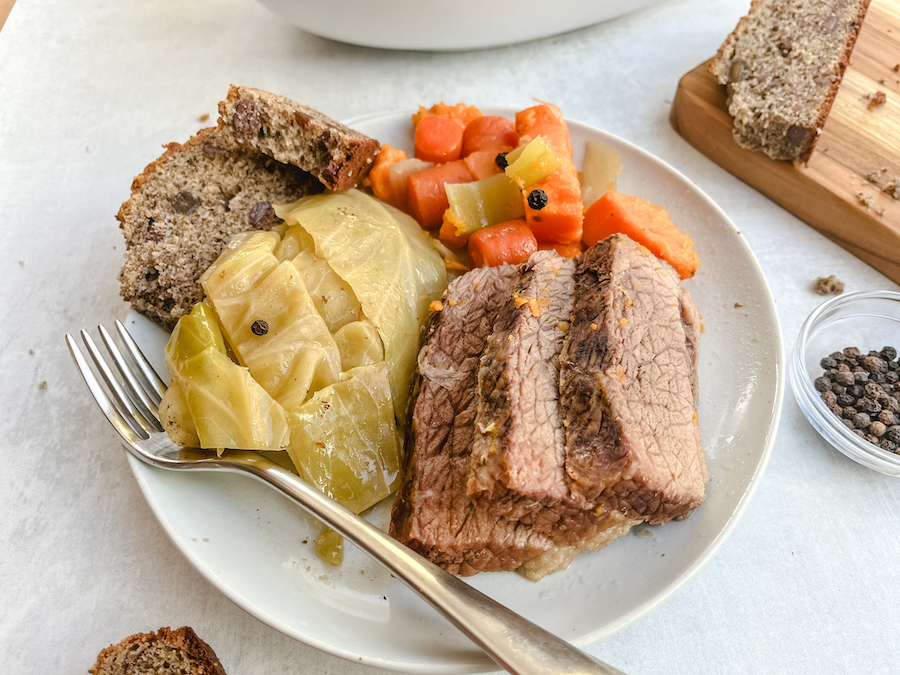 In this Beef Brisket Slow Cooker recipe, we cook the brisket low and slow with bone broth until ultra-tender, then serve it with hearty, savory veggies.
If brisket is one of your BBQ staples, we have good news for you – it's easy to make at home in your slow cooker. Since it's a tough cut of meat, it requires low and slow cooking until it's deliciously fork-tender. When you add aromatic veggies and a few cups of nutritious bone broth to the mix, the final product is nothing short of classic comfort food.
This slow cooker beef brisket is super easy to bring together. Simply season the beef with peppercorns and add to the crockpot. Pour in water and the bone broth (or sodium-free beef stock), and add roughly chopped onions, celery, sweet potatoes, and garlic. We like adding the garlic cloves whole, but you can chop or mince them if you prefer.
You can cook the brisket on High for 4-5 hours if you want it done sooner, but ideally, you'll want to slow cook it on Low for 6-8 hours. The lower and slower you go, the more tender your beef will be.
When you're about half an hour away from the timer, add the chopped cabbage to the slow cooker. This will ensure it cooks just enough and doesn't get too soggy from overcooking.
Use two forks to remove the beef, and slice as thick or thin as you like. Use a slotted spoon to remove the veggies from the broth, and serve alongside the sliced beef.
For a full Irish meal, serve alongside slices of gluten-free soda bread.
Tip: You can refrigerate leftovers in an airtight container in the fridge for up to four days.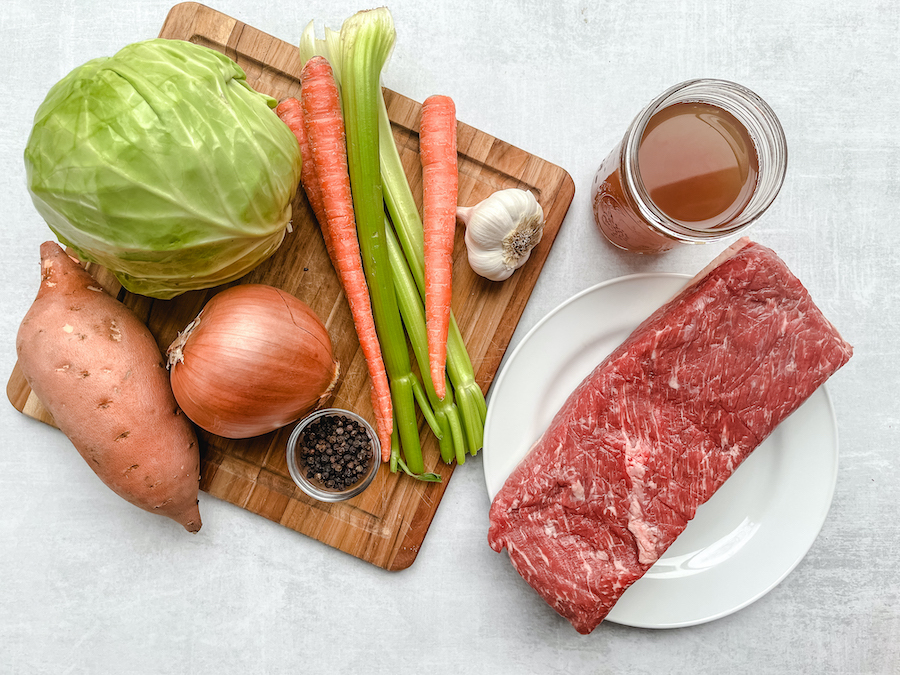 For hundreds of pure Paleo recipes, check out The Real Paleo Diet Cookbook and  Real Paleo Fast and Easy!
Details
Serves:

6

Prep Time:

5 minutes

Cook Time:

4 hours

Total Time:

4 hours 5 minutes
Print this Recipe
Ingredients
3 lb beef brisket

1 tsp peppercorns

2 cups water

2 cups beef bone broth

1/2 cups yellow onion, roughly chopped

2 carrots, chopped

3 celery stalks, chopped

1 sweet potato, peeled and chopped

4 garlic cloves

1/2 head of green cabbage, quartered
Directions
Place the brisket in the slow cooker and sprinkle with peppercorns. Pour the water and broth around the brisket.

Add the onions, carrots, celery, sweet potatoes and garlic. Cover and cook on Low for 6-8 hours, or High for 4-5 hours.

About 30 minutes before the beef is done, add the cabbage. Cover and continue cooking until done.

Remove the beef brisket and slice. Use a slotted spoon to remove the vegetables from the slow cooker, and serve alongside the beef.