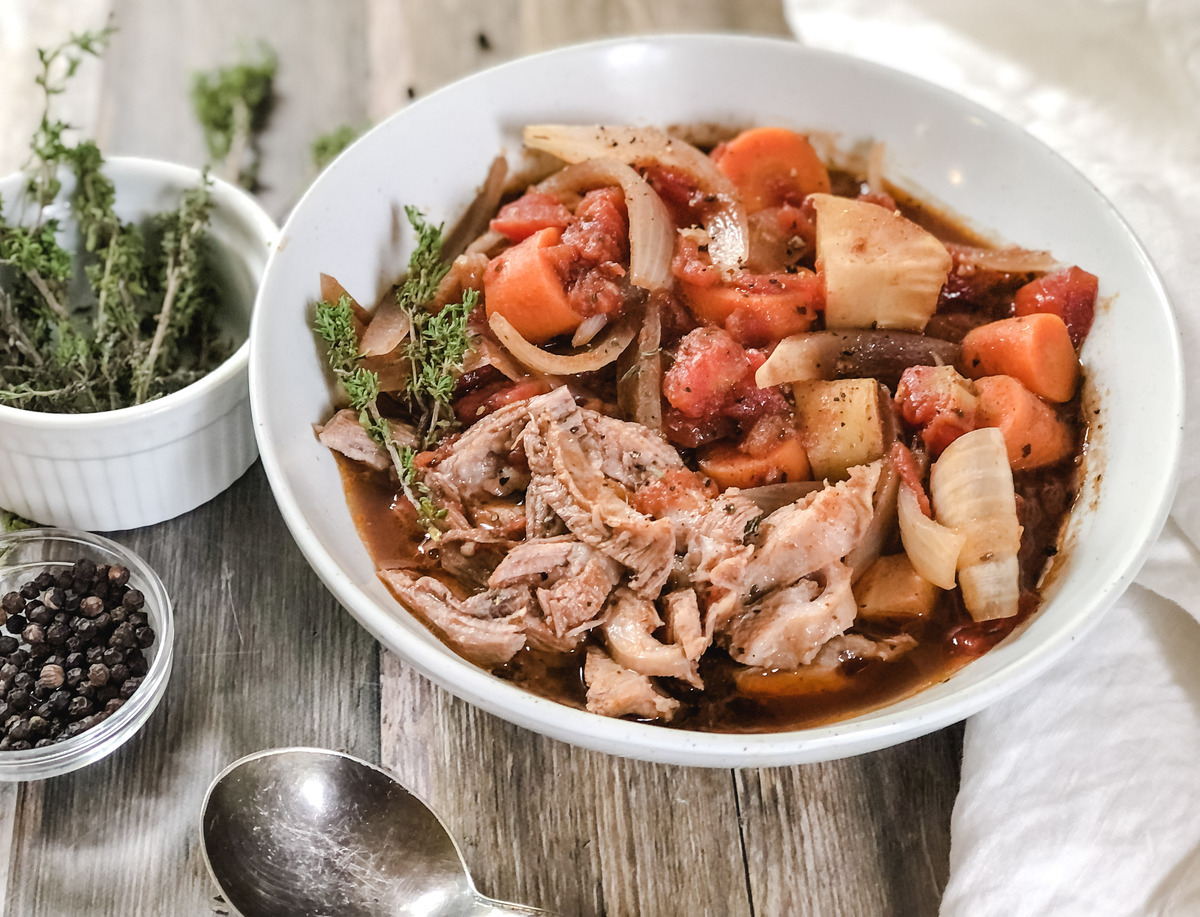 Slow Cooked Pork Ribs with Carrots & Turnips
Let your slow cooker do all the work to make these fall-off-the-bone ribs!
We love a good rack of ribs, but sometimes you want something just a little less messy. This easy slow cooker recipe creates amazingly tender meat that falls right off the bone, so you can enjoy it as a hearty stew!
While you can dump everything right into your crockpot and forget about it, we recommend taking a bit of extra time upfront to sear the ribs in a skillet. This helps create a nice brown crust, locking in moisture while caramelizing the meat. If you're using an Instant Pot, you can also just use the sear function, before setting it to slow cook.
Next, cover the meat with canned tomatoes (be sure to use BPA-free cans of diced tomatoes, without any added salt), and stir in a bit of white vinegar, garlic, onions, and spices. For best results, set to low and cook for six hours. If you need dinner a bit sooner than that, set to high heat instead — it should be ready within four hours.
For the last hour and a half of cooking, add roughly chopped carrots and turnips. You don't want them to get mushy, so don't add them any sooner than that! You could also easily add in or substitute other hearty root veggies, like sweet potatoes, radishes, or even fennel.
When your ribs and veggies are tender and cooked all the way through, turn off the slow cooker and remove the ribs. Use a fork to remove the meat from the bones — they should slip right off! Add the meat back to the slow cooker and give it a final stir. Serve with your favorite Paleo-friendly green salad for the ultimate hearty Paleo meal.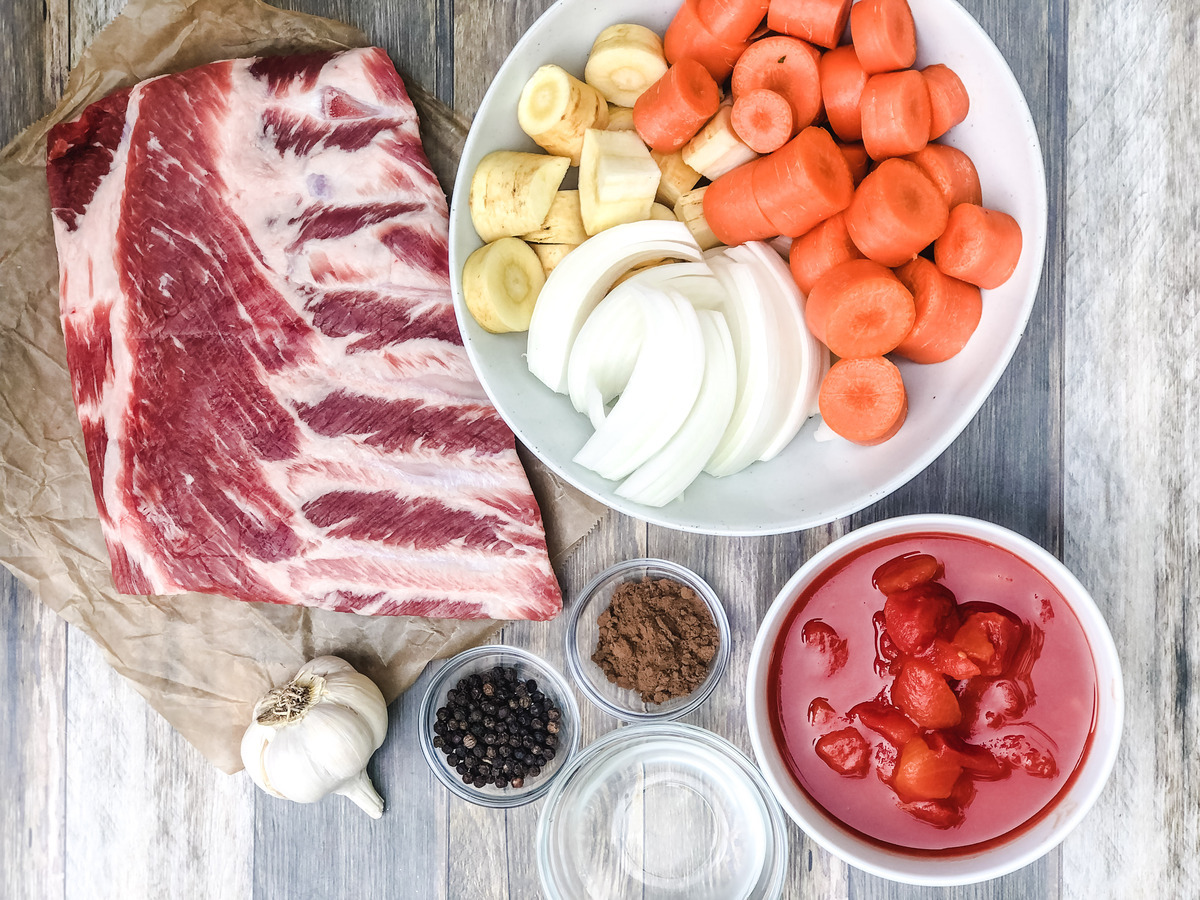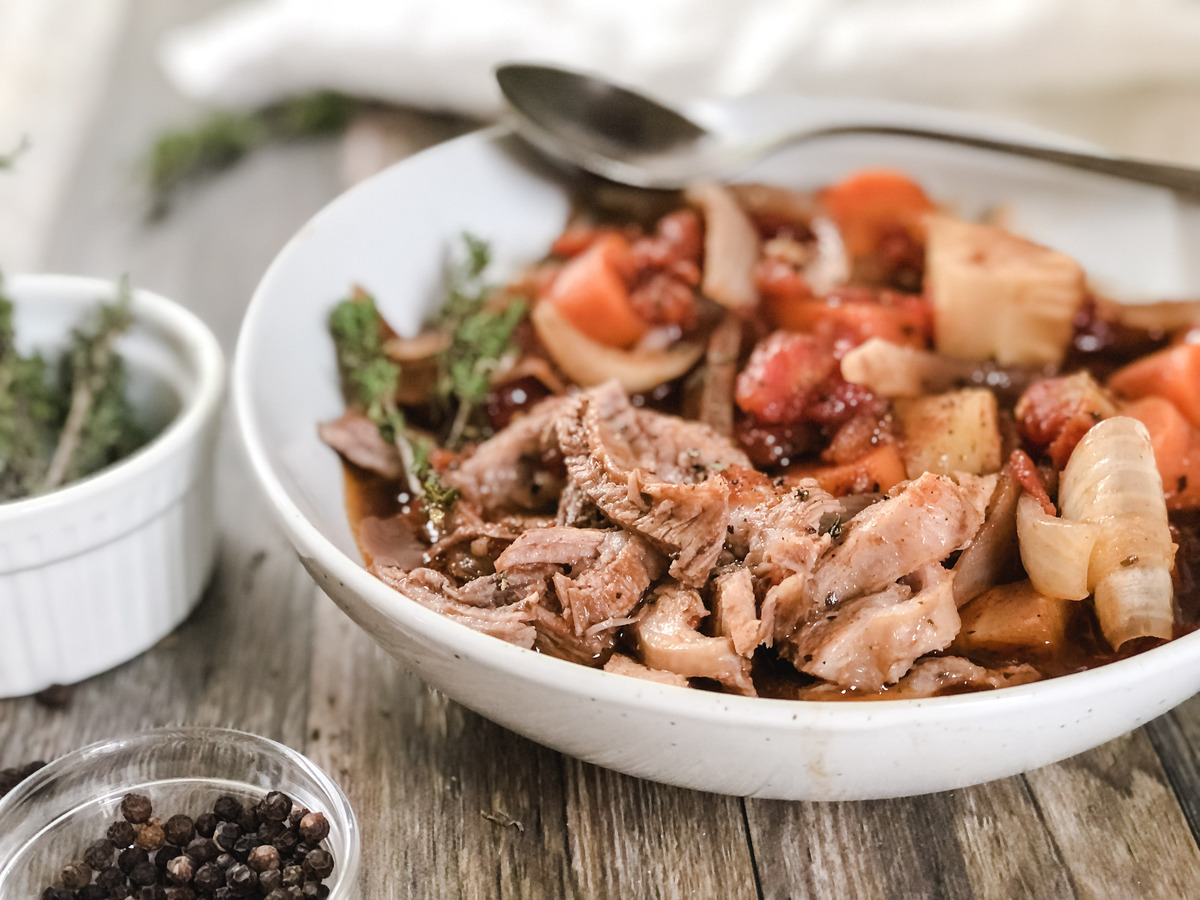 For hundreds of pure Paleo recipes be sure to check out  The Real Paleo Diet Cookbook  and  The Real Paleo Diet Fast and Easy.
Details
Prep Time:

10 minutes

Cook Time:

4 hours 20 minutes

Total Time:

4 hours 30 minutes
Ingredients
3 lb pork ribs, cut into 2-3 ribs each

2 cans diced tomatoes

1/4 white wine vinegar

1 tbsp allspice

4 cloves garlic, pressed

1 white onion, sliced

Freshly milled black pepper

4 turnips, roughly chopped

4 carrots, roughly chopped
Directions
Heat a large skillet over medium heat. Add the ribs in batches and cook about 5-10 minutes per side, until they brown slightly. Add the browned ribs to the slow cooker.

Add the tomatoes, vinegar, allspice, garlic, black pepper, and onions to the slow cooker. Set on high for about 4 hours, or low for about 6 hours.

During the last hour (on high setting) or the last 1½ hours (on low setting), stir in the carrots and turnips.

Remove the ribs from the slow cooker and remove the meat from the bones. Add the meat back to the slow cooker and stir. Serve hot.