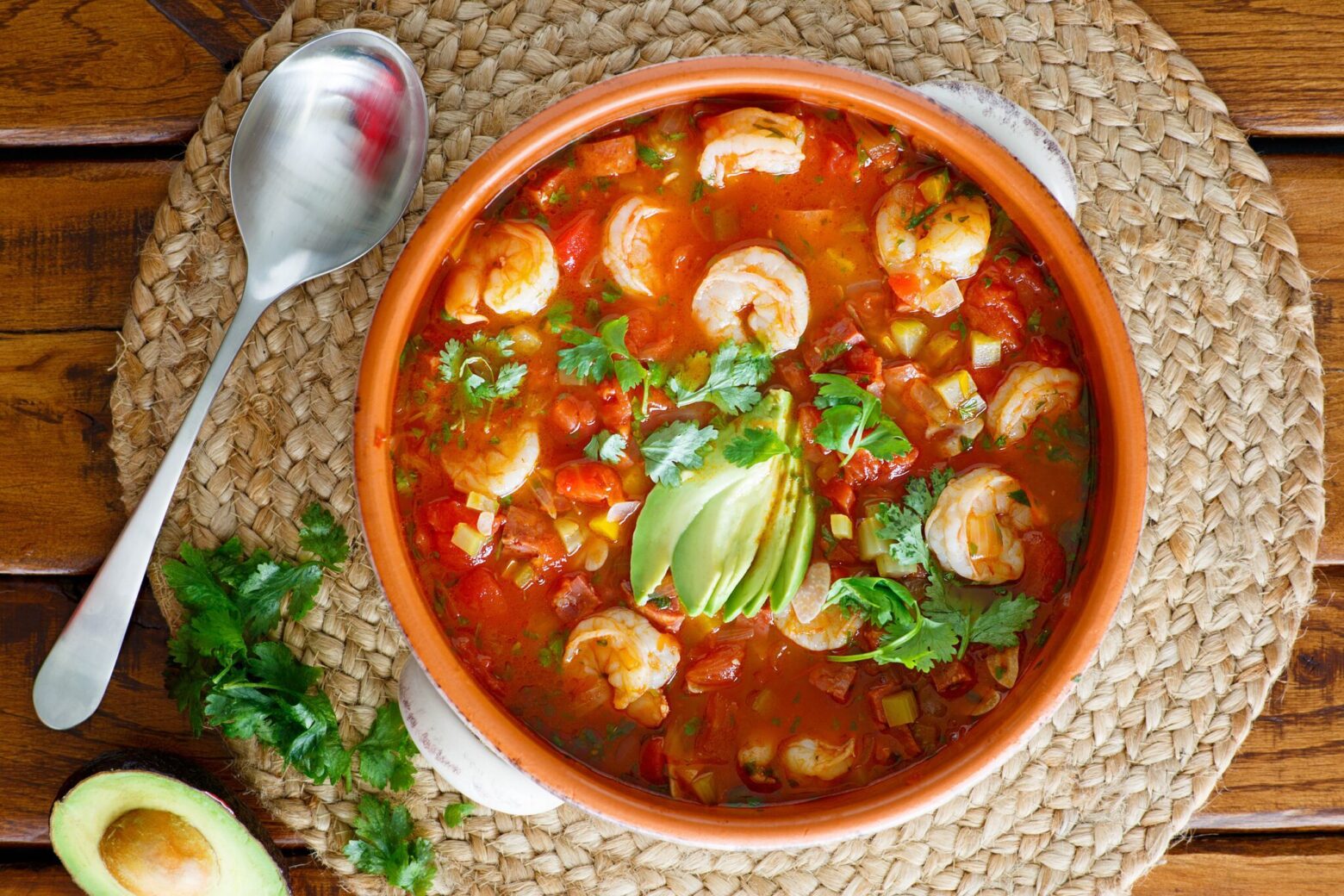 Rosemary Pork & Spicy Shrimp Soup
After a day spent enjoying your active Paleo lifestyle, this soup has everything you need to relax and recharge. Protein, veggies, and spices in perfect harmony, make this a favorite in our kitchen.
For hundreds of pure Paleo recipes be sure to check out  The Real Paleo Diet Cookbook  and  The Real Paleo Diet Fast and Easy.
Ingredients
12 oz ground pork

1 tbsp freshly ground pepper

1 tbsp dried sage

1 tbsp dried rosemary

1 tbsp plus 1 tsp avocado oil, divided

1 medium onion, diced

3 celery ribs, sliced into 1/4-in pieces

1 red, orange, or yellow bell pepper, diced

4 cloves garlic, thinly sliced

1 tbsp salt-free tomato paste

1 1/2 tsp smoked paprika

1 tsp ground coriander

1 (28-ounce) can salt-free diced tomatoes or 2 lbs fresh tomatoes

1 quart salt-free chicken broth

1 lb shrimp, peeled, deveined, and chopped

2 tbsp minced fresh cilantro

1 avocado, diced or sliced, for serving

Chopped fresh cilantro, for garnish
Directions
In medium sized bowl, thoroughly combine pork, pepper, sage, and rosemary. Set aside.

Heat 1 tablespoon of the avocado oil in a large, heavy-bottomed pot over medium-high heat.

When the oil is shimmering, add the onion, celery, and bell pepper and cook for 6 to 8 minutes, stirring occasionally until the onion is translucent.

Add the garlic, three-quarters of the seasoned pork, tomato paste, smoked paprika, and coriander. Cook for 1 minute, stirring constantly, until very fragrant.

Add the tomatoes and cook for 5 minutes.

Add broth and bring to a simmer.

Cook, uncovered, for 20 minutes.

Meanwhile, in a small sauté pan, heat the remaining teaspoon of avocado oil over high heat.

When the oil is hot, add the remaining seasoned pork and cook for 5 minutes, or until crispy.

Set aside to drain on paper towels.

Taste the soup and add additional smoked paprika, and coriander to reach desired taste.

Add the shrimp and simmer until just cooked through, 3 to 4 minutes.

Remove from the heat, stir in the minced cilantro, and serve topped with the crispy pork, avocado, and chopped cilantro.