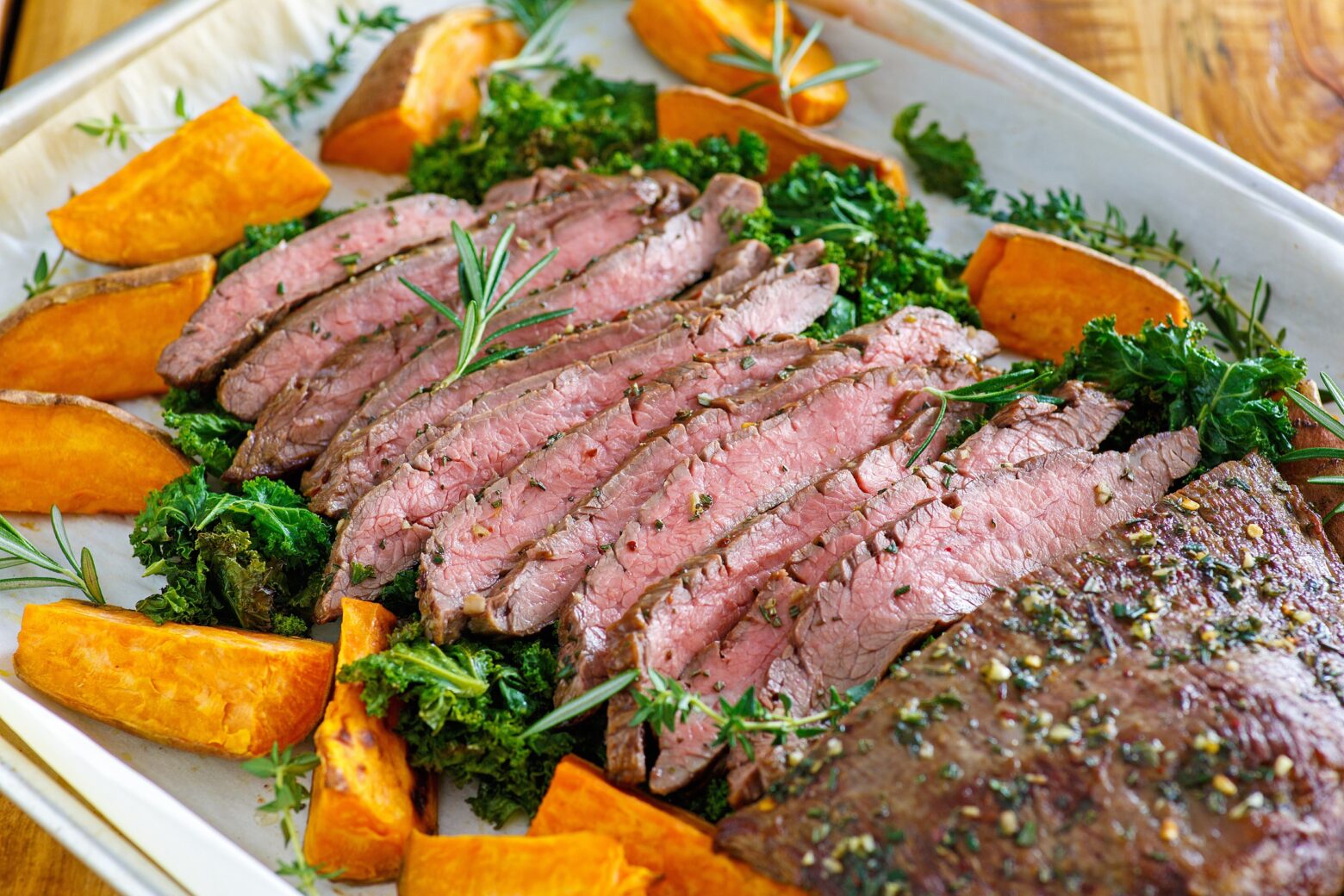 Sheet Pan Flank Steak with Kale and Roasted Sweet Potato
Get ready to indulge your taste buds with this protein and nutrient packed meal. The natural color combinations alone, make this a dish with an impressive presentation you will be proud to put on your dining table. If you are looking for a complete Paleo meal, this recipe does the job with the perfect combination of protein, greens, and carbs. Enjoy!
For hundreds of pure Paleo recipes be sure to check out The Real Paleo Diet Cookbook  and  The Real Paleo Diet Fast and Easy.
Ingredients
1 1/2 lb flank steak

2 garlic cloves, minced

2 tsp rosemary

2 tsp chopped fresh thyme

1 tsp crushed red pepper

3 large sweet potatoes, cut into wedges

1 tsp black pepper, divided

1/4 plus 2 tbsp extra-virgin olive oil, divided

2 bunches kale (about 16 oz.), stemmed and chopped
Directions
Place flank steak in a large ziplock plastic freezer bag.

Stir together garlic, rosemary, thyme, crushed red pepper, and 1/2 teaspoon of the black pepper in a small bowl.

Whisk in 1/4 cup of the olive oil, and pour over steak.

Seal bag, and turn to coat.

Chill 30 minutes or up to 24 hours.

Place top oven rack 6 inches from heat. Preheat oven to 450°F.

Stir together potatoes, and remaining 2 tablespoon oil, and 1/2 teaspoon black pepper. Spread in an even layer on a heavy-duty aluminum foil-lined rimmed baking sheet.

Bake potatoes in preheated oven 20 minutes.

Remove from oven, and move potatoes to outer edges of pan. Place kale in center of pan, and top with steak.

Increase oven temperature to broil.

Broil 6 minutes. Turn steak, stir vegetables, and broil 6 minutes more or to desired degree of doneness.

Remove from oven, and let stand 5 minutes.

Cut steak across the grain, and drizzle with pan drippings.

Serve steak with kale and sweet potatoes.