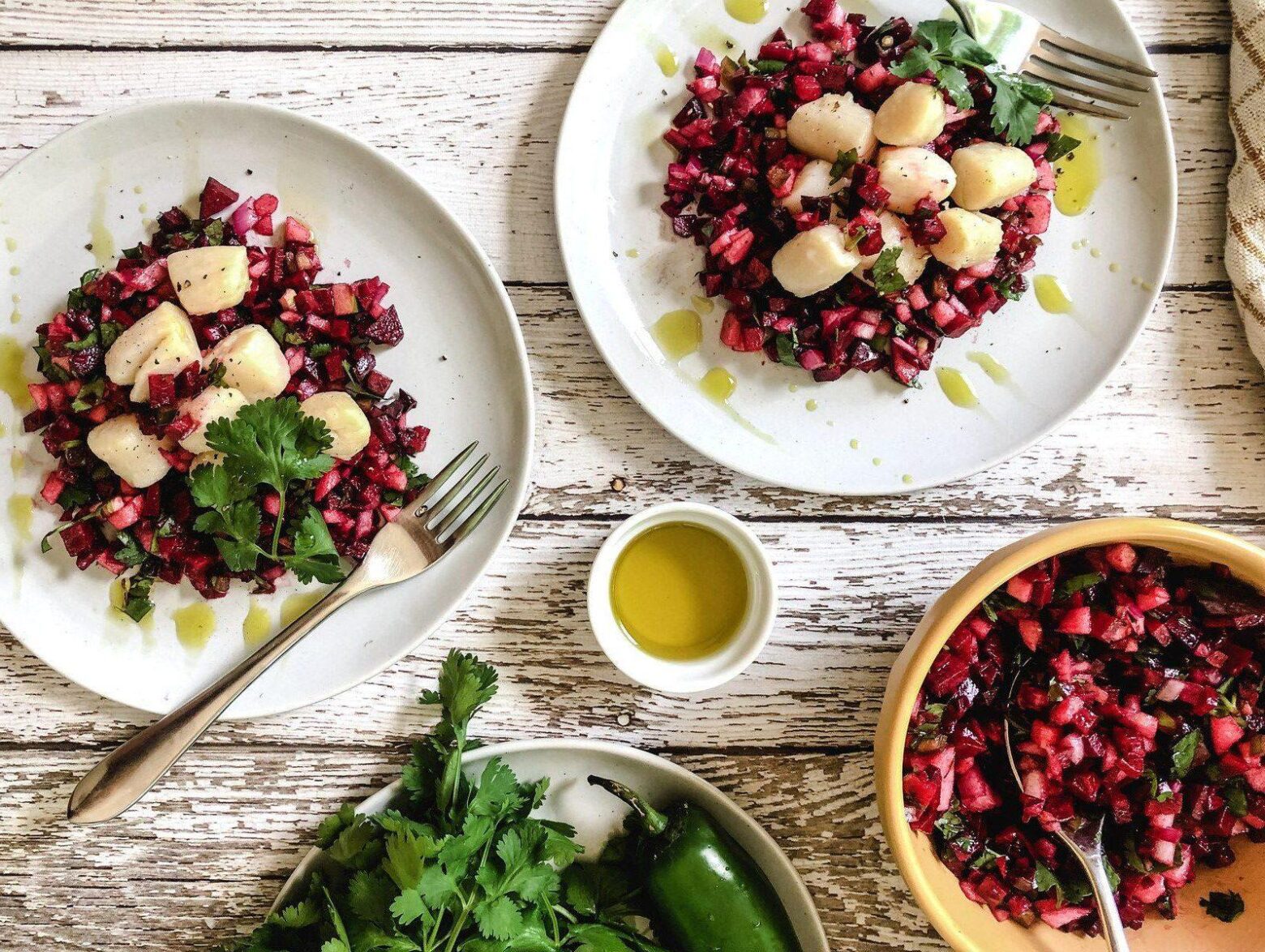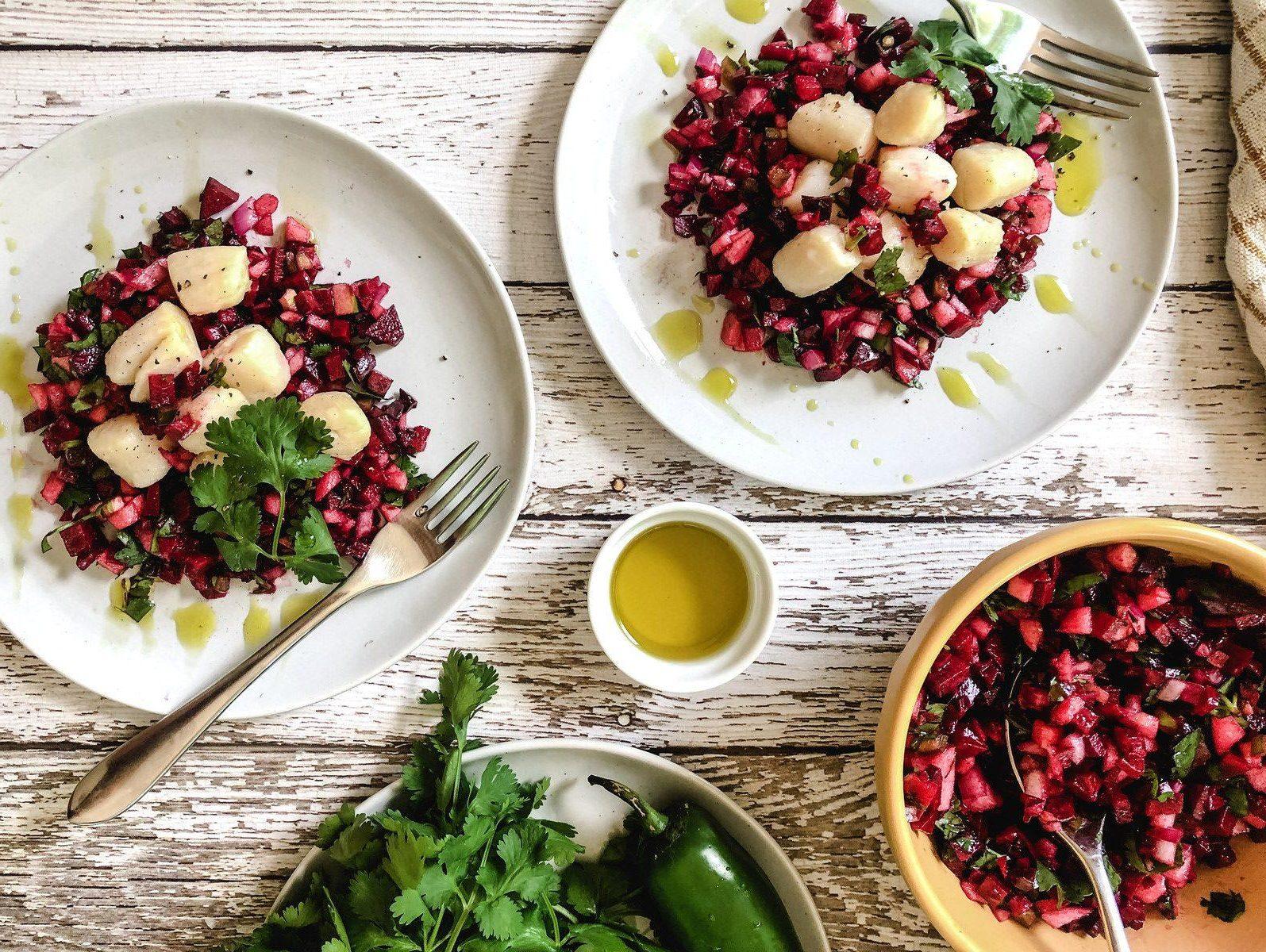 Seared Scallops with Beet Salsa
This mouth-watering recipe stands out among the 250 healthy Paleo recipes in The Real Paleo Diet Cookbook by Dr. Loren Cordain and Lorrie Cordain. We hope you enjoy it as much as we do!
You'll usually find scallops on the menu of a fancy restaurant, but it's not as hard to make them yourself as you might think. Pan-fry them until golden brown, then serve over a bed of beet and apple salsa for a fun and easy twist.
Start with high-quality scallops if you can — the fresher, the better! We used smaller bay scallops for this recipe, but you could easily use larger sea scallops instead. If you're in a pinch, you can even use frozen scallops. Just be sure to thaw them thoroughly before cooking.
There are a few tricks for getting the best crust and soft interior for the perfect pan-seared scallops. First, be sure to dry your scallops really well. Otherwise, you won't get that nice sear on the outside! You'll also want to ensure that the pan is nice and hot before adding them to the pan. Also, let the scallops sear without disturbing them for 2 to 3 minutes, carefully checking before turning.
The beet salsa is really easy to bring together, too — all you need is a few minutes of chopping and stirring. Use a mixing bowl to toss together chopped beets, half of a chopped Granny Smith apple, minced jalapeños, and red onion with fresh cilantro, olive oil, and lime juice. Bring the salsa together first, since you'll want to eat the scallops while they're hot. Even better: Make the salsa a day in advance for the flavors to really marry!
The end result is perfectly seared scallops over a crunchy bed of beet and apple salsa. Easy to bring together, and fancy enough to serve at any dinner party!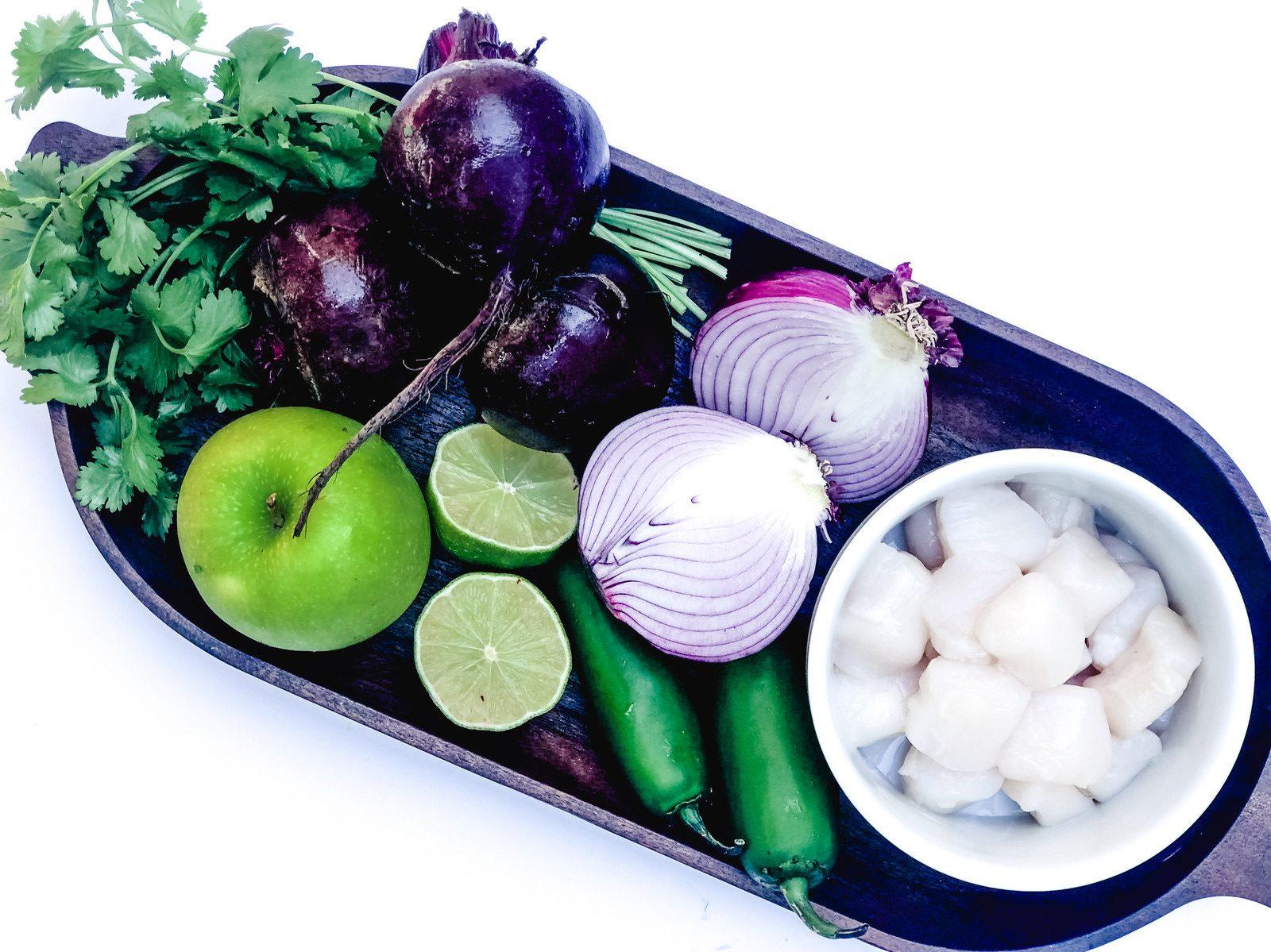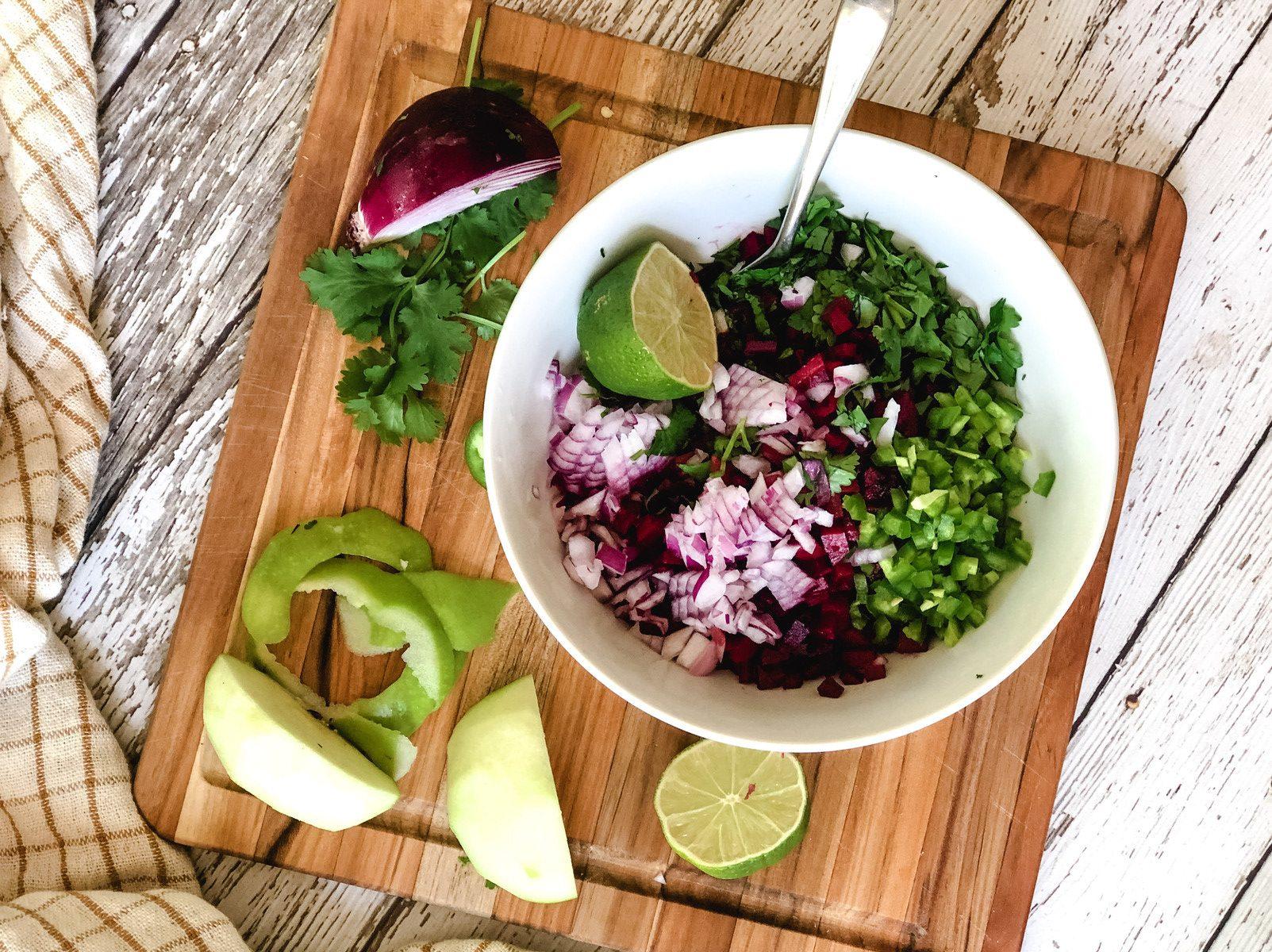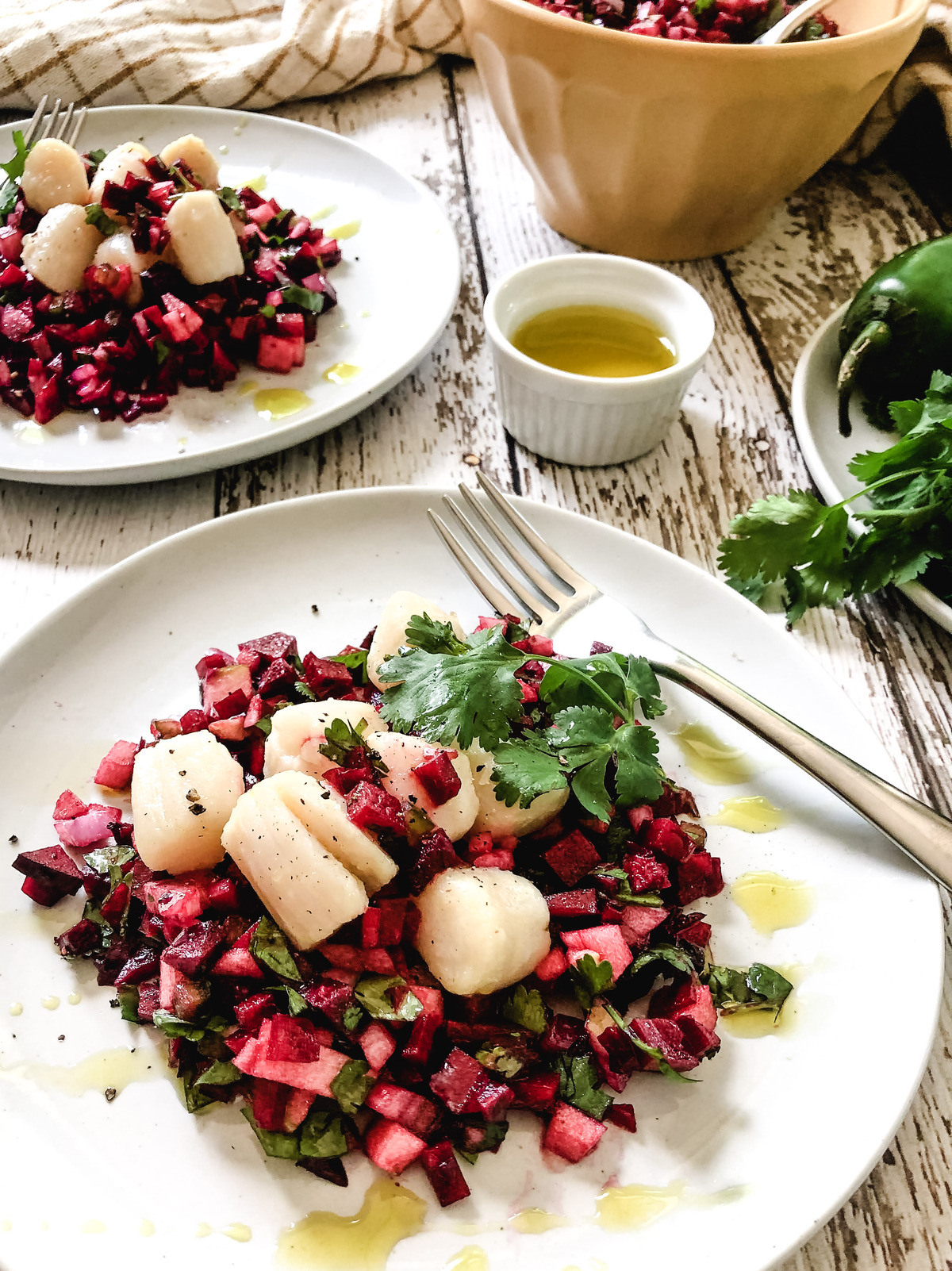 For hundreds of pure Paleo recipes be sure to check out The Real Paleo Diet Cookbook and The Real Paleo Diet Fast and Easy.
Details
Prep Time:

15 minutes

Cook Time:

5 minutes

Total Time:

20 minutes
Ingredients
3 red beets, peeled and chopped

1/2 Granny Smith apple, peeled and chopped

2 jalapeños, stemmed, seeded, and minced

1/4 chopped fresh cilantro

2 tbsp finely chopped red onion

4 tbsp olive oil, divided

1 lb scallops

2 tbsp fresh lime juice

Ground white pepper
Directions
Start by making the beet salsa. In a medium bowl, combine beets, apple, jalapeños, cilantro, red onion, 2 tablespoons of the olive oil, and 2 tablespoons of lime juice. Mix well. Set aside while preparing scallops.

Rinse the scallops and pat dry with paper towels. In a large skillet, heat the remaining 2 tablespoons of olive oil over medium-high heat. Add scallops and sauté for 2 to 3 minutes per side, until golden brown. Sprinkle scallops lightly with white pepper.

Divide beet relish evenly among two plates and top with scallops. Serve immediately.