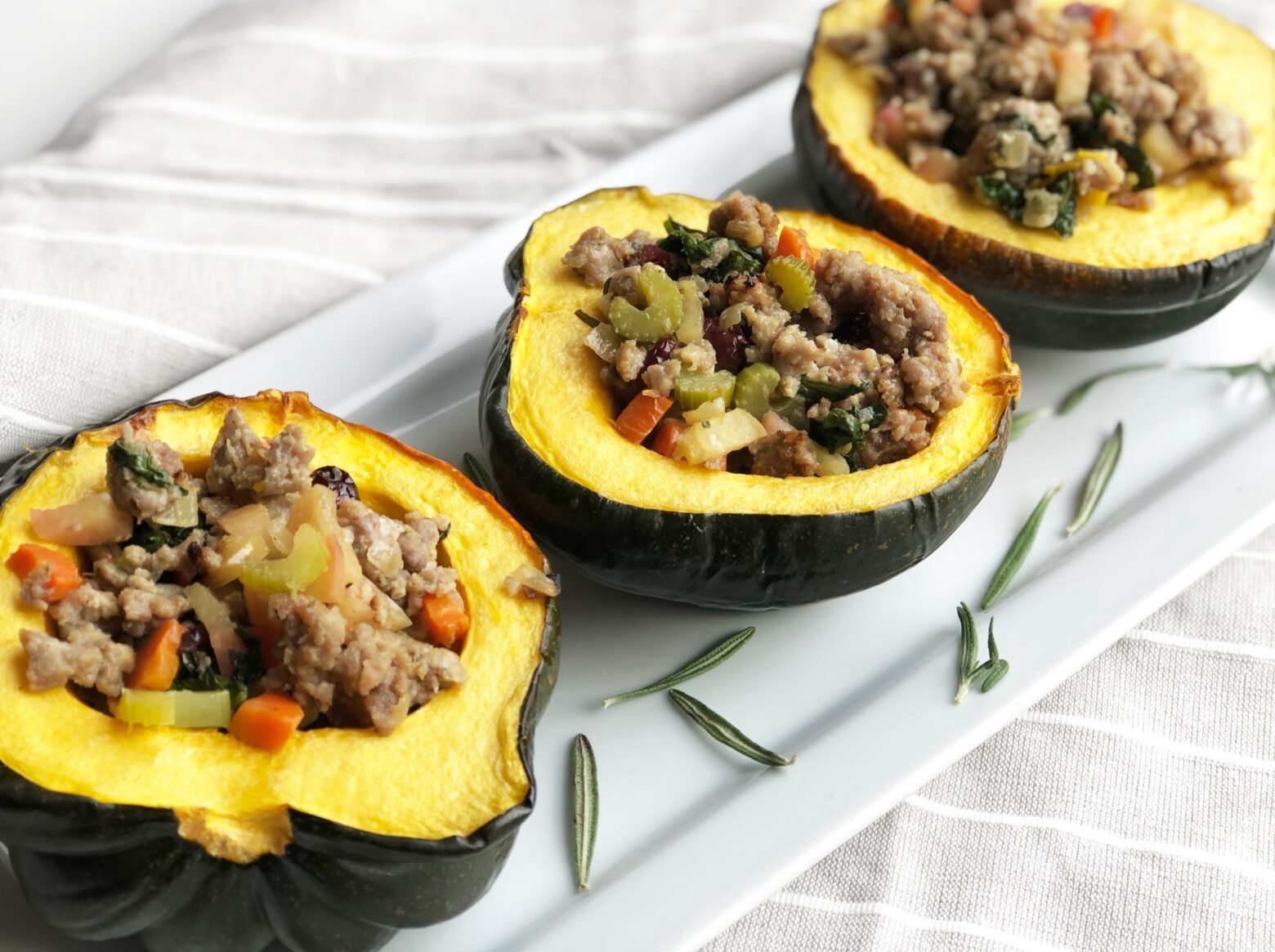 Sausage and Apple Stuffed Acorn Squash
This Paleo recipe fills tender acorn squash with autumn flavors like sweet apple, savory sausage, and fresh sage for an easy, but impressive Thanksgiving side.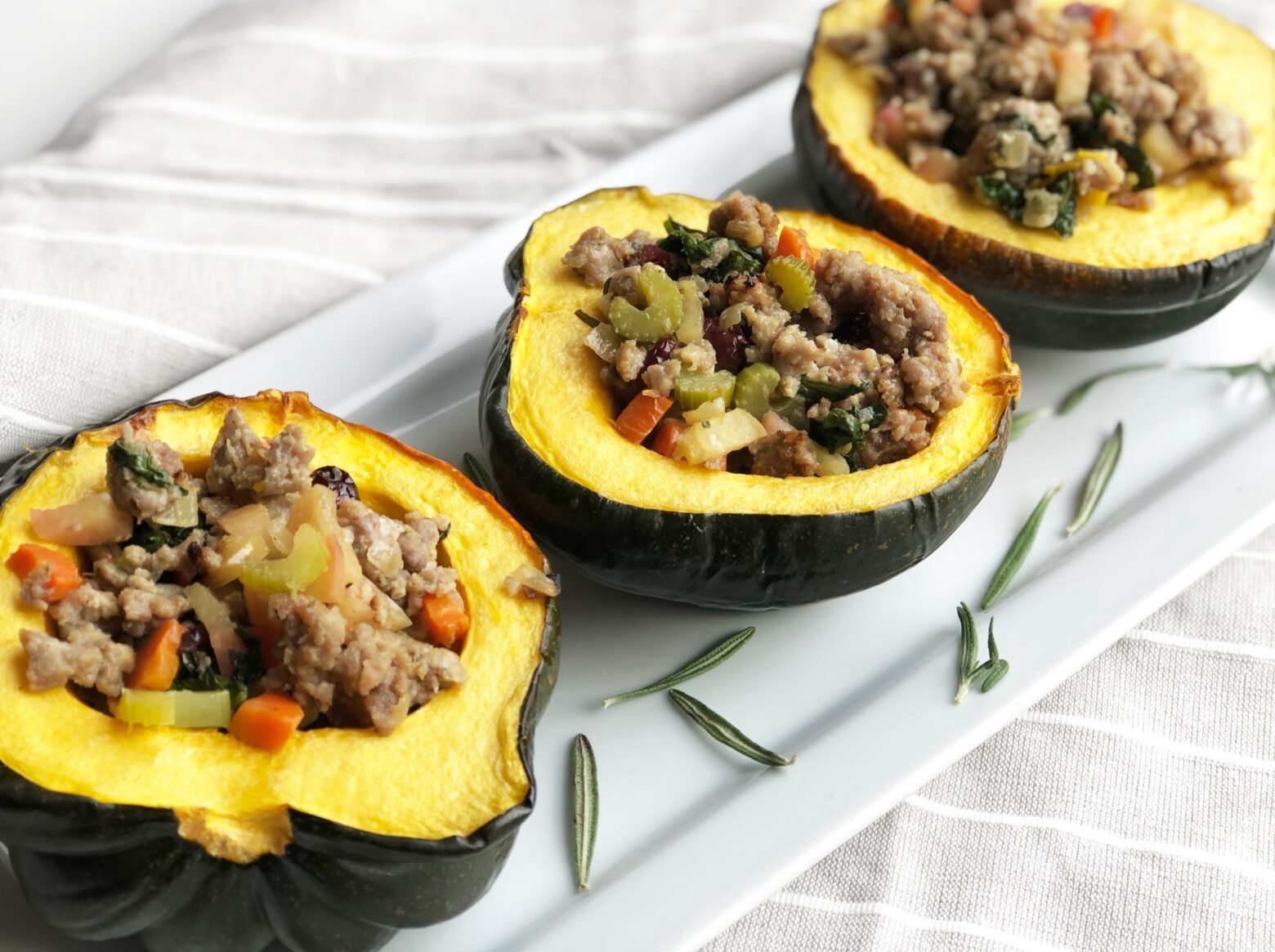 Nothing says fall like stuffed squash! This Paleo recipe fills tender acorn squash with autumn flavors like sweet apple, savory sausage, and fresh sage.
Another great thing about acorn squash: They're small, so they roast up quickly. You can also start with butternut, delicata, or spaghetti squash, or even pumpkin if you prefer, but keep in mind that the cooking times will vary. Keep an eye on your squash as it roasts—you want it to be fork-tender, but firm enough so that it'll hold the hearty stuffing.
Start by using a sharp knife to cut off the ends of an acorn squash (so it will stay upright), then slice it in half and spoon out the seeds. Since acorn squash is so small, we use three of them to hold the stuffing—but you'll only need one large squash or pumpkin if you go that route. Rub with olive oil and bake in a preheated oven.
While your squash is roasting, prepare the filling: Start by sauteing ground pork in a bit of olive oil. Once browned, remove from the pan and add onion, garlic, celery, and carrots to cook in the drippings. Add a diced apple, spinach, and lots of herbs—we love a mix of fresh sage and rosemary, but dried herbs or another combination could also work great here.
Add the cooked pork back in the pan, and if you like, mix in some dried cranberries for a burst of sweet flavor. Divide the filling evenly in each squash half, then broil until nicely browned on top. Enjoy!
Tips:
This recipe is great for meal prep! Make the stuffing and roast the squash ahead of time, then store in an airtight container in the fridge. When you're ready to eat, just fill and broil for an incredibly quick meal.
If you're looking to wow guests at your Thanksgiving table this year, it makes for a terrific eye-catching side dish!
Can't get enough squash? It's time to add this butternut squash risotto and spaghetti squash chicken & veggie bowl to your weekly lineup.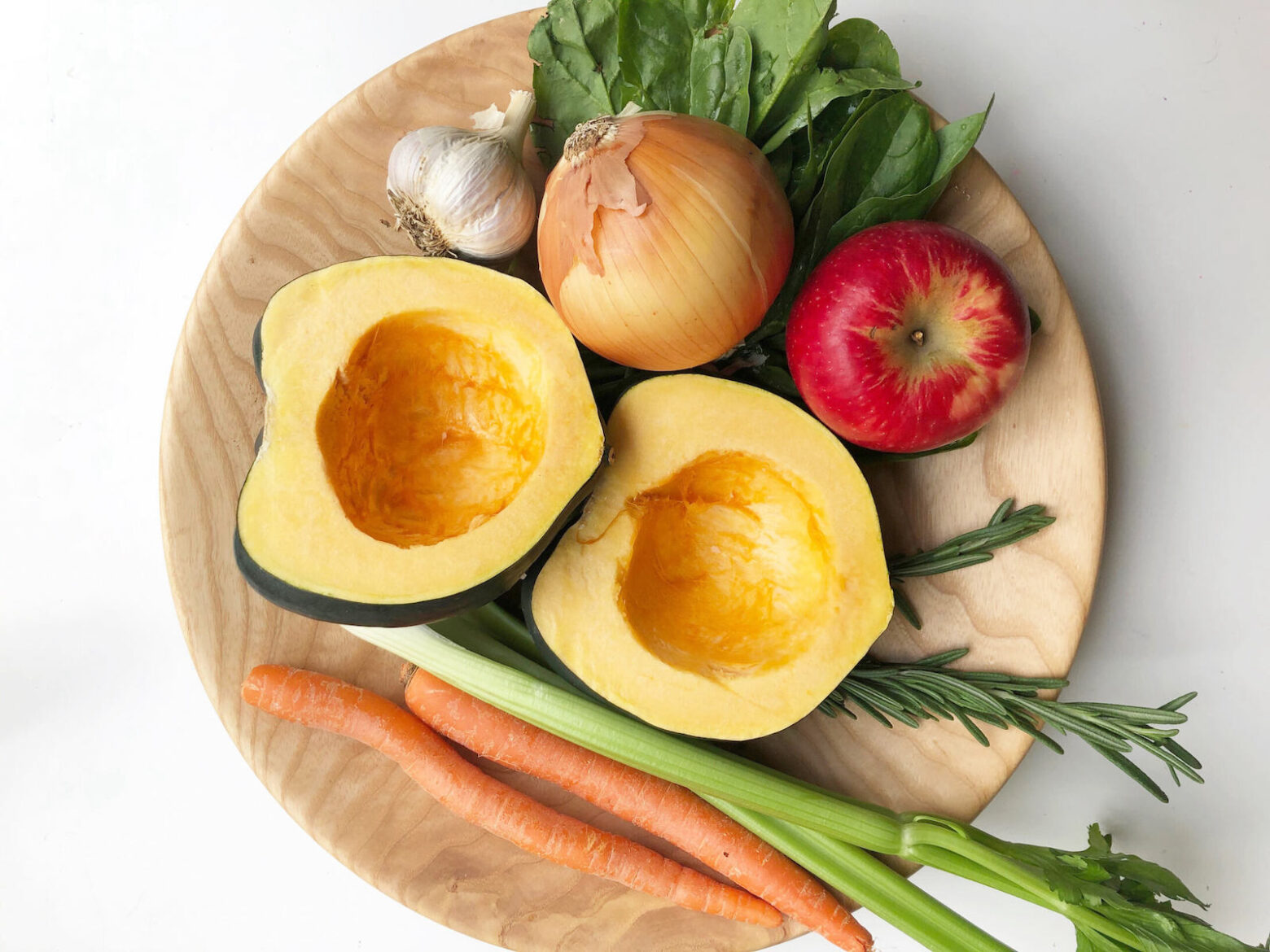 For hundreds of pure Paleo recipes be sure to check out The Real Paleo Diet Cookbook and The Real Paleo Diet Fast and Easy.
Details
Serves:

4

Prep Time:

15 minutes

Cook Time:

45 minutes

Total Time:

1 hour
Print this Recipe
Ingredients
3 acorn squash, halved, seeds removed

2 tbsp olive oil or coconut oil, divded

1 lb ground pork

1 small onion, diced

2 garlic cloves, minced or pressed

2 celery, diced

1 large carrot, diced

1 apple, cored and diced

2 cups fresh spinach, chopped

1 tbsp fresh sage, minced

1 tbsp fresh rosemary, minced

1/4 cups unsweetened dried cranberries (optional)
Directions
Preheat the oven to 400°F.

Brush the cut sides of the acorn squash with one tablespoon of oil. Bake in the preheated oven for 30-40 minutes, until you can pierce easily with a fork but is still holding its shape.

Meanwhile, prepare the stuffing: Warm the remaining tablespoon of oil in a large skillet over medium-high heat. Add the pork, using a wooden spoon to break it up as you cook. Once browned, use a slotted spoon to transfer the pork to a plate, leaving the fat in the skillet.

Add the onions, garlic, celery, and carrots to the pan. Cook for 2-3 minutes, then add the apples, spinach, and herbs. Stir and cook for another 1-2 minutes. Return the browned sausage to the skillet and mix in the cranberries. Cook for another minute.

Preheat the broiler. Scoop the stuffing mixture evenly into the squash halves. Broil for about 5 minutes, until nicely browned on top.