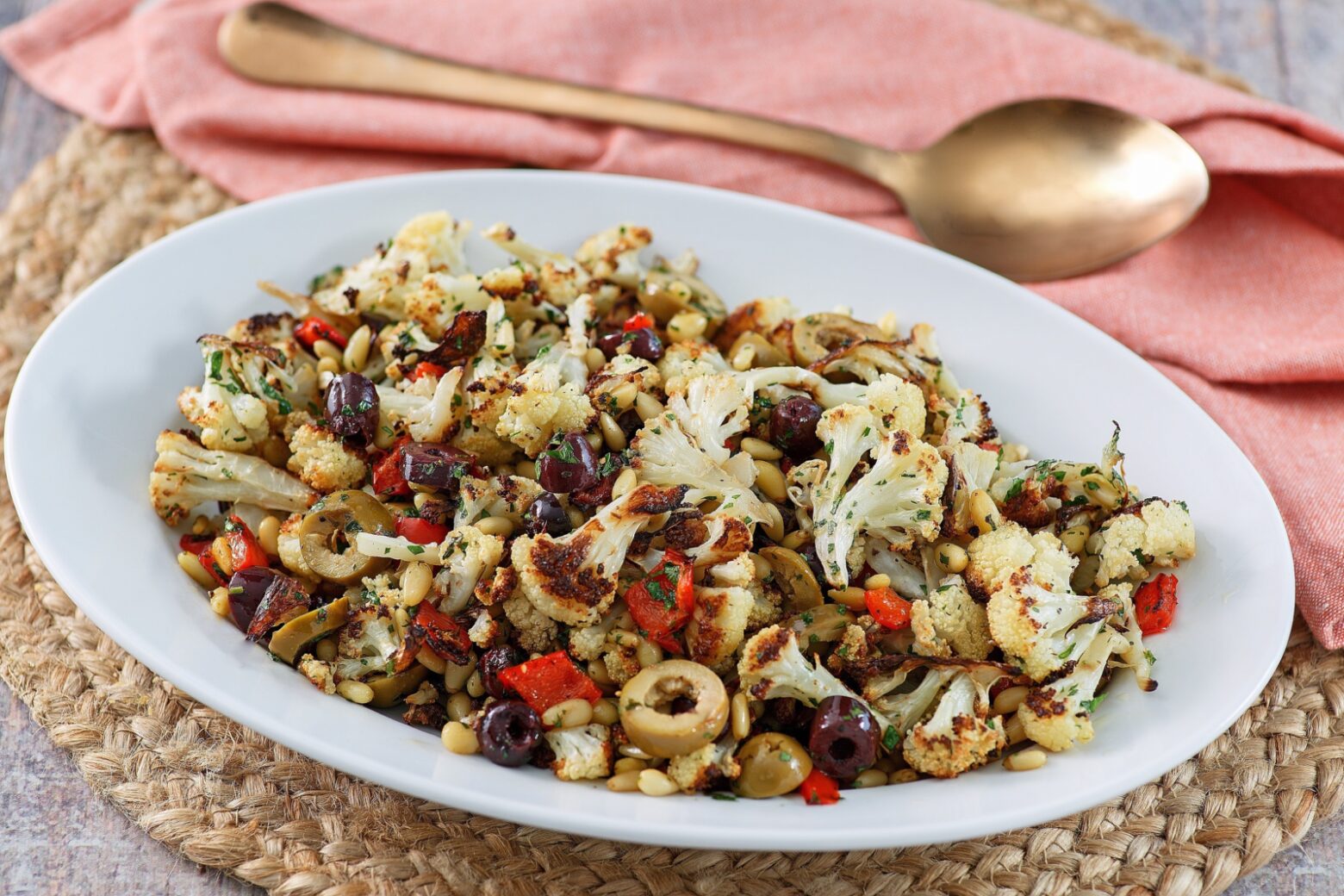 Roasted Cauliflower with Red Bell Peppers
Searching for an easy veggie dish to pair with your Paleo protein? Look no further. This tasty and quick cauliflower recipe is the answer. With just a few fresh ingredients, and minutes to prep, you will soon be adding this side dish to your list of favorites. Serve it up with chicken, fish, pork, beef, or any other protein. At The Paleo Diet® we love the versatility of this delicious and nutritious recipe. Enjoy!
For hundreds of pure Paleo recipes be sure to check out The Real Paleo Diet Cookbook and The Real Paleo Diet Fast and Easy.
Details
Prep Time:

10 minutes

Cook Time:

30 minutes

Total Time:

40 minutes
Ingredients
1 head cauliflower, cut up into small, same-size

2 red bell peppers, seeded and diced

2 tbsp coconut oil

3 tbsp pine nuts

2/3 sliced green olives, rinsed under cold water to remove excess salt

2 tbsp chopped flat-leaf parsley

Lemon wedges, for squeezing

Fresh ground black pepper to taste
Directions
Preheat oven to 425F

Place cauliflower and peppers into a medium sized bowl and toss with coconut oil, stirring so the vegetables are coated.

Season to taste with fresh ground black pepper and stir again.

Spread the vegetables out in a single layer on a non-stick baking sheet and roast for 20 minutes.

After 20 minutes, remove baking sheet from the oven, put the cauliflower and peppers back into the bowl, and toss gently with the olives and pine nuts.

Spread the mixture on to the baking sheet and roast an additional 10-15 minutes, or until the vegetables are starting to brown and the olive pieces are looking slightly cooked.

Sprinkle with parsley and squeeze fresh lemon juice over veggies just before serving.

Add black pepper to taste.