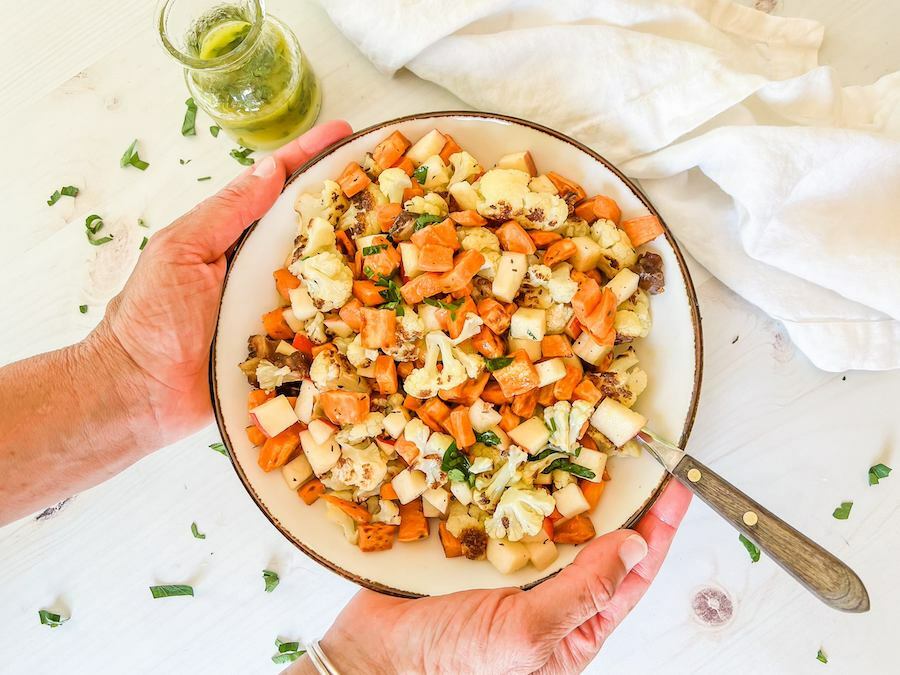 Roasted Cauliflower Salad with Apples and Dates
Dive into autumn with this nutrient-packed roasted salad!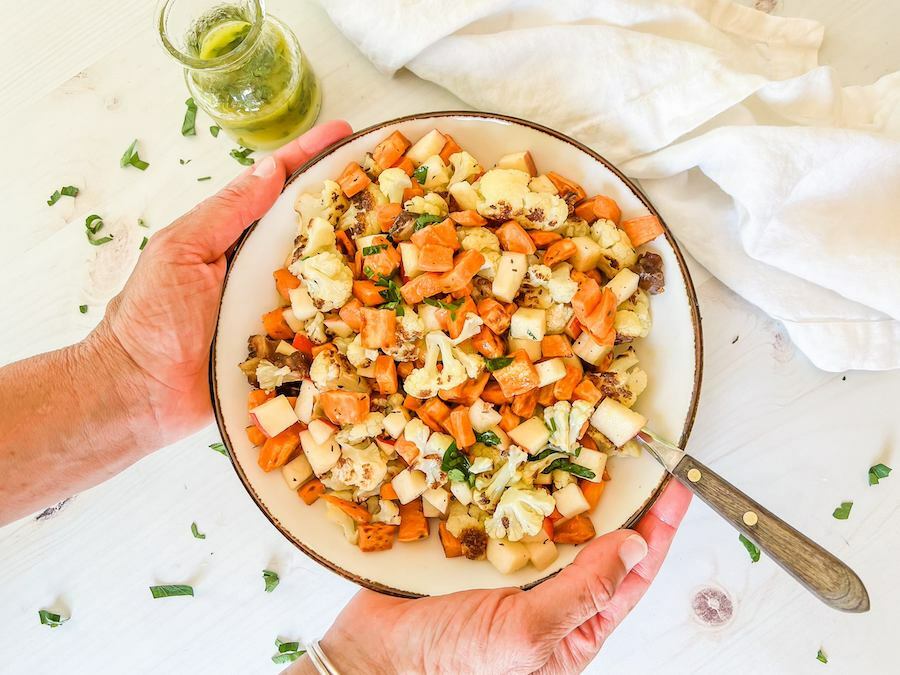 This warm harvest salad is perfect for fall! It's filled with roasted cauliflower, sweet potatoes, apples, and dates, then drizzled in a sweet lemon dressing.
When it's cool enough to turn your oven on again, you'll want to roast up a big batch of hearty fall favorites like cauliflower and sweet potatoes. To cut cooking time in half, slice them into smaller pieces. This recipe seasons them with a little thyme and rosemary to help bring out those fall flavors.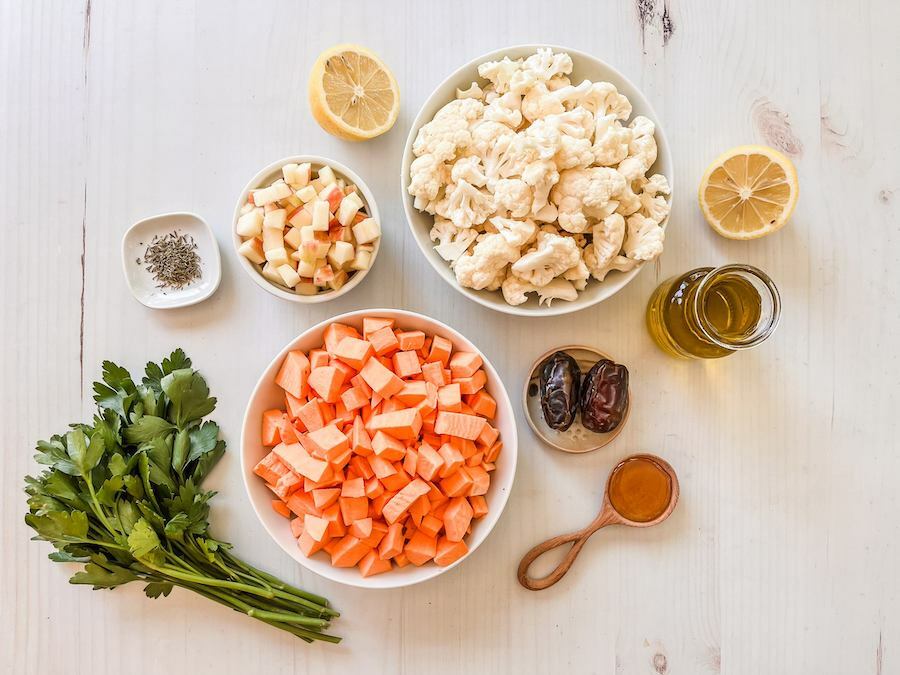 Plus, cauliflower and sweet potatoes are nutritional powerhouses! Both are high in fiber, antioxidants, and essential minerals like potassium. Cauliflower is also a great source of folate and vitamin C, while sweet potato contains lots of vitamin A. When you enjoy them together, you get a whole host of benefits!
While your veggies are roasting, whip up an easy dressing with fresh lemon, parsley, garlic, honey, and black pepper. You don't even need a food processor here – just pour everything into a Mason jar and shake!
To bring this cauliflower salad together, set the roasted veggies in a bowl and add chopped apples and dates. Pour the dressing over the top and toss well to combine.
You can serve this autumn salad hot or cooled – it's up to you!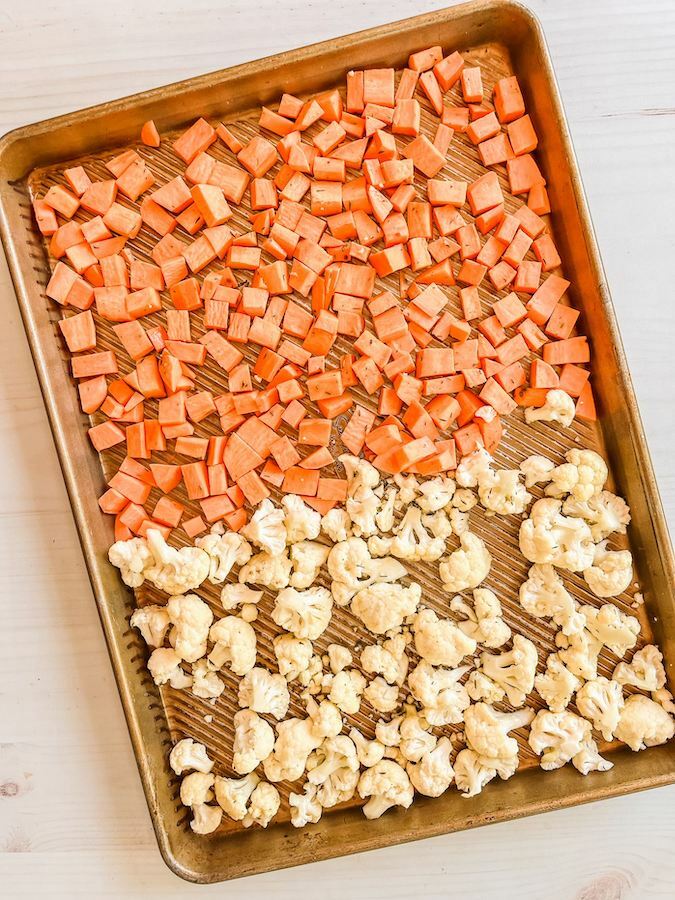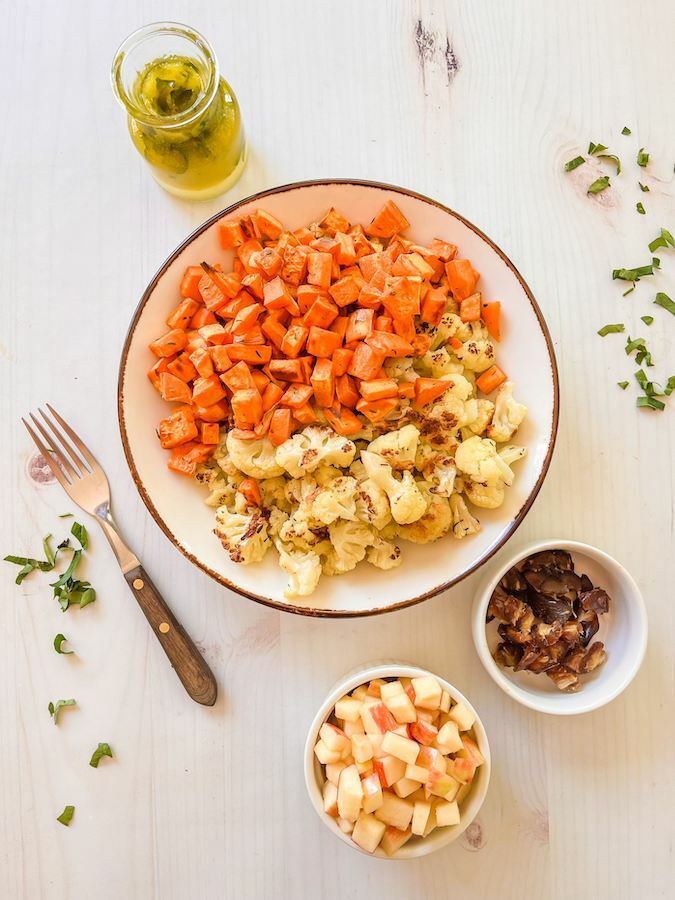 Tip: Add extra texture to this salad with slivered almonds, sunflower seeds, and/or chopped pecans.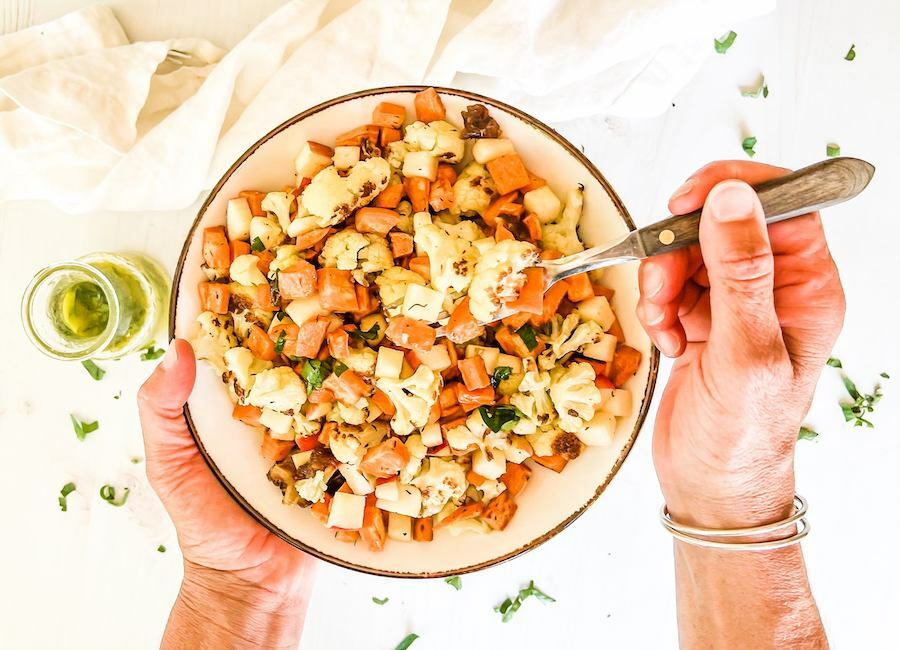 Love our recipes? Make going Paleo even easier and download our 7-Day and 28-Day digital meal plans!
Details
Serves:

1

Prep Time:

20 minutes

Cook Time:

35 minutes

Total Time:

55 minutes
Print this Recipe
Ingredients
1 cauliflower head, chopped into florets

2 sweet potatoes, cubed

2/3 cups + 1 TBSP olive oil

1/4 tsp thyme

1/4 tsp rosemary

1 lemon, juiced

1/2 cups chopped parsley

1 garlic clove, minced or pressed

1 tsp raw honey

1/4 tsp black pepper

1 large apple, diced

2 dates, chopped
Directions
Preheat the oven to 425°F.

Set the cauliflower and sweet potatoes on a baking sheet. Drizzle 1 TBSP of olive oil over the top and sprinkle with thyme and rosemary. Toss to combine, then set in a single layer. Roast for 35 minutes, stirring halfway through cooking. Set aside.

Meanwhile, prep the dressing: Combine the lemon juice, parsley, garlic, honey, and black pepper in a mason jar and shake well.

Toss the roasted veggies in a bowl and add the chopped apples and dates. Pour the dressing over the top, stir gently, and serve!