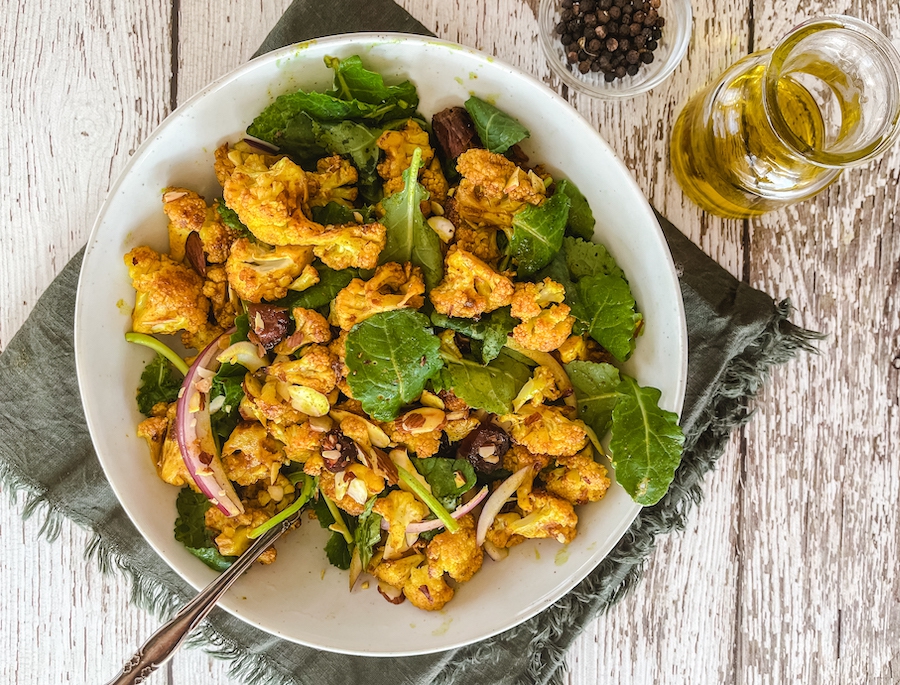 Roasted Cauliflower and Arugula Salad
Set roasted cauliflower mixed with dates, onions, and almonds over a bed of arugula salad for an anti-inflammatory salad.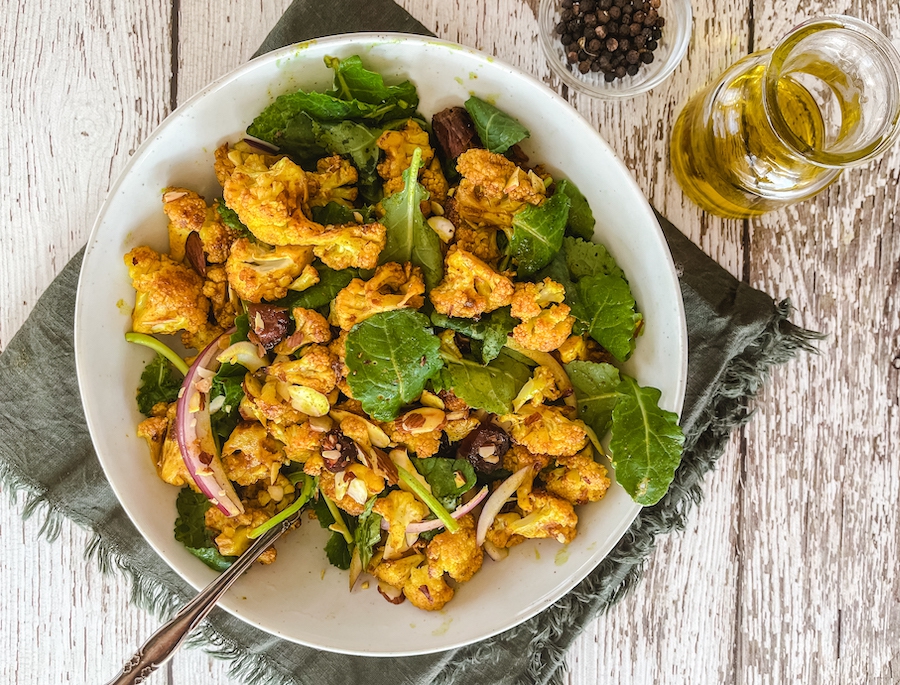 Toss spicy golden cauliflower with peppery arugula, sweet dates, zesty onions, and toasted almonds for a tasty anti-inflammatory salad!
If you need a good hard reset, let this hearty roasted salad be your next go-to. It's a versatile recipe that can be served warm or cold, and unlike most leafy salads, it keeps well in the fridge.
Start by tossing cauliflower florets in a spice mix of turmeric, black pepper, and cumin. Spread in a baking sheet and roast. Meanwhile, prep the rest of the salad by chopping the red onions and dates. Tip: Store your dates in the fridge so they're easier to slice!
Be sure to let the cauliflower cool a bit before tossing it with the other ingredients. If it's too hot, it'll wilt your arugula. This isn't necessarily a bad thing, depending on what kind of salad you're after.
While the cauliflower cools, toast up your sliced almonds in a dry skillet, stirring constantly. Nuts burn easily, so don't take your eyes off of them!
Assemble all your ingredients in a large bowl, add a drizzle of olive oil, and toss. Season with black pepper to taste, and serve.
Tips:
You can use spinach, kale, or your other favorite greens in place of the arugula.
Squeeze a lemon over the top for more zesty flavor.
Got ripe avocado? Add a few slices for a creamy counterpoint to the cauliflower.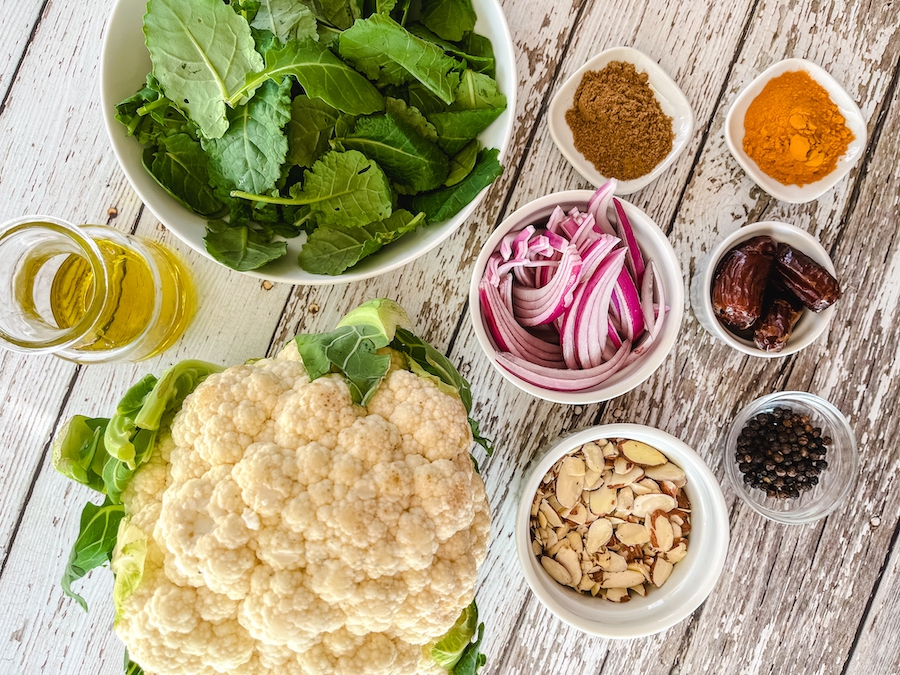 For hundreds of pure Paleo recipes be sure to check out  The Real Paleo Diet Cookbook  and  The Real Paleo Diet Fast and Easy.
Details
Serves:

6

Prep Time:

15 minutes

Cook Time:

25 minutes

Total Time:

40 minutes
Print this Recipe
Ingredients
3 tbsp olive oil, divided

1 tsp turmeric powder

2 tsp cumin powder

1 tsp ground black pepper

1 large cauliflower head, cut into florets

1/2 cups sliced almonds

2 cups fresh arugula

4 Medjool dates, chopped

1/2 cups red onion, sliced thin
Directions
Preheat the oven to 425°F.

Whisk 1 tablespoon of the olive oil with the spices in a bowl.

In a medium bowl, toss the cauliflower florets with 1 tablespoon of olive oil. Pour the spice mixture over the top and toss again to evenly coat. Spread the cauliflower florets in a baking sheet and roast for 20-30 minutes, or until get golden brown. Remove from the oven and let cool slightly.

While the cauliflower cools, put the sliced almonds in a dry skillet and toast over medium heat, stirring constantly, for about 3-5 minutes. Set aside.

Put the roasted cauliflower in a large bowl and add the arugula, dates, red onions and toasted almonds. Pour the remaining tablespoon of olive oil over the top, toss, and season with more black pepper to taste.