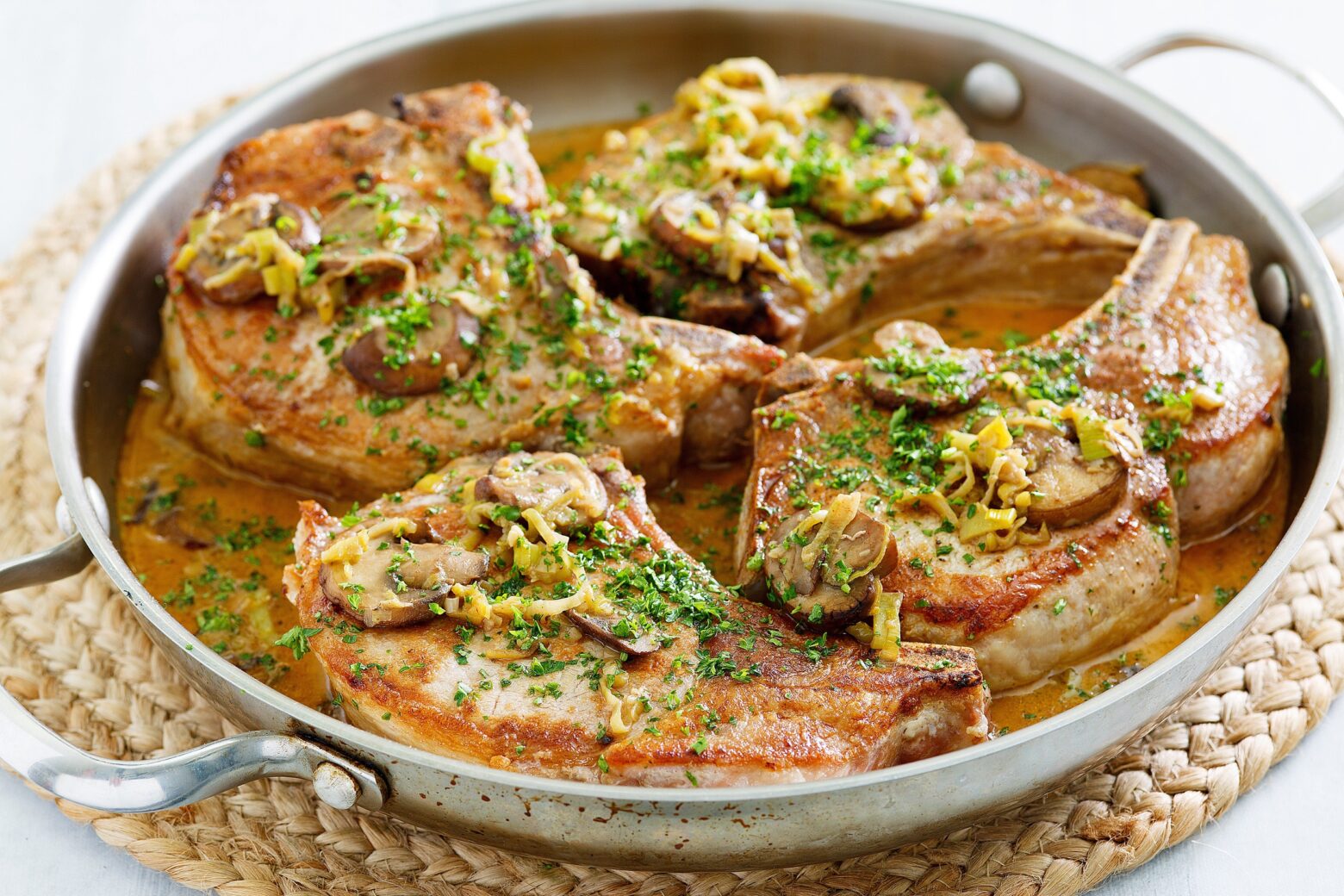 One-Pan Pork Chops with Mushrooms & Leek Cream Sauce
You only need one skillet for these hearty pork chops with a mouthwatering dairy-free sauce made right in the pan!
Bone-in pork chops are key for making this savory dinner. Start by browning them in a hot pan with avocado oil. The browned bits make for a fantastic base for the rest of the dish.
After the pork chops are seared, set them aside. They'll finish cooking in the sauce later, so they should be slightly underdone. Add coconut oil and sliced mushrooms to the pan, and sauté until lightly browned. Feel free to use any kind of mushrooms you like, or even a mix of your favorites!
Next, add sliced leeks and garlic. Be sure to just use the white and light green parts of the leek, as the dark green parts are harder to tenderize. Tip: save the dark green parts in the freezer for making a veggie stock later.
To make the sauce, add salt-free chicken broth and full-fat coconut milk to the skillet. Season with paprika and bring to a boil, before lowering the heat to a simmer. Add the pork chops back to the pan, cover it, and let all the flavors marry while the pork chops cook through, another 10-15 minutes.
Pair these creamy pork chops with a light salad for a balanced and healthy meal everyone will love!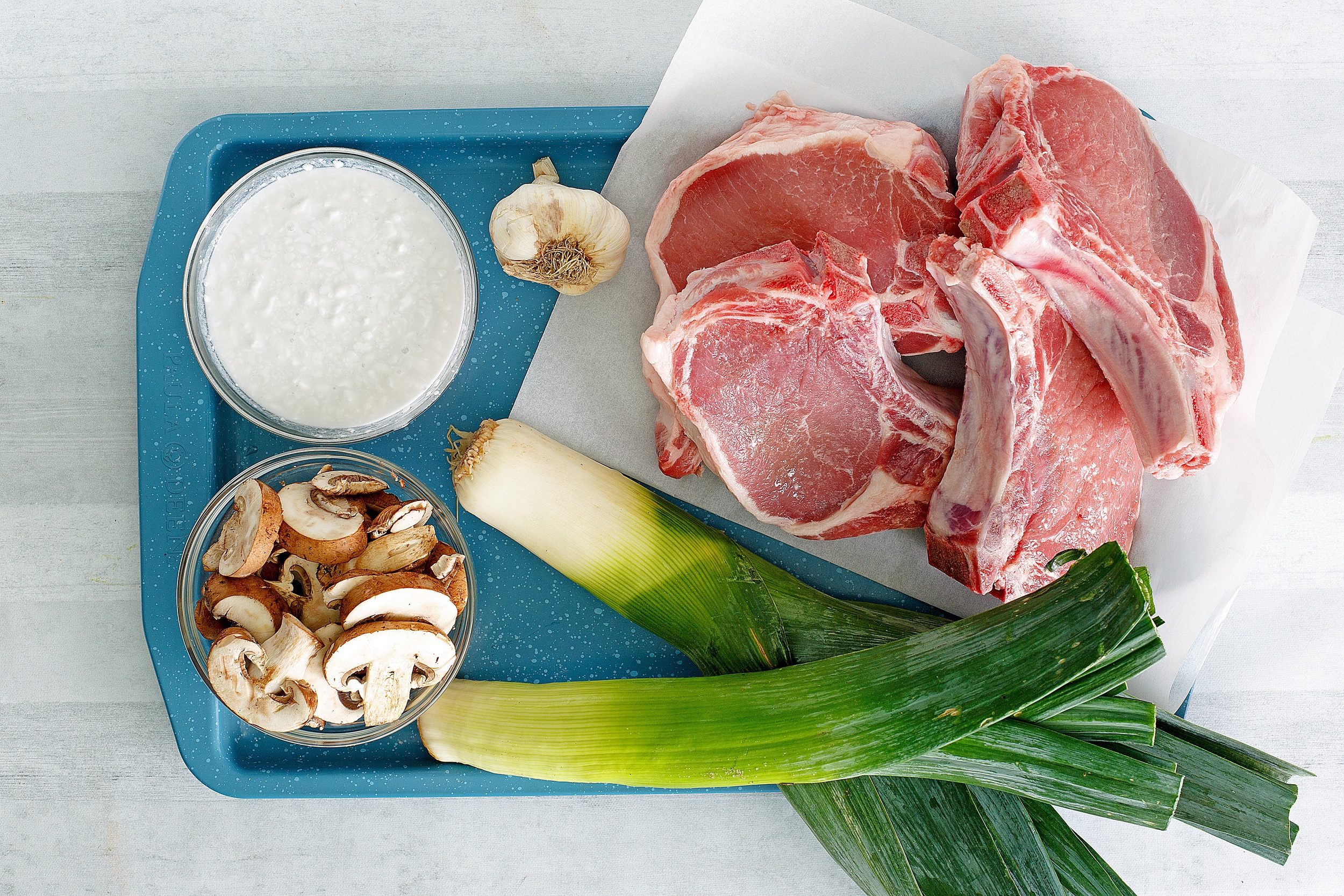 For hundreds of pure Paleo recipes be sure to check out  The Real Paleo Diet Cookbook  and  The Real Paleo Diet Fast and Easy.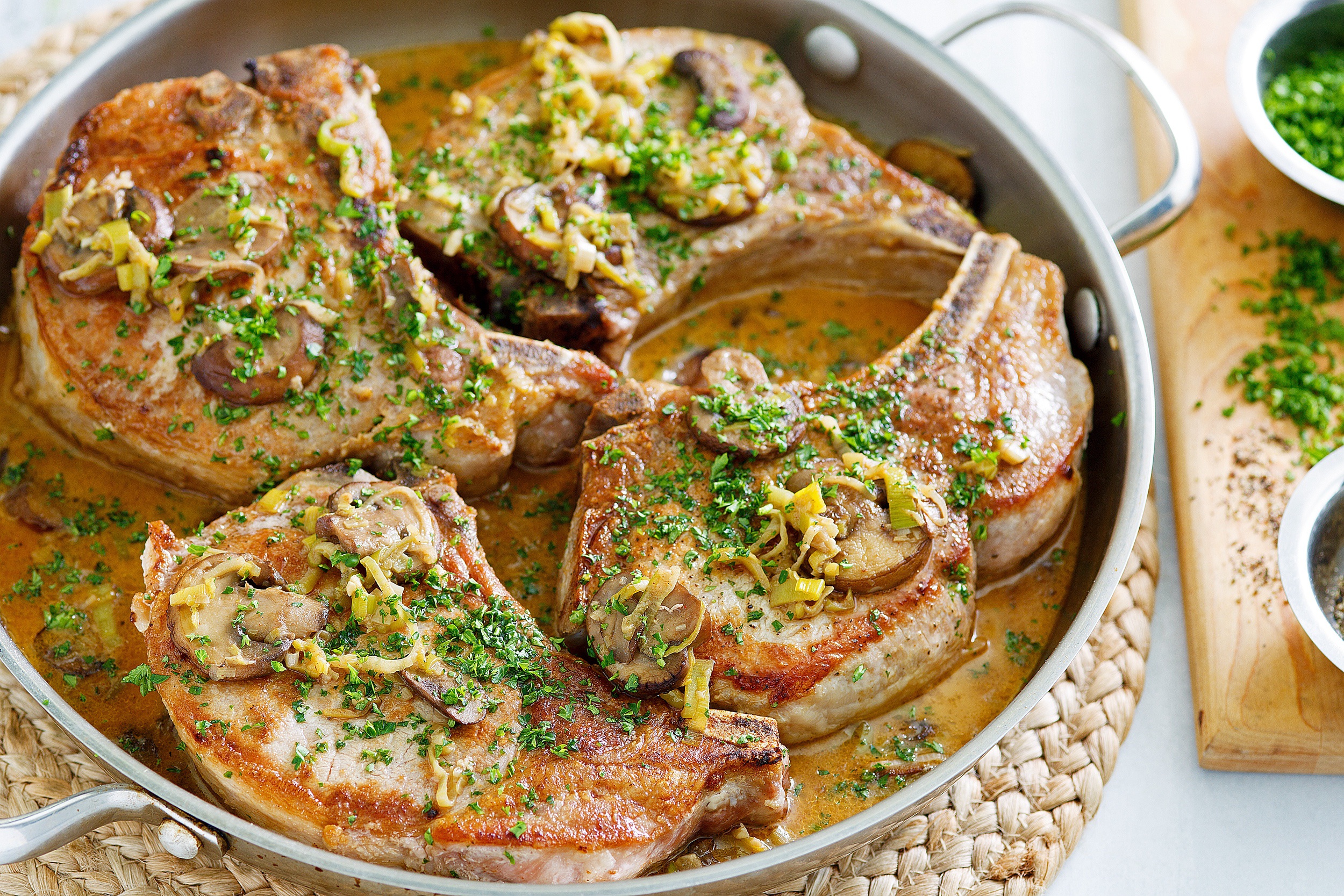 Details
Prep Time:

10 minutes

Cook Time:

20 minutes

Total Time:

30 minutes
Ingredients
2 tbsp avocado oil

4 bone-in pork chops

1 tsp black pepper

1 tsp garlic powder

1 tbsp coconut oil

1 cups mushrooms, sliced

3 leeks sliced into half rounds (light green and white parts only)

4 cloves garlic, minced

1/2 cups salt-free chicken broth

1 cups full-fat coconut milk

1 tsp paprika

2 tbsp fresh parsley
Directions
Heat large skillet over medium heat and add avocado oil.

Season pork chops liberally on both sides with pepper and garlic powder.

Brown chops well for about 3-5 minutes on each side. Remove from pan and set aside.

Add coconut oil to the pan and turn up the heat to medium-low. Add sliced mushrooms and sauté for 3-5 minutes, until lightly browned. Add leeks and garlic and sauté another 2 minutes.

Add broth, coconut milk and paprika. Bring to a boil and then reduce sauce to a simmer. Add the pork chops back into the sauce and cover with lid. Let simmer for 10-15 minutes, until pork chops are cooked through.

Serve topped with fresh parsley.