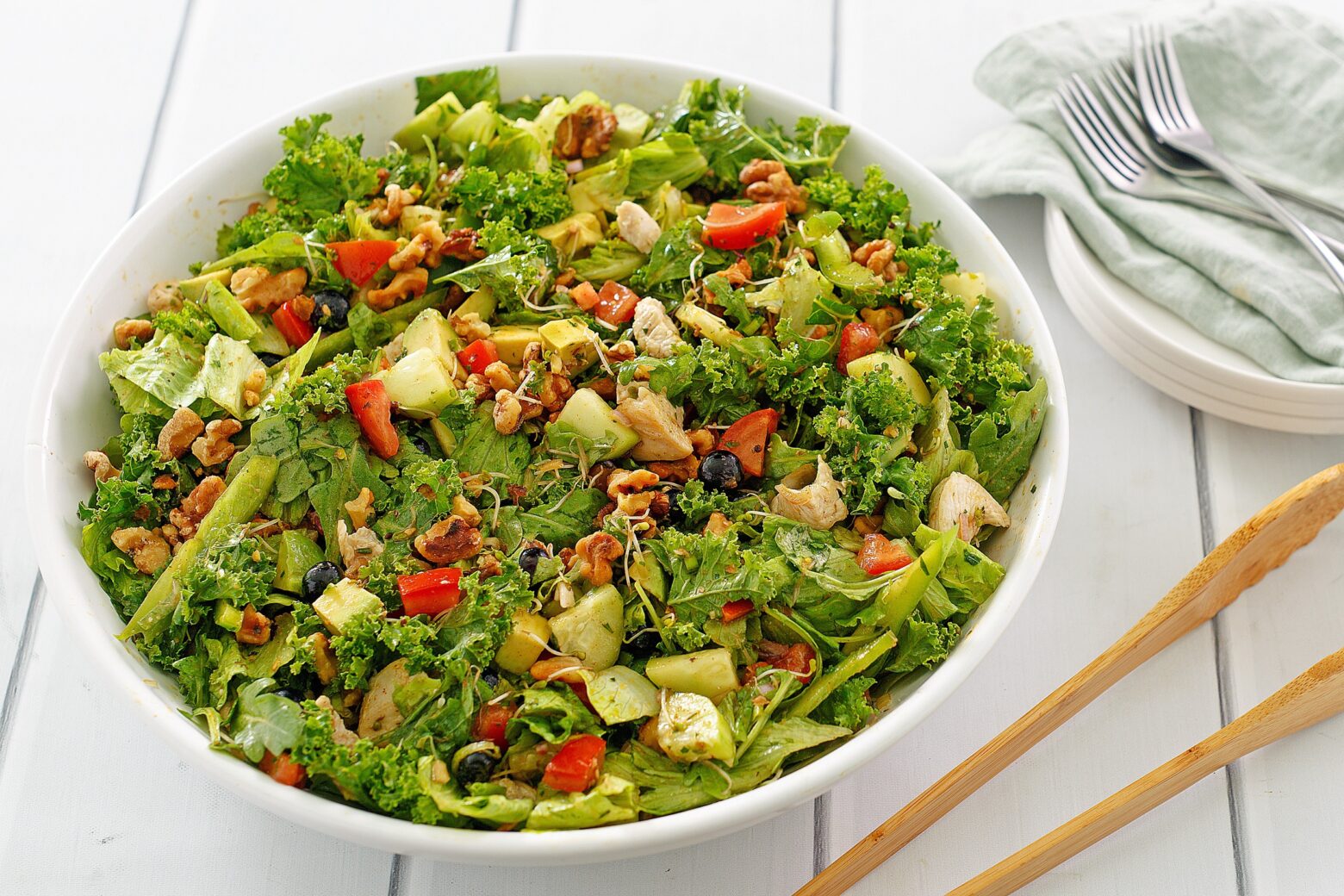 Garden Harvest Salad with Smoky Walnut Dressing
If you're in need of a nutrient-dense lunch, turn to this easily customizable garden harvest salad.
We've packed this salad with all the fresh and crunchy ingredients you're craving. Mixed greens are topped with juicy roasted chicken, freshly roasted walnuts, avocado, and blueberries, and topped with a smoky paprika-spiked dressing you'll want to mix up again and again.
This recipe is a great way to use up leftover chicken. If you don't normally have chicken in the fridge, you can plan ahead and roast a whole chicken in advance, or simply double up on your favorite chicken recipe and save some for later. If you need some inspiration, try these chicken thighs seasoned with cumin and black pepper.
To make the rest of the salad, we mixed up our favorite greens and veggies—but you can customize with whatever you have on hand. For mixed greens, we used a cup each of chopped lettuce, kale, and arugula, and for veggies we used tomatoes, cucumbers, broccoli sprouts, and bell peppers. Feel free to swap in your favorite greens, or try another combination of fresh veggies. Mushrooms, red onions, and hard-boiled eggs all make very good options. Of course, we highly recommend that you include the blueberries and avocado, as they are some of the best nutrient-dense foods out there.
Whatever you choose, just be sure to select fresh, organic ingredients to ensure the highest nutrient density when preparing this salad.
One ingredient is definitely non-negotiable: the roasted walnuts. These add hot, crunchy flavor to a salad that can quickly get boring otherwise. When roasting your walnuts, be sure to shake the pan every few minutes to ensure even cooking and to prevent burning. Set the walnuts aside to cool while you chop up and assemble the rest of the greens.
Finally, this salad is topped with a zesty vinaigrette made with shallots, walnut oil, orange juice, parsley, and smoked paprika. You can shake up these ingredients at the end, but we recommend that you mix it up first, while the oven preheats for the roasted walnuts. That way, the dressing flavors have married nicely by the time you serve your garden salad!
Tip: If you have leftovers, be sure to store your dressing separately from the salad to prevent it from getting soggy in the refrigerator.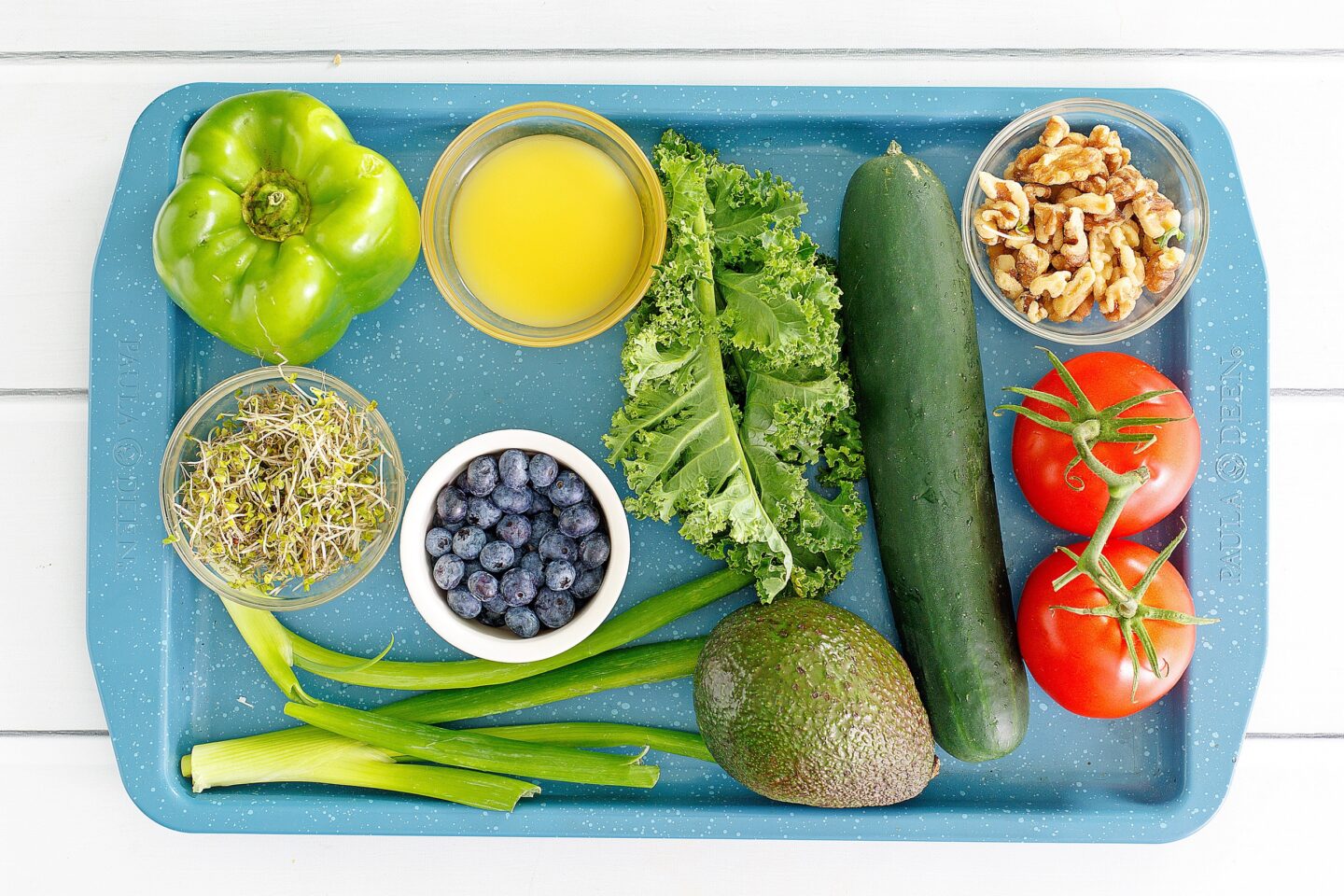 For hundreds of pure Paleo recipes be sure to check out  The Real Paleo Diet Cookbook  and  The Real Paleo Diet Fast and Easy.
Details
Prep Time:

15 minutes

Cook Time:

10 minutes

Total Time:

25 minutes
Ingredients
1 tbsp minced shallots

1/4 cups walnut oil

1/4 cups fresh squeezed orange juice

1/4 cups fresh parsley finely chopped

1/2 tsp smoked paprika

1 lb chicken, cooked and cubed

1 cups walnut slices

3 cups mixed greens

1/2 cups broccoli sprouts

3 scallions, chopped

3 fresh tomatoes, cubed

1 large cucumber, chopped

1 bell pepper, chopped

1 cups fresh blueberries

1 avocado, sliced
Directions
Preheat oven to 350°F. While the oven heats, make the dressing: combine the shallots, walnut oil, orange juice, parsley, and paprika in a jar and shake well.

Spread walnuts on nonstick baking sheet and roast 10 minutes, stirring once or twice while roasting to avoid burning. Remove from oven and transfer to small bowl and let cool.

Toss salad ingredients together. Top with roasted nuts and drizzle with dressing to serve.