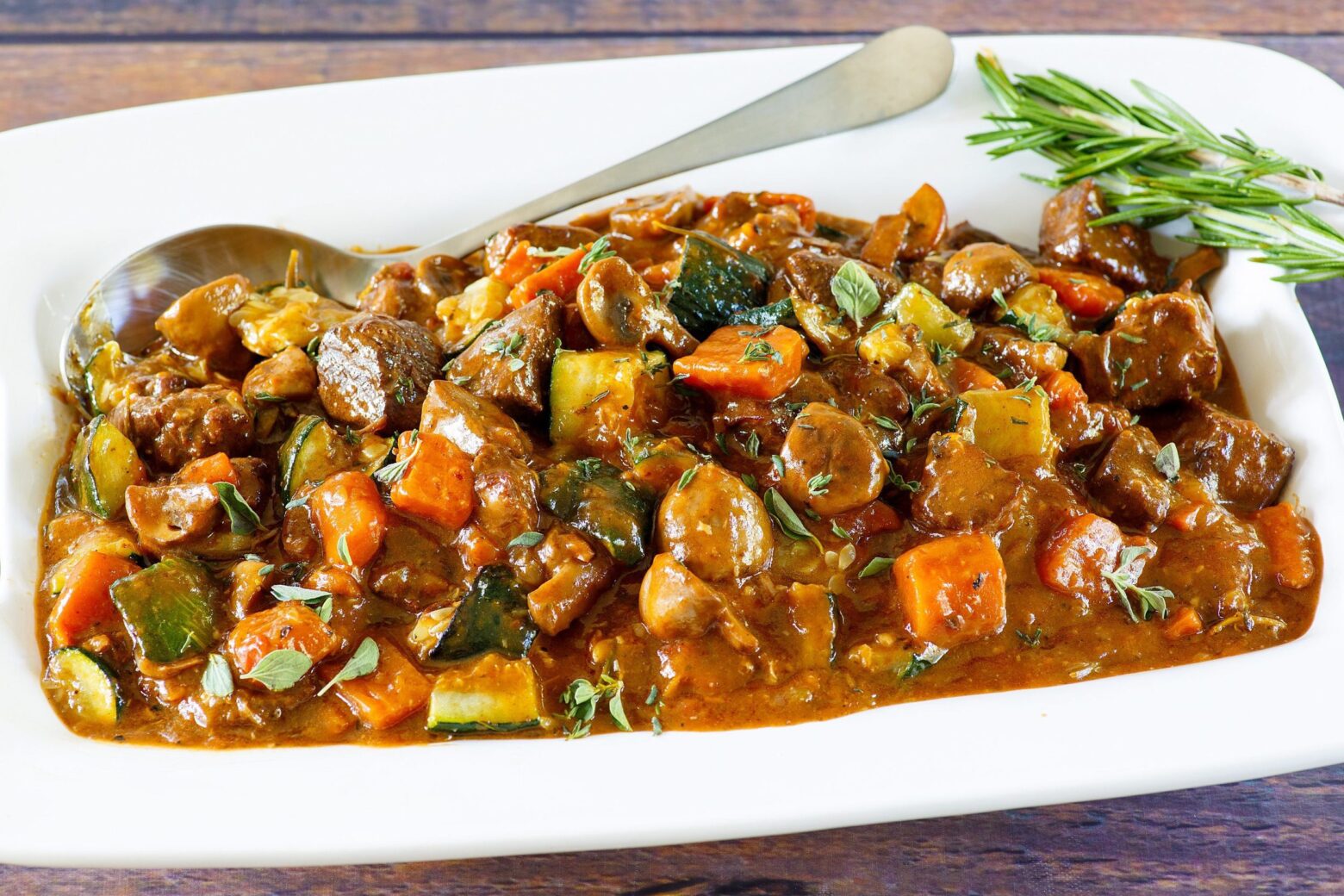 Paleo Bring-It-On Beef Stew
Autumn days are upon us, and soon we will be welcoming in winter's cold and cozy evenings. This hearty beef stew is the perfect Paleo comfort food, and it's packed with nutrients. You can easily double the recipe, and then have it for lunch or a quick dinner the next day. Serve this Fall Harvest Vegetable Salad alongside the stew to create a family favorite meal that is fast and easy to prepare. Let it snow!
For hundreds of pure Paleo recipes be sure to check out The Real Paleo Diet Cookbook and The Real Paleo Diet Fast and Easy.
Details
Prep Time:

20 minutes

Cook Time:

2 hours 30 minutes

Total Time:

3 hours
Ingredients
1 tbsp olive oil

1 1/2 lb boneless beef chuck, cut into 1-inch cubes

1 lb fresh zucchini, chopped

2 carrots, chopped

2 onions, diced

3 cloves garlic, chopped

1 lb crimini mushrooms, quartered

2 tbsp apple juice concentrate (no sugar added)

2 tbsp tomato paste

3 cups salt-free beef bone broth

1 tsp fresh oregano

2 tsp fresh thyme

2 tsp paprika

2 tbsp fresh rosemary (plus more for garnish)
Directions
Heat olive oil over medium high until shimmering.

Sear cubes of meat on all sides until browned.

Remove from pan and set aside.

In same pan, sauté zucchini for approximately 5 minutes until browned. Reserve on separate plate.

Add carrots and onions to same pan and cook until lightly browned, approximately 5-10 minutes.

Add garlic and mushrooms and cook an additional 5 minutes.

Stir in apple juice concentrate, tomato paste, and bone broth, cooking mixture 5 minutes.

Return cooked beef to the mixture and stir in fresh herbs and paprika.

Simmer on low for 2 hours.

At this point liquid should be reduced by half and the beef tender when sliced with a knife.

Just before serving, add zucchini and combine.

Remove from heat and garnish with fresh rosemary.