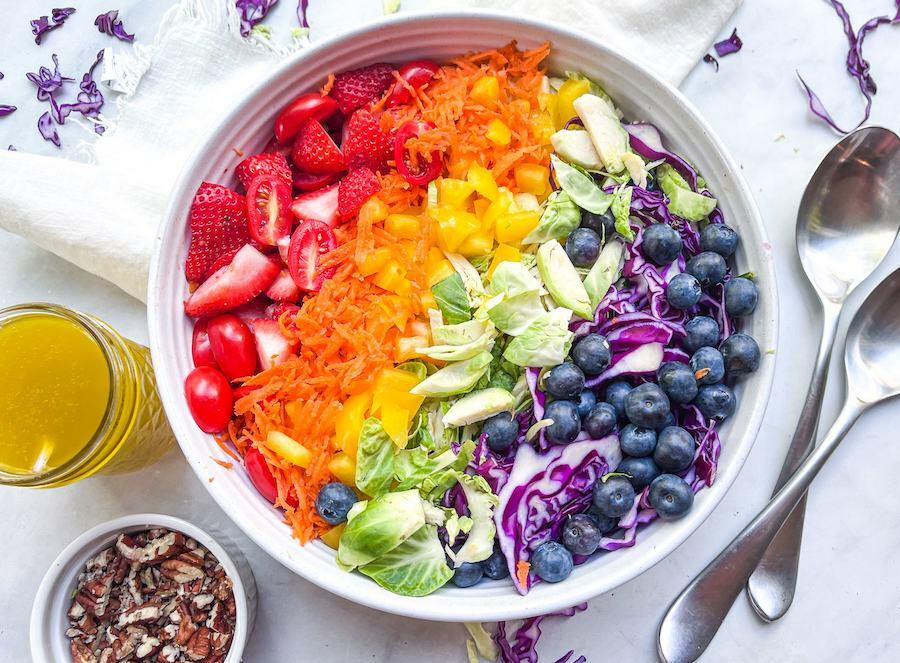 Rainbow Salad with Orange Vinaigrette

Eat the rainbow! This vibrant salad will brighten up your day and your skin. It's loaded with fresh, seasonal veggies and fruits that contain high contents of vitamin C. With every crunchy bite, your body gets a spoonful of nutrients.
This salad is a vitamin C powerhouse with ingredients like spinach, tomatoes, oranges, strawberries, and Brussels sprouts. Vitamin C is important for protecting our skin cells from sun rays, radiation, smoke, and other harmful substances, so eat up!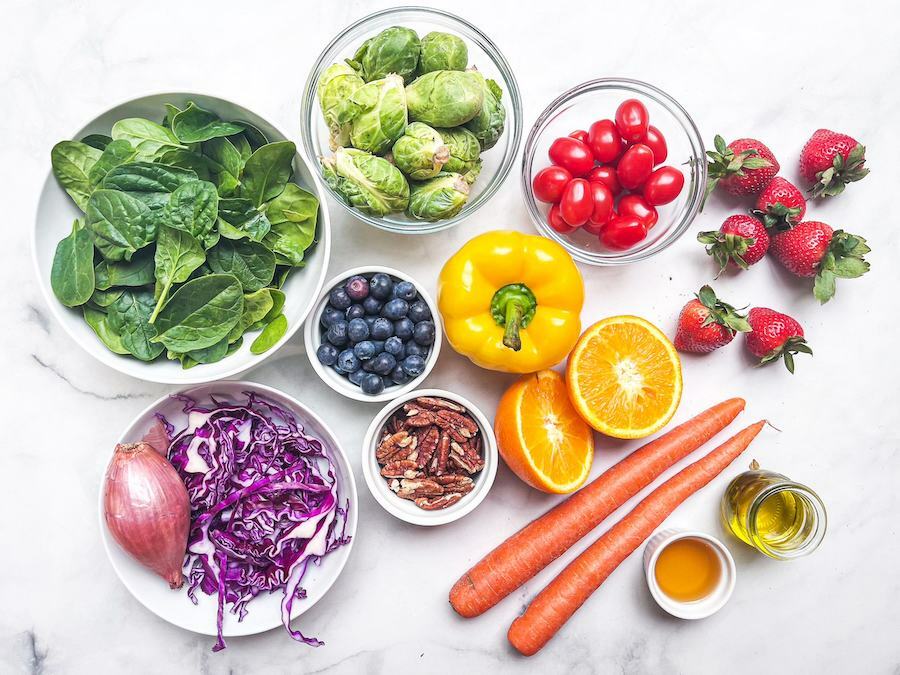 Pour the vinaigrette into a mason jar with a lid in case you need to store any leftovers. The dressing will keep in the fridge for up to four days. If you really want the flavors to stand out, be sure to use the highest quality ingredients possible.
You can take your time arranging the fruits and vegetables in rows over the bed of greens to create a rainbow or throw it all together in a large bowl. Feel free to use any veggies you wish. Make sure to add the dressing a little bit at a time until you've reached your desired taste, or let everyone dress their own salad portion.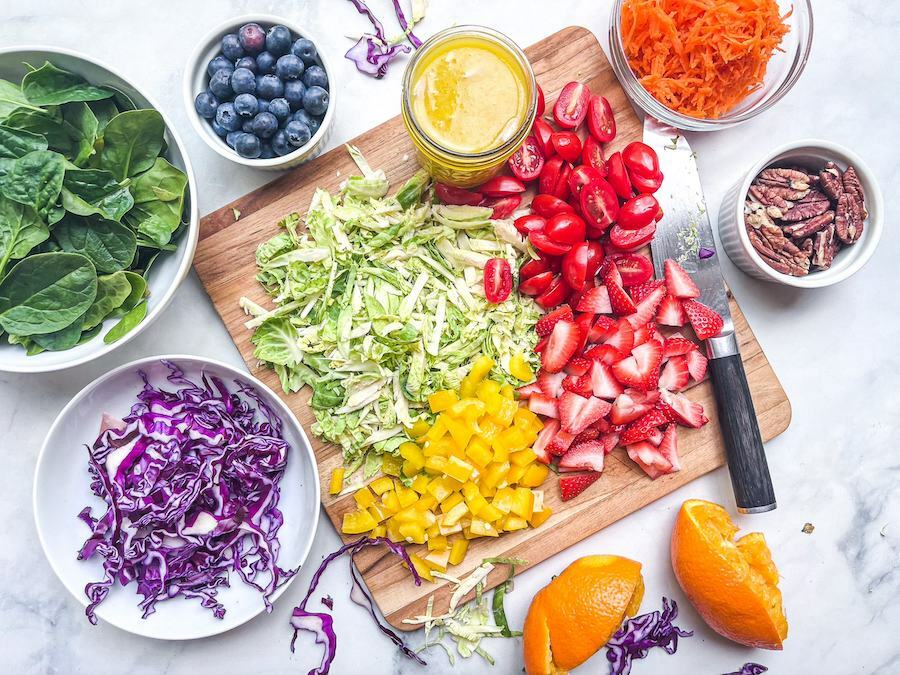 Tips:
If you would like to add protein, cooked salmon, chicken, or grilled steak would work perfectly with this salad.
Autoimmune Protocol (AIP) omissions and substitutions are listed in the recipe ingredients.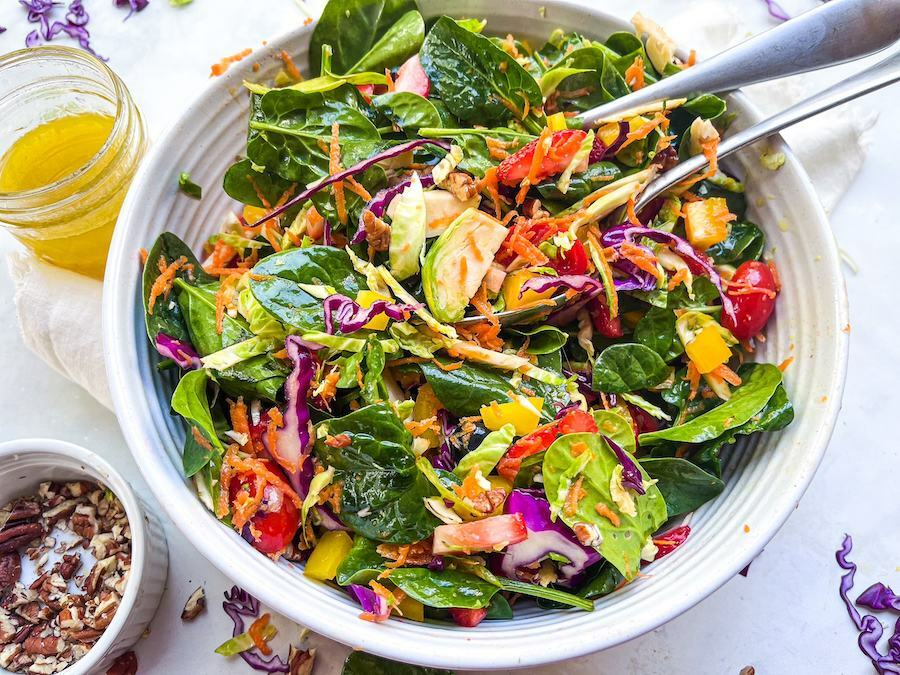 Details
Prep Time:

20 minutes

Total Time:

20 minutes
Ingredients
2 tbsp pecans

2 cups baby spinach

2 cups shaved Brussels sprouts

1/2 cups grape tomatoes, sliced (AIP -substitute with beets)

1/2 cups blueberries

1/2 cups shredded purple cabbage

1 carrot, julienned or shredded

1/2 yellow pepper, chopped (AIP -substitute with cucumbers)

3/4 cups olive oil

2 tbsp apple cider vinegar

1 orange, juiced and zested

1/2 shallot, minced

black pepper (AIP - omit)
Directions
Toast pecans in a small skillet over medium heat. Stir often, until fragrant and golden brown, about 5 minutes. Remove from heat and roughly chop, then set aside.

Use a small food processor to prepare the dressing. Blend olive oil, apple cider vinegar, orange juice, 1 teaspoon orange zest, and shallot until well combined and smooth. Add more vinegar for a tangier flavor. Season with pepper to taste.

Toss spinach, Brussels sprouts, tomatoes, blueberries, cabbage, carrot, yellow pepper, and strawberries in a large serving platter or bowl. Sprinkle salad with chopped pecans and dress with vinaigrette.