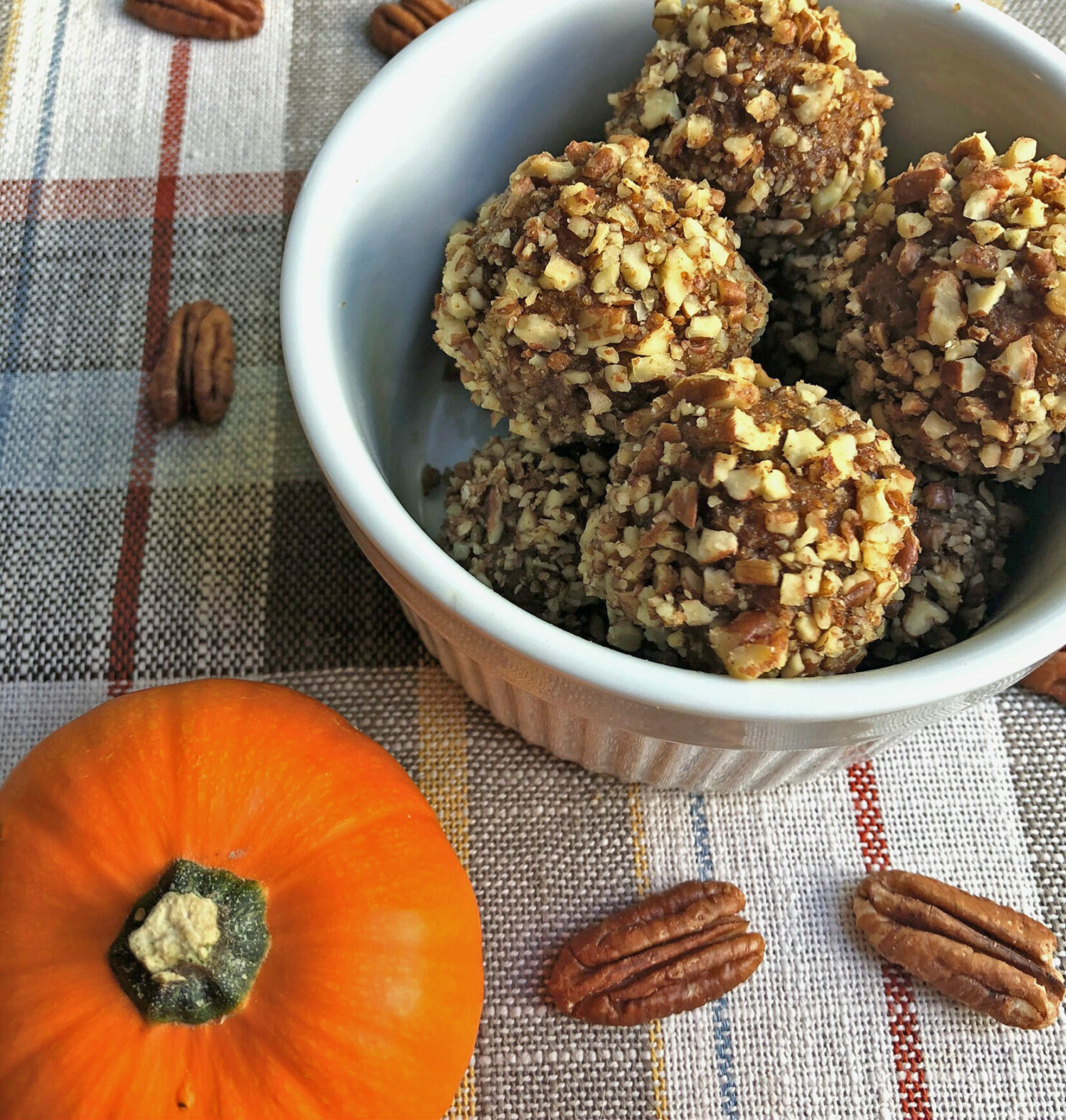 Need a quick pick-me-up? These easy-to-make pumpkin spice date balls are the perfect energizing snack!
When the afternoon slump hits, it's tempting to grab a prepackaged snack to make it through the day. Unfortunately, common vending machine treats like potato chips, snack cakes, and candy bars are full of preservatives, refined oils, and sugars that spike your blood sugar and set you up for a crash later on.
You can avoid this whole rollercoaster scenario if you spend just 15 minutes prepping these date ball snacks ahead of time. Since they're homemade, you naturally skip all the preservatives you would get from store bought treats. Plus, they're made with tasty dates instead of sugar.
If you haven't experimented with Medjool dates before, you're in for a treat. These caramel-like stone fruits are low on the glycemic index and are full of healthy fiber, which helps you feel fuller for longer. Plus, Medjool dates are high in antioxidants, and potassium, copper, and other nutrients that are beneficial for bone health.
To satisfy all those fall flavors you're craving, these date bites are made with pumpkin puree, pecans, and seasoned with pumpkin spice for a healthy snack that will make you feel warm and cozy on the inside.
It's incredibly easy to make these pumpkin spice date balls. Simply add the dates to the blender with pecans, pumpkin puree, flax meal for more fiber, and a dash of pumpkin spice. Blend until combined, but not completely smooth. You still want to have a little crunch!
Chill the mixture for at least 30 minutes to help firm it up before rolling them into balls. Finally, roll them through more finely chopped pecans to finish them off. Store them in the fridge until you're ready to enjoy! They're great for packing on-the-go like for long car rides, picnics, or hikes.
Tip: If your dates aren't super fresh, try soaking them in warm water to soften them up. About 10 minutes should do the trick!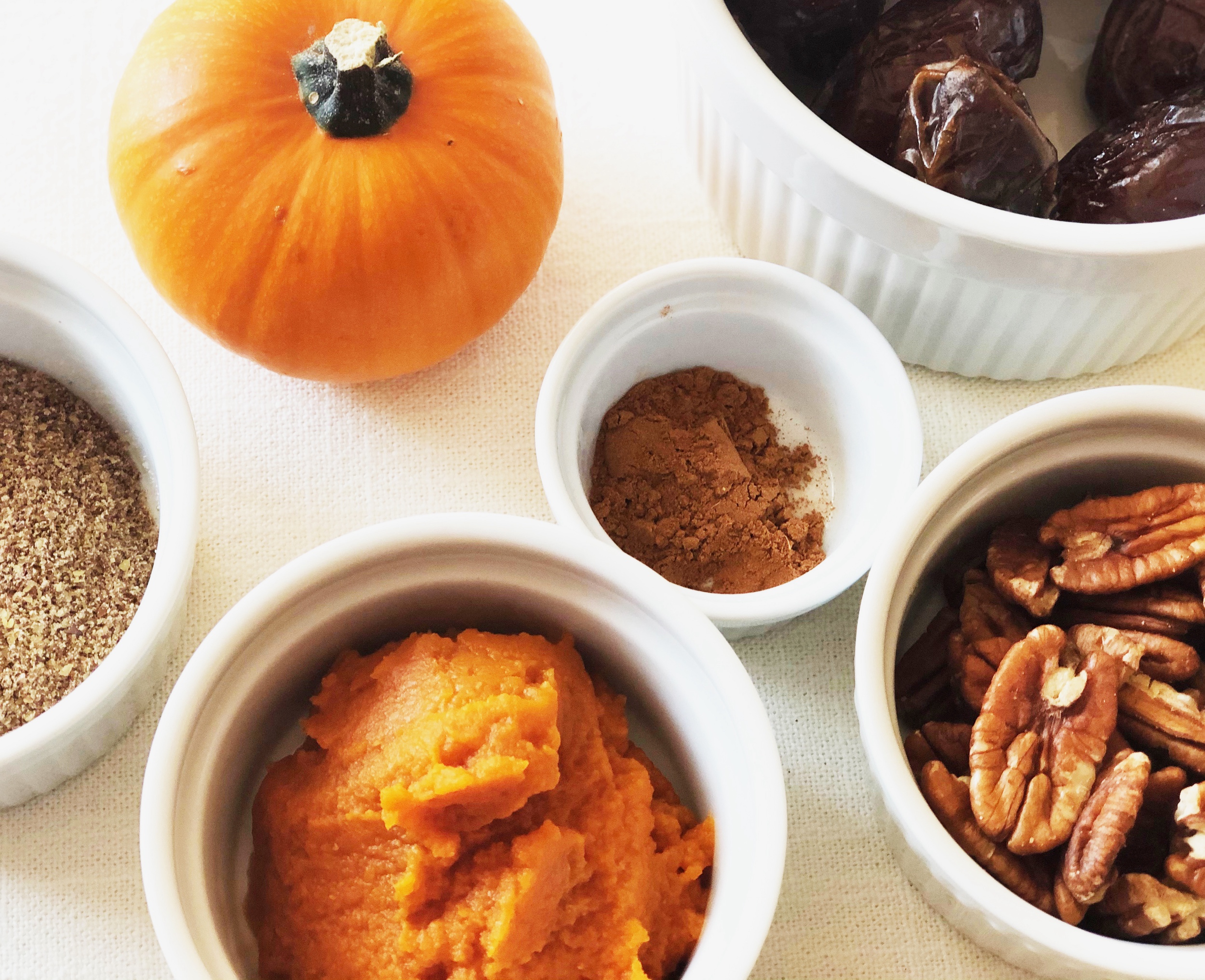 For hundreds of pure Paleo recipes be sure to check out  The Real Paleo Diet Cookbook  and  The Real Paleo Diet Fast and Easy.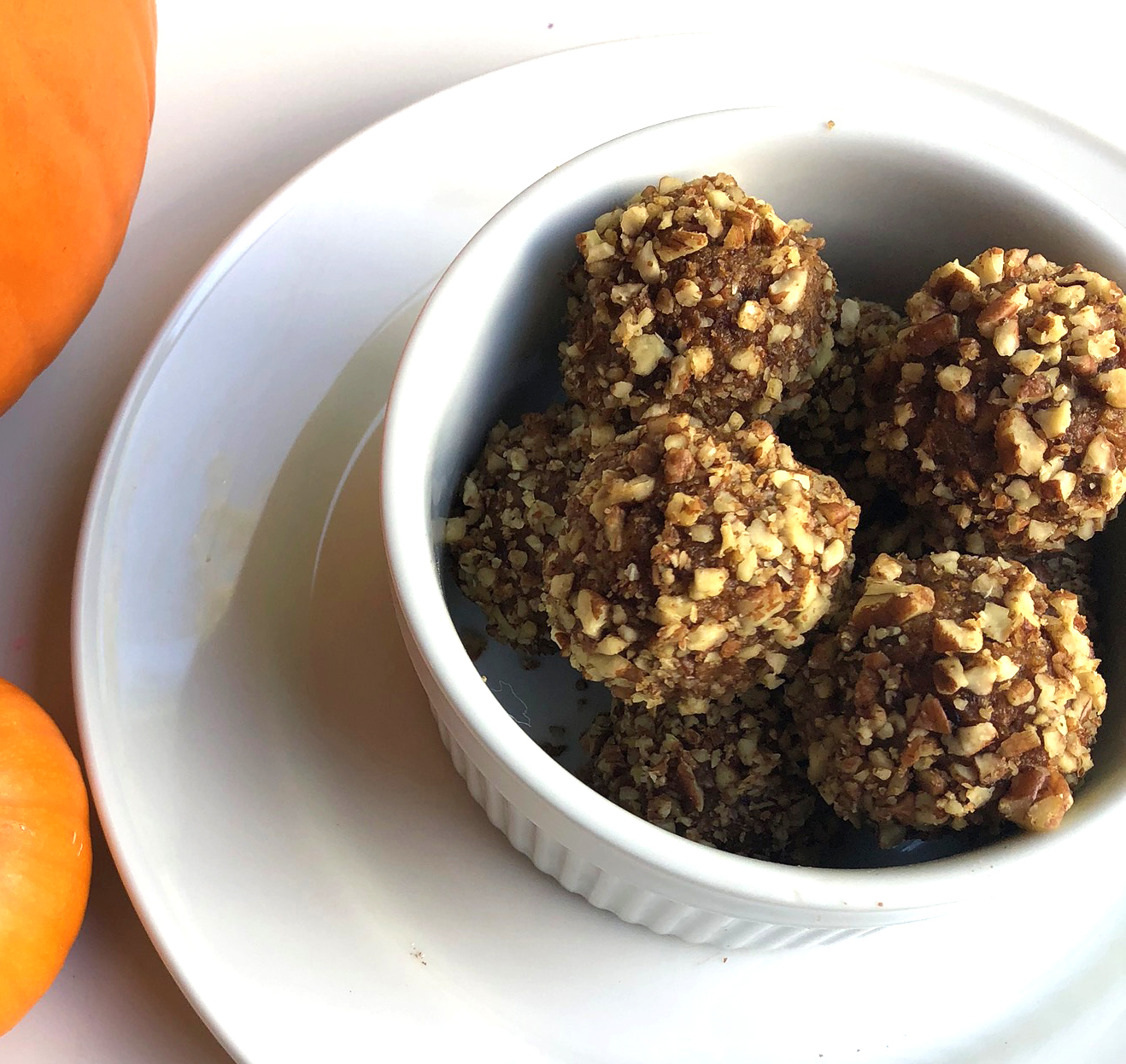 Details
Prep Time:

15 minutes

Cook Time:

30 minutes

Total Time:

45 minutes
Ingredients
3/4 cups finely chopped pecans, divided

1 cups pitted Medjool dates

1/2 cups pumpkin puree

1/4 cups ground flax meal

1 tsp pumpkin spice

1/4 cups finely chopped pecans
Directions
Add ½ cup of chopped pecans to a blender with all the other ingredients.

Blend until combined, but not completely smooth.

Transfer the mixture to a bowl, cover, and refrigerate for at least 30 minutes.

Use a spoon to scoop the mixture evenly, then form into balls.

Roll each lightly in the remaining finely chopped pecans. Enjoy!