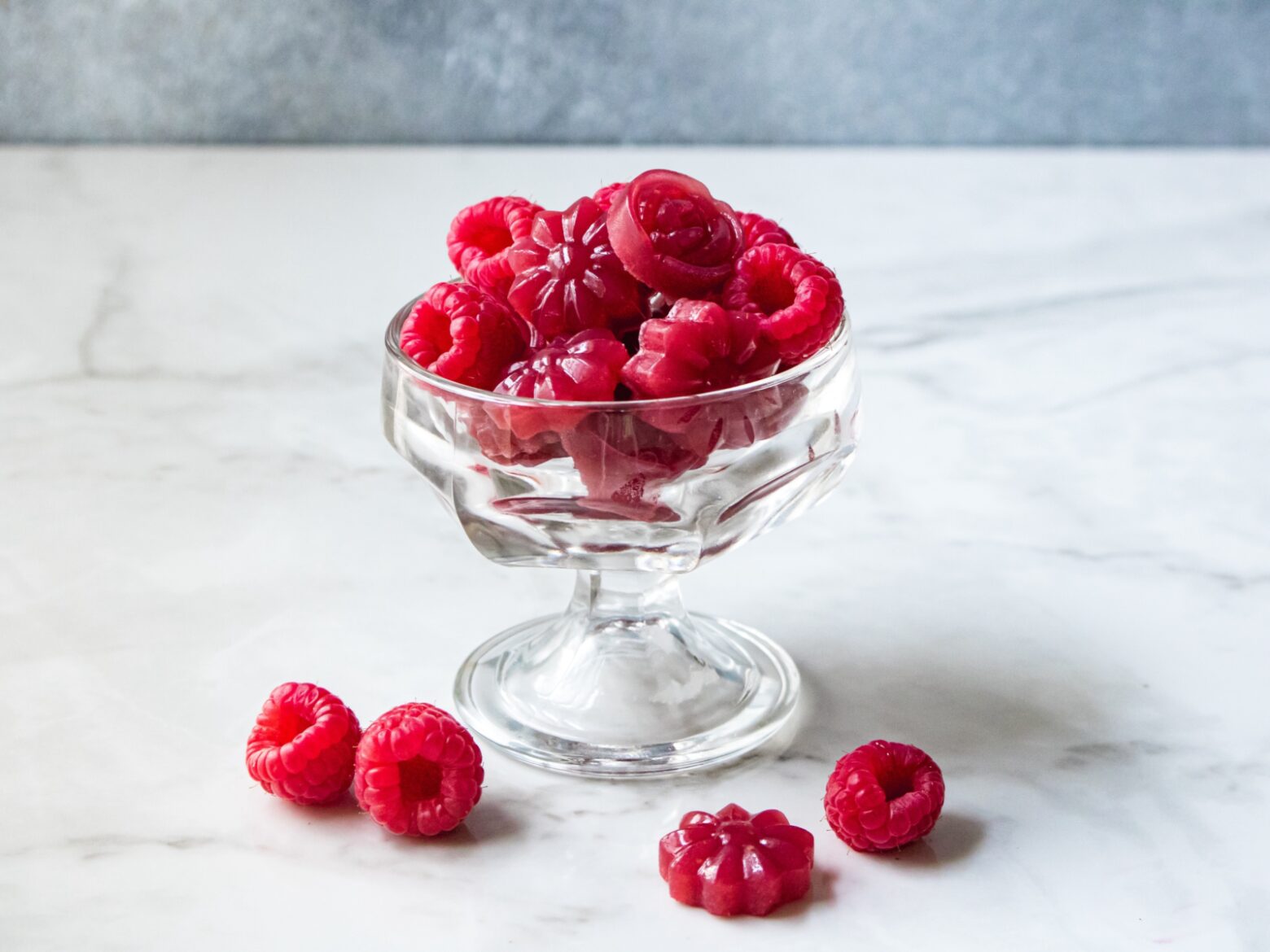 PaleoFLEX™ Pomegranate Raspberry Recovery Gummies
Treat your body after a tough workout with these refreshing gummy treats made with healing gelatin.
Going on a long bike ride or another extended type of exercise? Then you've earned these recovery gummies. Since they contain sugars that we don't typically include in our recipes, be sure to consume these during your workout or in the recovery window that's open for about 30-60 minutes afterward.
After moderate intensity, your body can absorb 25-40 grams of mixed carbs. This recipe contains just a tablespoon of honey, which contains 17 grams. That means that as long as you've worked out hard for at least an hour, you can break the traditional Paleo rules with these recovery gummies.
Gelatin is the key ingredient in these healing treats. This healthy supplement contains important amino acids that protect your cells after intense aerobic activity. [1] Plus, gelatin helps keep your joints flexible while repairing damaged muscle tissue. [2], [3] Talk about the ultimate recovery food! Just be sure to use unflavored, grass-fed gelatin for the best health benefits.
You can use strawberries or other berries if you wish, but we prefer raspberries for its naturally anti-inflammatory properties. Likewise, you can use unsweetened cranberry or cherry juice in place of the pomegranate juice if you prefer.
We recommend prepping these recovery gummies in advance so you can snack on them immediately after a workout. All you need is 15 minutes of hands-on time—the refrigerator does the rest of the work to turn them into a nice solid gel.
Start by blending fresh raspberries with unsweetened pomegranate juice in a food processor or blender. Strain the purée to remove the seeds, and heat in a saucepan until just hot. Stir in the honey, then remove from the heat and gradually whisk in the gelatin.
For nice portion-sized gummies, pour the liquid into BPA-free silicone molds. If you don't have molds, you can just pour the mixture into a bowl and portion it out after it has solidified.
Refrigerate your recovery gummies for about 3-4 hours, or until nice and firm. Enjoy after a hard workout, then store leftovers in the fridge in an airtight container for up to 1 week.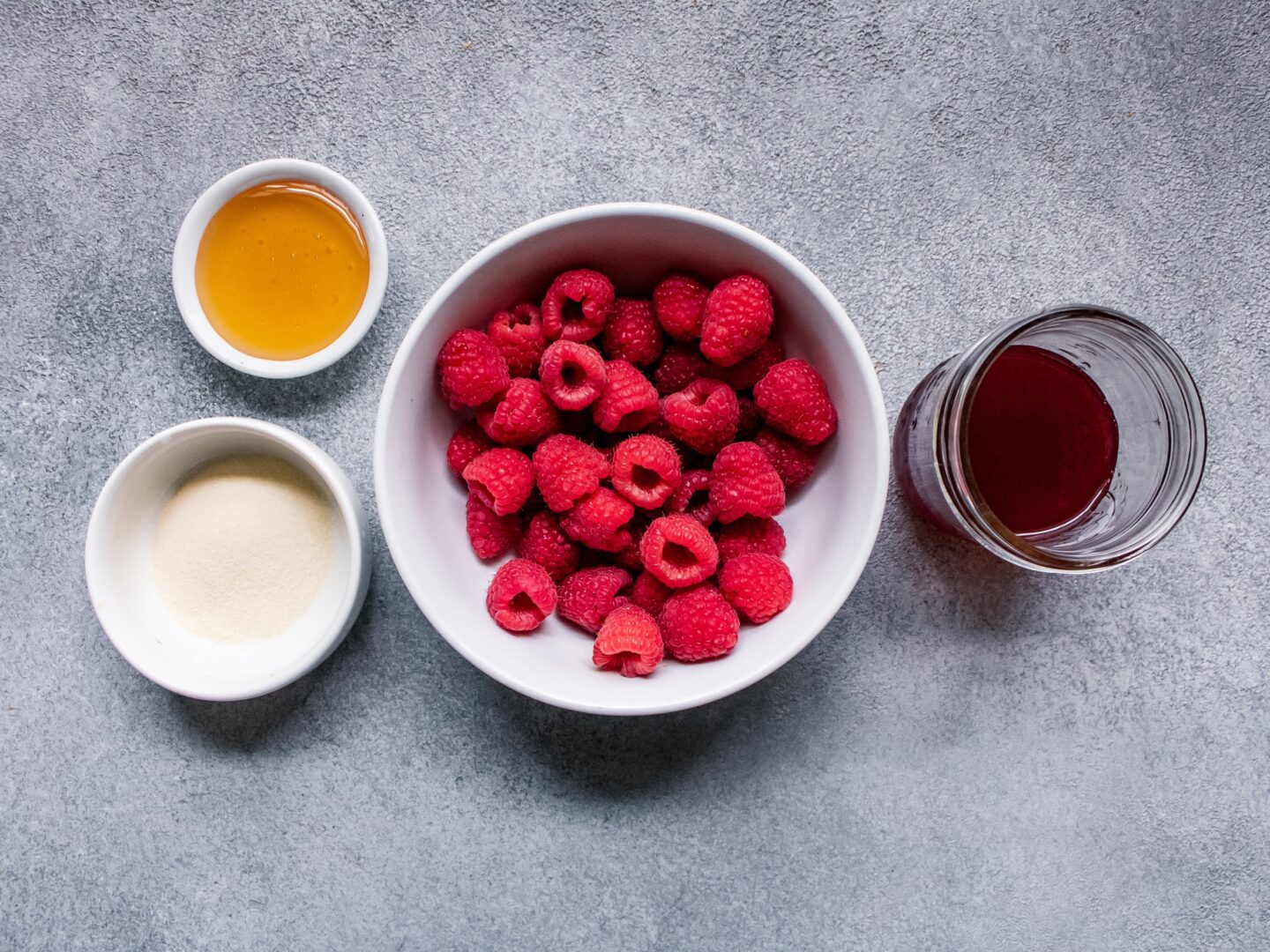 For hundreds of pure Paleo recipes be sure to check out The Real Paleo Diet Cookbook and The Real Paleo Diet Fast and Easy.
References
[1] J. E. Eastoe, "The amino acid composition of mammalian collagen and gelatin," Biochem J, vol. 61, no. 4, pp. 589–600, 1955, doi: 10.1042/bj0610589.
[2] K. L. Clark et al., "24-Week study on the use of collagen hydrolysate as a dietary supplement in athletes with activity-related joint pain," Curr Med Res Opin, vol. 24, no. 5, pp. 1485–1496, 2008, doi: 10.1185/030079908×291967.
[3] A. G. Schauss, J. Stenehjem, J. Park, J. R. Endres, and A. Clewell, "Effect of the Novel Low Molecular Weight Hydrolyzed Chicken Sternal Cartilage Extract, BioCell Collagen, on Improving Osteoarthritis-Related Symptoms: A Randomized, Double-Blind, Placebo-Controlled Trial," J Agr Food Chem, vol. 60, no. 16, pp. 4096–4101, 2012, doi: 10.1021/jf205295u.  
Details
Prep Time:

10 minutes

Cook Time:

5 minutes

Total Time:

15 minutes
Ingredients
6 oz fresh raspberries

5 oz unsweetened pomegranate juice

1 tbsp raw honey

2 tbsp grass fed gelatin
Directions
Add raspberries and pomegranate juice to a blender or food processor and blend until smooth.

Strain purée through a mesh strainer to remove seeds and add to a saucepan. Heat over medium heat for 2 minutes. Stir in honey and continue to heat until mixture is hot but not boiling, about 2 minutes longer. Turn off heat and gradually whisk in gelatin until dissolved.

Spoon mixture into BPA-free silicone molds or pour into a bowl. Refrigerate for 3-4 hours, until firm.