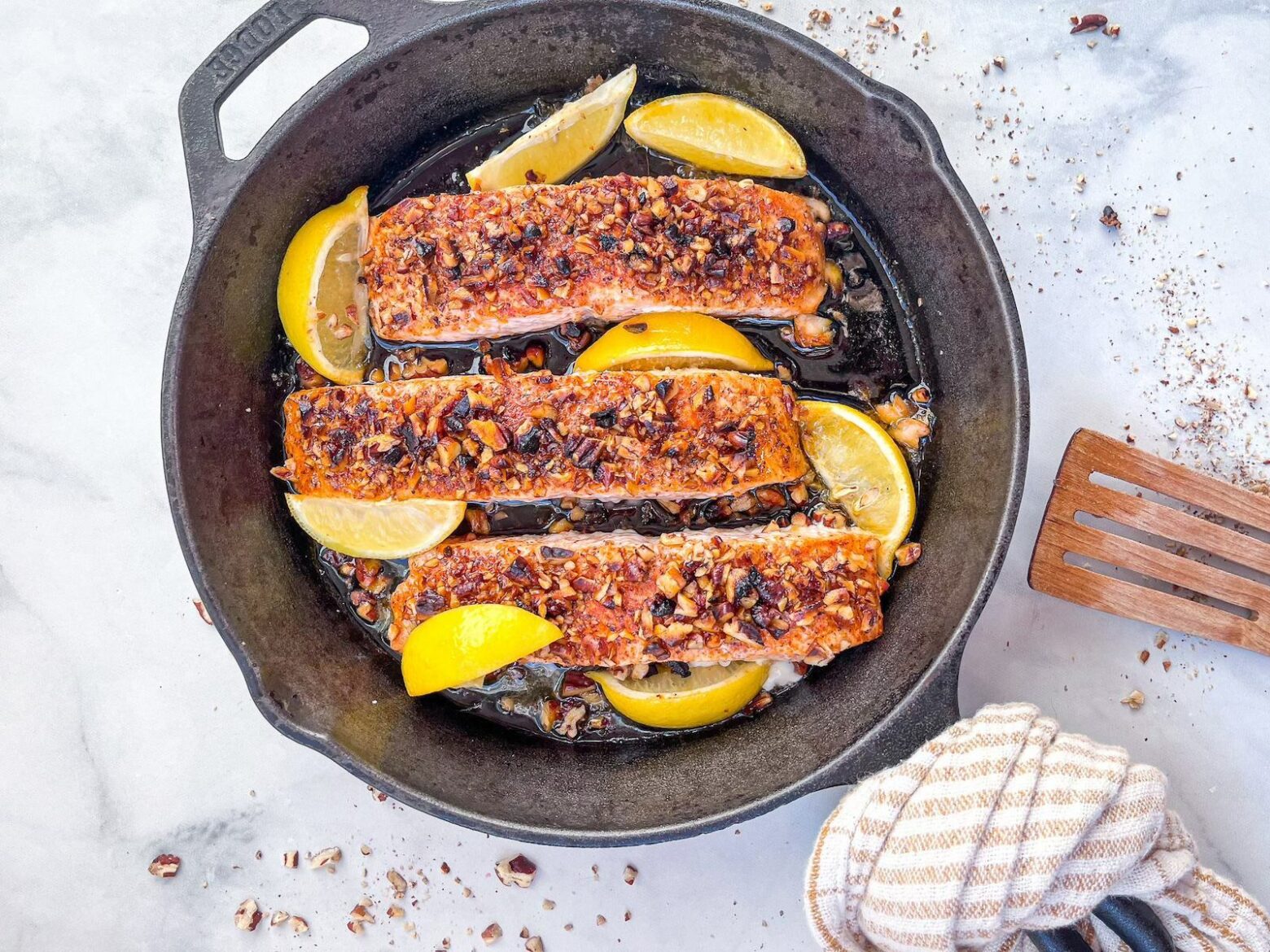 Pecan Ginger Crusted Salmon

This simple pecan and ginger-crusted salmon recipe may soon become your favorite meal. The salmon is seasoned and then coated in toasted pecans and cooked in a delicious maple ginger glaze. In about 30 minutes, you'll have a nutritious and satisfying meal.
Fatty fish like salmon contains omega-3 fatty acids, which research suggests can help protect your brain from age-related memory loss.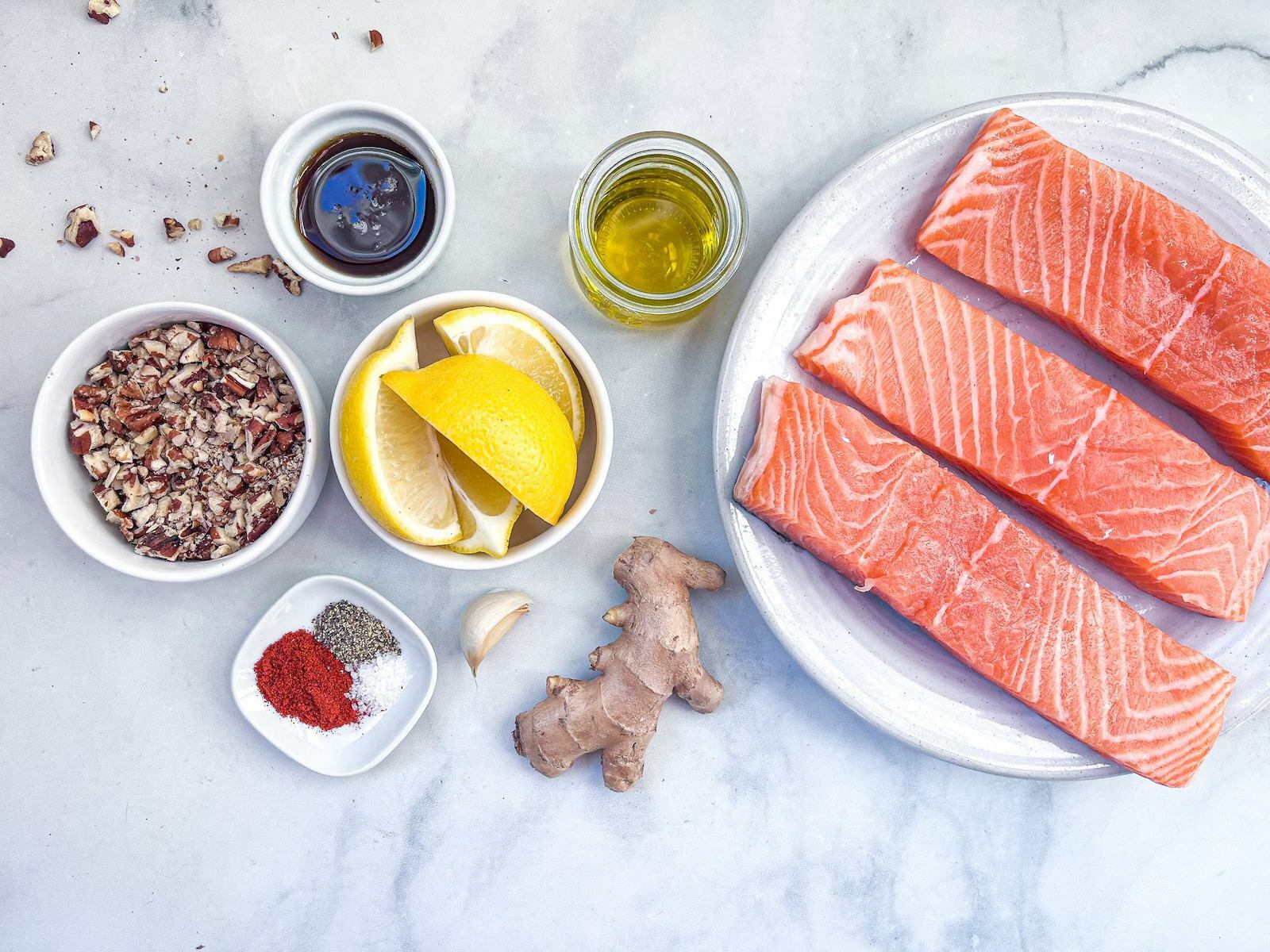 This dinner requires only a few minutes of hands-on prep time. The maple ginger sauce serves double duty: Start by cooking the garlic and ginger in a little olive oil, then add a splash of maple syrup. With that, you've created a delicious, fragrant sauce for the salmon. Be sure to reserve the rest for spooning on top.
Finally, cook the salmon, which has been rubbed with spices, in the same cast iron skillet. Add the crushed pecan and press the lemon wedges in between the salmon portions. Cook for 4-5 minutes then broil for 3 minutes or until the top has turned into a golden-brown color.
Serve immediately and add more lemon wedges, extra crushed pecans, and then drizzle with the remaining sauce. Enjoy it while it's hot!
Tips:
For the crust, you can replace crushed almonds with pecans.
Autoimmune Protocol (AIP) omissions and substitutions are listed in the recipe ingredients.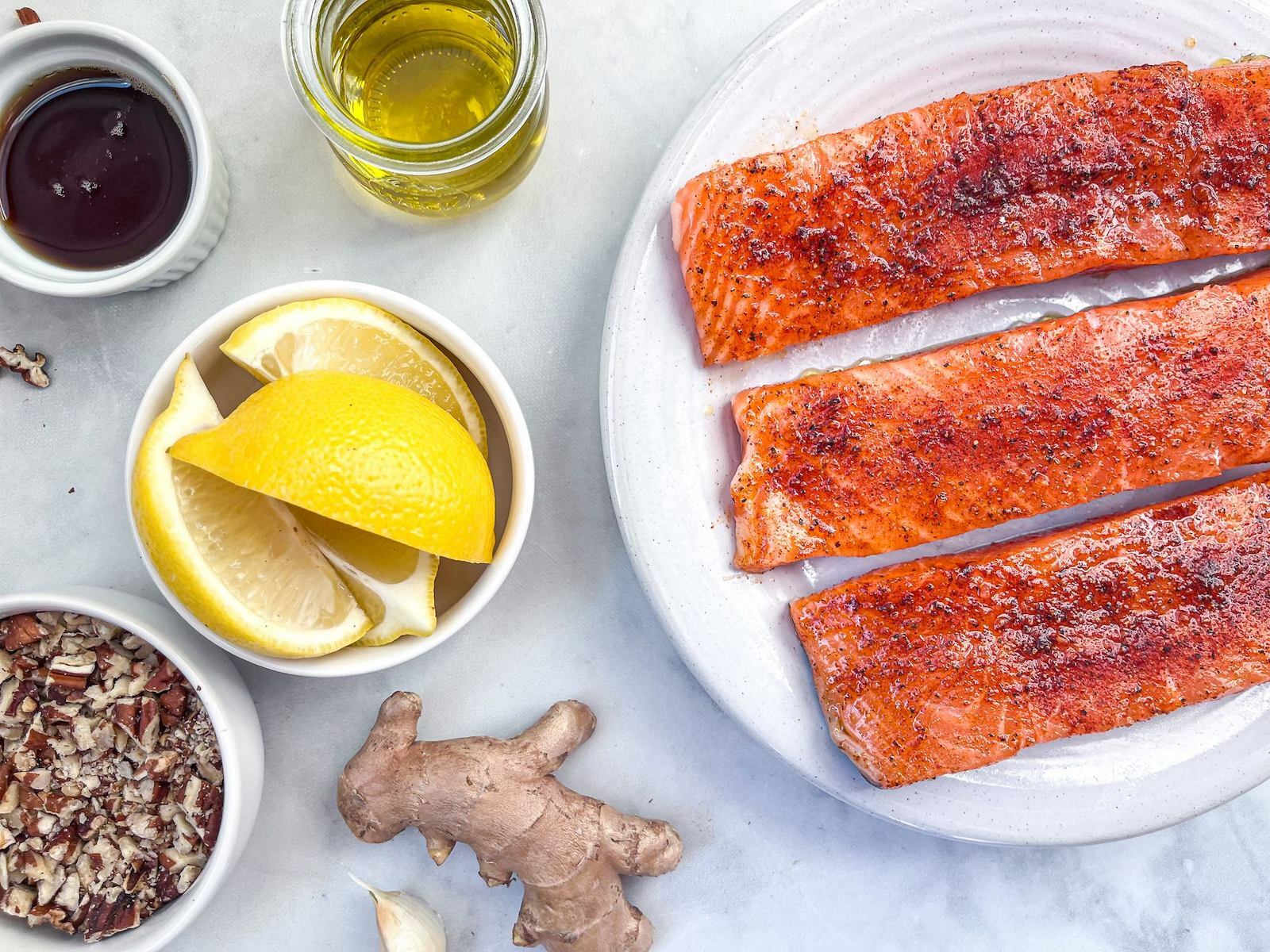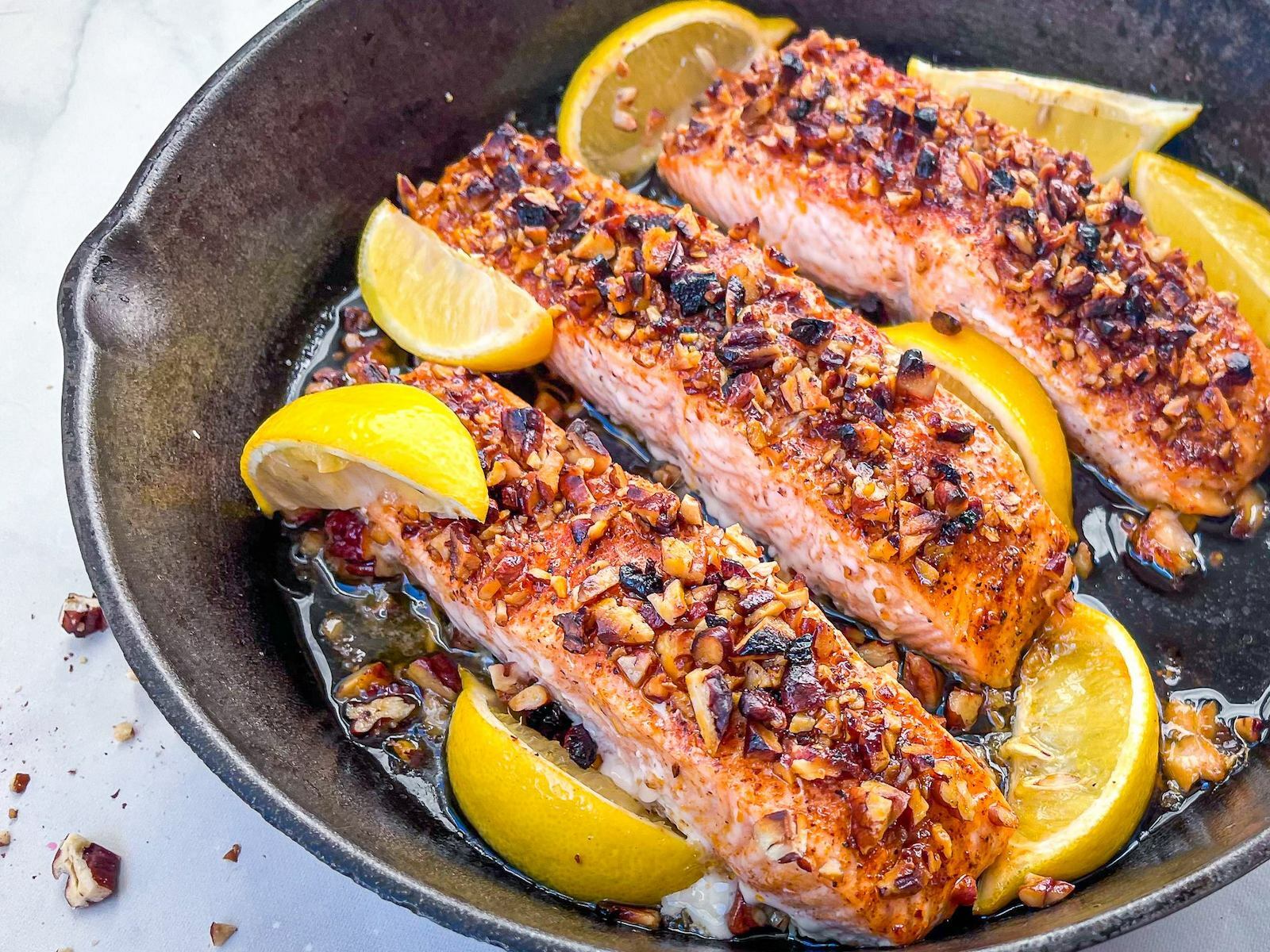 Details
Prep Time:

10 minutes

Cook Time:

10 minutes

Total Time:

20 minutes
Ingredients
1/2 cups crushed pecans

4 tbsp olive oil

4 salmon filets

1/4 tsp salt

1/4 tsp black pepper (AIP - omit)

1/2 tsp smoked paprika (AIP - substitute with ground ginger)

3 garlic cloves, pressed or minced

1 inch ginger, finely minced

2 tbsp maple syrup

1 lemon, sliced wedges
Directions
To toast the pecans, place them on a baking tray and toast them in your toaster for about 5 minutes. Make sure you take them out right away so they don't burn. Let them cool for a minute or so, then chop them finely. If you don't have a toaster, you can toast them on the stove in a pan, just watch them carefully.

Drizzle 2 tbsp of olive oil onto the salmon filets, after that season with salt, pepper, and smoked paprika evenly with your hands or a brush. Then divide the pecans between the salmon (on the tops only) and pat down gently.

In a large frying pan or cast-iron pan, heat with 2 tbsp of olive oil. Add the minced garlic and ginger, let it cook for about a minute or so. Pour on the maple syrup and bring it to a boil (a minute or two). Slowly add the salmon portions to the pan and place the sliced lemons wedges in between. Keep spooning the sauce over the salmon portions.

Cook the salmon portions for about 4-5 minutes then transfer the pan to the oven. Broil for 3 minutes or until the top has turned into a golden-brown color. Serve immediately and add some more lemon wedges and extra crushed pecans if desired.