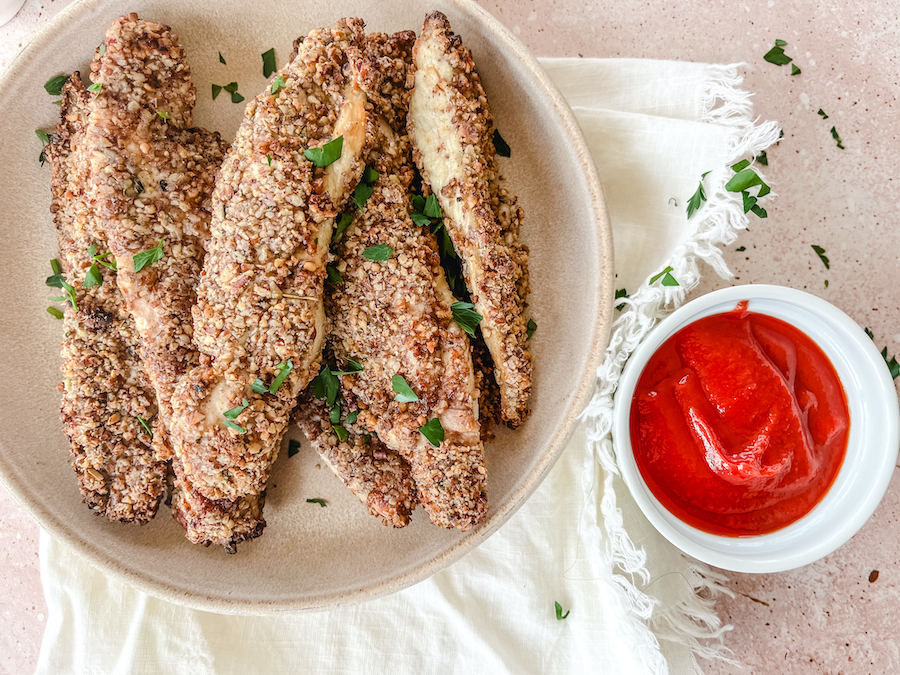 Pecan-Crusted Chicken Tenders
Juicy chicken is coated in a nutty pecan topping and oven-baked until golden.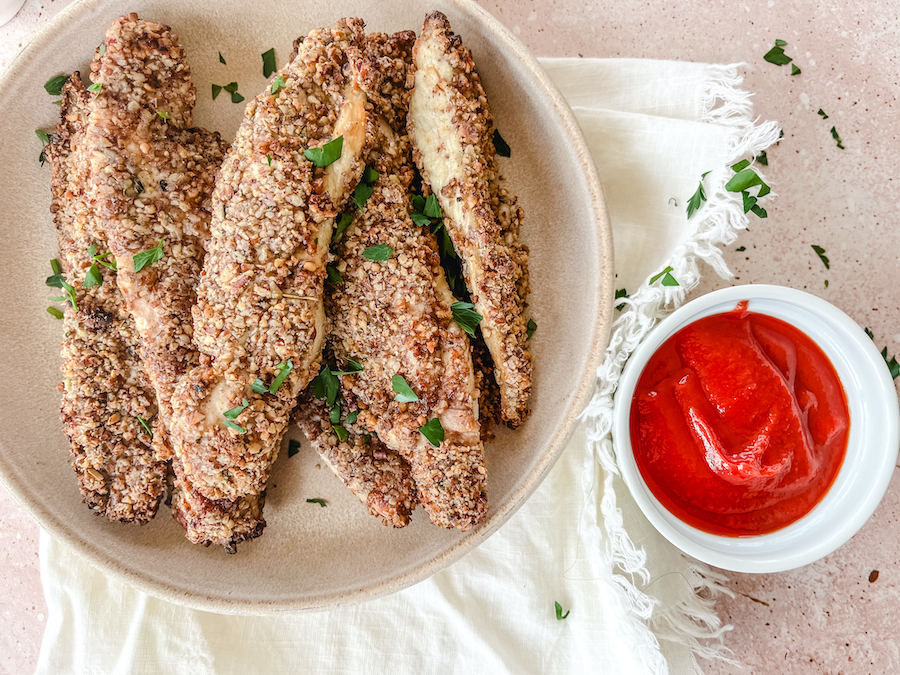 Juicy chicken is coated in a crunchy pecan topping for a crowd-pleasing dinner the whole family will love!
Yes, you can have healthy and tasty chicken fingers without the salt, breadcrumbs, and oil that typically make this childhood favorite so unhealthy. Instead of flour or panko, we used nutty pecans as a crispy coating. We baked ours in the oven, but you can also use an air fryer if you have one.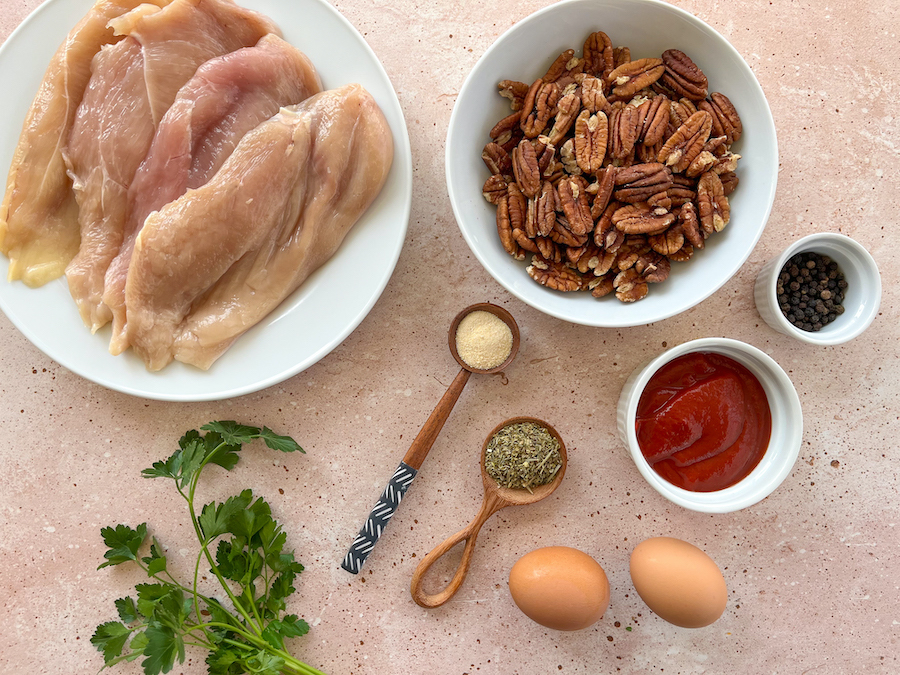 Start by halving chicken breasts lengthwise. We liked using larger pieces for a juicier interior, but you can also cut your chicken into strips about ½ inch thick, or even buy chicken tenders at the store. Just be aware that you'll need to cut down the cooking time to about 20 minutes, and flip at the 10-minute mark.
The coating is made from pecans flavored with onion powder and black pepper. Use your food processor or a high-speed blender to pulse whole or halved pecans just until crumbly – be sure not to let them become a flour consistency, or you'll miss out on that crispy-crunchy topping!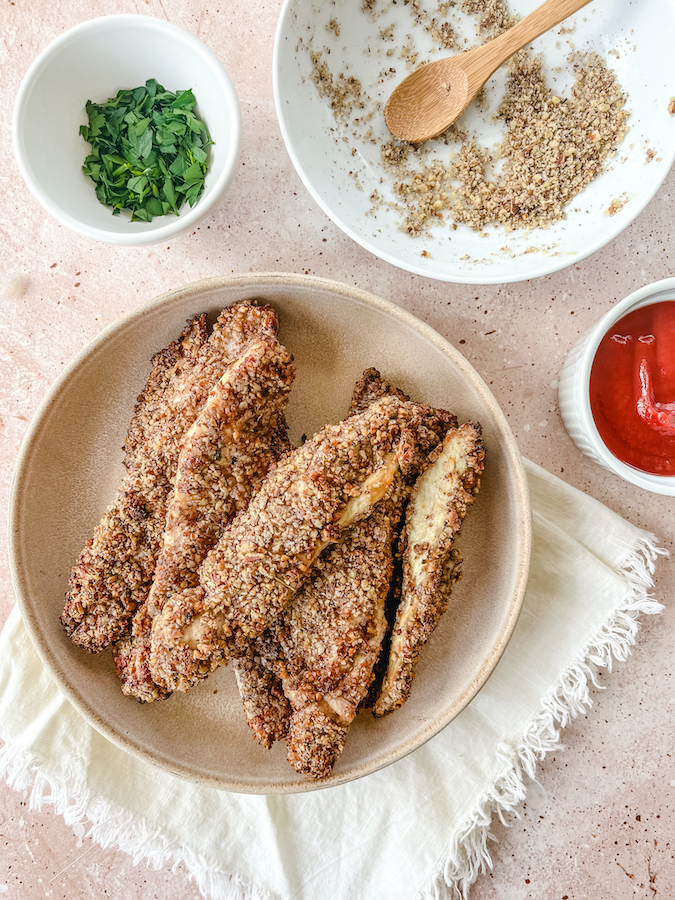 To coat your chicken, simply dip each piece into an egg wash, then dredge both sides into the pecan topping to fully coat. Bake until golden, then serve with Paleo ketchup (or another favorite condiment) for dipping.
Air fryer instructions: Preheat the air fryer to 350°F and grease the basket with a bit of avocado oil. Arrange the chicken in a single layer and bake for 12-15 minutes.
For hundreds of pure Paleo recipes be sure to check out The Real Paleo Diet Cookbook and The Real Paleo Diet Fast and Easy.

Details
Serves:

6

Prep Time:

15 minutes

Cook Time:

30 minutes

Total Time:

45 minutes
Print this Recipe
Ingredients
1 1/2 lb chicken breasts

1 1/2 cups pecans

2 tsp Italian seasoning

1 tsp onion powder

1/4 tsp black pepper

2 eggs

1/4 cups freshly chopped parsley

1/4 cups Paleo ketchup
Directions
Preheat the oven to 400°F and line a large baking sheet with parchment paper.

Slice each chicken breast in half lengthwise, then pat dry with a paper towel and set aside.

Lightly pulse the pecans in a food processor a few times, until crumbly but not too fine. Transfer the pecan crumbles to a bowl and mix in the Italian seasoning, onion powder and black pepper. Pour onto a plate. In another small bowl, whisk the eggs well.

Dip each chicken tender into the eggs, then press both sides into the pecan mixture to fully coat. Set the chicken onto the prepared baking sheet.

Bake for 30 minutes, flipping halfway through. If the pecan topping starts to brown, cover it with foil. The chicken is ready when the internal temperature reaches 165°F.

Serve sprinkled with freshly chopped parsley, with a side of Paleo ketchup for dipping.