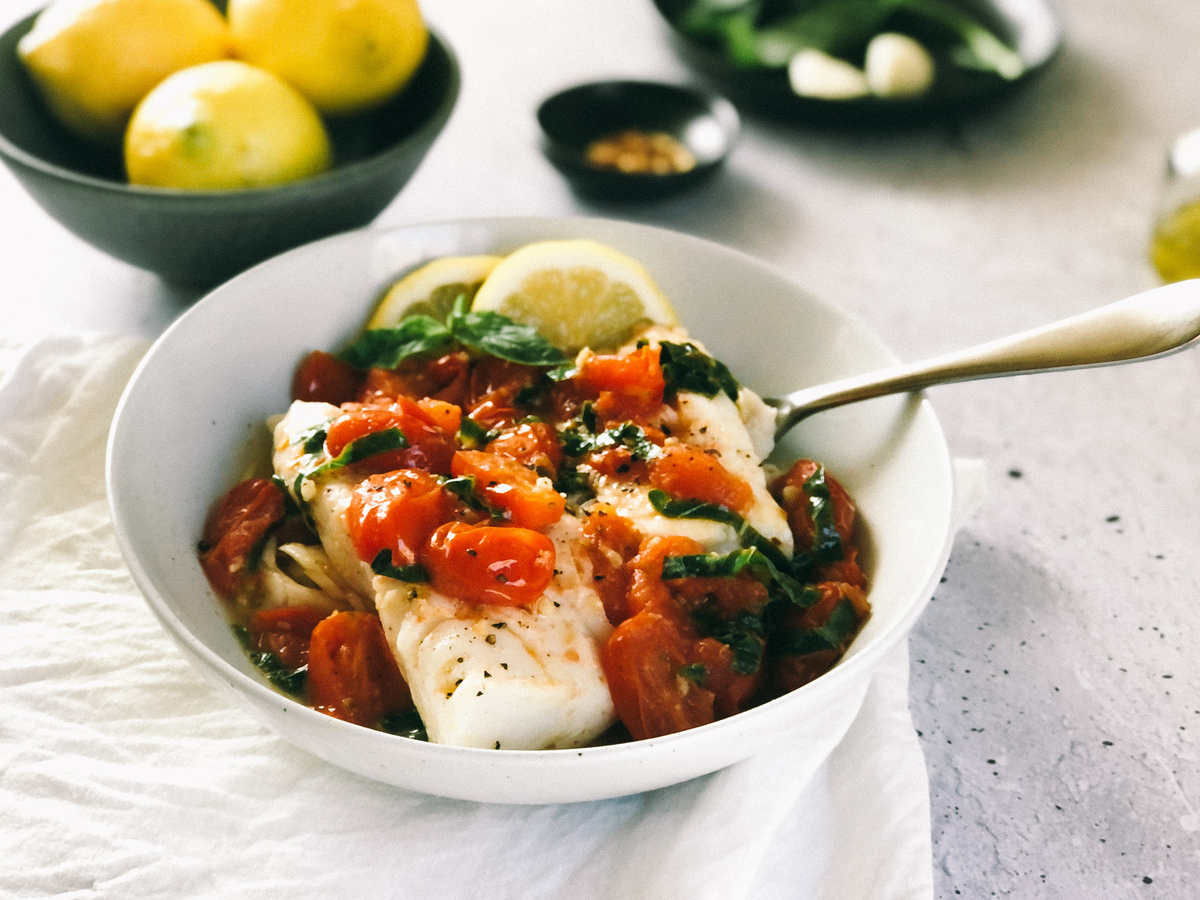 Pan Seared Cod with Tomato Basil Sauce
Fresh, wild-caught cod fillets are a favorite at The Paleo Diet. You can prepare this delicious meal for the whole family in just half an hour!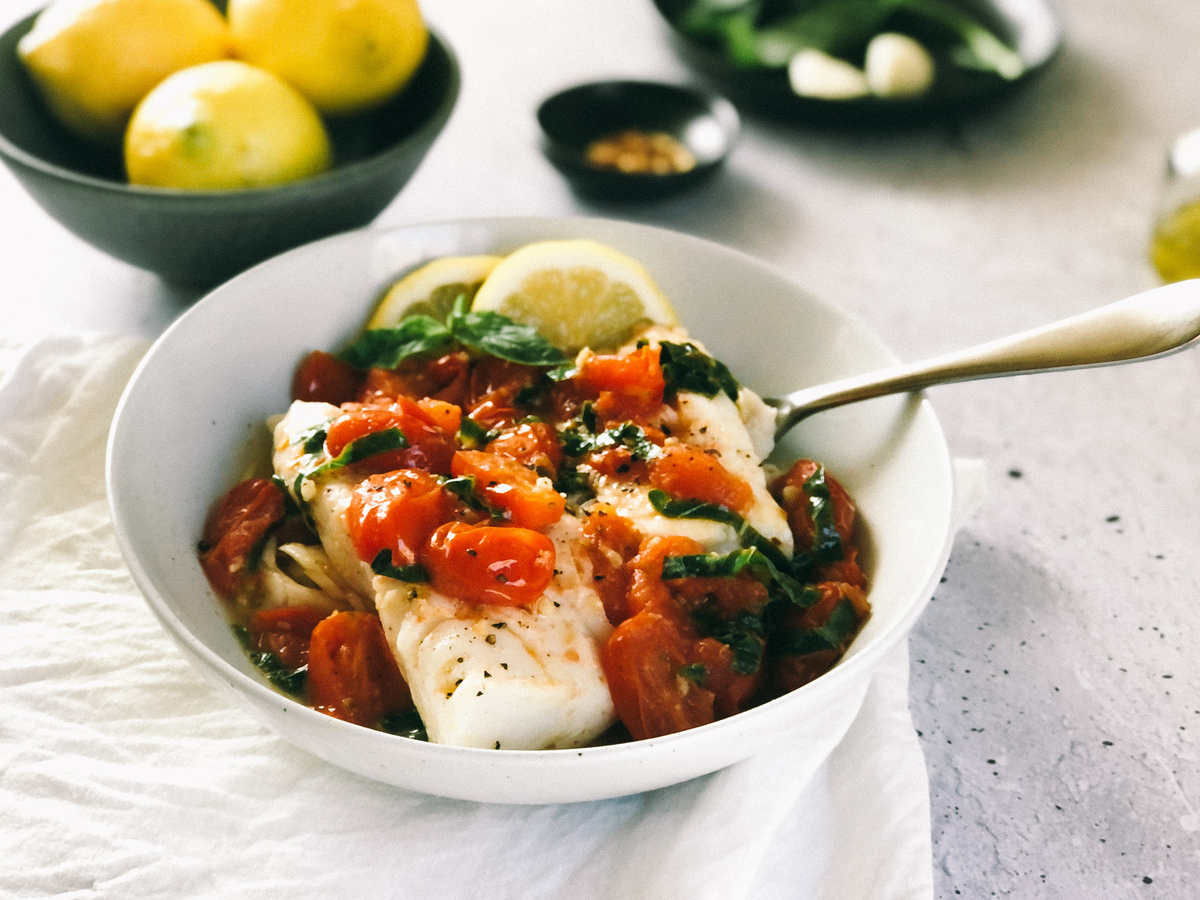 This Italian-inspired recipe only tastes like it came from a five-star restaurant. You can whip up this easy tomato-topped cod recipe in just 30 minutes!
Cod fillets are a favorite here at The Paleo Diet®. This delicate, mild white fish soaks up the flavors of the homemade white wine sauce for an elegant meal. Pair with fresh greens and a side of grapes for a Mediterranean lunch or dinner—preferably served al fresco.
Start by building the sauce in an oven-safe skillet. Warm red pepper and garlic in a bit of olive oil until fragrant, then add sliced cherry tomatoes and cook until soft and blistering, about 10 minutes. Pour in the white wine and allow the sauce to come to a simmer. Stir in basil, lemon juice, and lemon zest, then set aside and wipe the skillet clean.
Next, heat a bit more olive oil in the pan and add the cod fillets. Cook until they are golden brown on one side, about five minutes. Flip the fish and finish them in the oven—all you need is about five minutes.
Serve your cod fillets topped with the sauce, and enjoy it while it's hot!
Tip: If you don't have an oven-safe skillet, you can transfer the cod to a baking dish, or just cook a little longer in the pan.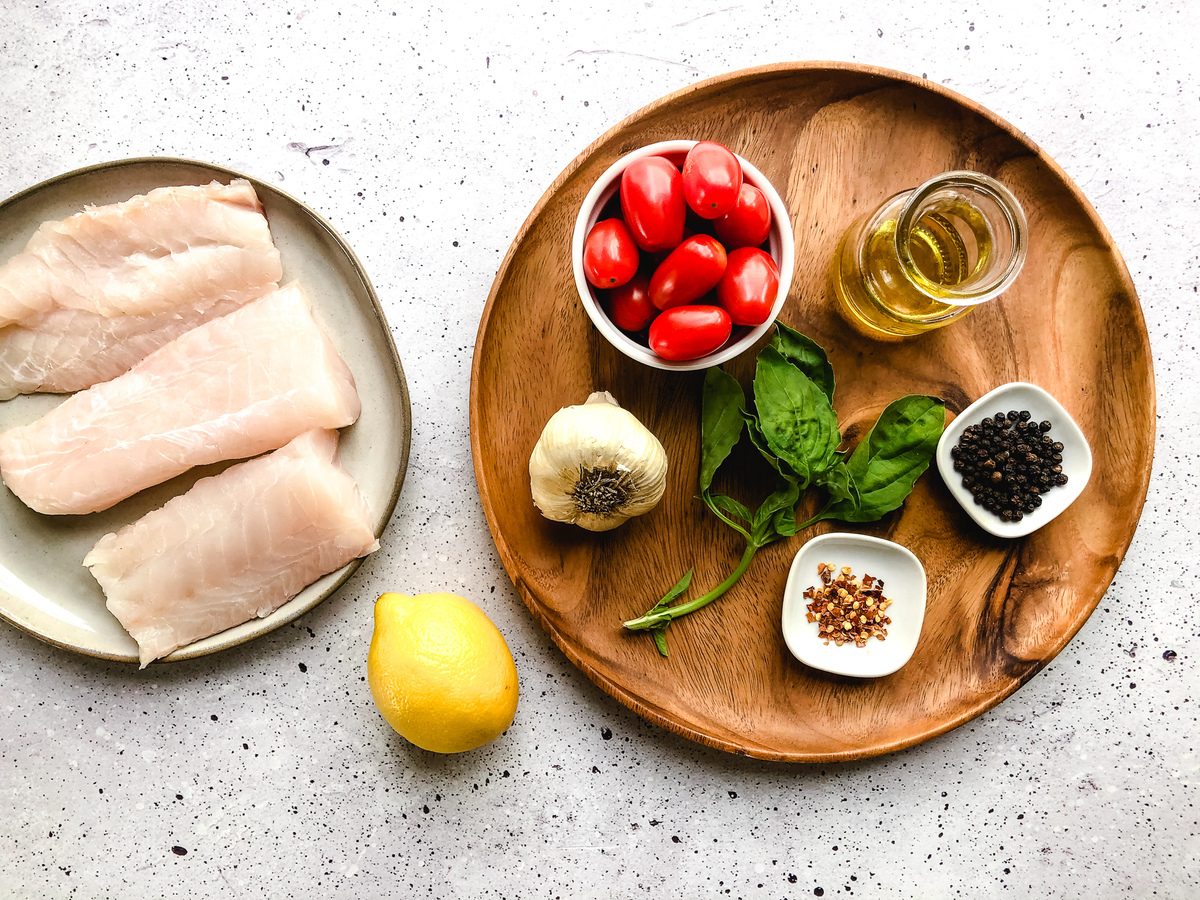 For hundreds of pure Paleo recipes be sure to check out  The Real Paleo Diet Cookbook and  The Real Paleo Diet Fast and Easy.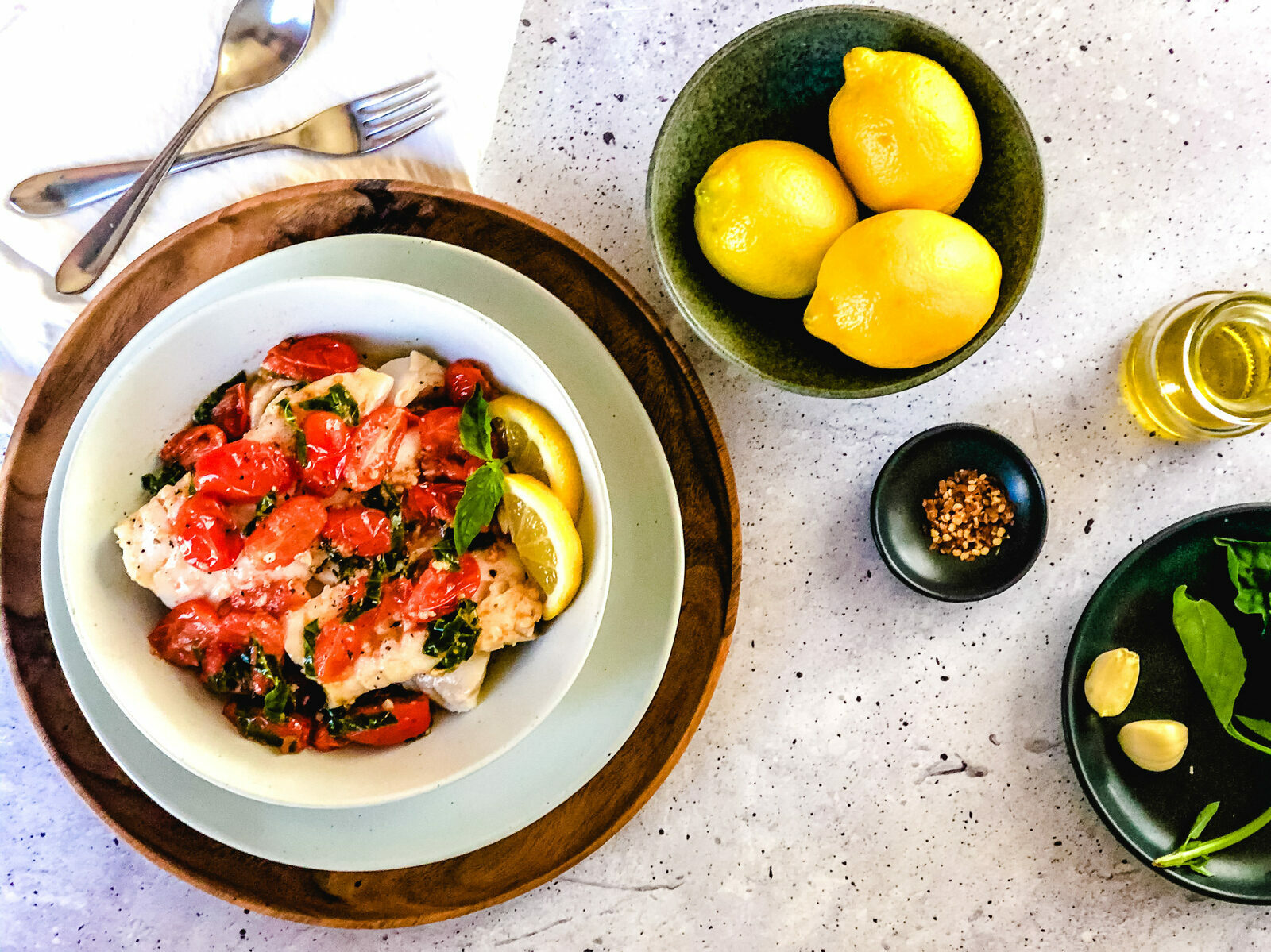 Details
Serves:

4

Prep Time:

5 minutes

Cook Time:

25 minutes

Total Time:

30 minutes
Print this Recipe
Ingredients
4 tbsp olive oil, divided

1/2 tsp crushed red pepper flakes

2 large cloves (or 3 smaller cloves) garlic, finely minced

1 pint cherry tomatoes, sliced in half

1/4 cups dry white wine (or chicken stock)

1/2 cups fresh basil, finely chopped

2 tbsp fresh lemon juice

1/2 tsp fresh lemon zest

1/4 tsp fresh ground black pepper (more to taste)

1 1/2 lb fresh cod, cut into 4 fillets (or four 6 ounce fillets)
Directions
Preheat oven to 375°F.

Heat 2 tbsp olive oil in a large sauté pan over medium heat. Add crushed red pepper flakes and garlic and sauté for 1 minute, or until garlic is fragrant.

Add the cherry tomatoes and cook, stirring occasionally, until they are soft and blistering, but still hold their shape, 9 to 12 minutes.

Add in the white wine (or chicken stock), stir, and allow the mixture to come to a gentle simmer.

Stir in the basil, lemon juice, and lemon zest. Let cook for 2 minutes. Transfer the sauce into a bowl and set aside.

Heat the remaining 2 tbsp olive oil in a large sauté pan over medium heat. Add the cod and cook until golden brown, about 5 minutes. Carefully flip the cod over and place the pan in the oven to continue cooking for another 5 minutes, or until the fillets are cooked through.

Pour the white wine tomato basil sauce over the cod and serve at once.