PaleoFLEX™ Sweet Potato Brownies
Satisfy your sweet tooth with these ooey-gooey brownies topped with chocolate chips. They're made with a hidden superpower ingredient: sweet potatoes!
Who would have thought that putting sweet potatoes in your brownies would make for such a delicious treat? Mashed sweet potatoes are great for these fudgy brownies because they lend moisture and a rich, chewy texture that you couldn't achieve otherwise. Plus, they're mild enough that they help enhance the taste of the chocolate rather than take away from it.
The sweet potatoes in this recipe do so much more than enhance the texture: they're also super nutritious. Sweet potatoes are a great source of beta carotene and vitamin A that can improve your digestion, boost your immunity and even fight cancer. They're also a powerful anti-inflammatory food. Talk about a superfood!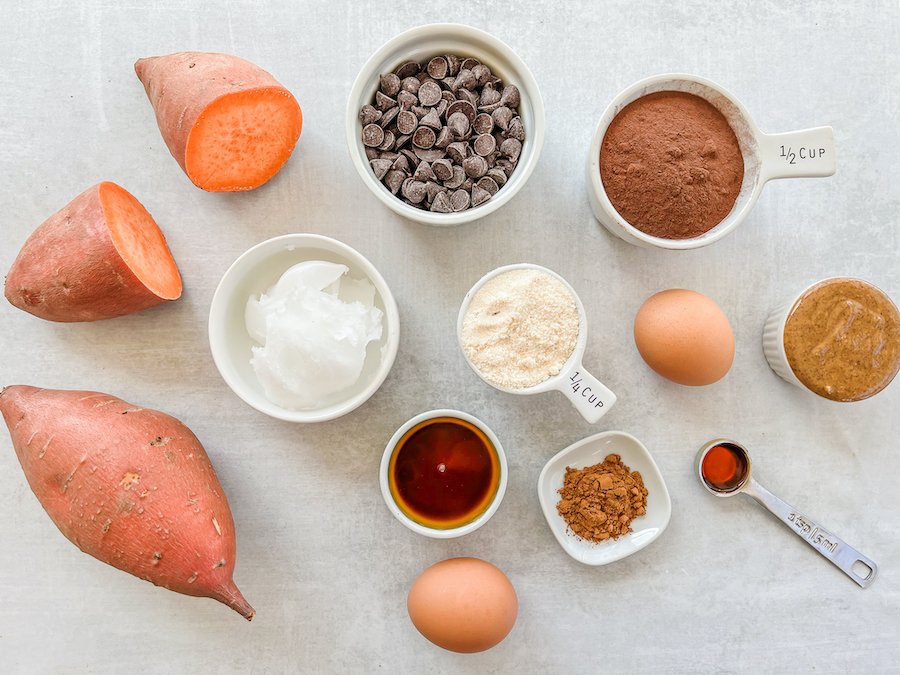 Although, we don't normally advocate for sneaking in your veggies (they taste great all by themselves!), it doesn't hurt to add some to your once-in-awhile treats.
This recipe is simple: mix the wet and dry ingredients separately, then combine them to create a ooey-gooey brownie mix. Now is the best time to lick the spoon (with caution), because we know you want to!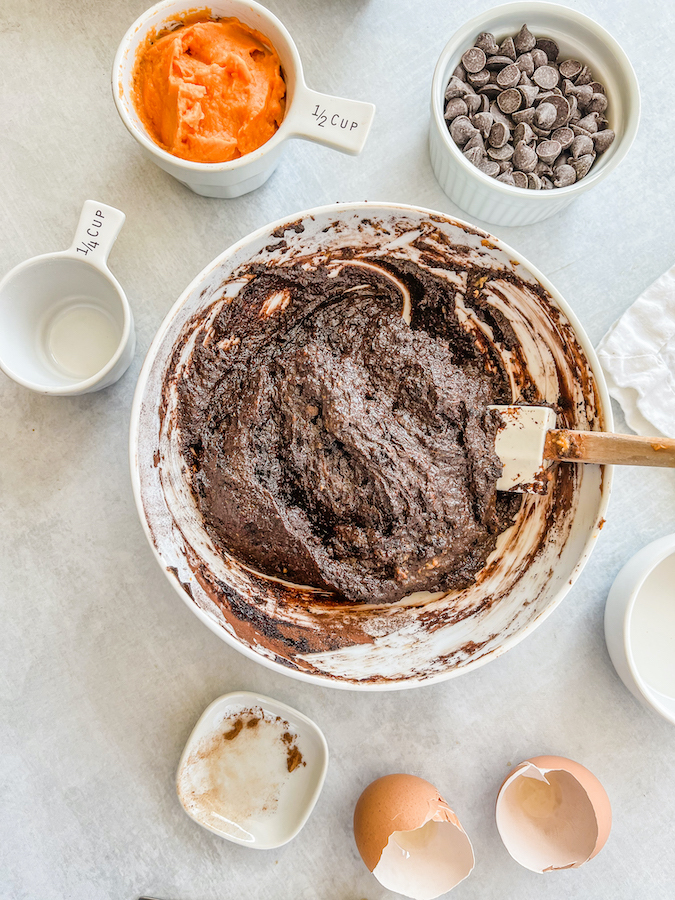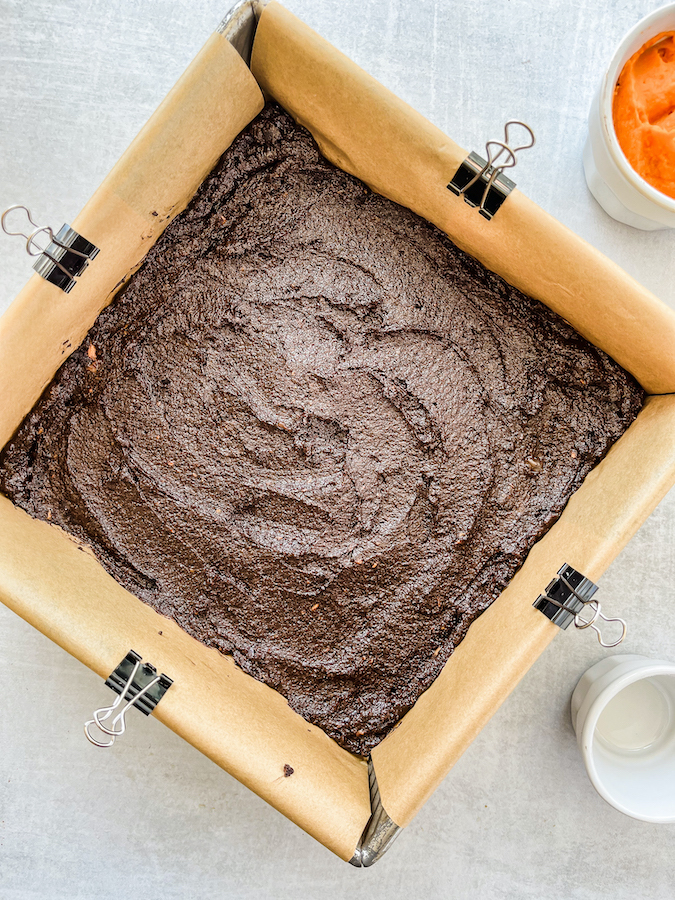 If you like, add your choice of chopped nuts into the batter at this step. About ¼ cup will do the trick for a little extra crunch. You can add any kind you like, but walnuts would work especially well here.
Pour into a prepared baking sheet, top with chocolate chips, and let the oven do the rest of the work.
Bake your brownies for 30-35 minutes, or until a toothpick inserted in the center comes out clean. Serve as a dessert at a dinner party, or bring to your next bake sale. It's sure to be a fan favorite!

Tip: If you don't like almond butter, you can use cashew or pecan butter instead.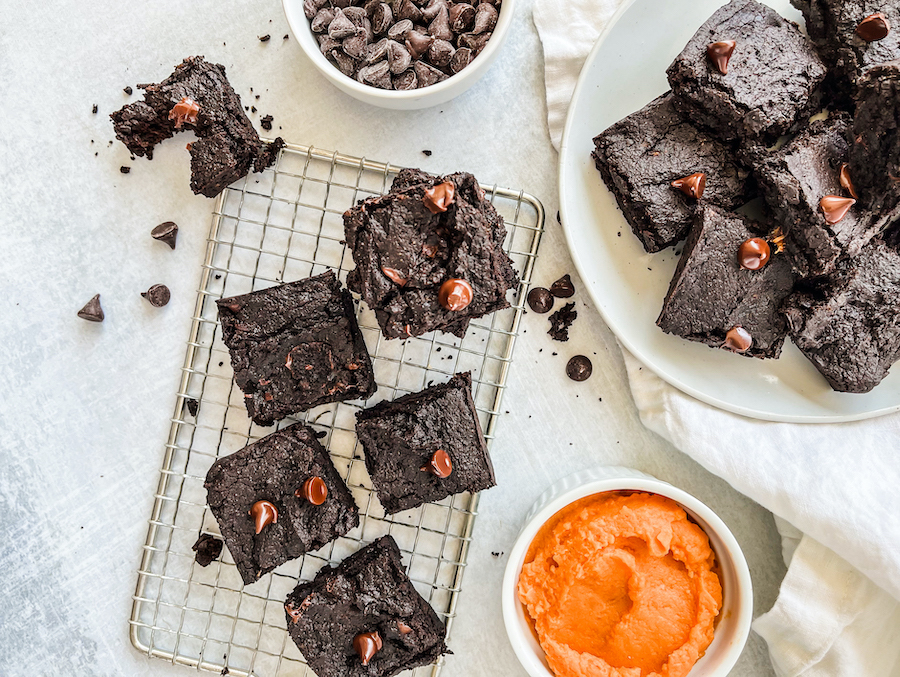 For hundreds of pure Paleo recipes be sure to check out The Real Paleo Diet Cookbook and The Real Paleo Diet Fast and Easy.

Details
Recipe by: Jess Case
Serves:

16

Meal:

Dessert
Prep Time:

10 minutes

Cook Time:

35 minutes

Total Time:

45 minutes
Ingredients
1/2 cups sweet potato, cooked and mashed

1/4 cups coconut oil, melted

2 eggs

1/4 cups honey

1/4 cups almond butter

1 tsp vanilla

1/4 cups coconut flour

1/2 cups unsweetened cacao powder

1 tsp cinnamon

1/2 cups chocolate chips, 80% cacao or higher
Directions
Preheat the oven to 350°F and line an 8x8 inch pan with parchment paper. Set aside.

In a medium mixing bowl, combine the mashed sweet potatoes, coconut oil, eggs, honey, almond butter and vanilla and incorporate well.

In a separate small bowl, whisk the coconut flour, cacao powder and cinnamon.

Pour the wet ingredients to the dry ingredients. Use a spoon to mix until just combined, taking care not to overmix. Fold in most of the chocolate chips.

Transfer the batter into the prepared pan and sprinkle the remaining chocolate chips on top.

Bake for 30-35 minutes, or until a toothpick inserted in the center comes out clean.

Let the brownies cool completely, then slice and enjoy!