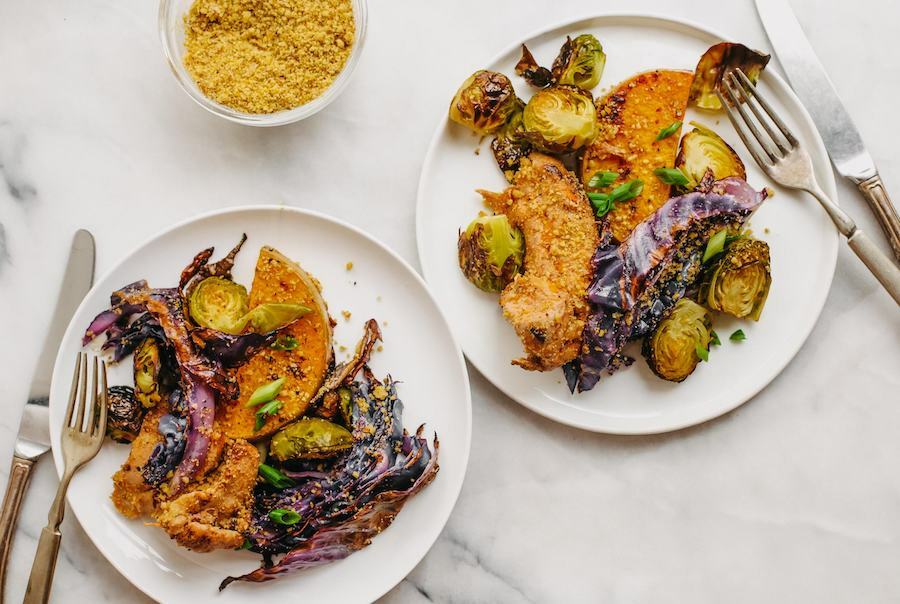 PaleoFLEX™ Sheet Pan Chicken and Veggies with Walnut Parmesan
Make dinnertime a snap! These sheet pan chicken and veggies are coated in a sweet orange-honey sauce and topped with a savory walnut "Parmesan" for an easy, yet uniquely delicious meal.
This recipe is versatile, and you can easily swap in other hearty veggies as needed. We used Brussels sprouts, purple cabbage, and butternut squash, but feel free to use broccoli, cauliflower, or other vegetables that cook at a similar rate. You can also reserve fast-cooking veggies, like bell peppers and mushrooms, to add to the sheet pan during the last 15 minutes of cooking.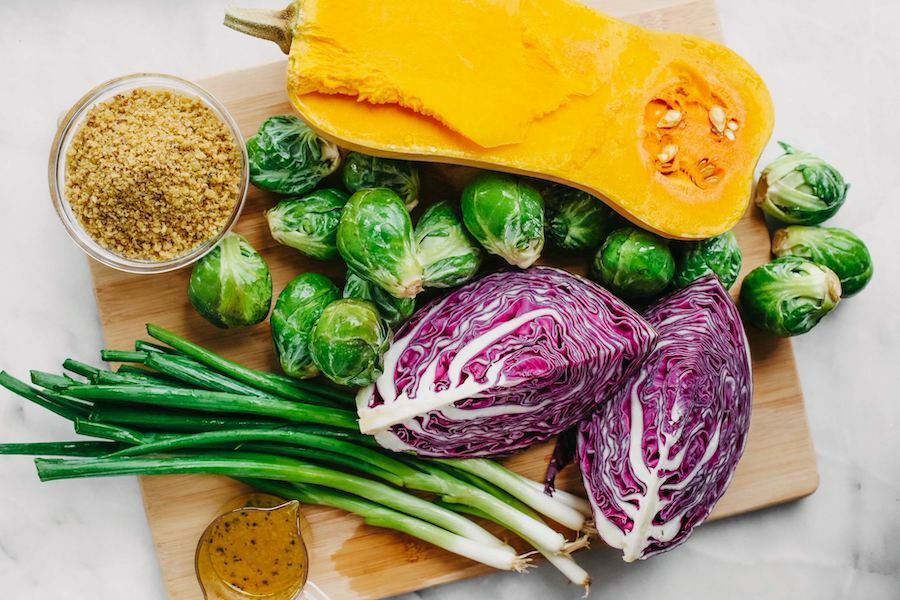 While this recipe is packed full of vitamins and nutrients from the veggies and chicken, we decided to make this recipe PaleoFLEX™ since it includes nutritional yeast, which classify as an additive (and it wasn't readily available in large quantities for our ancestors!) and a little added salt. If you'd like to make this recipe TRUEPALEO™, simply swap out the walnut Parm for plain ground walnuts, or omit entirely. You'll also need to skip the nutritional yeast in the sauce (it'll still taste great without it!)
Start by mixing up the orange sauce, which doubles as a marinade: combine orange juice, honey, ACV, black pepper, and olive oil until combined. Use half of the sauce to marinate the chicken thighs for about an hour. Remember: the longer you marinate, the better the flavor!
While the chicken marinates, prep the rest of the veggies. When you're ready to cook, set the veggies in a bowl and toss with olive oil and the reserved sauce, then arrange on a baking tray with the chicken thighs. Roast at 425°F for about 30 minutes, or until the chicken is cooked through.
Meanwhile, make the walnut Parmesan by pulsing nutritional yeast with walnuts and a dash of salt.
Serve your sheet pan chicken and veggies sprinkled with the walnut Parmesan. Garnish with sliced green onions, and enjoy!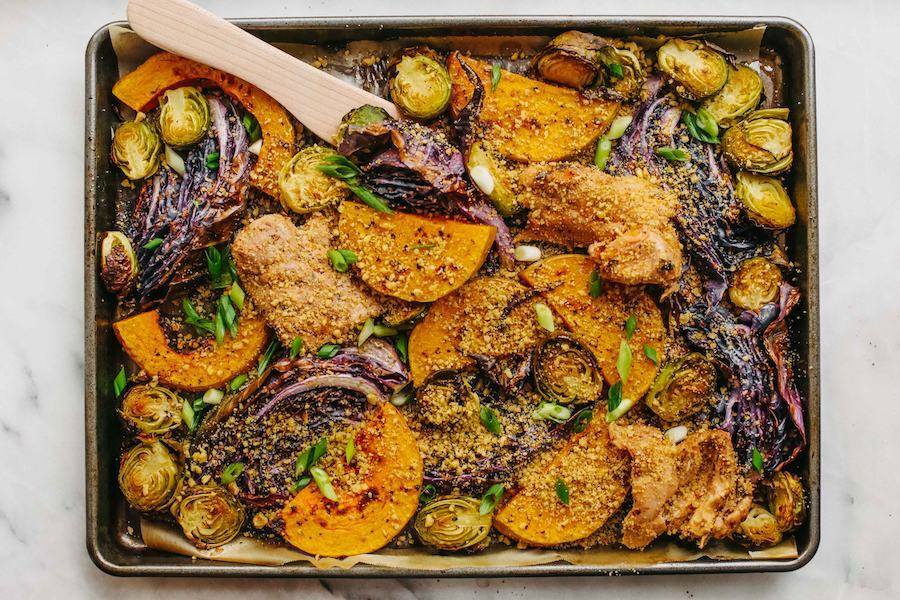 Love our recipes? Make going Paleo even easier and download our 7-Day and 28-Day digital meal plans!
Details
Prep Time:

15 minutes

Cook Time:

35 minutes

Total Time:

1 hour 50 minutes
Ingredients
2 oranges, juiced

2 tbsp honey

2 tsp apple cider vinegar

4 tbsp nutritional yeast, divided

1 tsp black pepper

6 tbsp olive oil, divided

4 chicken thighs

1 lb Brussels sprouts, halved

1/2 head purple cabbage, sliced into wedges

1/2 butternut squash, cut into 1/2 inch slices

1/2 cups walnuts

1/4 tsp salt

4 green onions, sliced, for serving
Directions
Mix the sauce by combining the orange juice, honey, apple cider vinegar, 2 tablespoons of the nutritional yeast, black pepper, and 4 tablespoons of the olive oil.

Set the chicken in a shallow dish and cover with half of the sauce, saving the other half for later. Marinate for one hour. When ready to cook, preheat the oven to 425°F.

Set the butternut squash, red cabbage, and Brussels sprouts in a bowl. Coat lightly with the remaining 2 tablespoons of olive oil, then drizzle the remaining sauce and toss again to combine.

Shake the excess marinade off the chicken and discard, then arrange the chicken and veggies on a baking tray lined with parchment paper. Roast for about 25-30 minutes, or until the chicken is fully cooked through and the veggies are until golden.

Meanwhile, make the walnut parmesan by pulsing the remaining 2 tablespoons of nutritional yeast with the walnuts and salt in a food processor until crumbly.

Serve your sheet pan chicken and veggies topped with the walnut Parmesan. Garnish with sliced green onions, and serve!