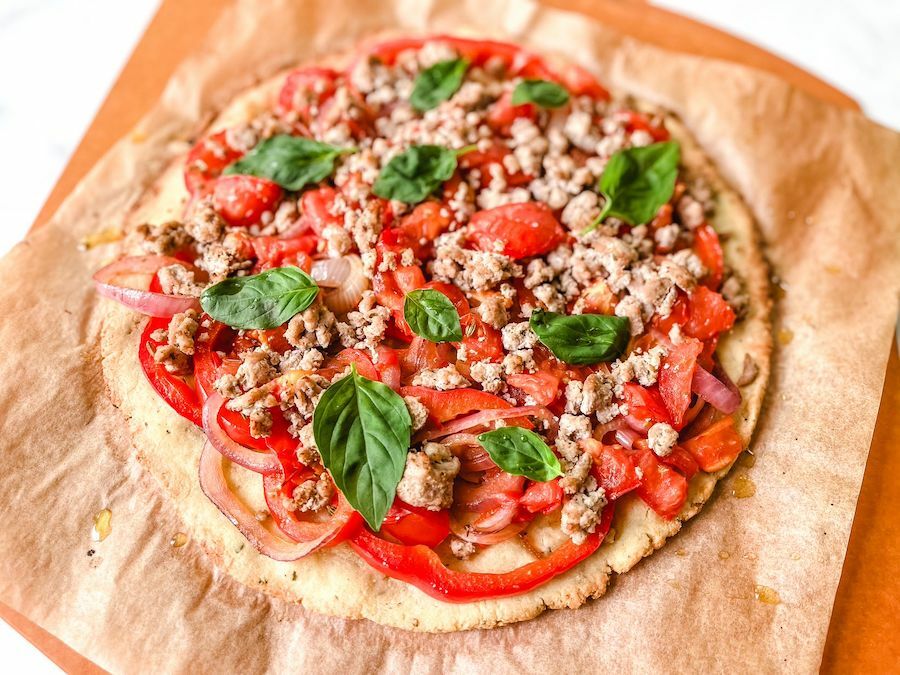 Move over, cauliflower crust! This homemade pizza recipe is made with an herby almond flour crust and topped with peppers, onions, and seasoned turkey for a tasty gluten-free pie.
To help the ingredients of this pizza shine, we nixed the "cheese" in all its forms. Cashew cheese or cauliflower cheese are common in other dairy-free pizza recipes, but we found that it takes away from the healthier ingredients – and usually doesn't add much in the flavor department anyway!
Since pizza is one of those foods that doesn't get healthier if you simply "Paleo-ify" it, this recipe is automatically categorized as PaleoFLEX™. That means that you can still enjoy this meal along with other TRUEPALEO™ foods as long as you limit them to about 35% of your meals (see How to Practice The Paleo Diet for more on how to best work PaleoFLEX meals into your busy schedule.) Plus, a little added salt is allowed in PaleoFLEX, so we mixed a bit into the dough for a better tasting crust.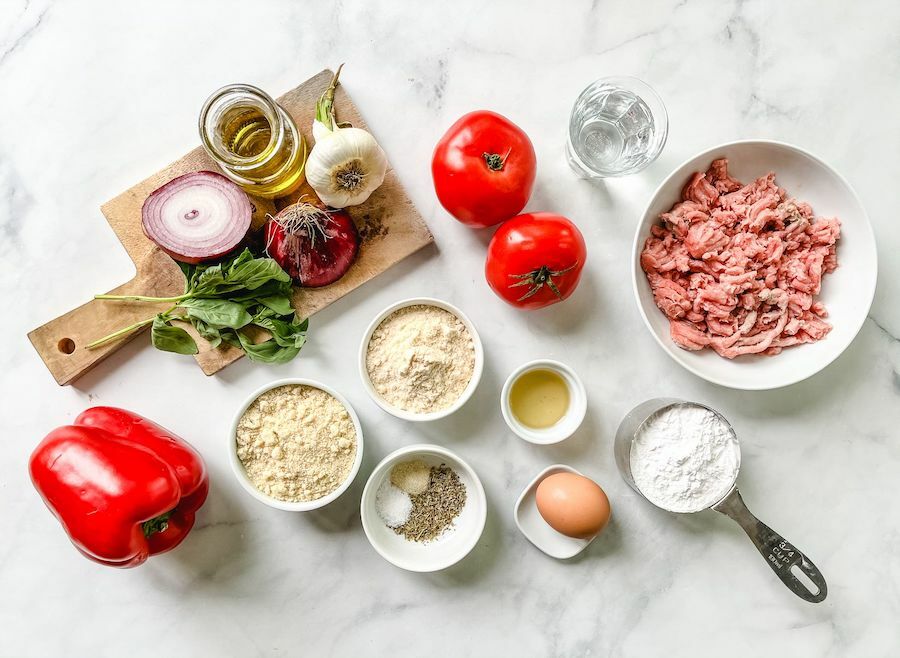 Start by making the almond flour crust. Mix arrowroot starch with almond flour, coconut flour, seasonings and salt. Separately, whisk olive oil, water, and apple cider vinegar together, then pour the wet ingredients into the dry. Add a whisked egg and mix until a dough forms. You may need to add more coconut flour if the dough is too sticky.
Use your hands to turn the dough out onto a parchment-lined pan, then roll it out into a 10-inch disc. Bake your crust until just golden brown.
Meanwhile, prepare the toppings: brown the turkey, then sauté the peppers and onions. You can always add more veggies, if you like!
Instead of a tomato sauce, we added freshly chopped tomatoes right to the peppers and onions before they're done cooking. Be sure to remove the extra liquid and seeds before adding your tomatoes, so your pizza doesn't get soggy!
To assemble, spread the veggies out over the cooked crust, then top with the browned turkey. Bake another 10 minutes to get your pizza bubbly hot, then garnish with fresh basil, slice it up, and serve!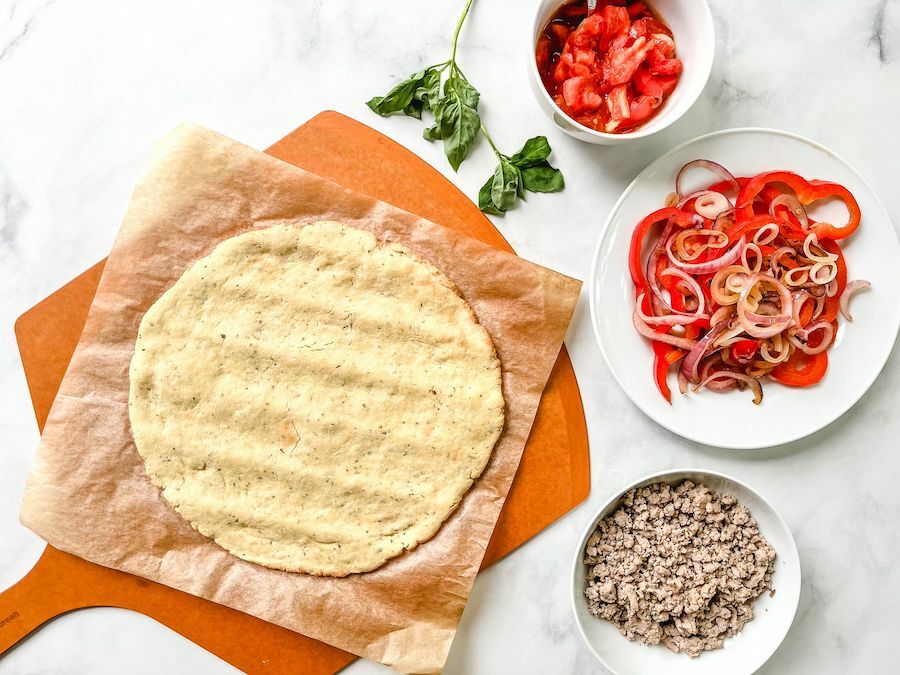 Tip: To save time, you can make the toppings the day before. Store in the refrigerator in an airtight container, then add to the cooked crust right before baking again!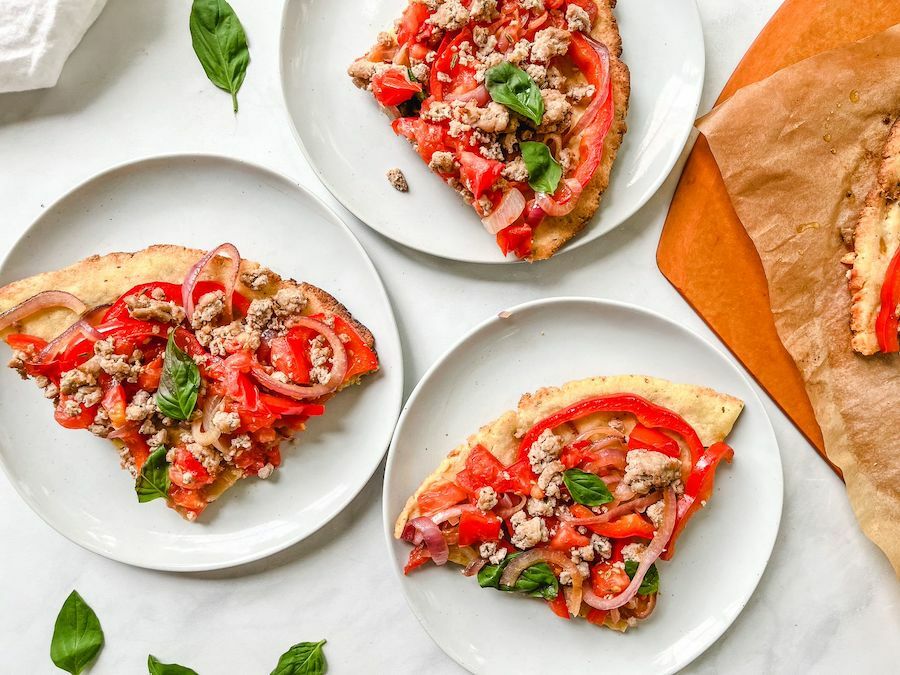 For hundreds of pure Paleo recipes be sure to check out The Real Paleo Diet Cookbook and The Real Paleo Diet Fast and Easy.
Details
Prep Time:

20 minutes

Cook Time:

35 minutes

Total Time:

55 minutes
Ingredients
3/4 cups arrowroot starch

2/3 cups blanched almond flour

6 tbsp coconut flour, divided

1/2 tsp onion powder

1/2 tsp basil

1 tsp Italian seasoning blend

3/8 tsp salt

1/3 cups + 2 TBSP olive oil

1/3 cups water

1 tbsp raw apple cider vinegar

1 egg, whisked

1/2 lb ground turkey

1/4 tsp fennel seeds

1/4 tsp red pepper flakes (optional)

1 red onion, thinly sliced

1 red bell pepper, thinly sliced

2 large tomatoes, chopped

2 cloves, thinly sliced

1/4 cups basil leaves, torn
Directions
Preheat the oven to 450°F and line a round pizza pan with parchment paper. Set aside.

In a medium bowl, whisk the arrowroot starch, almond flour, three tablespoons of the coconut flour, spices and salt.

In a large measuring cup, whisk together 1/3 cup of the olive oil, the water, and apple cider vinegar. Pour the wet ingredients into the dry ingredients and mix well using a wooden spoon until the dough starts to form. Stir in the egg and mix until incorporated. The dough will be sticky. Add the remaining three tablespoons of coconut flour and mix again until it's easier to work with.

Sprinkle some arrowroot starch on the parchment paper lined pan, then place the dough on top. Use your hands to spread it out, then roll it out to a 10-inch circle. Bake for 10 minutes or until golden brown.

Heat a tablespoon of the olive oil in a pan over medium high heat. Add the ground turkey and season with fennel seeds and red pepper flakes. Cook for 8-10 minutes, breaking up the meat as you cook, until browned. Set aside.

Add the remaining tablespoon of olive oil to the pan and sauté the onions and bell peppers until translucent, about 5 minutes. Add the chopped tomatoes and garlic, and cook for another minute.

Layer the red pepper and onion mixture on top of the cooked crust, then sprinkle the ground turkey on top. Bake for another 10 minutes, then garnish with basil and enjoy!