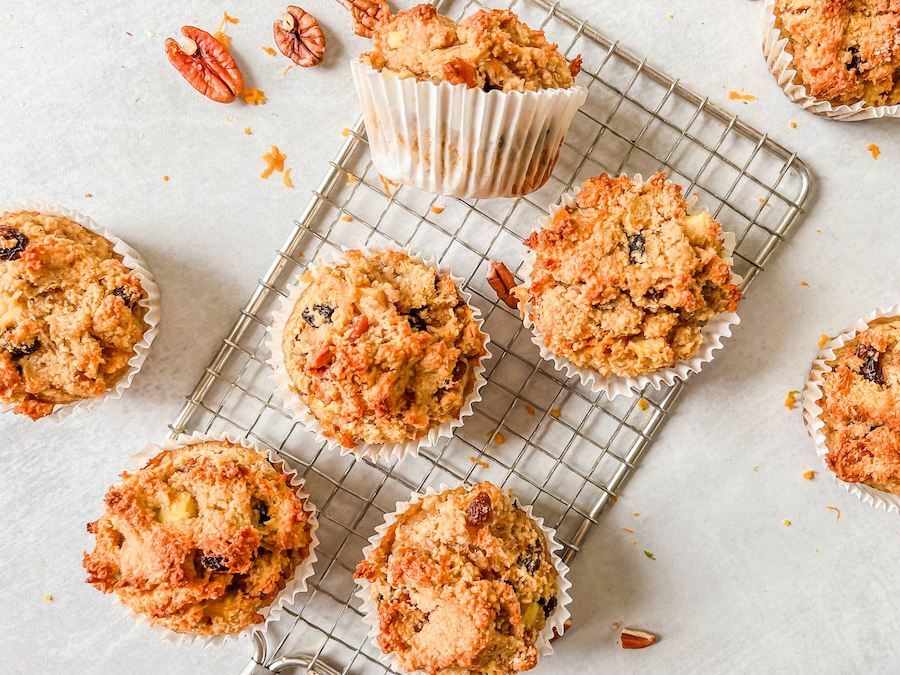 PaleoFLEX™ Morning Glory Muffins
Start your day with these PaleoFLEX™ Morning Glory Muffins. They're jam-packed with energy-boosting nutrients to help jumpstart your morning!
Morning glory muffins are studded with sweet-savory ingredients like carrots, apples, raisins and pecans that balance each other nicely. While they're traditionally made with whole wheat flour, we made these muffins PaleoFLEX™ by using a combination of almond and coconut flours instead.
These ingredients taste great together, and even better, they're healthy FOR you! Bananas help improve kidney health, apples are linked to a lower risk of diabetes, and raisins can reduce stomach issues. Plus, we use a bit of antioxidant-rich fresh squeezed orange juice to help sweeten the muffins. It's the perfect mix for the most important meal of the deal.
Despite all the healthy ingredients in this recipe, it's still considered PaleoFLEX™ because they're mimicking a treat we can't find in nature. We also added small amounts of salt and maple syrup to help balance out the sweet-salty flavors.
Start by blending the wet ingredients in one bowl, and mix the dry ingredients in another bowl. Now, use a spatula to combine the two until a wet and sticky batter forms. Slowly fold in the shredded carrots, apples, raisins, and chopped pecans.
Pour the batter into a greased muffin tin and bake in a 350°F preheated oven for about 25 minutes. Let the muffins cool before serving. Feel free to sprinkle with flax seeds or extra chopped pecans before digging in!
Keep your morning glory muffins at room temperature in an airtight container for 3 days, or in the refrigerator for up to one week. They are also freezer friendly!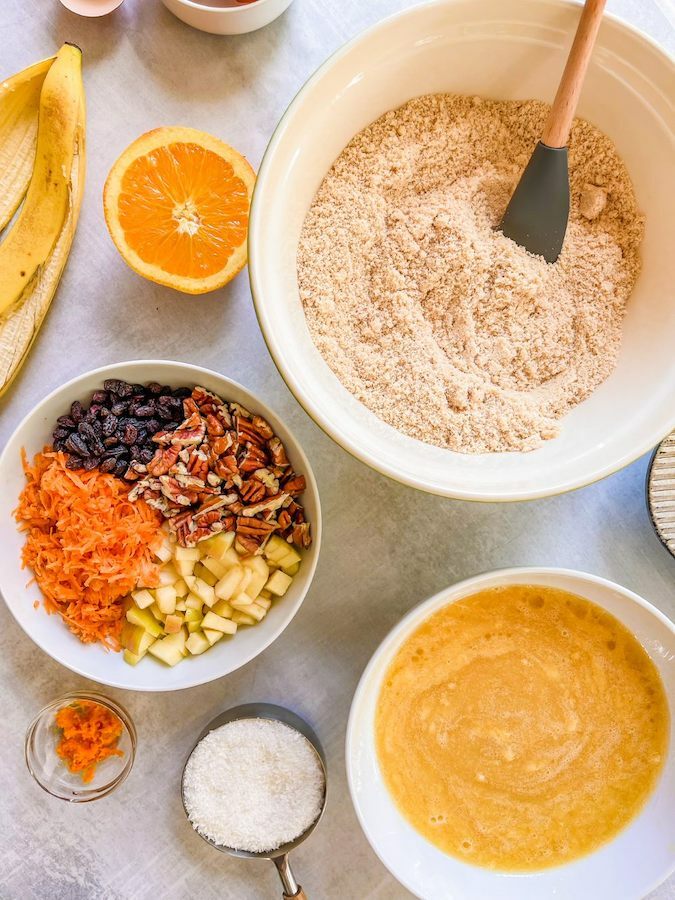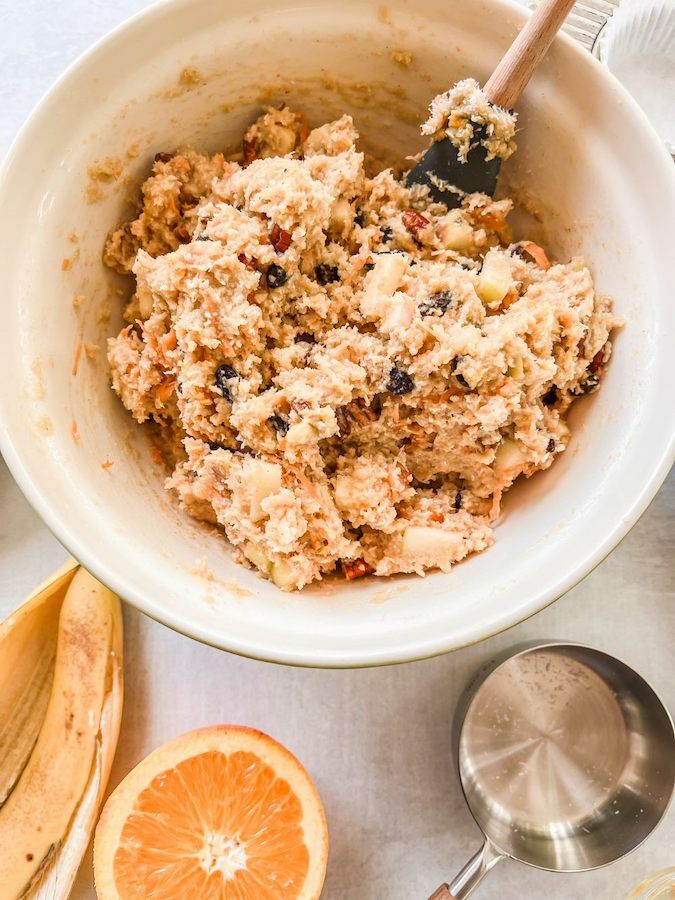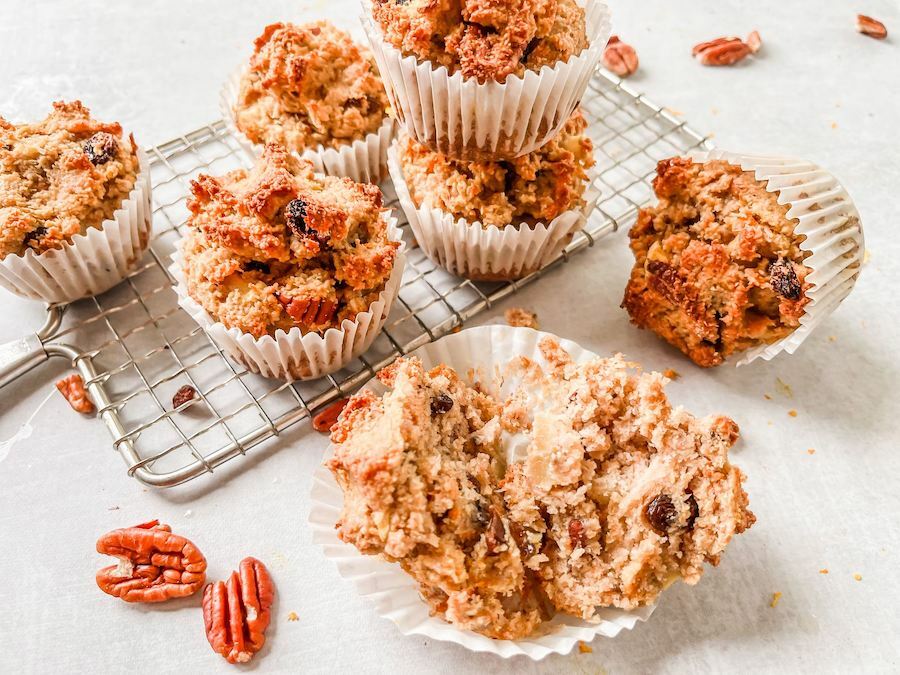 Love our recipes? Make going Paleo even easier and download our 7-Day and 28-Day digital meal plans!
Details
Recipe by: Jess Case
Serves:

12

Meal:

Dessert
Prep Time:

10 minutes

Cook Time:

25 minutes

Total Time:

35 minutes
Ingredients
1 cups bananas, mashed

3 eggs

3 tbsp maple syrup

1 tsp vanilla extract

1/3 cups coconut oil melted

2 tbsp orange juice

1 tsp orange zest

2 1/2 cups blanched almond flour

1/2 cups coconut flour

1 tsp baking powder

1 tsp baking soda

1 tsp cinnamon

1/4 tsp nutmeg

1/4 tsp salt

1/2 cups shredded carrots

1/2 cups apples, finely diced

1/4 cups raisins

1/2 cups pecans, chopped

1/2 cups unsweetened coconut flakes
Directions
Preheat the oven to 350°F. Grease a muffin tin with coconut oil or line with cupcake liners.

In a medium bowl, whisk the bananas, eggs, maple syrup, vanilla extract, coconut oil, orange juice, and zest until smooth.

In a separate bowl, whisk the almond flour, coconut flour, baking powder, baking soda, cinnamon, nutmeg, and salt until no lumps are remaining.

Use a spatula to pour the wet ingredients into the dry ingredients. Combine until a wet and sticky batter forms. Do not overmix. Carefully fold in the shredded carrots, apples, raisins, and chopped pecans.

Pour the batter evenly into the muffin cups (they should fill about three quarters of the way to the top). Bake for 23-25 minutes, or until a toothpick inserted in the center comes out clean.

Let the muffins cool for 10 minutes on a wire rack before serving.