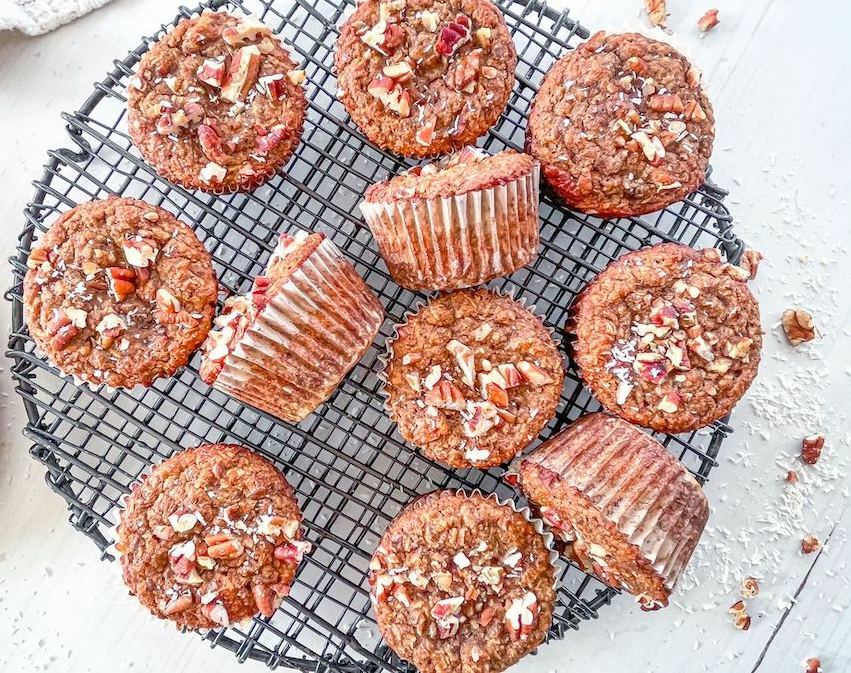 PaleoFLEX™ Coconut Date Muffins

For many people, breakfast is the most important part of their day, but it's often hard to get right if your morning routine is hectic and time-crunched. Fear not, these flavorful PaleoFLEX™ Coconut Date Almond Muffins provide the fuel you need for the day ahead and are easy to make ahead of time.
You can make a batch of these muffins on the weekend and store them at room temperature in an airtight container for three days, or in the refrigerator for up to one week. Once Monday rolls around, they'll be ready to go and you're all set for the week. They are also freezer-friendly, but given how tasty these are, they likely won't last that long!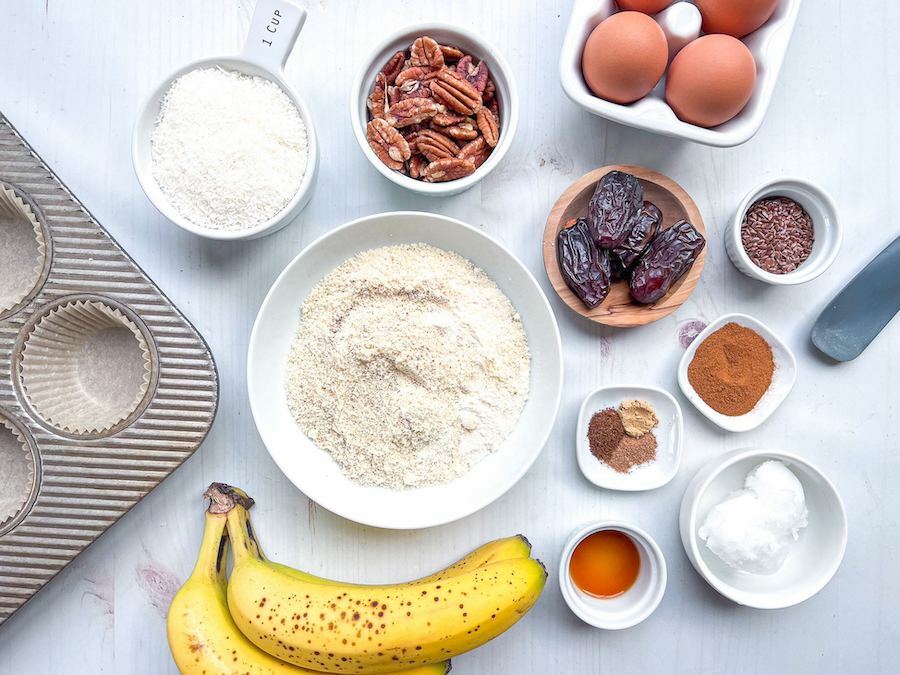 These muffins are packed full of energy-boosting nutrients to help start your day off well. Bananas are loaded with carbohydrates, giving you healthy long-lasting energy. Flaxseeds contain energizing healthy fats and the B vitamins in dates help convert food into energy. These muffins aren't just great for breakfast but can also make a good mid-afternoon snack or pick-me-up to help defeat the afternoon energy slump.
It's easy to make these muffins: Simply whisk the wet ingredients in one bowl and the dry ingredients in another. Pour the wet mixture into the dry ingredients, making sure not to overmix. Then carefully fold in the shredded coconut, flax seed, chopped dates, and toasted pecans.
Pour the mixture evenly into a muffin tin, then top with crushed pecans and bake at 350°F for 25 minutes. Be sure to let the muffins cool completely before serving. Dig into these delicious warm muffins with an equally warm beverage. After you've made these once you'll likely always want a batch ready for you each week!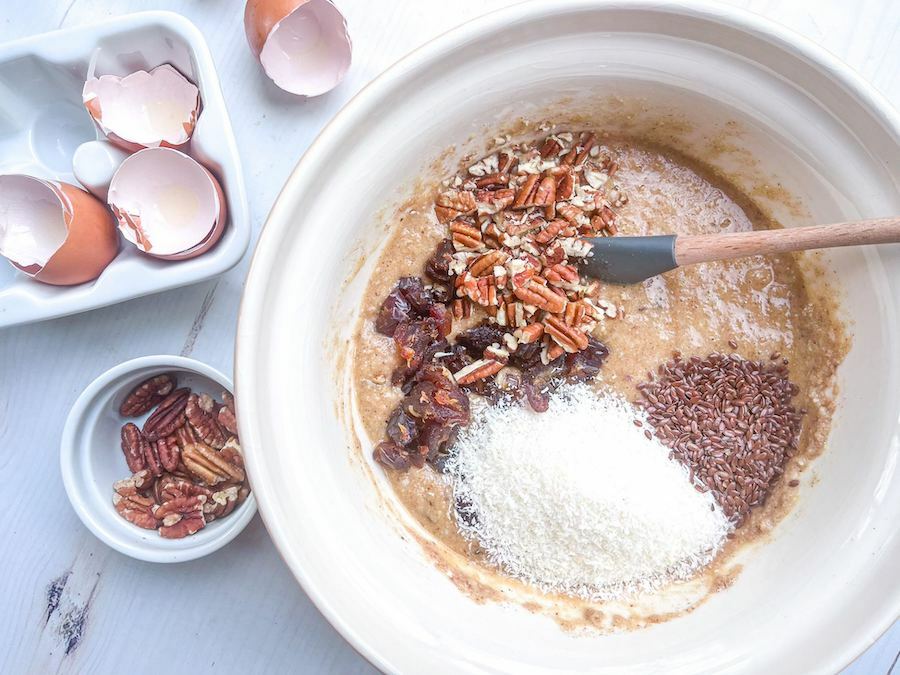 Tips:
You can add flaxseeds, pumpkin seeds, or sliced almonds instead of pecans for the topping.
If you want to add fruit to these muffins, blueberries or raspberries can bring a great flavor.
Autoimmune Protocol (AIP) omissions and substitutions are listed in the recipe ingredients.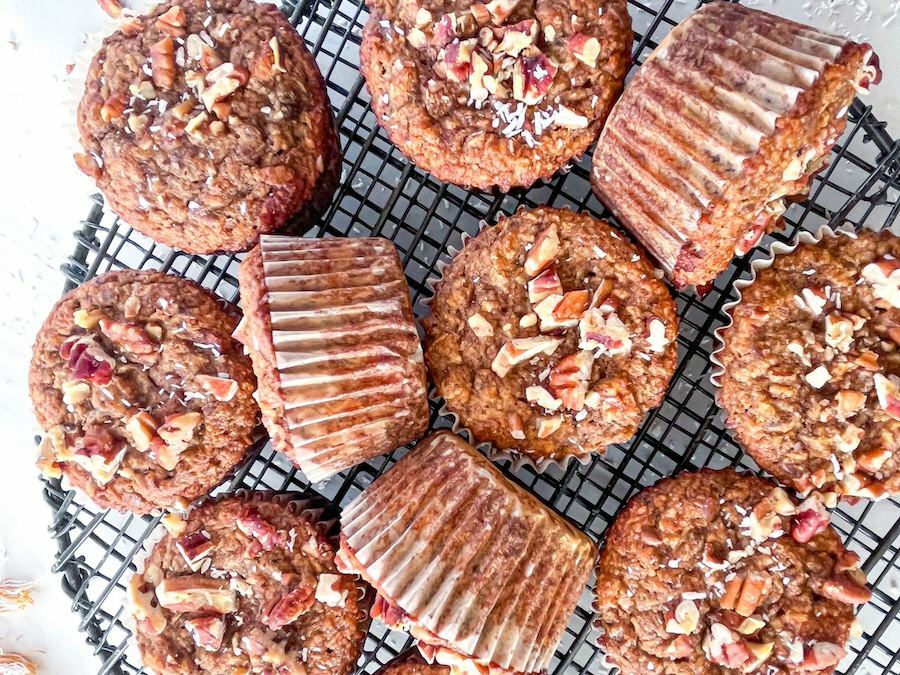 Details
Prep Time:

10 minutes

Cook Time:

30 minutes

Total Time:

40 minutes
Ingredients
2 tbsp coconut oil, melted

4 bananas, peeled (AIP - substitute with pumpkin puree)

1 tsp pure vanilla extract

4 large eggs (AIP - omit egg whites)

3/4 cups blanched almond flour

2 tbsp coconut flour

1 tsp baking soda

2 tsp cinnamon

1/4 tsp nutmeg


1/4 tsp ginger

1/4 tsp cloves

1 cups shredded unsweetened coconut

4 dates, chopped and pitted

3/4 cups pecans, chopped and toasted

1 tbsp flax seeds
Directions
Preheat the oven to 350°F. Grease a muffin tin with coconut oil or line with cupcake liners.

Use a large bowl, mix using a beater, add melted coconut oil, mashed bananas, vanilla extract, and eggs.

In a small bowl, whisk the almond flour, coconut flour, baking soda, and spices until it's well combined. Combine with the wet ingredients and mix with a wooden spoon or spatula.

Then, fold in shredded coconut, flaxseed, chopped dates, and ½ cup toasted pecans carefully. Avoid overmixing.

Pour the batter evenly into the muffin cups (they should fill about three-quarters of the way to the top). Sprinkle the remaining toasted pecans on top. Bake for 25-30 minutes or until a toothpick inserted in the center comes out clean.

Let the muffins cool for 10 minutes on a wire rack before serving. Enjoy while they are warm!